WATCH: VALUE ALERT – GOLDEN TATE
---
For wide receivers, volume is necessary. These are the wide receivers I project to see the most targets in Week 15 (Sunday main slate only):
TOP

-10 WR Target Projections
1. Antonio Brown: 10 targets – On the road in the division is not where I like to invest in the Steelers' pass game. That's especially true against the Bengals, who have held AB to 4-39-0, 7-119-0, 7-87-0 and 6-47-1 in their last four meetings. But we can still expect Brown's volume to be there on a weekly basis – he has at least 10 targets in 9-of-13 games this season.
2. T.Y. Hilton: 10 targets – With Donte Moncrief (hamstring) looking shaky and the Colts inept run game unlikely to get much going in Minnesota, Hilton is looking at serious volume. Concerns include a road game with Andrew Luck (shoulder, elbow) banged up and the Vikings' elite corner group. They are currently top-2 DVOA in pass defense.
3. Mike Evans: 10 targets – Evans is again struggling with double- and triple-teams, leading to just 14 targets over the last two weeks. The improved play of the Bucs' defense isn't helping either, as they are getting into fewer shootouts. Still, Brandon Carr and the Cowboys are giving up big plays to opposing WR1s on a weekly basis.
4. Odell Beckham Jr.: 10 targets – I'm not too worried about shadow coverage from Darius Slay, who has given up nine TDs this year and allows a completion percentage of 65.8 percent (via ESPN's Mike Clay). At this point, we know the drill with OBJ – no one is more likely to take a five-yard slant to the house on a given week. As the only piece in this inept Giants offense, Beckham has seen at least nine targets in 11-of-13 games this season.
5. Emmanuel Sanders: 10 targets – The matchup with the Patriots is a fraction as good as the one last week against the Titans. But this defense is still 26th DVOA and the best part is the concentration in the Broncos pass game. Sanders has seen at least nine targets in six straight games while combining with Demaryius Thomas to see an absurd 54.1 percent of the Broncos targets.
6. Demaryius Thomas: 10 targets – As noted above, the Broncos have the tightest concentration of targets in the league. After Manny Sanders' 130 targets and Demaryius' 119, no one has more than 33. So if we think the Broncos can move the ball through the air against the Patriots No. 26 DVOA pass defense, we can accurately project who will be doing the damage. There's a lot of value in that.
7. Jordy Nelson: 9 targets – Concerns with Jordy this week are three-fold. Expect shadow coverage from Tracy Porter, who held him to 1-9-0 the last time these teams met. Second, the forecast is calling for a high temperature of zero degrees in Chicago Sunday. And finally, pass game stats are often depressed when teams meet for the second time in the same season. All that said, Nelson leads the NFL by a massive margin in red-zone targets and has found the box in 10-of-13 games this year.
8. Larry Fitzgerald: 9 targets – The 33-year-old Fitz is slowing down as he hasn't topped 78 yards or scored a TD in the last month. It's similar to last year, when he was held under 70 yards in each of the final six regular season games.
9. Jordan Matthews: 9 targets – The matchup with the Ravens' elite defense in Baltimore is difficult, but the Eagles continue to be a pass-centric team and Matthews is by far their best wide receiver. JMatt is averaging 9.6 targets in his last six games.
10. Michael Crabtree: 8 targets – If elite Chargers' CB Casey Hayward shadows Amari Cooper as suspected, it's a green light matchup for Crabtree. Note that he's out-targeted Cooper 119-114 this season and has out-targeted him in the red-zone 22-15. Crabtree is also $1,200 cheaper than Cooper.
---
Figuring out the top-end guys (above) is relatively easy. The low-end wideouts are much harder – and more valuable. Each week, I'll discuss five wide receivers under $5,000 who I project for at least five targets.
1. Allen Robinson, Jaguars: $4,400
There's no denying Allen Robinson has been among the worst WRs in the league this season. He ranks 104th in catch rate, fourth in drops, 109th in yards after the catch per reception. The good news is that he's finally priced fairly at $1,400 over minimum, just $400 more than teammate Marqise Lee and cheaper than the likes of Sterling Shepard, Tyler Boyd and Anquan Boldin. At this price and averaging 9.1 targets per game on the year, it's difficult for him to really fail. Of course, Robinson has been extra-putrid over the last month, averaging 2.2-22.2-0.25 on 6.0 targets during that span. As long as we understand we're getting the low-floor, 2016 version of A-Rob rather than the 2015 beastly version, he's in play. It will help if Allen Hurns (hamstring) and Chris Ivory (hamstring) miss again, leaving more red-zone opportunities for Robinson. He leads the team with 19 RZ targets on the year. And for what it's worth, Robinson's best game of the year came against the Texans five weeks ago when he hit them for 9-107-1 on 13 targets.
Projection: 7 targets
---
2. Marqise Lee, Jaguars: $4,000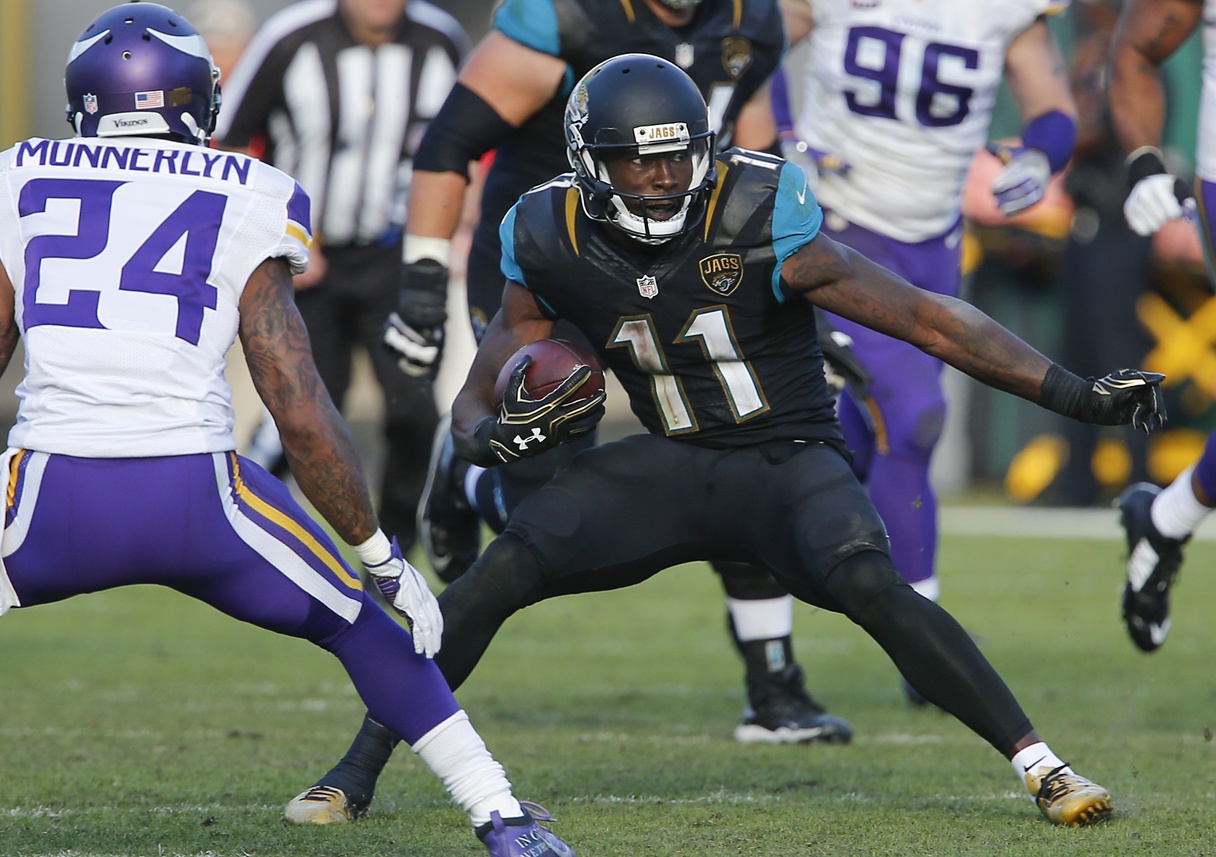 Lee has quietly emerged as the Jaguar's best receiver, dominating Allen Robinson (see above) in catch rate, yards after catch and yards per reception. The 2014 No. 39 overall pick out of USC has seen at least six targets in six straight games, averaging a 4.0-61.6-0.33 line during that span. Robinson's line during that same stretch is 4.1-45.5-0.5. Boosting Lee's projection is the likely absence of Allen Hurns (hamstring) and the continued non-existence of the Jags' tight ends in the pass game.
Projection: 7 targets (if Allen Hurns is out)
---
3. Mike Wallace, Ravens: $4,800
Wallace's production has waned since Steve Smith got healthy, as the speedster has failed to top 62 yards in any of his last six games. The Eagles' spiraling defense should be just what the doctor ordered. With Leodis McKelvin, Jalen Mills and Nolan Carroll getting flamed, the Eagles have given up 3-102-1 to DeSean Jackson, 5-95-1 to Brandon LaFell, 5-113-2 to Davante Adams and 4-104-0 to Doug Baldwin over the last month. With both teams operating a pass-centric offense, there should be a bump in play volume as noted by PFF's Pat Thorman. Wallace is still averaging 6.6 targets per game during the aforementioned six-game stretch – he's just more likely to connect with a Joe Flacco bomb this week.
Projection: 6 targets
---
4.

J.J.

Nelson, Cardinals: $3,900
Michael Floyd played on 139-of-146 snaps the last two weeks. So his release coupled with John Brown's (sickle cell) presumed 20-30 snap count leaves a lot of opportunity. The man most likely to step into that outside receiver role is pint-sized (5'10/160) yet lightning fast (4.28 forty) J.J. Nelson. We can safely project at least 80 percent of the snaps against a Saints' defense which has stiffened significantly of late but is still 28th DVOA vs. the pass overall on the season. One thing to note is that while Nelson's snap rate is likely to be sky high, the corpse of Carson Palmer can no longer throw outside the numbers effectively. It's one reason Floyd managed just five catches for 36 yards with one TD despite playing all those snaps the last two weeks. Expect inside receivers Larry Fitzgerald, David Johnson and Jermaine Gresham to all out-target Nelson Sunday.
Projection: 6 targets
---
5. Aldrick Robinson, Falcons: $3,400
(If Julio Jones is out)
With both Julio Jones (toe) and Mohamed Sanu (groin) out last week, Aldrick Robinson led Falcon's WRs in snaps (87.9 percent) and tied for the team-lead in targets with six. If the Falcons didn't get up 21-0 midway through the second quarter in LA, Aldrick was on his way to a big game. So the status of both Julio and Sanu is worth watching closely this week as the Falcons get set for a tasty home matchup with the Rams. Robinson, one of the most dominant preseason players over the last couple years, is a Kyle Shanahan favorite and capable of filling Julio's "X" spot in the offense.
Projection: 6 targets if Julio Jones is out
---
I am a promoter at DraftKings and am also an avid fan and user (my username is AdamLevitan) and may sometimes play on my personal account in the games that I offer advice on. Although I have expressed my personal view on the games and strategies above, they do not necessarily reflect the view(s) of DraftKings and I may also deploy different players and strategies than what I recommend above.