WATCH: WR TARGET – T.Y. HILTON
---
For wide receivers, volume is necessary. These are the wide receivers I project to see the most targets in Week 11 (Sunday main slate only):
TOP

-10 WR Target Projections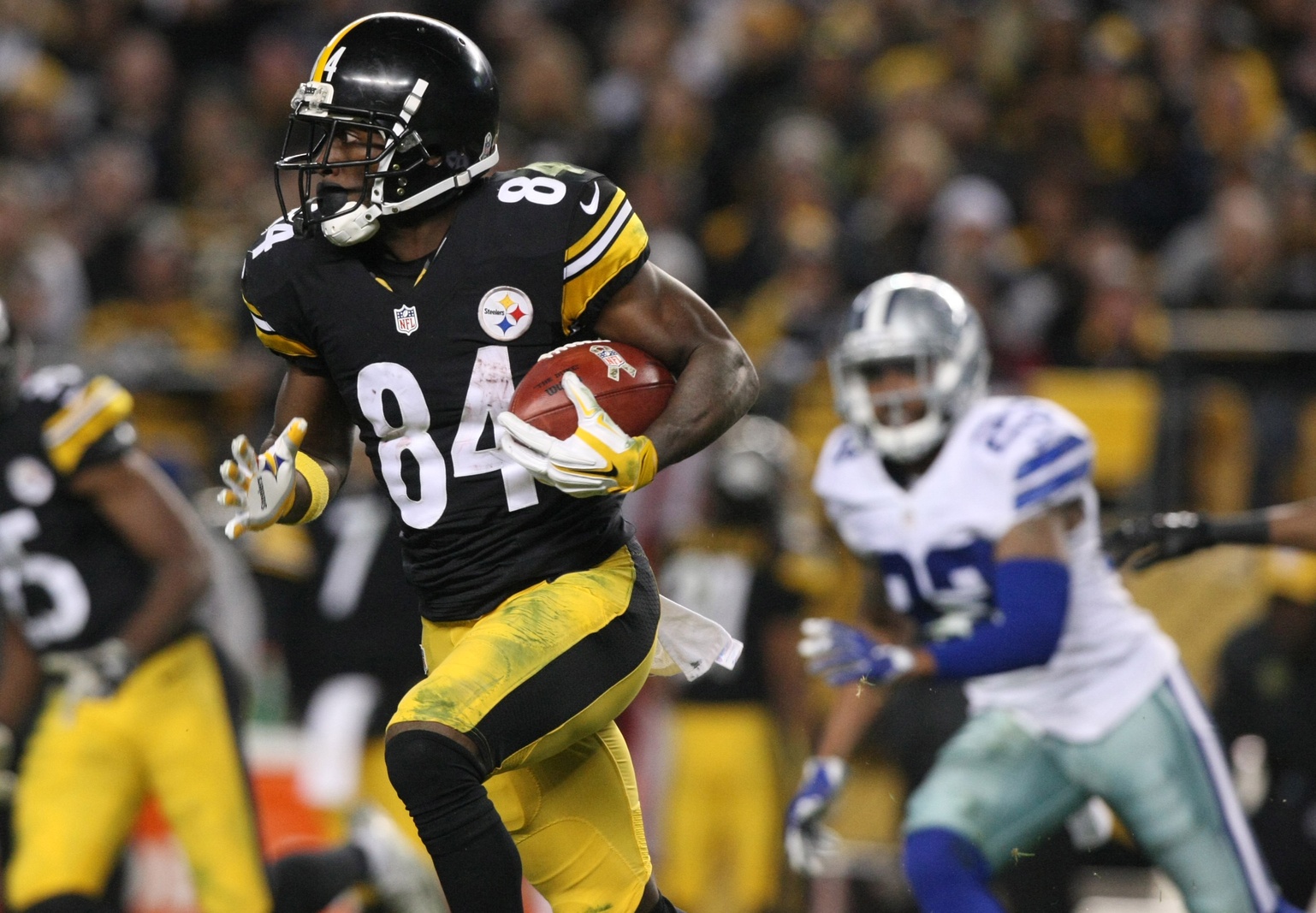 1. Antonio Brown: 11 targets – Brown will likely see a lot of Joe Haden, but that's obviously not a real concern for the most dominant route-runner in the NFL. The bigger issue is Ben Roethlisberger's woeful road record, even against teams with bad pass defenses. Still, Brown is an eruption threat every time he takes the field and is averaging 11.7 targets in Big Ben's eight full games this year.
2. Mike Evans: 10 targets – Last week's disappointing 4-66-0 line on just five targets was a flashback to when defenses could eliminate Evans with double/triple teams. The Chiefs aren't likely to go that route though, as they roll the same defense every week. If the Bucs want Evans to avoid stationary CB Marcus Peters, they can make that happen.
3. Allen Robinson: 10 targets – Robinson is likely to see a lot of Darius Slay, PFF's No. 12 CB in coverage. It's still a matchup the uber-talented A-Rob can win, especially with garbage-time volume. He's seen 13.3 targets per game over the last three weeks.
4. A.J. Green: 10 targets – It's a good spot for the dominant Green as he's at home against a scuffing Bills secondary ranked 23rd in pass defense DVOA. He's seeing a monstrous 31.2 percent of Andy Dalton's targets this year, a number that should hold relatively steady even with Tyler Eifert healthy.
5. Julian Edelman: 10 targets – The potential absence of Rob Gronkowski (chest) can't hurt Edelman, who is averaging 8.6 targets since Tom Brady came off suspension. Chip Kelly's 49ers allow the most opponent plays per game (71.7).
6. Odell Beckham: 10 targets – The Giants are finally moving Beckham around more and creating ways to get him the ball. He's averaging 10.4 targets over the last five games and scored six TDs during that span. OBJ shouldn't have problems getting open against Tracy Porter and the Bears.
7. Jordy Nelson: 9 targets – Will likely see Josh Norman when on the perimeter, but Jordy was in slot 31.6 percent of time last week (via PFF) even with Randall Cobb healthy. Nelson also leads the NFL in red-zone targets with 22 on the year, leading to eight TDs in nine games.
8. T.Y. Hilton: 9 targets – When Hilton faced the Titans in Tennessee a month ago, he hit them for 7-133-1. Now the hamstring issue that bothered him before the Week 10 bye should be close to 100 percent. He's no longer on the injury report.
9. Larry Fitzgerald: 9 targets – It's a homecoming game for Fitz, who was born in Minneapolis. The concern is a slow-paced Vikings team and a possible return of Captain Munnerlyn (ankle), but Fitz has separated himself as Carson Palmer's top target. He's seen at least 11 targets in three straight games and is averaging 11.0 on the year. That's tied with A.J. Green for third in the league, behind only Mike Evans and Antonio Brown.
10. Stefon Diggs: 9 targets – The Vikings have no run game, arguably the league's worst offensive line and no perimeter threats. So it's not a surprise they've decided to simply get the ball out quick to Diggs, as noted in this space last week. It's also not a surprise the Cardinals have identified Diggs as the man they need to stop and said they will assign Patrick Peterson to him.
---
WATCH: HOT READ – JORDY NELSON
---
Figuring out the top-end guys (above) is relatively easy. The low-end wideouts are much harder – and more valuable. Each week, I'll discuss at least five wide receivers under $5,000 who I project for at least five targets.
1. DeVante Parker, Dolphins: $4,100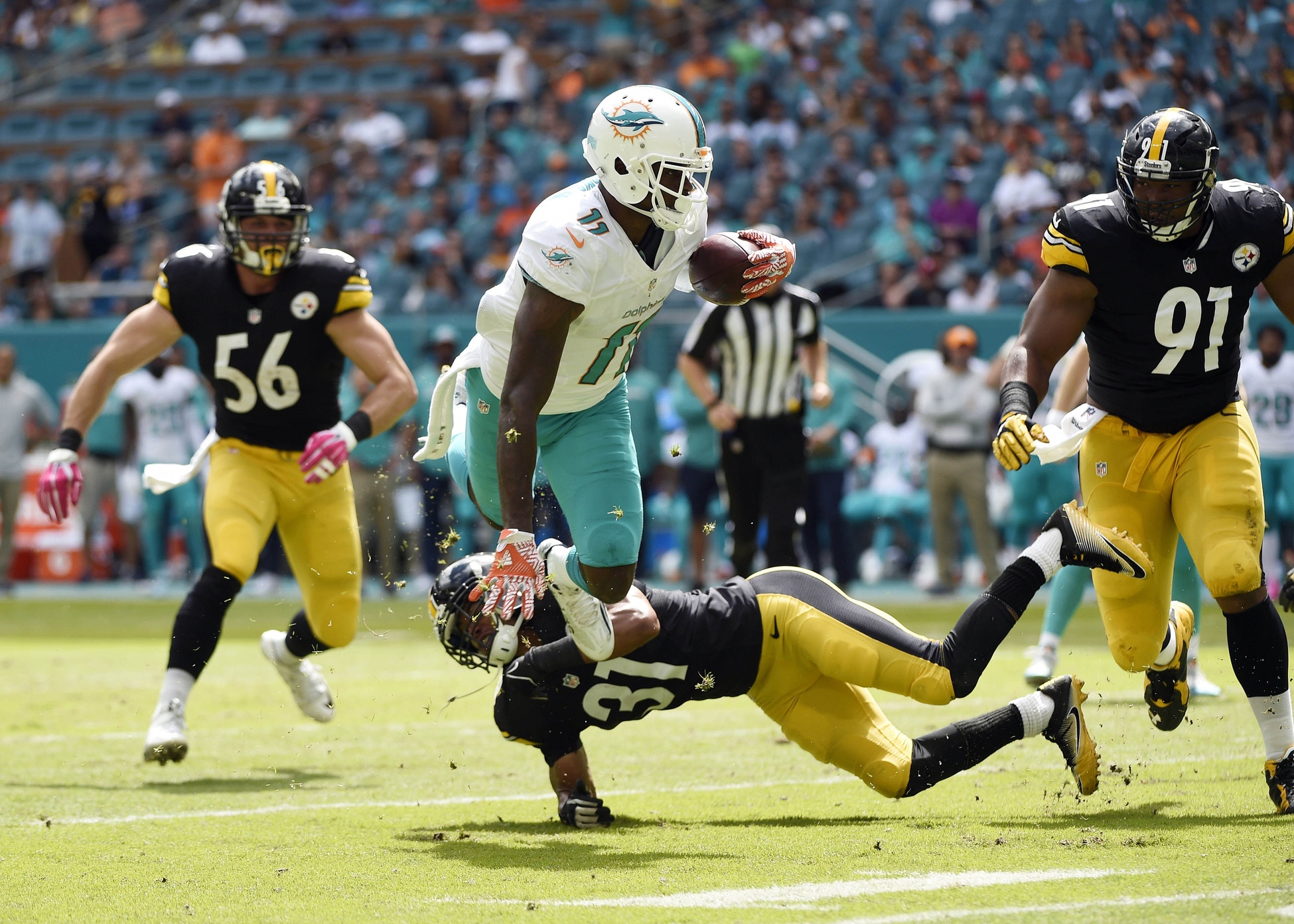 We finally saw Parker capitalize on his talent last week as he ran a route on 23 of Ryan Tannehill's 26 dropbacks and posted a 5-103-0 line – his best game since Week 1. It appears he's finally over all the nagging injuries that frustrated coaches to the point they criticized his eating habits. With Jarvis Landry (shoulder) and Kenny Stills (calf) still on the injury report, it makes sense for the team to keep featuring their 2015 first-round pick. The Dolphins have shifted to a slow-paced, run-centric offense with success lately, but Parker's big-play ability can't be ignored in tournaments.
Projection: 6 targets
---
2. Cameron Meredith, Bears: $4,100
Kevin White (leg) is done for the year and Alshon Jeffery's four-game suspension begins this week. It forces Cam Meredith into the No. 1 WR role and Eddie Royal ($3,400) into the No. 2 spot. The concern is that whereas Brian Hoyer had all kinds of chemistry and faith in Meredith, sinking Jay Cutler has only targeted him a total of four times in the last two weeks. Given Meredith's lack of pedigree, the presence of Zach Miller/Royal/Jordan Howard and Cutler's demise, there's a low floor here despite the projected volume.
Projection: 7 targets
---
3. Robert Woods, Bills: $4,900
Woods has quietly handled the No. 1 job well in the absence of Sammy Watkins. Over his last six games, he's averaging 8.3 targets and has turned that into 5.6 catches for 70.3 yards with 0.16 TDs. That's despite some relatively tough matchups with Seattle, New England (twice) and Arizona. Now Woods gets a plus spot against a Bengals defense which ranks 20th in pass defense DVOA. The bad news is his price has surged to $4,900 after being at just $3,900 before the bye. There's not a ton of room for profit at that tag.
Projection: 7 targets
---
4. Corey Coleman, Browns: $4,700
In the two games since Corey Coleman returned from his broken hand, he's played on 90.4 percent of the snaps and averaged 6.0 targets. That came in two very slow-paced games though, as the Browns only got off a total of 94 plays against the Ravens and Cowboys. This week's matchup with the Steelers' high-powered attack should be faster, building in more opportunities for the explosive Coleman. Of course, all Browns will be a low-floor play anytime game-managing rookie Cody Kessler is the starter.
Projection: 7 targets
---
5. Tyler Lockett, Seahawks: $3,600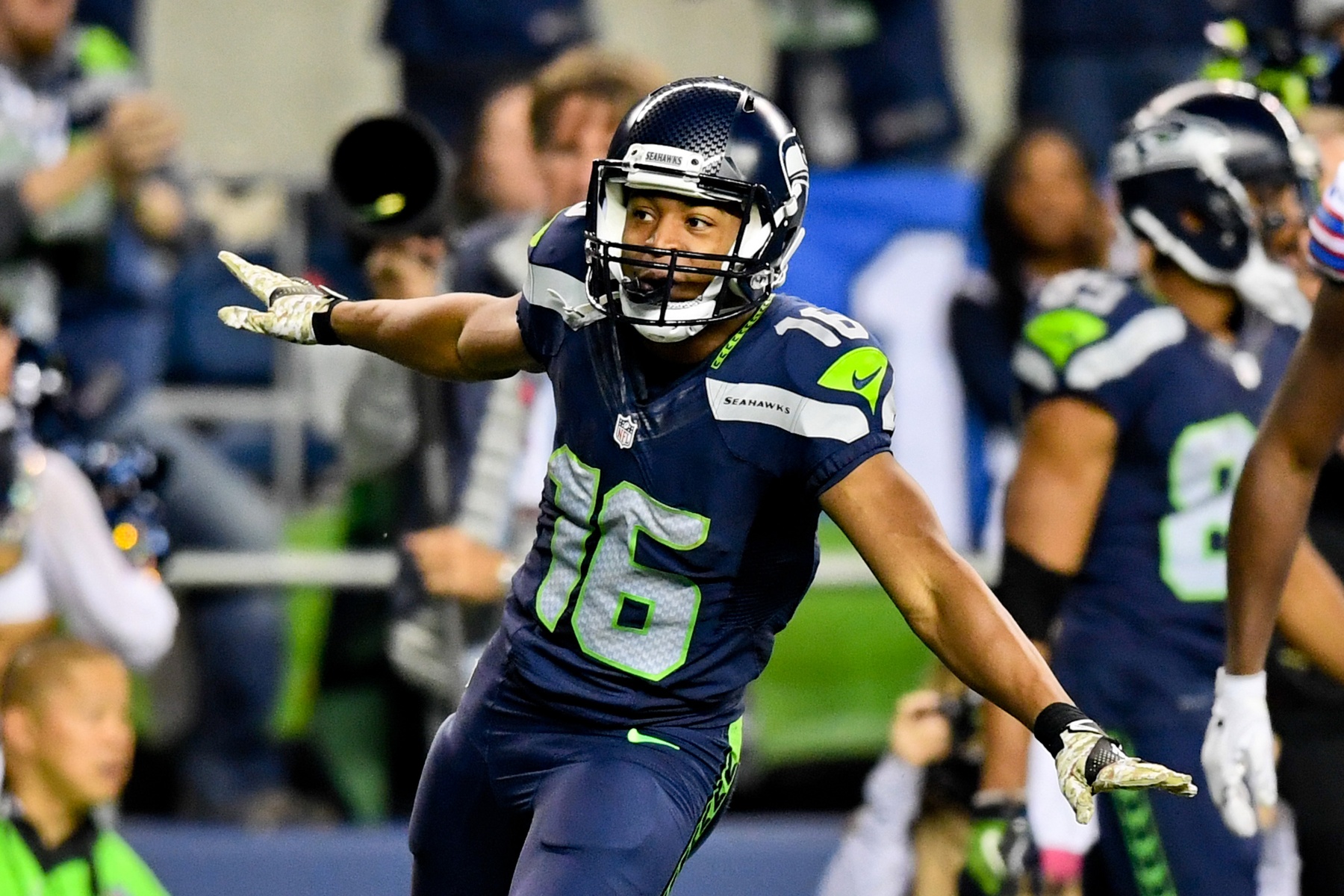 As noted by ace Seahawks beat reporter Sheil Kapadia, Tyler Lockett finally looked like himself in Week 10. He posted a 3-72-0 line while playing on 60 percent of the snaps, drew a deep pass interference call and was open for a TD but Russ Wilson missed him. At the very least, the PCL injury that capsized the early portion of Lockett's season is now behind him. This week is a chance for a breakout against an Eagles secondary that features PFF's worst CB in Jalen Mills, a CB that's struggling as bad as anyone in Leodis McKelvin, and a top CB in Nolan Carroll who is in the concussion protocol.
Projection: 5 targets
---
6. Marqise Lee, Jaguars: $4,000
Lee has quietly seen consistent volume all year, averaging 6.1 targets per day despite never seeing more than eight in a game. The 2014 second-round pick has also been more reliable than Allen Robinson or Allen Hurns. Now comes one of the best possible matchups as Lee faces a Lions defense which has the league's worst pass defense DVOA. Touchdown expectation is the biggest concern here, as Lee has only seen seven red-zone targets compared to 16 for A-Rob and 13 for Hurns.
Projection: 6 targets
ALSO
DeSean Jackson (shoulder) is questionable at the time of this writing. If active, he'd project for six targets at $4,800.
---
I am a promoter at DraftKings and am also an avid fan and user (my username is AdamLevitan) and may sometimes play on my personal account in the games that I offer advice on. Although I have expressed my personal view on the games and strategies above, they do not necessarily reflect the view(s) of DraftKings and I may also deploy different players and strategies than what I recommend above.