The prices of players on DraftKings are based on something, right? In a sense, it doesn't really matter how much any individual player costs, since he would cost the same for everyone. Everyone, in other words, would have the same opportunity to capitalize on a perceived value, so it wouldn't matter if prices were just assigned randomly. The more obvious a "value" a player was, the more DFS teams would use him, until the value was basically gone. But we all perceive value differently, of course, which is what allows for a basically infinite number of lineup configurations in any given daily fantasy contest.
And, of course, prices are not assigned randomly. They are assigned in such a way as to try to force every DFS player to make a decision. The tougher that decision is, the more likely we are to choose differently, for overlap to be reduced, and for as many of those infinite possible lineups to show up as possible.
So what is "value" in daily fantasy football? At the crux of it, every player's price is a balance of potential and risk, of upside and downside. So if you see a price next to a player, and think it seems low, you either perceive that player to have higher upside or lower potential risk than the numbers would suggest. So let's take a look at a few players who might be thought of as a value this week, and why – from there, it's on you to decide if you feel like paying up for consistency or reaching for upside.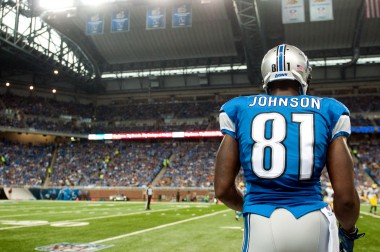 Calvin Johnson vs. MIA ($7,100): Let's face it, Megatron is not a $7,100 receiver. This is a price that accounts for huge upside, and huge risk. The chances are really good that he either significantly outperforms this price, or is simply not ready to be back and be himself, and he wouldn't be worth drafting at any price.
Percy Harvin vs. PIT ($5,300): This price is an acknowledgement that the upside is not Megatron, but it is there. Because boy is there risk. Unlike Calvin, the risk is not whether he's healthy – it's whether or not he is actually any good. Was last week's production a fluke? That's the question you have to ask, and when that's the question, when a player has ONE game since week 1 with more than 11 fantasy points, $5,300 seems expensive. Harvin scored 27 points last week. Look at the players around him on the price list: Roddy White, Larry Fitzgerald, Anquan Boldin, Steve Smith, Brandon Marshall – they all have 27 point potential. And they all have bust potential. So which one is the value? Personally, I think Boldin ($5,600) is the most consistent and therefore has the lowest risk. But if what you want is upside, you can just suck it up, accept the risk, and look even further down the list. (Think Torrey Smith for $3,500 or Kelvin Benjamin for $4,200).
LeSean McCoy vs. CAR ($5,200):Wedged right there between Fred Jackson and Lamar Miller, the leading rusher in the NFL last year. It just seems cheap. So, "value," right? Well, no. You have to acknowledge risk, and it was just a month ago that he had back to back games with fewer than 3 fantasy points. That, right there, is downside. But you are looking at a player with every bit of the upside possessed by Matt Forte, who would cost you almost twice as much.
I listed these three, because for this week, their matchups and potential were enticing enough that they had me asking myself these questions. I thought they should be on your radar too. ButI could have listed any two or three players in the NFL here, because these are the questions you should be asking yourself anytime you evaluate any player:
What am I paying for? Am I paying for a consistent 14-point scorer, or am I paying for a 20% chance at 30 points and a 80% chance at 5? What kind of contests am I entering – GPPs or 50/50s? Do I want consistency, or do I want upside?