Again unto the breach, my friends. We find ourselves facing off with the oldest opponent of man…Time. Let us trick the old man once more and travel back to see what was unseen by our collective eyes.
Soccer season kicked off this past week and we find ourselves knee deep in some excellent images and clips.
Our first example of "What The Football?!?" focuses on an injury that puzzles me. I really don't know the cause, but the treatment appears to be punishment enough. Two options, he should avoid those pre-game sriracha-glazed-deep fried-jalapenos for the near future and seek the consultation of a proctologist.
When you're taking a freeze ray to the buttocks, something tells me you're not faking the injury.
It's not often you get to see some Japanese Soccer highlights, but when there is a sick ankle-breaker with a dash of nutmeg…it's tasty.
Feel free to rinse and repeat that clip above.
Remember the game Clue? Yeah, I bet you never suspected the Goalie in the penalty area with the back heel kick.
You're welcome in advance for the following clip.
Tapping out from soccer, I give you one last clip from the belly of the interwebs…
A for effort, bro. But now you're internet fodder and them's the breaks.
With football season around the corner, we have another time-honored tradition to uphold. Fake Mascot Fights. This one got "hit of the week" according to Reddit.
While we wait for American Football to kickoff. We have a few morsels to whet our appetites.
Something tells me, a brewery in Indianapolis still holds a grudge over deflategate.
I have but one thing to say about that.
Speaking of great hands, have you heard of this guy named O'Dell Beckham, Jr.? Evidently he's some sort of superhero; even in a wine store.
I'm not regularly a Philip Rivers fan, but he wins for photobombing the lifeforce out of Jerry Jones.
Golf generally bores the hell out of me down to the beds of my fingernails. And I normally don't watch golf but I caught a few minutes this week and I was impressed by Phil Mickelson. You should be too.
Is that worth a face melter? I think it is. If that wasn't frustrating enough, but still friggin cool, I caught this clip of John Daly doing what we all know we've wanted to do with a 5-iron that just didn't want to cooperate.
That club had it coming and I think can be found on eBay. Not really, but if it were…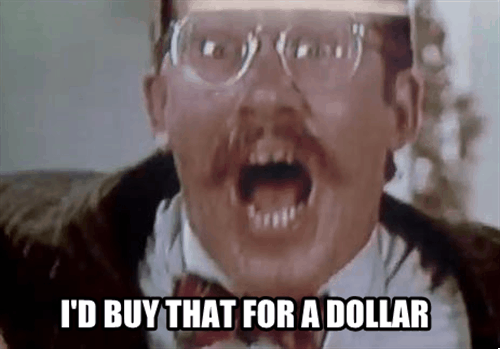 Now for baseball. The dugout isn't always the safest place to be. Often foul balls are a serious problem. So I suggest you protect yourself, however you see fit.
Now, for your Anthony Rizzo clip fo the week.
Nice catch, it's comforting to know that when he's not stealing a hotdog from a fan he makes incredible catches like that one.
Ahhh the old "untucky shirt" trick, one of the timeless classics in the book of baseball shenanigans.
Somebody separate these guys before they start giving each other wedgies.
And since I used the word "Shenanigans", I get to post this clip.
Now for a slick slide into home.
Till next time, all hail the interwebs!