I come not praise this baseball season, but to bury it.
I am sad to see it go. Like an old friend that must travel on, our beloved baseball season comes to an end. But do not despair! A much rowdier friend will soon grace our flatscreens; the #Postseason.
I wonder is the hashtag optional these days? Or is it already old hat. Either way, this is the best part of the baseball season. This is the time when teams pack up and go home, or win or go home. And something tells me the Cubs are loose and ready to play.
I think they were playing this in Wrigley that night.
Which is a stark contrast to the atmosphere in Arizona these days!
Check us out on the @Dbacks snapchat! We're having so much fun at our sisterhood tonight! #asuaxo pic.twitter.com/302zdlsv47

—

ASU

Alpha Chi Omega (@asu_axo) October 1, 2015
To which we believe there was an unofficial world record of selfies taken that fateful night. It was like a shootout at the Selfie Corral. And if it's going to be a shootout, then I'll be your huckleberry.
This one was my favorite. The look on the face of the girl at the bottom of the screen just right of center; that's the "1000-yard-selfie-stare" right there.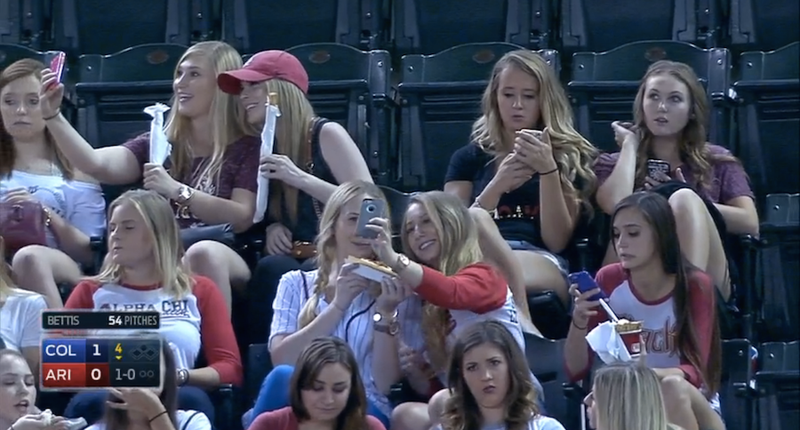 That comes out when you've been staring down the lens on the back of too many iPhones. You've seen too much and been in the $h!t for too long. PULL HER OUT AND GET HER A PEDICURE! It's too much!!! Too much!!
But some guys are used to the pressure and have seen it all before. Oh and they are uber "casual" about the obligatory beer shower.
Beltran is so casual about the beer shower. #socool #mlb #beltran #Yankees10K pic.twitter.com/sQarws3OIj

— deepdfspicks (@deepdfspicks) October 2, 2015
On the west coast, the Dodgers were a little more enthusiastic and even doused the reporter with the rarely seen six-pack shower. Behold the carnage.
That's called a #sixpackshower. I haven't had one of those since college. #tbt https://t.co/18WnkScWe7

— deepdfspicks (@deepdfspicks) October 1, 2015
But of course, that's not all that poor reporter had dumped on her while the Dodgers let loose.
Never trust a dodger celebrating the win… https://t.co/79×3FU4wgI

— deepdfspicks (@deepdfspicks) October 1, 2015
Nobody ever expects the powdered sugar. #RKellyHomevideo
Superfans. They are everywhere and will do anything to help their team. I figure if they make the conscious effort to dress up and leave their homes they deserve a little glory. That's why Al Gore invented the Internet. Right?
But sometimes, a superfan just can't be super enough…even for the Bears this year.
THANK YOU @Deadspin you win the Internet today. pic.twitter.com/axELw8X4DU

— deepdfspicks (@deepdfspicks) September 27, 2015
And the Superfans of the Week go out to these Miami Hurricane fans for putting on the full monty for the Cincinnati game this week and suffering through the loss.
They made the conscious decision to leave the house like this. They get a post on twitter. #superfans #MIAvsCIN pic.twitter.com/U0aTbEuAgj

— deepdfspicks (@deepdfspicks) October 2, 2015
As the weather turns colder, football is heating up and right when you think the Patriots couldn't be any hotter? Bye week. Yes, it's a time in the football season for teams to take a week off. Rest. Heal. Relax, if possible. But Bellatrix never takes a bye week.
Bellitrix never gets a bye week. https://t.co/DruRBGGvAu

— deepdfspicks (@deepdfspicks) October 1, 2015
Pretty soon your season-long lineup is going to be "Oprahed" all over with bye week madness. Kinda like this, but will football.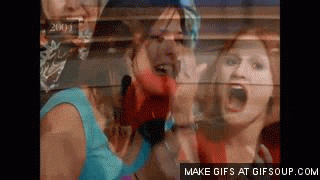 I don't normally make picks in this column, but I'm going to sneak one in for this week. Tyrod Taylor. He's a quarterback in Buffalo. And he's got a sick – as in good – arm.
I'm not saying, I'm just saying.
Then you have SteveYoung doing the Ray Lewis intro dance.
@espn Steve Young doing the @raylewis #dance #MNF pic.twitter.com/N7i1ftjgks

— Tino Bovenzi (@TinoBovenzi) September 29, 2015
I've got a confession to make. Sometimes I leave the channel on NFL RedZone, because I miss it when it's gone.
Sometimes I'll leave my TV on @NFLRedZone Just because I want to savor the memories of last Sunday. #nfl #redzone pic.twitter.com/8Dd3DDQT17

— deepdfspicks (@deepdfspicks) September 30, 2015
Now for ye-old roundball.
You remember each August, you'd get or hoped to get the latest greatest sneakers. You know, so you could be "that kid" in the seventh grade. The one kid that everyone even the principal looked up to because you had a pair of Jordan's or the illest British Knights.
Well, James Harden – proud signor to a $200 million endorsement deal with Adidas – had his Christmas in October when Adidas dropped off a metric $h!t-TON of sneakers at his door one morning. Check out the glory.
https://www.youtube.com/watch?t=4&v=WffdAbNFyC0
There are rumors that he is still trying on pairs of Superstars. I'd been happy just to get a pair of the Crazylight Boost's… #prettyplease … #size13.
Perhaps Harden will grace the social-webs with some fancy giveaway of all that magnificent blazing swag. Like Anthony Davis is doing. Everyday of #Antober.
I'm giving away a pair of my @nike's every day during #Antober. RT this today for a chance to win the first pair! pic.twitter.com/hM5KnhQ3zw

— Anthony Davis (@AntDavis23) October 1, 2015
I don't wear a size 17, but I'll proudly put those in my sports cave with a spotlight and plaque. #justsaying
This next clip triggers my OCD because the last one at the top just won't go around. And there is nothing I can do about it because I don't think they make ladders high enough to reach it.
If it is this easy to get a DeRozan, then I just might have to buy a Raptors jersey. #not I'll stick to drafting him in dialy leagues, thank you very much.
Till next time,