It's safe to say that Pokemon Go is taking over the world. The most popular mobile app of all-time is sweeping the nation, sending Pokemon trainers all over the map to find the creatures they covet the most. From landmarks to waterfronts, to public parks and more, there's endless places to search for Pokemon.
But what about your favorite NFL team's stadium?
With fantasy football season on the horizon, where are the best stadiums to catch Pokemon? It's only natural to find out, especially if you're attending games or a season ticket holder. Spending each Sunday at the stadium? Might as well find out what Pokemon inhabit the area.
Using the best minds, we discovered the best NFL stadium locations for live Pokemon. Check out our definitive ranking of the best stadiums:
3RD

TIER
Washington Redskins – FedExField
Maybe Pokemon are big RG3 fans, or maybe they realized there's no reason to inhabit Landover, MD. Either way, this was by far the easiest choice of all: with nothing but a Zubat in the parking lot, FedExField is by far the saddest stadium in the NFL when it comes to Pokemon Go.
---
Miami Dolphins – Sun Life Stadium
The appearance rate of Pokemon at the Dolphins stadium is certainly underwhelming, probably because the Rock has caught them all while filming "Ballers".
---
Minnesota Vikings –

U.S.

Bank Stadium
We think all the Pokemon may have gotten lost trying to get to new stadium…
---
New Orleans Saints – Mercedes-Benz Superdome
The Pokemon around the Superdome are simply not showing up. I guess they're taking their cue from the Saints' defense.
---
New York Giants/New York Jets – MetLife Stadium
Pokemon at MetLife Stadium seem to be taking their cue from free agent Ryan Fitzpatrick and holding out, or maybe Odell Beckham Jr. is doing what he does with touchdowns and is catching them all…
---
Carolina Panthers – Bank of America Stadium
No one yet knows what new move Cam will replace his signature dab with, but Carolina fans sure hope it's more exciting than the Pokemon to be found in Bank of America Stadium
---
Seattle Seahawks – CenturyLink Field
Chased away by the 12th man, CenturyLink Field is as abandoned as a number 1 receiver up against Richard Sherman.
---
2ND

TIER
Cincinnati Bengals – Paul Brown Stadium
Paul Brown Stadium is home of the Cincinnati Bengals, several decades of NFL futility, and a colony of Zubats.
---
Chicago Bears – Soldier Field
Soldier Field has two ghosts to contend with – the greatness of the '85 Bears and a Ghastly.
---
Atlanta Falcons – Mercedes Benz Stadium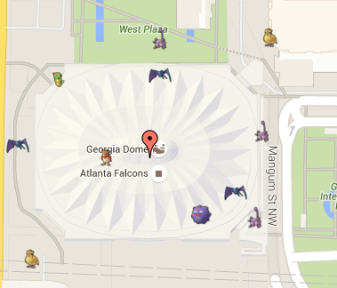 Atlanta's new Mercedes Benz Stadium appears to have been taken over by a new class of flying creatures: Pidgey's and Zubats. Just wait till they see how cheap the PokeSnacks are.
---
Arizona Cardinals – University of Phoenix Stadium
While Abra may sleep through class at University of Phoenix, he at least gives the Cardinal's some Pokemon cred at an otherwise lackluster stadium.
---
San Francisco 49ers – Levi's Stadium
Similar to Chip Kelly's high tempo offense, Levi's Stadium is the home to the most "Quick Attacks" in the league.
---
Baltimore Ravens – M&T Bank Stadium
The home of the Ravens unimpressive collection of offensive weapons is also the home of an unimpressive collection of Pokemon.
#YouveProbablyAlreadyCaughtThemAll.
---
Cleveland Browns – FirstEnergy Stadium
The Cleveland Browns may not have a starting-quality QB, but their stadium has two PokemonGo starters!
---
Tennessee Titans – Nissan Stadium
It may look barren at first glance, but there is still hope within Nissan Stadium with a promising young starter.
---
Houston Texans –

NRG

Stadium
Fitting that in the great state of Texas, the lone Staryu decided not to bring any of his friends to NRG Stadium.
---
Indianapolis Colts – Lucas Oil Stadium
If only the Colts had this many Drowzees protecting Andrew Luck, he might be able to last a full season.
---
Oakland Raiders – O.co Coliseum
We find it Oddish that there are so many grass-type pokemon given half the O.co is covered in dirt.
---
Philadelphia Eagles – Lincoln Financial Field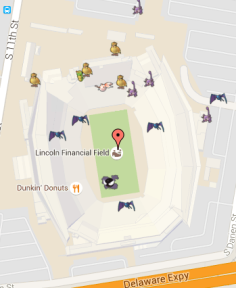 A Ghastly isn't the best omen for Sam Bradford's dying career, but a bunch of generic Pokemon seem appropriate at the new home of Carson Wentz.
---
Detroit Lions – Ford Field
It appears Calvin Johnson isn't the only one in Detroit who's been feeling a bit Drowzee at Ford Field.
---
1ST

TIER
Buffalo Bills – Ralph Wilson Stadium
Ralph Wilson Stadium has more Pokemon than the average weekly pass attempts of Bills QBs under coach Rex Ryan.
---
Denver Broncos – Sports Authority Field
Von Miller's training partner Machoke rounds out a sturdy crowd of Pokemon at Mile High Stadium. But perhaps the flaming horse Ponyta is more a sign of things to come in a post-Peyton world.
---
Kansas City Chiefs – Arrowhead Stadium
In 1990 the Chiefs' Arrowhead Stadium became the only place to ever have the team threatened with a penalty if the crowd did not quiet down. In 2016 the Chiefs' Arrowhead Stadium got a Jigglypuff.
---
Dallas Cowboys – AT&T Stadium
For the world's most extravagant stadium, you'd expect to see more than the world's most basic Pokemon.
---
Los Angeles Rams – LA Memorial Coliseum
Seems the rarer LA Pokemon are all aboard the Jared Goff hype train with a Kabuto and Golem hanging out in the new Rams home.
---
Tampa Bay Buccaneers – Raymond James Stadium
The focus in Buccaneers camp will clearly be on the kicking game, as it appears a Hitmonlee will compete with highly touted second round draft pick Roberto Aguayo.
---
New England Patriots – Gillette Stadium
Perhaps taking their cue from Team Rocket, the Patriots are flush with Pokemon. And while it appears the Pats receivers won't be catching any Tom Brady passes to start the season, they can definitely catch their share of Rattatas.
---
Pittsburgh Steelers – Heinz Field
The Steel Curtain couldn't keep the Pokemon at bay with Black and Yellow Drowzees showing up in spades. A good thing since they're almost indistinguishable from a typical Steelers fan.
---
Jacksonville Jaguars – Everbank Field
Everbank Field has more Pokemon (21) than the Jaguars have wins in the last 5 years (19).
---
San Diego Chargers – Qualcomm Stadium
Qualcomm is a great place to catch Chargers games and Pokemon. Only one of those two things is likely to be true in 2017.
---
Green Bay Packers – Lambeau Field
If you're worried about catching Pokemon at Lambeau, All World QB Aaron Rodgers has just 5 letters for you: R-E-L-A-X.
---