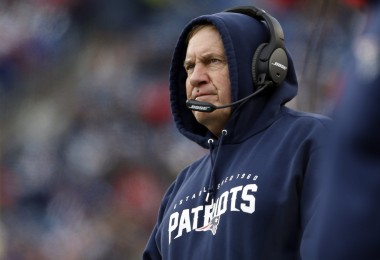 We try. But try as we might, there are only two weeks left of fantasy football. What, you wanted us to have a daily fantasy contest build around the Pro-Bowl? The Super Bowl? Sounds crazy, but I get it. The end of the fantasy football season can be a sad and confusing time in the lives of die-hard players, who might need to take a few weeks to mourn before moving on to basketball and hockey and golf and everything else to try to pass the time until next fall.
So you might as well take advantage of it while you can, all while fervently thanking whoever invented playoff fantasy football (or daily sports in general, or computers – however far back you have to go to make sure your gratitude is adequately expressed). So good luck.
Last week we talked about the challenges presented by only having eight teams active, but now you've got some experience under your belt, so this week should be no problem. Actually, this week should seem downright cushy, just ripe with choices, when you consider that the Cardinals, Steelers, Lions and Bengals just got replaced by the Seahawks, Broncos, Patriots and Packers. Quick math, that is something like maybe six or seven exciting fantasy options getting replaced with something in the range of thirteen or fourteen.
And earlier this week, we took a look at what to expect from those teams that advanced last weekend and whether the Wild Card round could teach us any lessons that would help us pick our lineups for this week. So, for now, let's study the fantasy options from the top four teams, who got to this point by virtue of their regular season prowess and were not forced to muck about with the likes of the Cardinals and the Bengals and the other riff-raff.
Green Bay Packers
Outside of the home cities of the other six teams, this is likely the most anticipated game of the weekend. Who doesn't love watching football being played at Lambeau, in the winter, with an NFC Championship game on the line? And the fact that it's the Cowboys coming to town only ups the ante.
Unfortunately, Aaron Rodgers ($8,900) might not be at 100%, but you still should expect nothing less than a fantastic performance from him… from an NFL standpoint. The Packers are going to be satisfied with his preparation and execution, is my guess. And from a fantasy perspective, there is not reason to expect anything less – it's just the price holding you back. But he's been playing back at his "best in the game" form lately, and the Cowboys might have the worst defense left standing in the playoffs (which says a lot more about the quality of the defenses left than it does about the Cowboys). But if you're looking for the best QB, here he is. If you're looking for the QB playing the best right now, here he is. If you're looking for the QB with the best matchup, here he is. Which means you absolutely can trust Jordy Nelson ($8,300) as your top WR choice for the weekend as well. If you are picking him, it's probably a choice between him, Dez and Demaryius, so it's an important call – and with this matchup and this QB, it's hard to go wrong here.
One of the few things that might keep me away from Rodgers, in fact, would be my desire to get Eddie Lacy ($7,200) into my lineup and an unwillingness to rely too much on the Pack. Lacy has been an absolute beast down the stretch, catching passes and scoring touchdowns, and if he finds early success against Dallas, he could find a lot of work. Against a porous run defense, in the cold, with a banged-up QB, leaning on this workhorse might not be a bad idea at all for the Packers, which could translate well into a solid outing for you.
Denver Broncos
The Broncos are great, and if there was a single team to give the Cowboys a run for their money as "best match-up," it's the Colts. But the Colts do have a couple of talented corners, and Julius Thomas hasn't been doing much over the middle, and Peyton hasn't looked… listen, just start C.J. Anderson ($7,600). When he first burst onto the scene, it was easy to think about Ronnie Hillman and Monte Ball and assume he would flame out and just be replaced at some point, but it hasn't happened. Anderson has – pun intended – taken this job and run with it. Between Weeks 12 (his first as starter) and 16, he never had fewer than 20 touches in a game, and he actually topped 30 touches in three of those five contests. He's not some journeyman finding a home either – he's a second year back the Broncos took in the second round of the NFL draft. They like him, and now the rest of us do too. It's easy to see why.
Seattle Seahawks and New England Patriots
The two #1 seeds. The favorites. Home field advantage throughout the playoffs, the bye week, the whole nine. The Patriots even have the fourth highest-scoring offense in the entire league. And yet, fantasy options are harder to find than you might expect. For the final time of the season, I will give you this: you. can't. trust. Patriots. running. backs.
As for their wide receivers, Edelman doesn't score many touchdowns, and some weeks LaFell doesn't even see any targets. Sure, they have Rob Gronkowski ($7,100), the best tight end in both real and fantasy football. But the Ravens D up tight ends pretty well. He's matchup-proof, sure, but you certainly could have hoped for a better one.
As for the Seahawks, they haven't had a receiving option you could trust since Steve Largent. Yup, you're gonna want to start their defense if you can afford them, and Marshawn Lynch ($8,000) is bound to feature a prominent role in their game-plan. But, again, the Panthers are playing good defense right now – more like what we expected from them coming into the season than what we've seen over the past few weeks.
So how are they the #1 seeds? The answer is simple: their quarterbacks. If you were putting together an NFL team a decade and a half ago, you couldn't have done better than Brady as your quarterback (well, maybe other than Peyton). And if you were doing the same today, you couldn't do better than Wilson (well, maybe other than Rodgers… or Luck). So if you are a Seahawks fan, or a Patriots fan, enjoy. You know better than anyone that you can trust your QB. But when the other options at the top, fantasy-wise, are Peyton, and Luck, and Rodgers, and guys like Flacco and Romo are ways to save money and still have that upside, you could very easily go the whole weekend without a single #1-seeded player on your roster. And that could win you a contest, even if both of these teams advance. Because honestly, sometimes it's hard to figure how they do it, just keep winning games, relentlessly. But take the awe and wonder and fandom out of the equation and maybe you too will reach that level, winning, and winning and winning at fantasy football, relentlessly. For two more weeks at least.
Until next season.