There are a lot of different ways to handcuff players in fantasy football but in the world of DFS, there's no method more valuable than pairing a quarterback to his stud receiver. Now that the playoffs are underway, here are the Top 5 QB/WR handcuffs to consider for your DraftKings lineups.
5. AJ McCarron and A.J. Green
If you're looking for a sleeper handcuff play this weekend, McCarron and Green have the second best matchup according to the numbers.
The Steelers allowed the 12th most fantasy points to quarterbacks and the fourth most to wide receivers this season. Pittsburgh's secondary was especially beatable by the league's better receivers. Overall, the Steelers' defense gave up 14.9 receptions 193.8 yards and 1.2 touchdowns per game on 23.2 targets to opposing receivers.
Green has already had two big games against Pittsburgh. In their first meeting, Green scored 31.8 fantasy points. The second time the two teams met in Week 14 he put up 28.2 points, despite Andy Dalton going down in the first quarter.

McCarron came in off the bench against the Steelers and had an uneven performance. He threw two touchdowns but also two interceptions. He did manage to record a respectable 18 fantasy points. It was McCarron's top fantasy outing of his four games filling in for Dalton.

This handcuff costs $12,700 and it's an obvious risk because of McCarron's inexperience. However, considering Green's success against the Steelers and Pittsburgh's struggles against the pass this season, the tandem still ranks as one of the week's five best plays.

4. Kirk Cousins and DeSean Jackson
Cousins was one of the surprises of the fantasy season. He went from good at home to just good in the final month of the season.

In his last four games, Cousins scored 25, 38.8, 35 and 19 fantasy points. He threw 12 touchdown passes and one interception. Three of those four games were on the road. Cousins was simply one of the hottest quarterbacks in the NFL at the end of the year.

Jackson is still a hit or miss receiver. Pierre Garcon scored in three straight games to end the year but was only been targeted four times in two of them. The best option in Washington's passing game is still tight end Jordan Reed. However, expect the Redskins to take their shots deep against the Packers secondary.

Jackson is the Washington receiver with the most upside. He's scored 19+ points three times in his last seven games. If you're looking to pair Cousins with a receiver on the Redskins, this handcuff has the highest ceiling at a cost of just $10,400.

3. Aaron Rodgers and Randall Cobb
It's been a disappointing season for both Rodgers and Cobb. Everything starts over in the playoffs though and the duo has the most favorable matchup of the week on paper.
The Redskins allowed the 10th most fantasy points to quarterbacks and the third most to receivers during the regular season. Washington's defense gives up 274.5 yards and just under 2.0 touchdowns per game to opposing quarterbacks. The Redskins allow 11.6 receptions, 176.1 yards and 1.4 touchdowns per game on 19.8 targets to receivers.

It's been an off year for Rodgers and the Packers' offense. Green Bay can't run the ball at all. Rodgers' receivers have let him down and the offensive line has struggled, yet they came within a game from winning the NFC North. Rodgers hasn't topped 20 fantasy points since Week 13 against the Lions and he needed a last second Hail Mary to get it.
Cobb has been an even bigger disappointment in 2015. He's only reached 20 fantasy points three times this year and the last time was in Week 9. Cobb has scored 10 or fewer points nine times. The loss of Jordy Nelson ended up hurting Cobb's production; not helping it.
Rodgers and Cobb weren't a recommended handcuff at the end of the year but with only four games and the best matchup on the board, they're worth a shot at a reasonable $12,200 price tag this weekend.

2. Ben Roethlisberger and Antonio Brown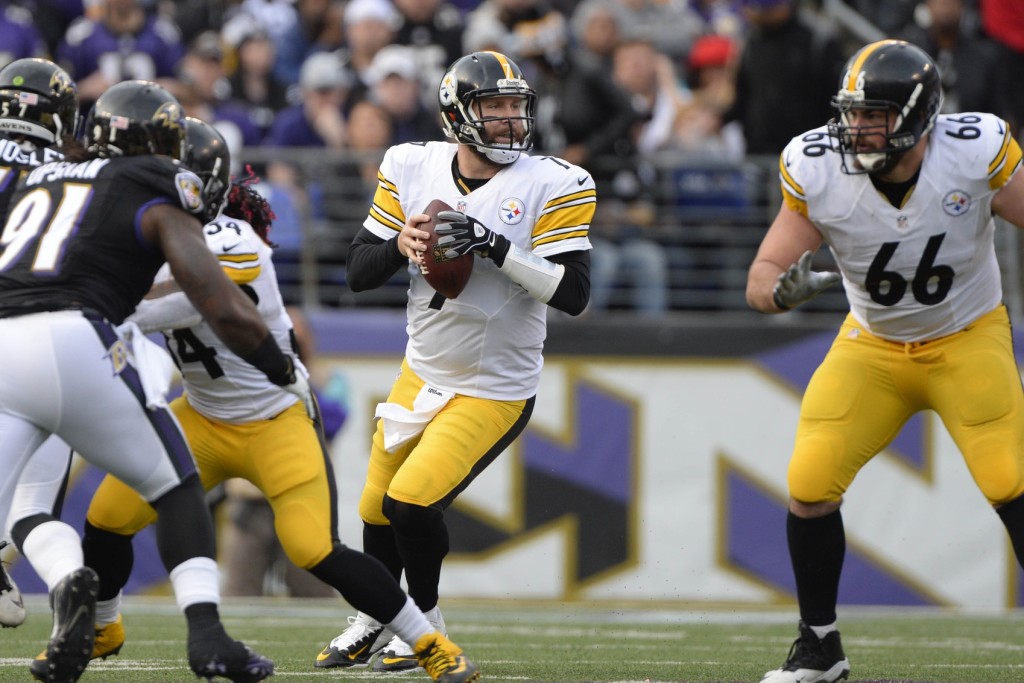 The Steelers and Bengals will face off for the third time. In the first meeting Roethlisberger was returning from a knee injury and scored just 11.48 fantasy points. The second time, Big Ben completed 30 passes and threw for 282 yards but was held out of the end zone. Again, he only scored 10.9 points.

Roethlisberger's struggles against Cincinnati aren't a fluke. The Bengals' defense allowed the third fewest fantasy points to quarterbacks this season.
The Bengals were also tough on wide receivers. Cincinnati's defense gave up the 10th fewest points to receivers. Brown had two average games against the Bengals; scoring 16.7 and 15.7 points. He caught 13 passes for 134 yards and a touchdown on 21 targets.

This is a tough matchup for the Steelers' stud duo and the weather isn't expected to be great with the possibility of freezing rain. However, there are still a couple of factors in their favor. Brown is still guaranteed to see targets. That's not something every receiver in the playoffs can say. Also, DeAngelo Williams is likely out with an ankle injury, so the Steelers' running game could be short-handed Saturday night.

This handcuff costs $16,800, so it's pricey for the success the Bengals' defense has had against Roethlisberger this year. Still, given the other options this weekend, few receivers will have as many opportunities as Brown to make an impact.

1. Russell Wilson and Doug Baldwin
No quarterback/receiver combination closed out the season hotter than Wilson and Baldwin.
Wilson scored 20+ points in his final seven games of the regular season. Baldwin scored 11 touchdowns in his last six games. He finished tied for the NFL lead with 14 touchdown receptions. Baldwin also put up 20+ fantasy points in five of his last six games.
Wilson and Baldwin both had big games when they faced the Vikings in Week 13. Wilson accounted for 325 total yards and four touchdowns (34 points). Baldwin caught five passes for 94 yards and two touchdowns (26.4 points).
The Vikings finished the year allowing the 18th most fantasy points to quarterbacks and the 19th most to wide receivers. The weather is expected to be around zero at kickoff but wind shouldn't be a factor.
This handcuff costs $13,700. Based on price, previous performance and how these two finished the season, Wilson and Baldwin are the best bang for your buck this weekend.