The 2015-2016 NFL season is nearly here, and we're gearing up for the huge hits that come with it. You're going to need to know which teams are prepared to explode defensively. Here's the top 5 defensive NFL teams going into the 2015 season.
Check out the other parts in this series here:
Top 5 NFL Offenses Teams 2015
Top 5 NFL Rosters 2015
5. Houston Texans
I had trouble with this fifth spot as I was torn between the Texans and the Jaguars. Yes, you read right, I said the Jaguars, who I think will be a very solid defense this season. Ultimately I went with the Texans because they have what most would consider the most impactful player in the NFL, J.J. Watt. The Texans forced the most turnovers last season, but finished off the season in the middle of the pack as far as total defenses are concerned. However, they've made some solid additions to this defense in the offseason that could help plug some holes.
They added Vince Wilfork who will anchor the middle of this defensive line and even though he's passed his prime, he still has some gas left in the tank. They also signed cornerback Kevin Johnson who should help them a lot in the pass coverage. It wasn't only in free agency that the Texans added some defensive players, they also drafted linebacker Benardrick McKinney in the second round. The only thing remaining is to see how Jadeveon Clowney plays this season. He was not impressive as a rookie. If these parts all fall into place and pan out, this defense will be really good.
4. St. Louis Rams
Here's another defense that has a scary-good defensive line. This line is made up of five first round picks: Robert Quinn, Aaron Donald, Michael Brockers, Chris Long and Nick Fairley. Keep in mind, Fairley was a former first round pick for the Lions, but took his talents to St. Louis this season. The Rams were inconsistent last year, but this was also a unit that shut out the Raiders and Redskins in consecutive weeks in 2014. Granted, none of these teams are great by any means, but a shutout is a shutout.
Much like the Bills this is a team who thrives on their defensive line. Their secondary and linebackers aren't a threat, but they are so good up front that is masks any weaknesses in other areas of their defense. This is a line that will rattle quarterbacks and force them to make bad decisions more times than not. This defense has been solid for several years now mainly because of this line, I'm not expecting that to change this season.
3. Buffalo Bills
It appears the AFC East have some stout defenses as the Bills are right behind the Jets on this list. One addition that the Bills made this offseason that helps them significantly is not even a player, it's head coach Rex Ryan, who we all know as a brilliant defensive-minded coach. Another big acquisition was defensive coordinator Dennis Thurman, who Ryan always credits as the man behind the success of his defenses. This Bills defense was already good in 2014. They finished fourth in total defense, allowing the fourth fewest total yards and the fourth fewest points.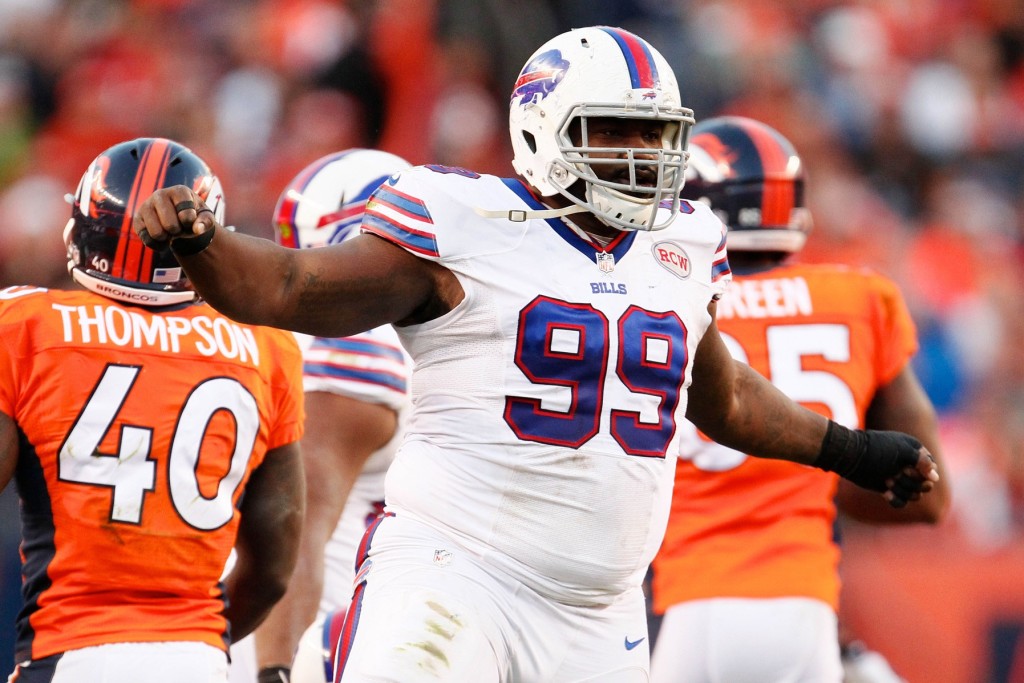 In addition, the Bills had the third most takeaways (30) of all defenses. The Bills biggest strength is their defensive line, which is one of the best in the league. Mario Williams and Jerry Hughes will be on the edges, while Kyle Williams and Marcell Dareus (he had 10 sacks last season) take care of the interior part of the line. This is exactly what a coach like Ryan wants as he thrives on blitzing. This unit led the league in sacks last season, so I can only imagine how much better they will be this upcoming season with an aggressive Ryan as their coach. I'm expecting this coaching staff to push these players to their full potential and for this defense to be very good.
2. New York Jets
The Jets defense improved immensely this offseason, specifically their secondary. It's not like they were a walk in the park last season, as they allowed the sixth fewest total yards. That being said, they brought both Darrell Revis and Antonio Cromartie back and they also signed former Chargers safety Marcus Gilchrist. Not to mention, the Jets already had two studs on their defensive line, Sheldon Richardson and Muhammad Wilkerson, but when the best defensive player of this year's NFL draft, Leonard Williams, landed to them, they quickly took him.
This defensive line is as scary as it gets. I'd hate to be an AFC East quarterback to be honest. The biggest question mark is at the linebacker position. They have an aging linebacker in Calvin Pace and an outside linebacker, Quinton Coples, who is being asked to play a position he's not entirely comfortable with. Even with that minor concern, this defense has a defensive line that will pressure quarterbacks and stop the run, along with a secondary that won't allow much separation. Overall, this is a defense I wouldn't be thrilled to face on any given Sunday. Hopefully the offense can do their part and not wear out this defense by keeping them on the field too long.
1. Seattle Seahawks
This unit is filled with talent across the board. The safeties are arguably the best in football, led by Kam Chancellor and Earl Thomas who are known as the "legion of boom." These two are known for their airtight coverage and hard hits. Then you have corner back Richard Sherman who shuts down one side of the field. Quarterbacks usually avoid Sherman's side of the field, hence limiting opposing offenses' playbook.
This secondary is so good that it allows this defense to be aggressive. The defensive line is one of the best in the league, and they've added free agent Ahtyba Rubin which makes them even better. Their biggest loss was defensive coordinator Dan Quinn, who went off to coach the Atlanta Falcons. That could be an issue, but with all the talent on this defense, I wouldn't be too concerned. The Seahawks have allowed the fewest total yards and points scored in two straight years. This defense is as good as it gets and until proven otherwise, they are the best in football.