There are a lot of different ways to handcuff players in fantasy football but in the world of DFS, there's no method more valuable than pairing a quarterback to his stud receiver. It's always better to get double the points from two players on the same team having a big game. Here are the Top 10 Week 11 QB/WR handcuffs to consider for your DraftKings lineups:
10. Aaron Rodgers and Randall Cobb
After two poor games, Rodgers has scored 37 and 25 fantasy points, despite the Packers' struggles. The problem with this handcuff is Cobb continues to disappoint.

Cobb scored 20 points two weeks ago against Carolina but over his last six games he's scored 10 points or fewer five times. That's been a killer for DFS players and it's not looking good for Cobb this week against Minnesota.
The Vikings allow the ninth fewest fantasy points to receivers and the fifth fewest points to quarterbacks. Obviously Rodgers and Cobb have shown in the past they can go off against any defense but given the matchup, recent performances by Cobb and total combined cost of $14,200, there are some better options to look into this week.
If you play multiple lineups the Rodgers/Cobb handcuff isn't a bad against the grain play but it's hard to trust them right now as your lone handcuff for Week 11.
9. Andy Dalton and A.J. Green
Dalton has been good for most of the year but he's now put up poor fantasy performances in two of his last three games. It's not going to get any easier this week.
The Cardinals give up the 23rd fewest fantasy points to quarterbacks, so Dalton will need to play well in order to rebound from his worst game of the year against the Texans. Still, Dalton has shown he can put up big fantasy numbers versus tough defenses. The Seahawks give up the third fewest points to quarterbacks and Dalton scored 31 on them in Week 5.
You would think the Bengals will try to get Green more involved in the offense this week. While it's great that Dalton has spread the ball around more this season, Green needs to be more involved than his nine catches on 13 targets over the last two games. He'll have a tough test this week going up against Patrick Peterson and the Cardinals' secondary. Arizona's defense allows the 12th fewest points to opposing receivers.
A lot of people will be down on Dalton and Green after their poor performance on Monday night football and tough matchup this week. The Bengals are a good team though and good teams usually bounce back from such a terrible outing. This handcuff could be a nice contrarian play.
8. Jameis Winston and Mike Evans
Winston and Evans are an intriguing low-cost handcuff this week. The Buccaneers and Cowboys played a snoozer last Sunday but Winston has performed well over the last month of the season and he may need to score some points in this game.

Before last week, Winston had scored at least 18 fantasy points in three straight games. The Cowboys are surprisingly very good against quarterbacks. He has a much better matchup this week.
The Eagles allow the 19th most fantasy points to quarterbacks. Philadelphia's defense gives up 264.0 yards and 1.7 touchdowns per game to opposing quarterbacks.
The Eagles really struggle to defend receivers. They allow the third most fantasy points to opposing receivers. Vincent Jackson practiced this week but he's going to be a game-time decision. If he can't go, Evans will continue to dominate targets. Evans has been targeted 32 times in the last two games and has scored 20+ fantasy points in three of his last four.

Winston and Evans have been playing well and they have a matchup to exploit this week. At a combined salary of $12,300, this is a handcuff that is undervalued.
7. Philip Rivers and Stevie Johnson
Rivers and Johnson are the most interesting handcuff on the board this week because of a couple of factors.
Rivers has been one of the top fantasy quarterbacks this season but the Chargers have been decimated at the receiver position. Even Rivers' tight ends – Antonio Gates and Ladarius Green – are both injured and questionable for this game. That leaves Johnson as really his only healthy, dependable pass catcher coming out of the bye week.
The other factor that makes this handcuff interesting is on paper it's a dream matchup for Johnson. The Chiefs allow the second most fantasy points to receivers but Kansas City's defense has played better over its last three games. The Chiefs are also much tougher on quarterbacks; giving up the 22nd fewest fantasy points.

The Chargers can't run the ball and Rivers has to throw to someone. Johnson has a low salary ($,3,900), so this handcuff is worth a shot based on Johnson's likely volume and their overall bargain basement price of just $10,800.
6. Matthew Stafford and Calvin Johnson
Stafford isn't having a great fantasy season but he's been playing better over the last month. Stafford has scored 37.9, 18.7 and 16.8 points in three of his last four games.
Stafford could have one of his best games of the season this week. The Raiders allow the sixth most fantasy points to quarterbacks. Oakland's defense gives up 304.6 yards and 1.8 touchdowns per game to opposing quarterbacks.
Johnson has only scored three times this year but he's caught at least five passes in eight of nine games. Megatron is also still seeing passes come his way. He's been targeted at least nine times in six games this year.
This is looks like a high-scoring game on paper. Oddsmakers have set the total at 49, which is tied for the highest of any game this weekend. This handcuff could end up being a steal at just $12,600.

5. Tony Romo and Dez Bryant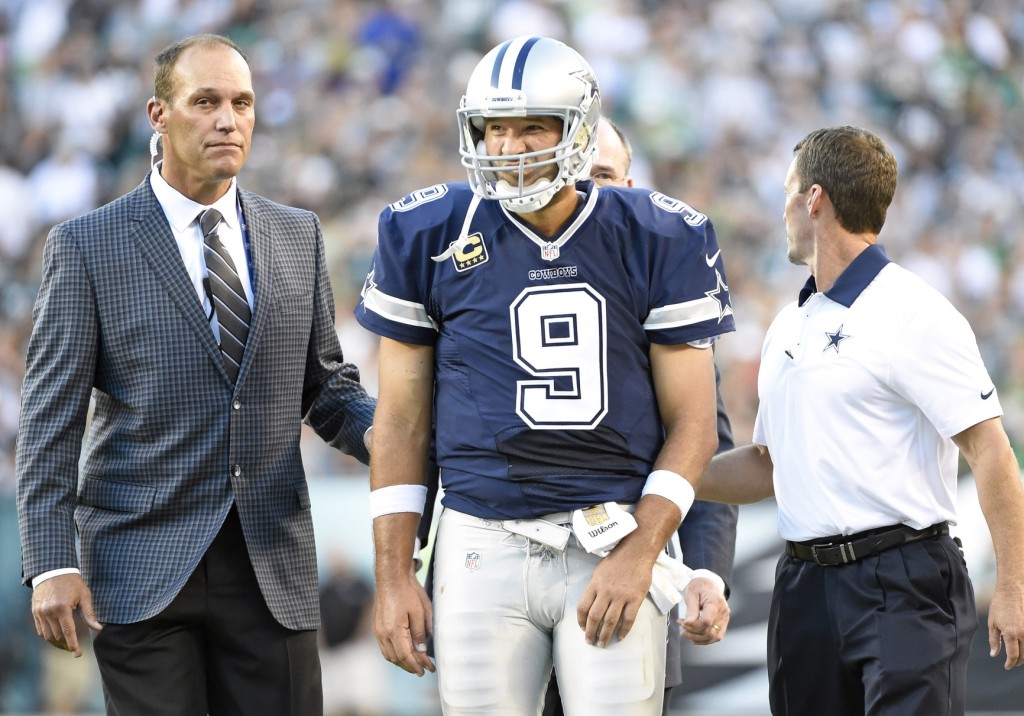 This is a tough handcuff to predict because Romo is making his first start since Week 2. Putting the duo right in the middle of the pack seems to make sense.
Amazingly, Romo and Bryant have only played one game together this season. In the opener against the Giants, Bryant caught five passes for 48 yards before leaving in the fourth quarter with a broken foot.

Miami's defense has been up and down this year. The Dolphins give up the 12th most fantasy points to quarterbacks and the 16th most to wide receivers.
Romo and Dez are a probably a little overpriced this week at $13,700 given Romo's long layoff but it could payoff big for those who roll the dice on them.
4. Tom Brady and Danny Amendola
Julian Edelman broke his foot last Sunday and Dion Lewis was lost for the season two weeks ago. That means Amendola goes from being a complementary receiver in the Patriots' offense to Tom Brady's second favorite target behind Rob Gronkowski.

Amendola isn't as athletic as Edelman but he'll now eat up most of his targets. Last week against the Giants, Amendola caught 10 passes for 79 yards.
The Bills have allowed the 11th most fantasy points to wide receivers. Buffalo has improved in that area over the last couple of weeks. However, the Bills are going to sell out to stop Gronkowski and when the two teams met back in Week 2, Edelman caught 11 balls for 97 yards and two touchdowns.

The Bills allow the 18th most fantasy points to quarterbacks. Brady threw for a season-high 466 yards and three touchdowns against Buffalo in Week 2. However, both Edelman and Lewis had big games in the first meeting.

Brady won't throw for 400 yards this time but at a combined salary of just $12,500, this handcuff is tough to pass up.

3. Derek Carr and Amari Cooper
Carr had bad matchups over the last four games and kept putting up big fantasy numbers. This week he has a great matchup, so hopefully things won't go the other way.
Carr has scored at least 22 fantasy points in each of his last four games despite playing defenses that have been tough on quarterbacks like the Vikings, Jets, Steelers and Chargers. Over that span Carr has thrown 13 touchdowns and three interceptions.
This week Carr gets a Lions' defense that allows the third most fantasy points to quarterbacks. Detroit's defense gives up 276.6 yards and 1.8 touchdowns per game to opposing quarterbacks.

The Lions also struggle when it comes to defending wide receivers. Detroit gives up the 12th most fantasy points to receivers. Cooper has caught at least five passes in each of his last four games. He should easily make it five straight games against the Lions.

Carr didn't play great versus the Vikings but still scored 20+ fantasy points. Expect a bounce-back performance against the Lions. At a combined salary of $13,100, this handcuff has one of the highest ceilings for Week 11.

2. Carson Palmer and Larry Fitzgerald
Palmer continues to deliver big weekly fantasy numbers even against tough defenses. Last week, Palmer threw for 363 yards and three touchdowns on his way to 26.3 points against the Seahawks.
Palmer is now averaging 23.6 points on the season. He's scored at least 18 points in every game this year and 20+ points in six of nine. He's been the most consistent fantasy quarterback this year outside of Tom Brady.

The Bengals have been tough on quarterbacks this season. Cincinnati's defense allows the seventh fewest fantasy points to opposing quarterbacks but Palmer has been defense proof so far this year.

Fitzgerald is coming off a big game against the Seahawks where he caught 10 passes for 130 yards on 15 targets. Fitzgerald has now been targeted 26 times in the last two games. He should once again see plenty of passes come his way this week with both John Brown and Michael Floyd expected to be game-time decisions.

Palmer and Fitzgerald have been money all season. This handcuff is well worth its $13,900 combined salary, despite the tough matchup.
1. Matt Ryan and Julio Jones
Ryan and Jones have been a productive handcuff in their last two games and they have a good matchup again this week.

The Colts allow the ninth most fantasy points to quarterbacks. Indianapolis' defense gives up 287.4 yards and 1.8 touchdowns per game to opposing quarterbacks. Ryan has scored at least 19 fantasy points in three of his last four games.

The Colts are even worse when it comes to defending receivers where they give up the eighth most fantasy points. Vontae Davis will be on Jones for a majority of the time but no one cornerback has had much success stopping Jones for an entire game. Overall, the Colts' defense gives up 12.9 receptions, 177.7 yards and 1.2 touchdowns per game to opposing receivers on 22.4 targets.
Ryan and Jones are averaging a combined 44.5 fantasy points per game. Given the matchup this week, this handcuff is worth the high salary of $16,400.