There are a lot of different ways to handcuff players in fantasy football but in the world of DFS, there's no method more valuable than pairing a quarterback to his stud receiver. It's always better to get double the points from two players on the same team having a big game. Here are the Top 10 Week 8 QB/WR handcuffs to consider for your DraftKings lineups:
10. Jameis Winston and Mike Evans
In the two games prior to the Buccaneers' bye week, Evans scored a combined 13.3 fantasy points. In the game coming out of the bye, Evans scored 33.4 points.
Vincent Jackson was injured against the Redskins last Sunday and Evans saw 11 targets. It was only the second time all year Evans was targeted more than 10 times. Jackson is expected to miss this week's game versus the Falcons, so Evans should once again be targeted heavily.
Atlanta only allows 11.3 receptions, 142.3 yards and 0.4 touchdowns per game on 19.3 targets to opposing receivers. Evans should see a lot of passes come his way but it will be a challenge going up against a tough Falcons' secondary.
Winston is averaging 16.9 fantasy points per game. He's coming off the first 20-point fantasy outing of his career last week versus the Redskins. Atlanta's defense ranks high when it comes to giving up fantasy points to quarterbacks but it's because the Falcons only allow 1.1 touchdowns per game. Quarterbacks do throw for 280 yards a game against them.
Winston and Evans will only cost $12,000 of salary cap space. The handcuff is worth a shot this week with Jackson likely out.
9. Andrew Luck and Donte Moncrief
Luck may not be having a great season by real world standards but in his last two games he's scored 60 fantasy points.
Luck does have a bad matchup this week against the Panthers' tough defense. Carolina gives up the fourth fewest fantasy points to quarterbacks. The Panthers are even stingier to receivers; allowing the third fewest fantasy points.
Even though the matchup is bad on paper, Luck will likely have to throw a lot. When the Colts play good teams, their defense can't stop anyone. Even if Luck turns the ball over or puts up hollow stats, the attempts will be there this week.
Moncrief is the receiver to pair with Luck because Panthers cornerback Josh Norman is expected to shadow T.Y. Hilton on Monday night. Not only does Moncrief have the better matchup this week but his salary is $1,400 lower.
Moncrief has scored in five of seven games and his $5,500 salary is appealing if you're looking for a receiver to pair with Luck. Norman has been playing so well that it's hard to justify spending $14,300 on a Luck/Hilton handcuff. However, if you want to use Luck with a handcuff, spending $13,000 to team him with Moncrief makes more sense.
8. Ryan Fitzpatrick and Brandon Marshall
Fitzpatrick is having a strong season with the Jets. He's averaging 18.7 fantasy points per game. Fitzpatrick is scoring more points on average this year than bigger name quarterbacks Eli Manning and Matt Ryan but his salary is still much lower.
Fitz should continue to rack up big numbers when he faces a Raiders' defense that ranks in the bottom 10 at defending quarterbacks. Oakland is allowing 312.8 yards and 1.8 touchdowns per game to opposing quarterbacks this season.
The Raiders struggle when it comes to defending tight ends but Oakland is actually pretty tough on receivers because they keep them out of the end zone. The Raiders' defense allows 14.7 receptions and 183.7 yards per game but just 0.3 touchdowns.
Marshall had been on a roll up until last week. He had scored 20+ points in four straight games until the Patriots held him to 10.7. Marshall should rebound with a strong performance even if the Raiders keep him out of the end zone Sunday. Marshall has seen at least nine targets in every game except one this year.
If you're looking for a lower-priced handcuff this week, Fitzpatrick and Marshall are at the top of the list. The tandem costs a combined $12,800 but is producing an average of 40.8 points per week.
7. Aaron Rodgers and Randall Cobb
It goes to show how good Rodgers is that any QB/WR duo playing the Broncos is even on this list.
Denver's pass defense has been so dominant this year that the Broncos allow the fewest fantasy points to both quarterbacks and wide receivers. Denver gives up an average of just 10 fantasy points to quarterbacks and 13.3 points to receivers.
If you're looking for a chink in the Broncos' armor Denver has played Baltimore, Detroit, Kansas City and Cleveland. Those four teams have a combined record of 6-22 but the Broncos' defense sure looks like the real deal regardless of competition.
Rodgers is averaging 22.9 fantasy points per game but he hasn't topped the 20-point mark since Week 3. Cobb got off to a great start to the year but has posted back-to-back 5-point fantasy weeks in his last two games.
The Packers are coming off a bye with the best quarterback in the NFL. They are taking on the top defense in the NFL. The Rodgers/Cobb handcuff is priced at $14,500.
Add that all up and you get a talented duo that's worth a roll of the dice in some lineups but at the end of the day there are better options on the board this week.
6. Eli Manning and Odell Beckham Jr.
Manning had been hot until his last two games. He's facing the right defense in the Saints to get back on track.
The Saints' defense allows the second most fantasy points to quarterbacks. New Orleans gives up an average of 290.9 yards and 2.0 touchdowns per game to opposing quarterbacks.
Manning had scored at least 19 fantasy points in four straight games before putting up back-to-back duds against the Eagles and Cowboys. On paper, those two defenses were much tougher matchups for Eli. Both Dallas and Philadelphia allow roughly five fewer fantasy points per game than the Saints.
New Orleans ranks in the middle of the pack when it comes to defending receivers. The Saints' defense gives up 10.6 receptions, 164.6 yards and 1.1 touchdowns per game to receivers. Those are respectable numbers for a defense that struggles so badly to defend opposing quarterbacks.
Beckham has been up and down this year with four games of 19 points or more and three games of less than 10 points. If Manning is on though, Rob Ryan's defense is always susceptible to big plays.
The Manning/Beckham handcuff is a bit costly at $15,100 because of OBJ's salary but the right matchup is there for it to pay off.
5. Carson Palmer and Larry Fitzgerald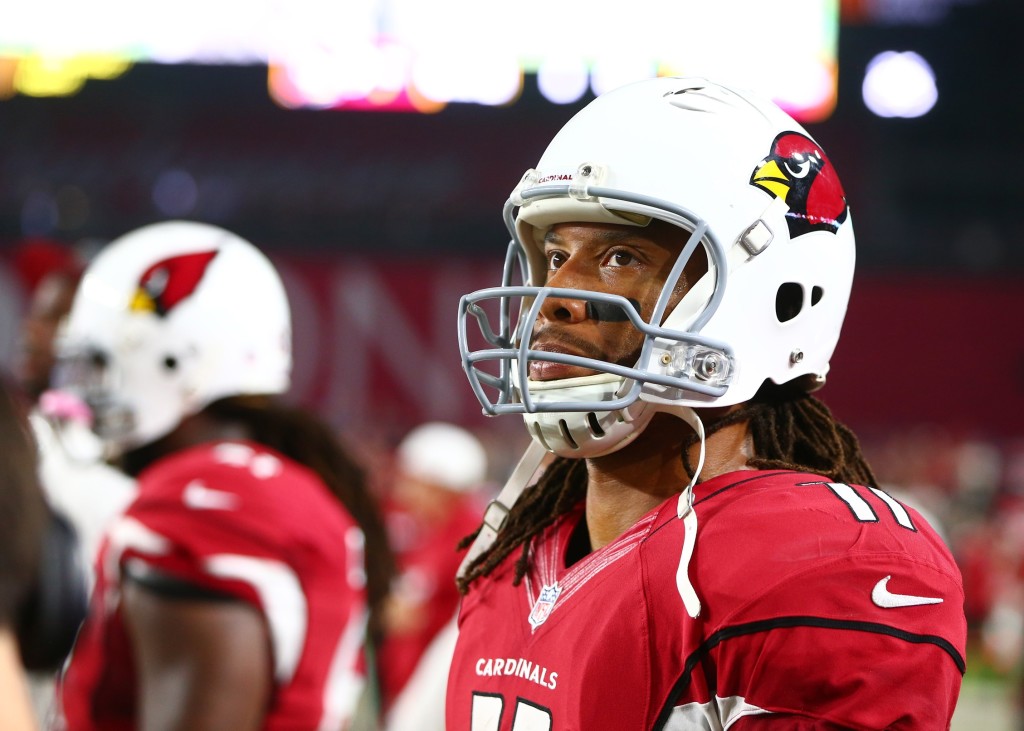 Fitzgerald surprisingly put up a clunker against the Ravens' terrible pass defense last Monday night. Instead, Palmer distributed the wealth to John Brown and Michael Floyd. Expect Fitzgerald to be more involved this week.
The Browns aren't bad against receivers. Cleveland's defense only gives up 11 receptions, 157.1 yards and 1.0 touchdown per game. However, with John Brown questionable for Sunday's game, Fitzgerald should see plenty of targets this week. Fitzgerald has seen at least eight targets in five of seven games this year.
Palmer has been the model of consistency. He's averaging 21.8 points per game. Palmer hasn't scored less than 18.34 points all year. Fantasy players can basically pencil in at least 20 points every time they start Palmer. This week should be no different when Palmer takes on a Cleveland defense that allows an average of 17.2 fantasy points per game.
The Palmer/Fitz handcuff costs $14,700. That's not bad for a tandem that averages 45.5 points a week. Cleveland's defense can be tough at home but Palmer and Fitzgerald have been good on the road. There's no reason not to expect that to continue.
4. Andy Dalton and A.J. Green
Dalton and Green continue to be undervalued despite the fact that they're averaging a combined 43.2 fantasy points per game.
Dalton, in particular, continues to be overlooked. Dalton is averaging 25 points a game. He's topped 20 points in five of six games this year and in the one game he didn't Dalton scored 18.86 points. Yet, Dalton's salary is still only the 12th highest among quarterbacks this week.
The matchup can't be the reason for Dalton only costing $6,000. The Steelers' defense allows 292.3 yards and 1.6 touchdowns per game to opposing quarterbacks.
Green has to be licking his chops, as Pittsburgh's defense has been generous towards receivers too. The Steelers give up 14.7 receptions and 176.7 yards on 21 targets to wide receivers.
Dalton is playing as well as almost any quarterback in the NFL right now. Until that changes, it's hard to pass up on the Dalton/Green handcuff costing $13,600 against a favorable matchup.
3. Matt Ryan and Julio Jones
Ryan and Jones have disappointed over the last month, due in large part because of the emergence of Devonta Freeman.
Ryan hasn't topped 20 fantasy points since Week 3, while Jones finally hit that mark for the first time in four games last week. Jones has a good chance to make it two big games in a row when he faces the Buccaneers on Sunday.
Tampa Bay ranks in the bottom five when it comes to defending both receivers and quarterbacks. The Buccaneers' defense gives up 13.5 receptions, 179.5 yards and 1.7 touchdowns per game to opposing receivers.
Ryan could finally have a big game as well. This is a Tampa Bay defense that just allowed 33 fantasy points to Kirk Cousins. Through six games, the Buccaneers' defense has given up just under 21 fantasy points a game to opposing quarterbacks.
The Ryan/Julio duo hasn't been kind to fantasy players over the last month but look for that to change on Sunday. This handcuff is always pricey but they should be worth the $16,300 of salary cap space this week.
2. Ben Roethlisberger and Antonio Brown
Brown's numbers have predictably suffered when Roethlisberger got hurt. However, with Big Ben expected back this week, Brown should return to being an elite fantasy receiver.
Brown was averaging 31 points in the three games Big Ben started. He then scored under 10 points for three consecutive games until finally getting back on track last week against the dreadful Chiefs' pass defense.
Martavis Bryant is a stud too but Brown's production with Big Ben under center has been proven over the last two years. Before Big Ben went down Brown had topped 90 yards receiving in 12 of his last 14 games and scored in 8 of his last 12.
Roethlisberger could be a little rusty in his first game back but one thing we know is he's going to look for Brown. The Bengals' defense also allows 278 yards and 1.3 touchdowns per game to opposing quarterbacks, so they can be exploited.
Some quarterback/receiver combos don't need any time to get back into rhythm. Big Ben and Brown are one of those duos. Don't shy off from spending a combined $14,500 for this handcuff.
1. Philip Rivers and Keenan Allen
Rivers enters this week's tilt with the Ravens having attempted 171 passes in his last three games. Overall, Rivers has attempted at least 30 passes in all but one game this season. In that game he threw the ball 27 times.
The Chargers can't run the football and they aren't likely do it much against a Ravens' defense that ranks 28th in the NFL versus the pass. Baltimore's defense also gives up a ton of fantasy points to both quarterbacks and receivers.
The Ravens rank last in allowing fantasy points to quarterbacks and second to last in allowing fantasy points to receivers. Baltimore's defense gives up 300.7 yards and 1.9 touchdowns per game to opposing quarterbacks, while allowing receivers to rack up 15 receptions, 214 yards and 1.6 touchdowns on 23.7 targets.
Allen has been targeted at least 10 times in five of seven games this season. He already has three games with at least 12 catches and a ridiculous 62 receptions on the year already.
On paper, Rivers and Allen versus the Ravens' pass defense is one of the most one-sided matchups of the season up to this point. Rivers and Allen can be owned for a combined salary of $14,300. When you look at all the factors, including matchup and salary, this handcuff is deserving of the top spot.