There are a lot of different ways to handcuff players in fantasy football but in the world of DFS, there's no method more valuable than pairing a quarterback to his stud receiver. It's always better to get double the points from two players on the same team having a big game. Here are the Top 10 Week 13 QB/WR handcuffs to consider for your DraftKings lineups.
10. Cam Newton and Devin Funchess
Newton is obviously an elite play this week. Any quarterback playing the Saints' defense is a top fantasy play but when Newton goes up against it, he can name his final number.
The Saints not only allow the most fantasy points to quarterbacks, they're on pace to give up the most passing touchdowns in NFL history. The only problem with the Panthers is finding the right receiver to handcuff to Newton.
Funchess has been an every other week fantasy play over the last four games. During that span, Funchess has scored 16.1, 6.1, 16.4 and 3.9 points. The Saints' defense is bad enough to keep that pattern going.
Newton is an obvious start. The trick will be finding the right Panthers receiver to handcuff with him. Funchess only costs $3,700 and he's scored twice in the last four games. He's a nice roll the dice if you're looking for a lower-cost option this week.
---
9. Jay Cutler and Alshon Jeffery
Cutler and Jeffery have a good matchup this week, although the 49ers have been playing better defense as of late.

San Francisco gives up the 10th most fantasy points to quarterbacks and the ninth most to wide receivers. However, the 49ers have held four of the last five quarterbacks they've faced to one or fewer touchdown passes.
Before putting up two below-average fantasy performances against the Broncos and Packers, Cutler had scored at least 18 points in six straight games. The Broncos are the toughest defense against quarterbacks and the Bears/Packers game was played in the rain.
Jeffery is finally healthy and while the 49ers' defense is improved, the unit has performed better at home than on the road. The Bears' handcuff is a solid play at just $12,000.
---
8. Tom Brady and Brandon LaFell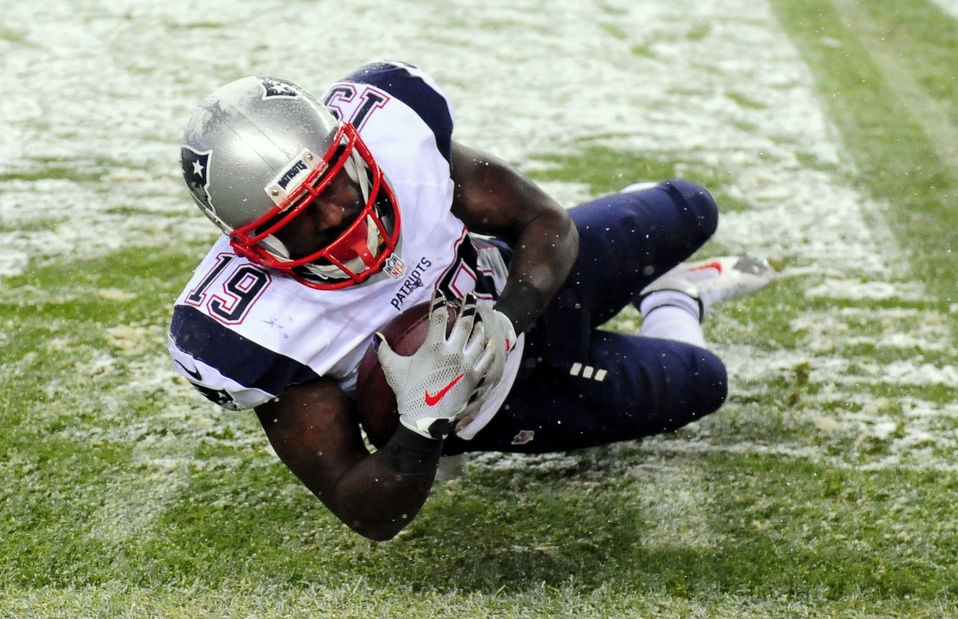 The Eagles' defense has allowed 10 passing touchdowns over its last two games. Now Philadelphia gets Tom Brady.
Brady has always been good coming off a loss but right now the Patriots are dealing with a ton of injuries. Gone are Dion Lewis, Julian Edelman and Rob Gronkowski. Danny Amendola is a game-time decision. If you're looking for a guy to step up for the Patriots in this game, check out LaFell.
The Eagles allow the most fantasy points to wide receivers and LaFell's salary is only $4,800. That's pretty good value against a defense that gives up 15.2 receptions, 188.5 yards and 1.7 touchdowns per game to opposing receivers on 24.1 targets.
LaFell hasn't had a huge fantasy game yet, so he's a roll of a dice. However, LaFell makes plays down the field and that's what gives the Eagles trouble. This handcuff is worth consideration.
---
7. Carson Palmer and Larry Fitzgerald
The Rams' defense is beaten up and starting to wear down. After playing well for much of the year, St. Louis' defense is feeling the effects of being on the field so much because of the Rams' inept offense.
The Rams' rankings still look good but this isn't the same unit that was one of the best defenses in the NFL earlier in the season. St. Louis gives up the third fewest fantasy points to quarterbacks and the second fewest to receivers.

Remember though, many players stayed away from Palmer and Fitzgerald three weeks ago when they faced Seattle and the duo put up a combined 52 fantasy points.
Palmer has been one of the most consistent fantasy quarterbacks all season and Fitzgerald continues to pile up the targets. In his last four games, Fitzgerald has been targeted 11, 14, 13 and 14 times.
When these two teams met back in Week 4, Palmer threw for 352 yards and Fitzgerald caught seven balls for 99 yards. Don't be scared away from this handcuff because of the Rams' defense lofty rankings.
---
6. Ryan Fitzpatrick and Brandon Marshall
Fitzpatrick has a great matchup this week. The Giants give up the second most fantasy points to quarterbacks this season.
The only team the Giants rank behind is the Saints. New York allows an NFL-worst 315.1 yards per game to opposing quarterbacks. Fitzpatrick has scored at least 17 points in his last four games and eight of 11 overall.
The Giants give up the 15th most points to wide receivers. Marshall had cooled off before his 37-point outburst against Miami last week. Still, Marshall has topped 20 fantasy points six times this year.
The Fitz/Marshall handcuff has a favorable matchup and is priced at just $12,300. They could pay off big this week.
---
5. Matt Ryan and Julio Jones
Ryan put up another clunker against a tough Vikings' defense last week. He'll look to rebound versus the Buccaneers on Sunday.
Ryan had a big fantasy day against Tampa Bay in Week 8. Despite turning the ball over three times, Ryan threw for 397 yards and two scores on his way to 25 fantasy points. The Buccaneers allow the 14th most fantasy points to quarterbacks, so it's a beatable matchup for Ryan.
Jones caught 12 balls for 162 yards and a touchdown in the first meeting. Jones is an elite play every week. It's really just a matter of how well Ryan plays. For instance, last week when Ryan struggled, Jones only scored 10.6 fantasy points.

As usual, Ryan will decide the success of this handcuff. Also, as usual, it's one of the most expensive on the board at $15,700.
---
4. Andy Dalton and

A.J.

Green
Green scored twice last week against the Rams. It was the first time he found the end zone since Week 8.

Green's touchdown totals have gone down since the emergence of tight end Tyler Eifert. Eifert leads the NFL with 12 touchdowns but he's not expected to play this week against Cleveland. Green's fantasy value gets a big bump with Eifert out.
The Browns allow the sixth most fantasy points to wide receivers. Cleveland's defense is just as bad against quarterbacks where the Browns allow the seventh most fantasy points.

The last time these two teams met in Week 8 Green only caught four passes for 53 yards. However, Dalton threw for 234 yards and three touchdowns. Those three scores went to Eifert. This is a really intriguing handcuff with Eifert out of the mix.
---
3. Ryan Tannehill and Jarvis Landry
Tannehill is having a better fantasy season than he's having a real-world season. Last week Tannehill scored 27 fantasy points even though a lot of his production came in garbage time.
Tannehill has now scored at least 16 fantasy points in eighth of 11 games, including four in a row. Miami changed offensive coordinators this week for what seems like the 10th time in Tannehill's career but he should once again put up big numbers against a Ravens' defense that gives up the fifth most fantasy points to quarterbacks.
Baltimore's defense is even worse when it comes to defending wide receivers. The Ravens allow the third most fantasy points to opposing receivers. Landry was targeted 16 times last week against the Jets. He's now seen 47 targets in his last four games. With Rishard Matthews out, Landry will continue to see plenty of balls come his way against the Ravens.

This handcuff only costs $12,000 and has one of the best matchups on the board. It's a strong play this week.
---
2. Eli Manning and Odell Beckham Jr.
Manning scored 20.8 fantasy points last week but he didn't play great against the Redskins. Actually, the entire Giants team laid an egg.

This week the Giants get the Jets without Darrelle Revis. The Jets secondary is beaten up and now gives up the eighth most fantasy points to receivers. New York's defense allows 12.8 receptions, 170 yards and 1.4 touchdowns per game to opposing receivers on 25.3 targets.

Manning has actually scored 41, 14, 25 and 20.8 points in his last four games. Beckham always seems to step up in higher profile games and even without Revis, playing the crosstown Jets at 5-6 is a big game for the Giants.
This handcuff is always expensive because of Beckham's salary ($8,900) and it is again this week at $15,500. However, Manning probably won't be highly owned, so don't be afraid to use it.
---
1. Ben Roethlisberger and Antonio Brown
Roethlisberger is coming off a big 456-yard performance against Seattle where he scored 27 fantasy points. Big Ben suffered a concussion late in that game but he's been cleared to play for this week.
Brown had a rare down game with Roethlisberger under center as the Steelers instead made Markus Wheaton the focal point of the offense. Expect things to get back to normal against the Colts.
The Colts allow the 12th most fantasy points to quarterbacks and the 11th most to wide receivers. Brown had scored back-to-back 40-point fantasy games before last week. This handcuff costs $15,200 but it will be well worth it this week against an overmatched Colts' defense.