Deflategate has been dragging on for months. No matter what your stance is, everyone's getting bored of talking about it. Robert Kraft knows this … so much so that he's decided to give up and simply accept the punishment, despite the fact that he still believes the Patriots have done nothing wrong.
A press conference that would usually be followed by questions from the media, ended with Kraft walking off the stage and being done right there and then. Deflate gate is in the past.
$1 million, and a first-round and fourth-round pick lighter, here's what Kraft had to say at Tuesday afternoon's press conference:
"Believing in the strength of the partnership and the 32 teams, we have concentrated power of adjudication in the office of the commissioner. Although I might disagree with what was decided, I do have respect for the commissioner, and believe he's doing what he perceives is in the best interest of the full 32. In that spirit, I don't want to continue the rhetoric that has gone on for the last four months. I'm going to accept, RELUCTANTLY, what he has given to us. And not continue this dialogue and rhetoric. We won't appeal."
The word reluctantly really stood out. And I'd bet Kraft put the emphasis he did on it on purpose. But what's done is done. If he's done with Deflategate, I'm done with it.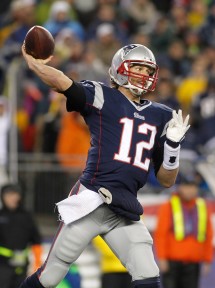 It's important to remember that Tom Brady's appeal has been filed and is completely separate from the sanctions handed down to the team. So there's still a chance Brady's 4-game suspension can be lessened (and I can't avoid thinking that Kraft stepping down may lead to some leniency by Goodell when it comes to Brady).
This is still really fresh, so I'm not totally sure how I feel about Kraft choosing to stop fighting. My initial reaction, however, is that I admire him being the bigger man. No chance any other team just sits back and takes this on this chin, but the Patriots can and did. And the defending Super Bowl champs can do it without skipping a beat, so take that NFL.
All I can ask for is that the tone Kraft set is followed. Let's move on.
Follow me on Twitter @julianedlow