Ready for football? Join the $10M Millionaire Maker — Draft Now!
Patriots v Panthers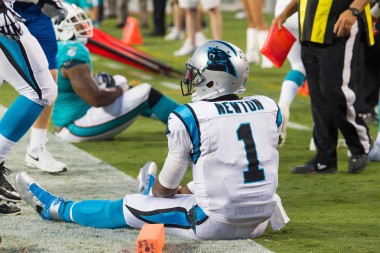 QB
Jimmy Garoppolo should continue to see big minutes for the Patriots. Garoppolo looked very poised in week 2 where he completed 28 of 33 passes and threw for 269 yards. He's probably one of the safest bets of the slate. You may see Tom Brady play more than expected in this game, he's only completed 9 passes and there's still a shot his suspension gets overturned and he's the week one starter. I wouldn't use him for fantasy but don't be shocked if he's out there for a full quarter.
In Carolina expect Cam Newton to get a much longer look as the Panthers try to get their offense going. Cam struggled mightily last week without Kelvin Benjamin and I'm sure Ron Rivera would like to see him and rookie Devin Funchess build some chemistry soon. Since it's preseason I'd temper my expectations on Cam a bit as it's doubtful he'll run much if at all, he's to be considered but not my first target. Backup Derek Anderson will probably get most of the second half, although don't be shocked if you see Joe Webb as well who has really been quite effective in the first two games.
Targets: Jimmy G., Cam Newton and Derek Anderson
RB
LeGarrette Blount actually took 13 carries in last week's game. He reported to camp a little out of shape and its possible the Pats heap more carries on him in an attempt to "skim the fat" before he sits out week 1 due to suspension. The Patriot back who has looked the best to me all preseason though is Jonas Gray. Gray looks to have lost weight in an attempt to get more passing down snaps this year and his speed and agility look improved. Dion Lewis looks to have the inside hand on the 3rd RB job, he caught 5 passes for 36 yards and scored a td last week. More work could be coming his way.
Now that Kelvin Benjamin is out for the year I doubt the Panthers will want to risk injury to Jonathon Stewart. Expect to see very little of him and more of both Jordon Todman and rookie Cameron Artis-Payne. Of the two Payne is probably the safer play since the Panthers invested a draft pick in him and he looked decent in week 2. Todman might have higher upside though. He's a good player in space and could spring for a big play.
Targets: Jonas Gray, Dion Lewis, Cameron Artis-Payne and Jordan Todman
WR
Kelvin Benjamin is out and thus the Devin Funchess showcase begins. Funchess is a similar build to Benjamin but less of a downfield threat. I expect Funchess to rack up a few catches and possibly even a red zone target before leaving. Former Packer Jarrett Boykin threw his name in the ring as a potential Cam target last week with a 6 catch performance. I'd consider him once again as he's fighting for a roster spot and should see more time as a result.
The Patriots receiving core are really banged up now. Julien Edelman and Brandon LaFell remain out while camp standout Brandon Gibson tore his ACL in last week's game. Chris Harper, currently 7th on the depth chart has been tearing it up for New England against second stringers and is probably someone to watch once again. It's unclear if Josh Boyce or Aaron Dobson will play in this one. However if they do, both could possibly be decent plays. The lack of depth at receiver plus the need for both to make an impact before preseason ends makes them attractive.
Targets: Jarrett Boykin, Devin Funchess, Chris Harper and Josh Boyce
TE
It's highly doubtful you'll see much of Gronk in this game. If he does play, and his twitter account seems to imply he is playing, you might only get a couple drives. That may be enough for Gronk but I'd prefer more volume. Jimmay Mundine has now caught 4 passes this preseason and is probably the only other option to consider on NE. I'd personally look elsewhere for a TE.
With Carolina's offense needing reps Greg Olsen could get close to a half or more of work. He caught three passes last week and outside of Funchess is the most consistent target for Newton in this offense. A red zone target for Olsen in this one is likely as Cam will probably look to pass before running near the goal line until the regular season starts.
Targets: Greg Olsen
Titans v Chiefs
QB
Marcus Mariota gets his final tune-up before the regular season starts and believe that you could see him "unleashed" a bit in this game. The Titans have some zone-read plays planned for Mariota and the talk is they will let him a run a few here. He's got to be one of the better options on this short slate.
Alex Smith has actually played quite a bit this preseason and I expect that trend to continue in week 3. Andy Reid has confirmed his starters will play as much as three quarters. Last week Smith finally connected with a wideout for a TD (Maclin) and so look for him to try and build more rapport with his new number one. 10% of Smith's passes have travelled 20 yards or more in preseason, compared to only 5% all last season. It's a small sample size but a trend worth noting. I really like Smith in this game.
Targets: Marcus Mariota and Alex Smith
WR
Wide receiver Dorial Green-Beckham has looked really good so far in preseason and might be worth a gamble here. Last week saw him take in 4 catches for 40 yards and he looked impressive in doing so. Expect him to start the game and play a full half. Kendall Wright is also in play and has been targeted a lot by Mariota already. He's a safe bet to catch at least 3-4 balls in this game if he plays an entire half. Of the two I like Beckham more, there's just more fantasy upside to the talented rookie.
In KC starters Albert Wilson and Jeremy Maclin look entrenched as the number 1 and 2 WRs in this offense. Smith is already locking onto Maclin with consistency and targeted him multiple times around the goal line last game. Maclin is going to be a sneaky pick in DFS for many weeks of the regular season and with the expectation that he plays a full half in this one he makes for a great target this week too. Chris Conley was expected to battle for a starting spot in camp but injuries have slowed him and he was a ghost last week. Still the talent is there, don't be shocked if he pops up on scoreboard with a big play in this game.
Targets: Dorial Green-Beckham, Kendall Wright, Jeremy Maclin and Chris Conley
RB
Bishop Sankey looked to put any RB controversy to rest last week as he badly outplayed rookie David Cobb. Sankey looks a little more powerful this year and we'll see in this game if it can result in more big runs. The Titans should give him a little more leash in this one.
With the starters playing more for KC you have to consider Jamaal Charles. Even though common sense says the Chiefs will be wary of usage Reid does like to play his starters. Still, I have a feeling Knile Davis might see more snaps than Charles. Davis has looked a tad under whelming this preseason so I might still roll the dice with Charles if I had to choose.
Targets: Bishop Sankey, Jamaal Charles and Knile Davis.
TE
There should be no question who to play at TE for the Chiefs. Travis Kelce is the unquestioned #1 TE and should play for up to 3Q's. That means lots of potential upside for one of Alex Smith's favorite targets. Rookie James O'Shaunessy will also get a lot of playing presumably but I don't see how he's an option with Kelce guaranteed to play over half the game.
Delanie Walker will return to action in this game and I for one think he might be a great fit with Mariota. Mariota has been very accurate in his career with shorter-to mid passes over the middle and Walker could really benefit from the rookies presence. You could also consider veteran Anthony Fasano but with the starters likely to get a long look in this one Walker is the target.
Targets: Delanie Walker and Travis Kelce
Lions v Jaguars
QB
I'm not a fan of Blake Bortles but the Jags will be playing into the 3Q in this one making him a viable option. Bortles has not seemed to progress at all this preseason, he looks jumpy in the pocket and his elongated throwing motion makes him easier to defend for opposing secondary's. You'll have to decide if you value playing time over upside in this one as Bortles will have a tough matchup against the Lions starters. I think in preseason, with so many variables, the guaranteed playing time makes him usable.
The Lions have stated that only "some" of their starters will play past half time. Still, if Matthew Stafford gets two full quarters of action he makes for a good play. Stafford will be without Megatron but will have Golden Tate to work with. The matchup here is also a decent one as Jacksonville's defense was better than people realize last year but still very generous to opposing QBs.
Targets: Blake Bortles and Matthew Stafford
WR
Calvin Johnson will sit out this one. That should mean Golden Tate will run wild once again. Tate averaged 26.24 when Calvin was out or limited last year and even if he only sees a half of work that is more than enough time for him to make an impact. Ryan Broyles and Jeremy Ross could also be considered on the short slate. Broyles is fighting for a roster spot and has seen 6 targets so far this preseason. Ross had 4 catches and a td last game and is the likely number 3 WR in this offense to start the year. I expect both to play into the second half, with Broyles possibly even seeing some late minute garbage time.
With the Jags starters playing into the second half I'm definitely a fan of using Allen Robinson. Robinson is undoubtedly the most talented receiver in this offense and should be a target monster this year for Blake Bortles. Even in limited action last week Robinson still saw 7 targets, there's no need to consider other options on Jax.
Targets: Golden Tate, Ryan Broyles, Jeremy Ross and Allen Robinson
RB
Rookie RB TJ Yeldon will make his debut for the Jags and with Toby Gerhart out it's possible he sees double digit carries. I'm not a huge fan of Yeldon however and the matchup here is also not a good one as the Lions D ranked second best against the run last year. If I'm targeting an RB in this offense I might be tempted to use Denard Robinson who should be more of a factor in the pass game and a better bet to find space against this suffocating defense.
Ameer Abdullah was the talk of week 1 preseason and the bust of week 2 preseason (assuming we can have preseason busts). Abdullah split carries with Theo Riddick last week but was still working with the Lions starters. I'd look for him to get more carries this week as the Lions try and establish a hierarchy. With Joique Bell out, expect to see a lot of UDFA Zach Zenner again. Zenner has looked great all preseason and been getting rave reviews for his work in camp. I'd look for Zenner to act as the power back in this offense and possibly get work well into the 3rd Q. He's definitely someone to consider at RB.
Targets: Ameer Abdullah, Zach Zenner and Denard Robinson
TE
With Julius Thomas out most might have thought Marcedes Lewis would be the biggest benefactor but Clay Harbor is the better receiver and has seen more targets in preseason. I'd be a fan of using Harbor on a three game slate, especially since the Jags starters are slated for extra action.
The Detroit TE isn't a position of strength. Eric Ebron has looked bust worthy since being selected at 10th overall last year. However, considering his inconsistency thus far he should see snaps into the 3rd quarter in this one. With that sort of volume, and with a decent matchup, he's someone worth considering.
Targets: Clay Harbor and Eric Ebron