Based on this week's matchups and projected shadow situations from Pro Football Focus, let's take a look at three wide receivers we should be fading and three wide receivers we should be buying into for this week's daily fantasy slate.
---
Looking for more NFL content? Check out these articles:
Levitan's Leverage
NFL Cheat Sheet
NFL Game Breakdown
NFL Quarterback Targets
---
Upgrade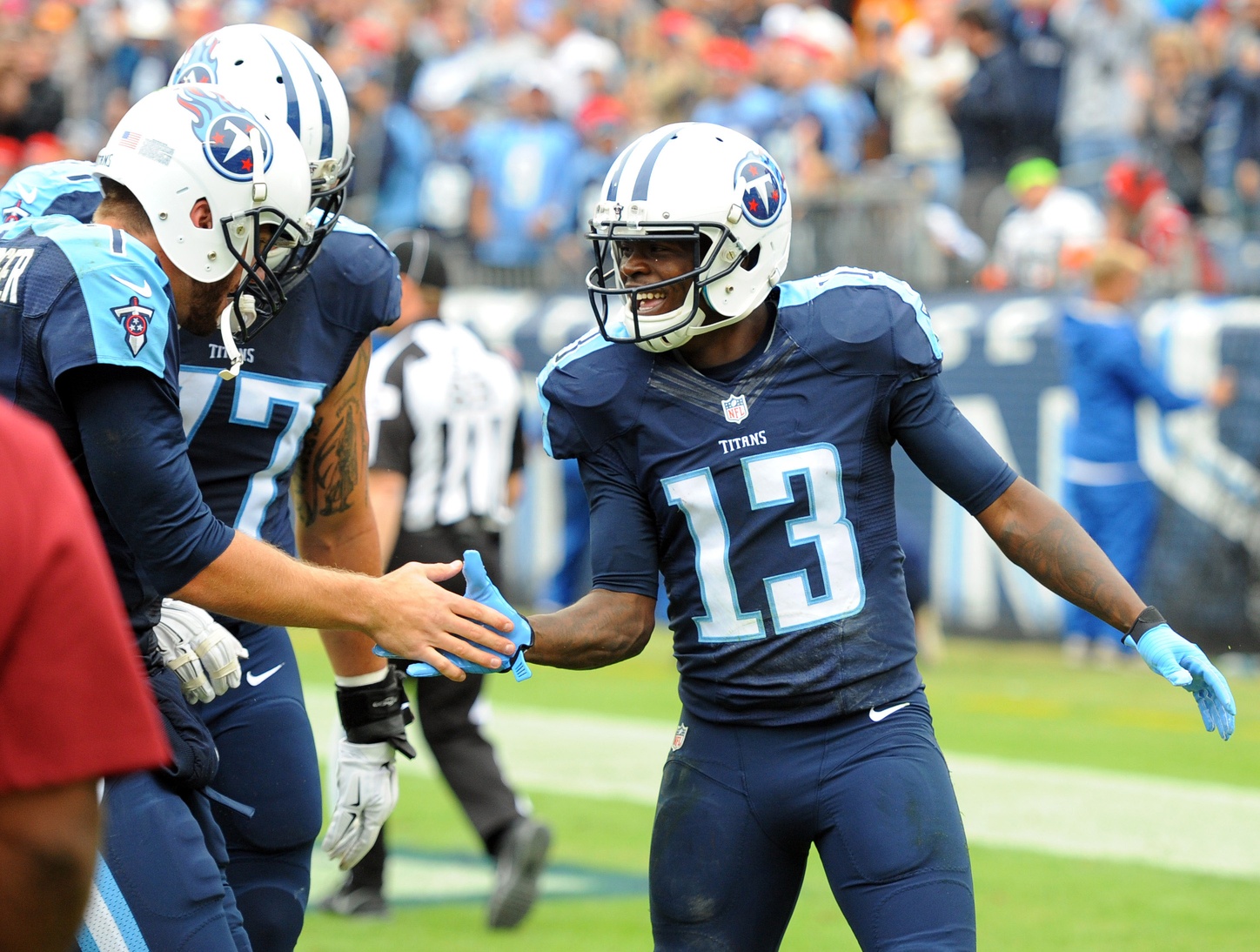 Kendall Wright vs. D.J. Hayden – Before Wright suffered a knee injury in Week 8, he led the Titans in targets (39), receiving yards (322), and touchdowns (3). After missing the past three games, he's expected to play this week against the Raiders. His return couldn't come at a more opportune time for DFS players, as he's expected to spend the majority of his time running routes against our second lowest-graded corner in coverage, Hayden. Wright has run 65 percent of his routes from the slot this year, while Oakland's Hayden has spent 64 percent of his routes in coverage against the opposing team's slot receiver.
Among all corners, Hayden has given up the second-most yards (683), the sixth-most touchdowns (5), and is one of only 22 corners (out of 110 qualifying) with a completion percentage above 70 percent. No other cornerback has given up more fantasy points this season to opposing receivers than Hayden. He has just twice given up fewer than 50 yards in a single game. Over the past three games, Hayden has been targeted 24 times and has given up 19 catches, 246 yards, and a touchdown. Wright, meanwhile, has seen his price drop by $1,500 since the last time he played. Given the soft matchup and the major price reduction, Wright makes for a great value play this week in GPPs.
Amari Cooper vs. Perrish Cox – Cooper, held to only one-catch and four-yards, had a rough outing last week against Detroit's top corner, Darius Slay. After such an abysmal performance, he'll likely go low-owned this week in GPPs despite the soft matchup against the Titans' Cox. Cooper typically runs 54 percent of his routes lined to Carr's left, while Cox has stuck to that side of the field on 94 percent of his routes in coverage.
Cox has struggled mightily this season while dealing with injuries to his hip and hamstring. For the season, Cox has been targeted just 23 times, but on those targets, has given up 19 catches, 299 yards, and two touchdowns. Cox ranks fourth in the league in fantasy points per target and sixth in fantasy points per route in coverage. He's yielding the second-highest completion percentage (83.3%) and the 12th-highest QB Rating (129.6) to opposing quarterbacks. Cooper has attractive potential this week as a high-ceiling contrarian play in GPPs.
Julio Jones vs. Xavier Rhodes – Rhodes has shadowed three times this season (once against Demaryius Thomas and twice against Calvin Johnson), but he has not shadowed since Week 7. It's unlikely he shadows Jones in this contest, but Jones should still spend the majority of his time this Sunday against Rhodes. Jones has run 41 percent of his routes lined to Matt Ryan's left, while Rhodes, as Minnesota's starting right corner, has manned that side on 84 percent of his routes in coverage.
Whereas Jones has easily been one of the best receivers in the game, Rhodes ranks among our worst corners. (Out of 110 qualifying corners, Rhodes ranks 104th in coverage.) Among all corners, he's given up the third-most touchdowns (6) and the 15th-most total yards (510) to opposing receivers. When targeting Rhodes in coverage, opposing quarterbacks are averaging a 121.8 QB Rating, which ranks 16th-worst among corners. Jones should have no problem making the most of this soft matchup and is one of the strongest plays of the week if you can afford to pay up.
Downgrade
Danny Amendola vs. Chris Harris Jr. – Amendola totaled 23.7 DraftKings fantasy points before exiting in the third quarter of last week's Monday night game with a knee injury. He managed to get in a limited practice on Thursday, but is likely to be a game-time decision this week for Sunday night's game against the Broncos. The good news is, in Julian Edelman's absence, he appeared to be the new focal point of the passing offense. The bad news is, he'll be running the majority of his routes this week against Denver's elite slot corner, Harris Jr.
This season, Amendola has run 86 percent of his routes out of the slot, while Harris Jr. leads the Broncos with 61 percent of his coverage snaps assigned to the slot. Last year, Harris Jr. graded out as our No. 1 corner in coverage and gave up the second fewest fantasy points allowed per snap. Not much has changed this season, as he currently ranks as our No. 3-graded corner and is giving up the seventh fewest fantasy points per snap. Over his last five games, Harris Jr. has given up just 12 catches and 112 yards on 16 targets. He has the 12th-best QB Rating (68.2) among corners and he has not allowed a single touchdown to his coverage all season. Given the matchup and the questionable tag in a late game, Amendola makes for an easy fade.
Allen Robinson vs. Jason Verrett – Robinson is currently the No. 8 receiver in fantasy and has not scored less than 16 fantasy points in a single game since Week 4. This week, we expect Robinson to be shadowed by San Diego's elite outside corner, Verrett. To date, Verrett has shadowed top receivers in A.J. Green, Antonio Brown, Amari Cooper, Steve Smith, Alshon Jeffery, and Jeremy Maclin. Despite the difficult matchups, Verrett ranks highly as our No. 7-graded corner in coverage. In last week's matchup against Kansas City, Verrett held Maclin to only 29 total yards of offense. While Robinson has been productive despite earlier difficult matchups (he was shadowed by Vontae Davis and Darelle Revis in Weeks 4 and 9), he is likely better off avoided unless his ownership percentage corrects for the level of difficulty this matchup will surely bring.
Demaryius Thomas vs. Malcolm Butler – While Thomas is currently fourth among receivers in targets and tenth in fantasy points, he'll be in for a tough matchup this week against Patriots' corner, Butler. In just a year-and-a-half, Butler has gone from undrafted rookie free agent to unlikely Super Bowl hero to New England's top corner. Despite being asked to shadow some of the game's best receivers (Antonio Brown, Sammy Watkins, Eric Decker, Odell Beckham Jr., etc.), Butler is one of our highest-graded corners. (Currently, he's tied with Darrelle Revis for No. 18 overall)
We fully expect Butler to shadow Thomas this week. You may remember Beckham Jr.'s 87-yard touchdown catch against Butler in Week 10. Outside of that one big catch, Butler has only given up 16 catches and 155 yards (on 31 targets) over his last four games. While Thomas is one of the top fantasy options in the league and he was Osweiler's most-targeted receiver last week, the matchup is enough of a concern to look elsewhere this week in DFS.