Each week, I'll be playing the age old game, NFL style. There are always new faces that pop up, and you'll need to know which guys to chase or fade. Get me on Twitter – @lonero_justin. Let's get to it!
Seth Roberts – $3,600 (Chase)
Week 11 Seth Roberts hauled in 6-of-7 targets for 113 yards and two touchdowns. The undrafted rookie free agent from West Alabama stole the lime light from Amari Cooper and Michael Crabtree. This is a testament to how thorough and efficient Derek Carr has been this season getting production from all of his receivers. Sammy Watkins went bananas in the first half last week against the Chiefs until they tightened up at half time. I find it hard to believe they will be able to contain Cooper, Crabtree, and Roberts. Amari Cooper should attract most of the coverage freeing up Roberts. Seth is a name we don't hear a ton anymore. I'm pulling for Seth this week as a Tournament play.
---
Dontrelle Inman – $3,200 (Fade)

Dontrelle Inman has seen a bump in action recently due to the countless injuries the Chargers have sustained. Inman caught 5-of-9 targets for 65 yards and a touchdown in week 12 against the Jaguars. Phillip Rivers spreads the ball around so it's difficult to gauge how much volume he'll receive behind Stevie Johnson, Malcom Floyd, Antonio Gates and Ladarius Green. The bad news is Inman will face an elite Broncos secondary this week. I will play Roddy White at the same price ahead of Inman. Inman is a contrarian tournament play that has more risk than reward in week 13.
---
DeVante Parker – $3,300 (Chase)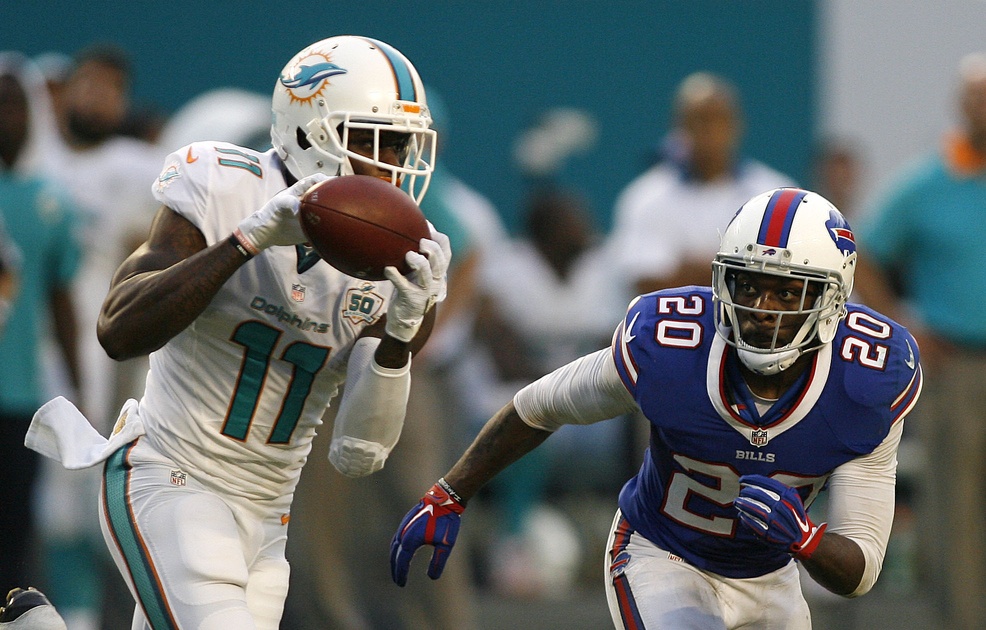 The Dolphins caught a glimpse of what they had hoped for when they drafted rookie DeVante Parker. Parker caught 4-of-10 targets in a blow out against the Jets. With Rishard Matthews likely to miss week 13, Parker could be a great play against a terrible Ravens secondary. Parker could have a larger role even if Matthews is cleared to play. The Dolphins playoff hopes are long gone and it is the time of year when teams see what they have in their rookie investments.
---
Vance McDonald – $3,000 (Chase)
Someone has to catch the ball in San Francisco besides veteran Anquan Boldin, right? With the departure of Vernon Davis and Garrett Celek injured, Vance McDonald has solidified himself as the top tight end for the 49ers. His production has escalated since week 8 and week 12 when McDonald grabbed 6-of-7 targets for 71 yards and a touchdown. He has scored touchdowns in back to back games for the first time in his career. McDonald's emergence is something to monitor for the duration as he is a safety blanket for Blaine Gabbert. At $3,000 he could be a sneaky GPP play this week.
---
Ryan Fitzpatrick – $5,200 (Chase)
Sometimes I have a tendency to gravitate towards quarterbacks because of the talent that they have surrounding them. Matt Ryan and Andy Dalton most recently come to mind. Neither are terrific by any stretch but they both have studs in their supporting casts. Ryan Fitzpatrick is another guy that fits that description. Fitzpatrick is coming off a four touchdown day against the lowly Miami Dolphins last week and this week's matchup against the Giants is even juicier. The Giants are allowing 309 yards passing per game and have given up 20 receiving touchdowns. I suppose this makes a perfect stack with Brandon Marshall, Eric Decker, or all three together. When Ryan Fitzpatrick isn't turning the ball over he turns into "Fitz Magic". Fitzpatrick is a must play given his matchup and price this week.
---
Markus Wheaton – $3,600 (Chase)
The Seahawks took Antonio Brown out of the equation in week 12 and Markus Wheaton had the game of his life. Wheaton caught 9 of 11 targets for 201 yards, and a touchdown. The situation is similar this week as the Steelers will face the Colts and Vontae Davis. If Davis shadows Antonio Brown, opportunities could arise for Martavis Bryant and Markus Wheaton once again. Bryant is $5,600 and will be much more popular than Wheaton. We can save $2,000 and roll out Wheaton who is third on the depth chart. Most people will view what he did last week as an anomaly. That is a beautiful thing because if he performs again this week he could win someone a tournament. His consistency has been shaky his whole career, but it will be tough to ignore him completely this week given how he played last week.