WATCH: Monday Night Football players to consider in Week 10
---
Week 10 of the NFL season brought an avalanche of injuries that helped shape how fantasy football teams ended up performing. With so many players going down Sunday, we decided to examine what those injuries could mean in the immediate future, ranking them in order from the biggest impact to the smallest.
Colts QB Jacoby Brissett (concussion)
Brissett took a shot to the head while attempting to slide during the second half against the Steelers, and despite being allowed back on the field soon after, he was immediately placed in the NFL concussion protocol after the game. Luckily for the Colts, they're entering their bye week, so Brissett will have two weeks to recover.
If Brissett can't play, Scott Tolzien would be next in line at QB — and that's not a good thing. Tolzien started in Indianapolis' season opener and lasted just two and a half quarters before Brissett replaced him. The seven-year veteran would be a huge downgrade to the Colts' receivers if he was forced to play against the Titans in Week 12.
---
Falcons RB Devonta Freeman (concussion)
Freeman was knocked out of the game against the Cowboys early in the first quarter, as he logged just two carries for 3 yards and 0.30 DraftKings fantasy points. Tevin Coleman took over as Atlanta's lead back and carried the ball 20 times for 83 yards and one touchdown in a 27-7 rout of Dallas.
Coleman will handle the majority of downs if Freeman is forced to miss more time, and Terron Ward also would be in the mix. The good news for Freeman, however, is that he'll have an extra day to recover, as the Falcons will meet the Seahawks on Monday Night Football in Week 11.
---
Packers RBs Aaron Jones (reported sprained
MCL

) and Ty Montgomery (ribs)

It's one thing to lose your featured back. It's another to subsequently lose your backup (and former featured back) in the same game. However, the injury bug again reared its head and bit Green Bay.

Jones was the first to go down, after he carried the ball just four times. Montgomery then did some damage, ripping off 54 yards and one touchdown on just six carries and catching both of his targets for 14 yards, before leaving with a rib injury that he has dealt with since Week 4.

All this means rookie Jamaal Williams could end up as the Packers' featured back next week against the Ravens. He logged 20 carries on 35 snaps after the injuries and looked great, rushing for 67 yards. Aaron Ripkowski also could be in the mix, but he was hardly used, carrying the ball twice for 3 yards and receiving only one target.
---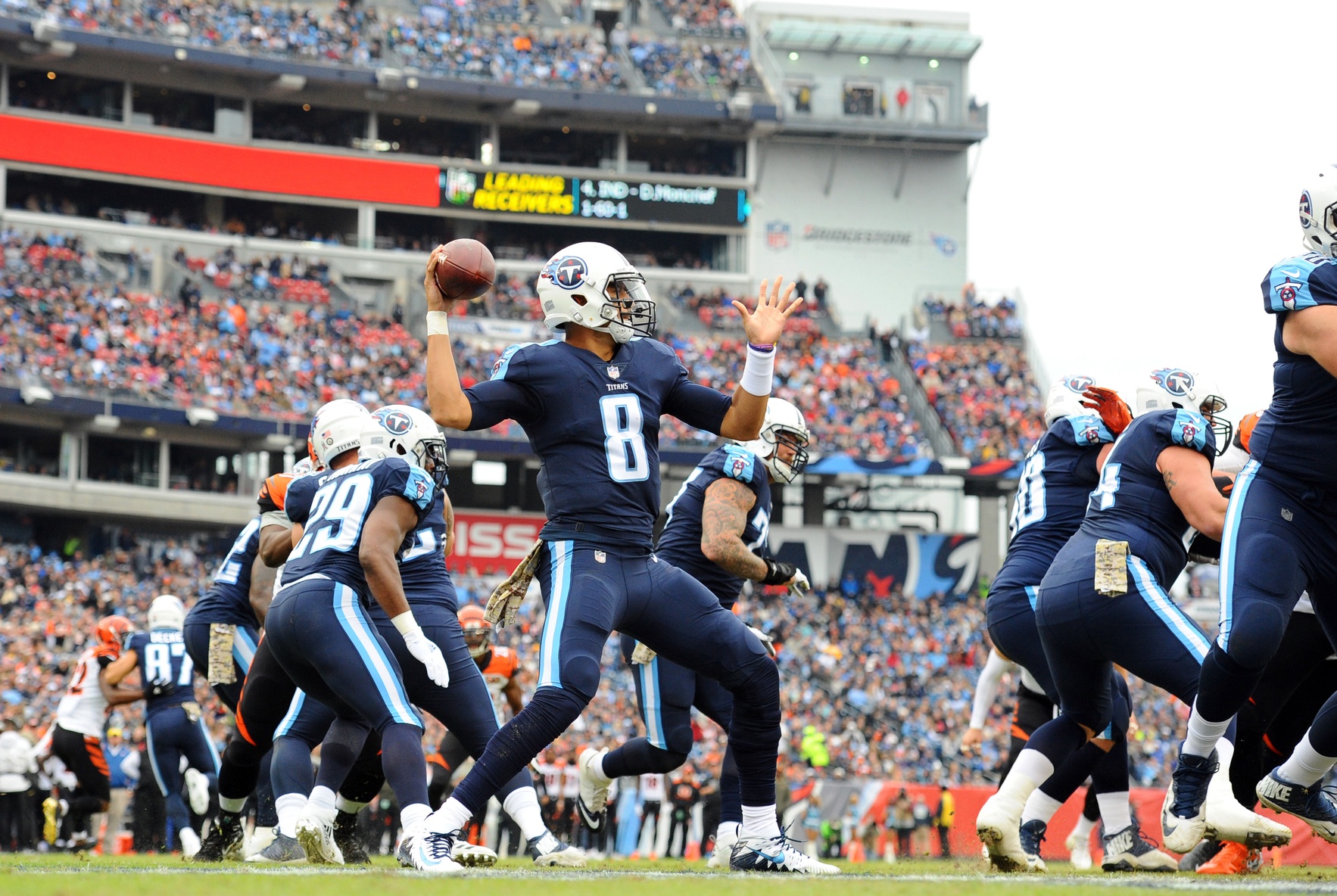 Titans QB Marcus Mariota (non-throwing shoulder) and TE Delanie Walker (wrist)
Both Tennessee players suffered injuries against the Bengals, but neither seemed to be of major concern immediately after the game.
Mariota injured his non-throwing shoulder in the fourth quarter, but he didn't miss any subsequent snaps after the fact. The concern, however, is the quick turnaround, as the Titans will play Thursday night against the Steelers. Mariota's status in practice should be monitored, but it wouldn't be a surprise to see him limited. If Mariota can't play, the Titans would turn to Matt Cassel, who has been nothing short of a disaster in his two appearances this season, averaging just 2.2 DKFP.
Walker added his wrist injury to the bad ankle he has nursed over the past two weeks. As with Mariota, Walker's status could be in jeopardy if the injury lingers, because of the short turnaround this week. Jonnu Smith and Phillip Supernaw would be inserted into Tennessee's lineup if Walker can't go, but no matter who starts, they'll face a daunting matchup against a Steelers defense that has held opposing tight ends to just 40.6 receiving yards per game.
---
Redskins RB Rob Kelley (ankle/knee)
Kelley was forced from the game against the Vikings after playing just 10 snaps, and he was seen leaving the stadium on crutches. That certainly doesn't bode well for his immediate future, although the Redskins should have a clear answer Monday, when Kelley is scheduled for an MRI.
Chris Thompson dominated the running back snaps after Kelley's injury with 45, which was 25 more than Samaje Perine. Both Thompson and Perine evenly split the carries at nine apiece, but Thompson saw seven targets, catching three for 41 yards. Expect a similar Redskins game plan next week against the Saints, with Thompson benefiting the most with his ability to catch passes out of the backfield.
---
Jaguars WR Allen Hurns (knee)
Hurns took a hard hit late in the fourth quarter against the Chargers and is due for some tests Monday to find out the extent of his injury. Hurns led Jags receivers with 70 yards, and he saw nine targets, increasing his season average to 5.6.
Jacksonville's once run-heavy offense has become more pass heavy, with QB Blake Bortles averaging 37 pass attempts over the past four weeks, so Hurns' injury is more prominent than it would have been earlier in the season. Marqise Lee seemingly would receive even more attention, as his 11 targets continue to show his connection with Bortles. One player to watch is Keelan Cole, who drew a season-high eight targets in the overtime win.
---
Texans WR Will Fuller (ribs)
Fuller was sidelined in the second quarter against the Rams and quickly was ruled out. The dynamic receiver already had missed the first three weeks of the season because of a collarbone injury, so his frustration continues. He'll go Monday for X-rays, which should help clarify his status for Week 11.
DeAndre Hopkins posted his typical monster target share with 14, but Bruce Ellington was the surprise beneficiary of Fuller's absence. Ellington received eight targets and caught four for 41 yards and one touchdown. While it was a nice showing, it's hard to trust struggling QB Tom Savage on a week-to-week basis, making Ellington a risky play.
Hopkins has been and continues to be Savage's security blanket, and easily will see more targets if Fuller must miss any time.
---
Redskins WR Ryan Grant (concussion)
Grant was forced from Sunday's loss to the Vikings after he suffered a concussion while making his third reception of the game. Grant's injury could mean the return of Terrelle Pryor, who has fallen so far off Washington's depth chart that he didn't even receive a target in Week 10, despite playing 28 snaps.
Grant seemingly had eaten into Pryor's target share, so the Redskins might be forced to get their perceived No. 1 receiver back in games. Josh Doctson, whom the Redskins have wanted to spark their offense, saw seven targets — a new season high for him.
---
Packers QB Brett Hundley (hamstring)
As if Green Bay already hadn't suffered enough in Week 10, news leaked after the game that Hundley also had been injured. It wasn't severe enough for Hundley to miss any time, as he played on every offensive snap, but it's still concerning, as the Packers would be down to only Joe Callahan at QB.
Recently promoted from their practice squad, Callahan has yet to see an offensive snap in the NFL, and he'd severely downgrade the Packers' receivers if he played. So it's worth monitoring Hundley at practice over the next week.
---
I am a promoter at DraftKings and am also an avid fan and user (my username is Steveazors) and may sometimes play on my personal account in the games that I offer advice on. Although I have expressed my personal view on the games and strategies above, they do not necessarily reflect the view(s) of DraftKings and I may also deploy different players and strategies than what I recommend above. I am not an employee of DraftKings and do not have access to any non-public information.