Everyone knows the high priced stars that they'd love to load their lineups with, but you'll need low-priced value plays to make it all work. Let's look at who that might be for the Wild Card Weekend Games.
The Value Plays made the playoffs! Woohoo! Let's skip our usual recaps and jump right into who you are going to want to snag as values for the very interesting four-game Wild Card Weekend slate — good luck!
As always, values are 5.5K and below for QBs, under 5K for RB/WR, under 4K for TE and under 3K for defenses. Contact me with any questions on Twitter @JasonWalker_72.
Quarterback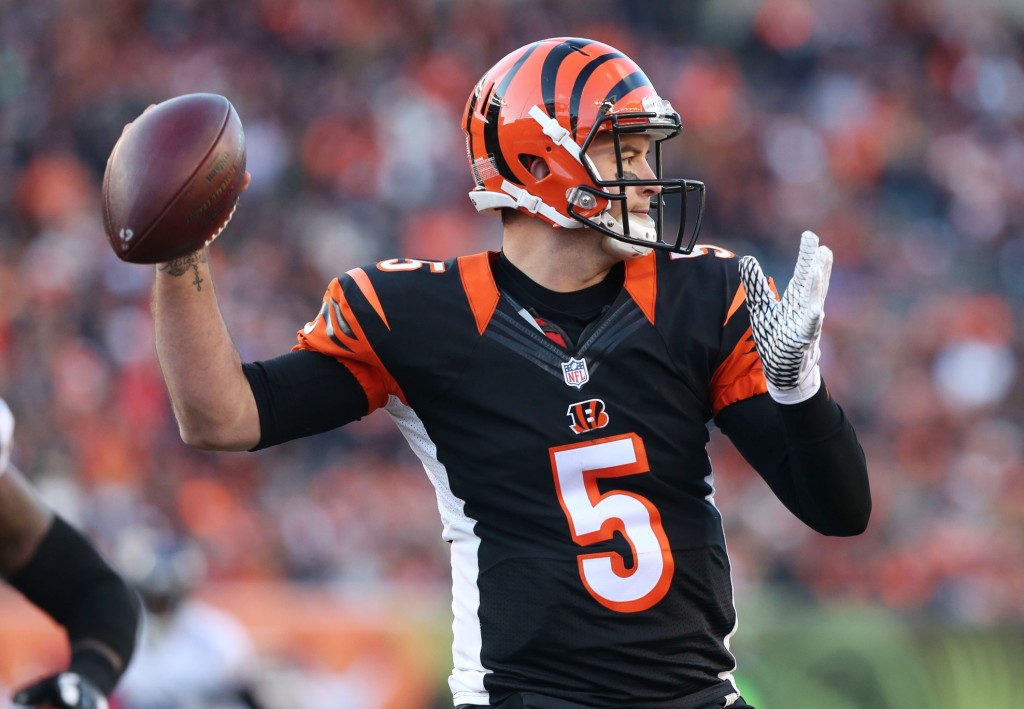 AJ McCarron ($5,200) – It's the playoffs, so the quest for value will be harder than ever. Guys like Brian Hoyer and Teddy Bridgewater are in bad spots and Alex Smith faces maybe the hottest pass defense right now in the Texans. That leaves us with McCarron, who will definitely have to throw to beat the Steelers, who are even more frugal with yardage in the run game and the fact that the Steelers offense has been doing a great job with the whole scoring thing. McCarron is the best shot at making 3x value down here.
Running Back
Eddie Lacy ($4,500) – Pick your poison between Lacy and James Starkes ($3,600), but even though they split snaps last week (and Starks had a couple more), Lacy got 2/3 of the carries. The Packers treat Lacy like a starter, giving him extra rest during the week, etc, so he'll be their guy against Washington.
Giovani Bernard ($4,000) – As stated above with McCarron, the Bengals are going to have to pass to win against the Steelers, so that leans heavily on Bernard, who out snapped Jeremy Hill 2 to 1 on passing snaps for the season.
Wide Receiver
James Jones ($4,100) – Jones has been the main man for Aaron Rodgers the past couple of weeks and has a plus matchup lined up against Quinton Dunbar. Jones has 13 and 11 targets over that span and 33 over the last three weeks, scoring 20.20, 11.60 and 17.20 during that time.
Marvin Jones ($3,700) – Again, sticking to the pass-to-win theory behind the Bengals approach this week to beat the Steelers, Jones has a slightly positive matchup against William Gay and has been getting a steady target trail, getting about six a week over the last three weeks.
Jermaine Kearse ($3,300) – Kearse has a positive matchup against Xavier Rhodes and has made value five of the last six weeks, scoring four touchdowns over that period. The Seahawks do figure to run more with Marshawn Lynch back and the weather being near freezing, but the price is right to take a shot at a regular part of the Russell Wilson Pass Attack.
Tight End
Heath Miller ($3,300)- You can make Big Ben's security blanket yours, too! Miller has long been a favorite in this column, as long as Ben Roethlisberger is healthy, because Ben looks to him whenever he needs to check down. Miller has made value four of the last five weeks, averaging
over 10 DK points per game in that time frame.
Cooper Helfet ($2,500) – He's been the TE target for Wilson the last two weeks, getting six targets a week over that span. 8.3 and 8.2 points are tremendous, but at 2.5K, it does make over 3x salary.
Defense/Special Teams
Green Bay Packers ($2,800) – It's like calling an only child your favorite child in that the Packers are the only defense that fits our salary criteria. However, there can be some advantages to matching a defense against a first-time playoff QB like Kirk Cousins and with most defenses 500 to 1000 dollars more expensive, the Packers can provide some nice salary relief to get the big plays this week. Good luck!