Values here are $5.5K and below for QBs, under $5K for RB/WR, under $4K for TE and under $3K for DEF. These are for the Thursday-Monday games.
Everyone knows the high priced stars that they'd love to load their lineups with, but you'll need low-priced value plays to make it all work. Let's look at who that might be for Week 3 with the NFL Value Plays, brought to you by SlingTV.
Quarterback
Cody Kessler ($5,000) – Here we are, back in Cleveland with a min priced QB. The Browns have had five different starting QBs in their last five official games. This time, it's Cody Kessler, and he'll likely make value if the Browns are trailing (which is likely). 220 yards and two TDs would be give us a nice return on his salary.
Sam Bradford ($5,300) – Bradford lined up against a tough Green Bay defense and threw for 286 yards and two touchdowns. He has WR Stefon Diggs and Offensive Coordinator Norv Turner on his side, and he goes up against a Carolina team that just gave up 243 yards and two touchdowns to Blaine Gabbert. The Vikings are underdogs here and they will be without Adrian Peterson, so it's throw, throw, throw.
Carson Wentz ($5,500) – Wentz has played well behind a line that has been fairly solid. The Steelers, his competition in Week 3, have only one sack in two weeks, so Wentz should have time to throw again this week. Also, Wentz has the highest implied team total of anybody eligible for our value plays here.
---
Running Back
Theo Riddick ($4,900) – The price feels steep for Theo Riddick, but with Ameer Abdullah out, and Riddick looking at 20 touches between the run and pass game, you can see why he's still in play here.
Charles Sims ($4,900) – No Doug Martin means that Sims steps his game up as well, and he'll be doing it against the L.A. Rams at home. The Bucs are the favorites, so if they can get out to an early lead, Sims should see plenty of work.
Giovani Bernard ($4,300) – Bernard had nine catches for 100 yards and a score last week at Pittsburgh, underlining his role in the Bengals pass attack. Against Denver and their pass rush, Andy Dalton may have to dump things off again to Bernard.
Tevin Coleman ($4,500) – Coleman was on the verge of breaking through last season before injury struck and then Devonta Freeman took over. This season, they've split things evenly, though Pro Football Focus has marked Coleman as more effective. Coleman has been more involved in the pass game, with five more routes run than Freeman and four more targets. This game against the Saints should be rich with the fantasy goodness, so despite the split, Coleman has the tournament upside in my opinion.
---
---
Wide Receiver
Tajae Sharpe ($4,700) – Sharpe, like Fuller, is destined for higher salaries. He's the leader on the Titans in targets, he gets twice the snaps as any other wide receiver on the team and he has a terrific matchup against the Raiders at home this week. Last week was a grinder against Darius Slay, but I think this week will be better.
Tyrell Williams ($4,300) – With Keenan Allen out, Williams got six targets in a game that San Diego had in control all the way. The Chargers, in fact, threw eight less passes to their wide receivers in Week 1, but they'll have to do more against the Colts this week. Given the Colts weakened state of their defensive secondary, it shouldn't be hard to do in my opinion.
Cole Beasley ($3,200) – Beasley has been productive in the first two weeks of the season, getting 18 targets over the two weeks and scoring 14.50 in Week 1 and 12.50 in week 2. Those are both still nice cash game values at $3,300, and he has a slightly positive matchup against the Bears.
Rishard Matthews ($3,300) – Another player who doesn't have to do much to make value, Matthews is the second wide receiver and probably fourth option for Marcus Mariota behind Sharpe, Delanie Walker and DeMarco Murray. Still, the Raiders have given up the most passing everything the first two weeks, and Matthews should get his share, which should be enough to make value.
---
Tight End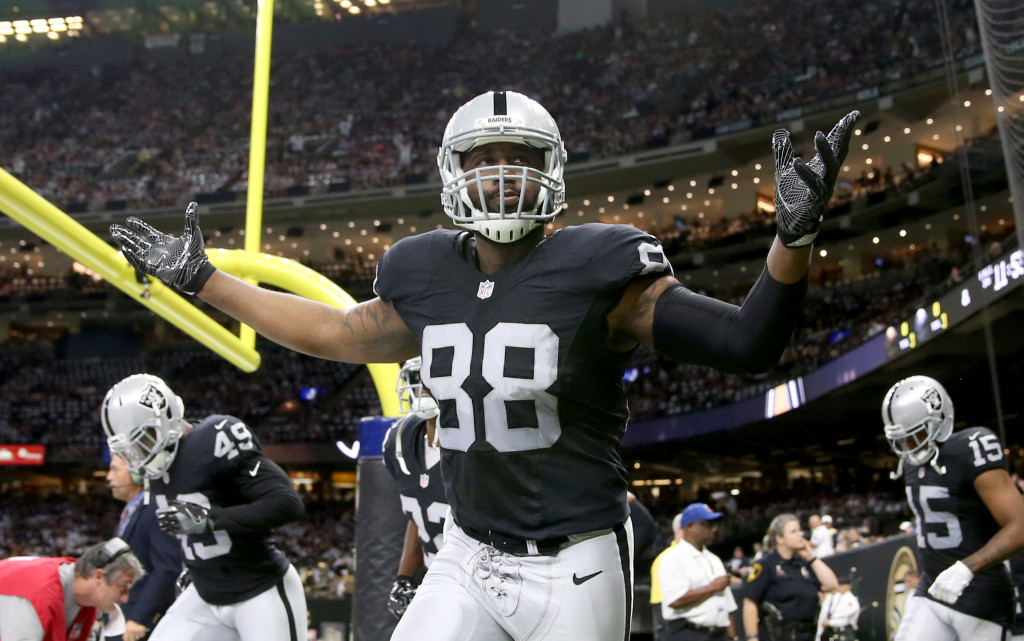 Clive Walford ($2,800) – The pass catching tight end in Oakland, Walford has been a busy man, courtesy of the poor Raiders pass defense that keeps Derek Carr throwing to Walford. He had seven targets, six catches and 17 DK points last week and his price went down in a better matchup for passing.
Dennis Pitta ($3,400) – He's my cash game play this week against the Jaguars. I think he'll be popular after his nine catch, 100+ yard reunion with Joe Flacco, where they connected like it was 2012 all over again. Pitta is a terrific pass catcher, and it's good to see he's healthy.
Jacob Tamme ($3,200) – I believe a nice pivot from Pitta would be Tamme, who has eight targets in each of the first two weeks. The game against the Saints is forecasted to be high scoring, and with people chasing the high volume that Pitta received, you can pivot to a just-as-important tight end in a higher scoring team and game total.
---
---
Defense/Special Teams
Baltimore Ravens ($2,500) – It's projected to be a close game, but the Ravens are favored by a point in Jacksonville. The Ravens have the third best adjusted sack rate, per Football Outsiders, and the Jaguars are middle of the pack in pass protection.
Detroit Lions ($2,400) – Don't let Aaron Rodgers see this, but the Packers are 29th in pass protection early on this season, and the Lions have the fifth highest sack percentage. I'm looking for the funk to last one more week for Mr. Rodgers.
---
I am a promoter at DraftKings and am also an avid fan and user (my username is jaywalker72) and may sometimes play on my personal account in the games that I offer advice on. Although I have expressed my personal view on the games and strategies above, they do not necessarily reflect the view(s) of DraftKings and I may also deploy different players and strategies than what I recommend above.