Everyone knows the high priced stars that they'd love to load their lineups with, but you'll need low-priced value plays to make it all work. Let's look at who that might be for Week 16.
First, let's see what did and didn't work in Week 15.
Week 15 Recap – What Worked
1) Philip Rivers – 25.44 – He even woke up Danny Woodhead last week -huge week for value QBs
2) Tim Hightower – 11.50 – Made his number, but not without a last second reception that sent many people to glory/pain concurrently.
3) Stefon Diggs – 20.50 – Big week for Teddy Bridgewater and Diggs, being the #1, rode that wave.
4) Zach Ertz – 21.80 – Zach Ertz was a thing last week! Did you miss it?
Week 15 Recap – What Didn't Work
1) Fozzy Whittaker – 3.60 – It was Cameron Artis-Payne that emerged last week instead.
2) Nate Washington – 4.80 – There was some Brandon Weeden for the Texans last week, so not good for Nate Wash.
3) Brandon Bolden – 7.40 – James White game instead.
4) New Orleans Saints – 1.0 – They stink so terribly bad they could even make 1x value on 2K. Shame.
As always, values are 5.5K and below for QBs, under 5K for RB/WR, under 4K for TE and under 3K for defenses. Contact me with any questions on Twitter @JasonWalker_72.
Let's get to Week 16!
Stats per FootballOutsiders, ProFootballFocus, FantasyLabs, teamrankings and numberfire
Quarterback
Tyrod Taylor ($5,500) – I never love pace games involving Dallas, but how can I walk away from this series' favorite QB son? Tyrod has put up 27.24, 29.24, 19.02 and 27.30 in his last four, including two teams from the upper half of pass defenses, so I guess I don't know what is ever going to lift Taylor out of the Value Plays, but maybe this week will be our fond farewell to TyGod.
Jameis Winston ($5,500) – Jameis quietly went out Week 15 and dropped 24.02 on the Rams, so there's little hesitation using him against the Bears defense, who is considerably worst (bottom ten) against the pass. The only caveat is that his home record isn't great and it could be a high running game, but the matchup and salary calls out Winston here.
Teddy Bridgewater ($5,200) – Biggest game of the year last week for Teddy, but this isn't a points chase here. The Giants are legit terrible against the pass, arguably in the worst five pass defenses in football. He has a nice, cozy home game with a forecasted team score of 25.3.
---
Running Back
Danny Woodhead and Donald Brown ($4,400 and $3,000) – The Chargers remembered how to use Danny Woodhead last week and that should continue this week as the Raiders are 28th against RB receptions, per Football Outsiders. Don Brown is listed here because he is clearly more trusted and effective than Melvin Gordon and is the min price if you were going to take a flyer on the other half of the RB equation here.
James White ($4,700) – The last time out, the Patriots didn't even try to run the ball on the Jets, passing on over 90 percent of their plays in Week 7. And why not? the Jets are numero uno against the run and the Patriots have no trouble deploying the all-Brady offense. White has 8 targets last week, watching seven for 71 yards and a TD. I would expect even more targets this week.
Karlos Williams ($4,500) – He's been explosive in relief of LeSean McCoy before and though he will share with Mike Gillislee somewhat, Williams has established himself previously with two 20 point DK games under his belt. Toss in the Cowboys weakness against the run and it's a solid spot for Karlos.
Tim Hightower ($4,500) – Heh heh — well, three straight weeks for Tim Hightower in the Value Plays! Even when he stood as the last man in the Saints backfield, I never thought he'd do enough to be back here. And I certainly never thought that he would be on the verge of graduating out of the salary range with another solid game this week. Yet here we are and the Saints in a potential track meet with the Jaguars means Hightower will have plenty of opportunities, highlighted by his four targets last week to go with the usual lion's share of the carries.
---
Wide Receiver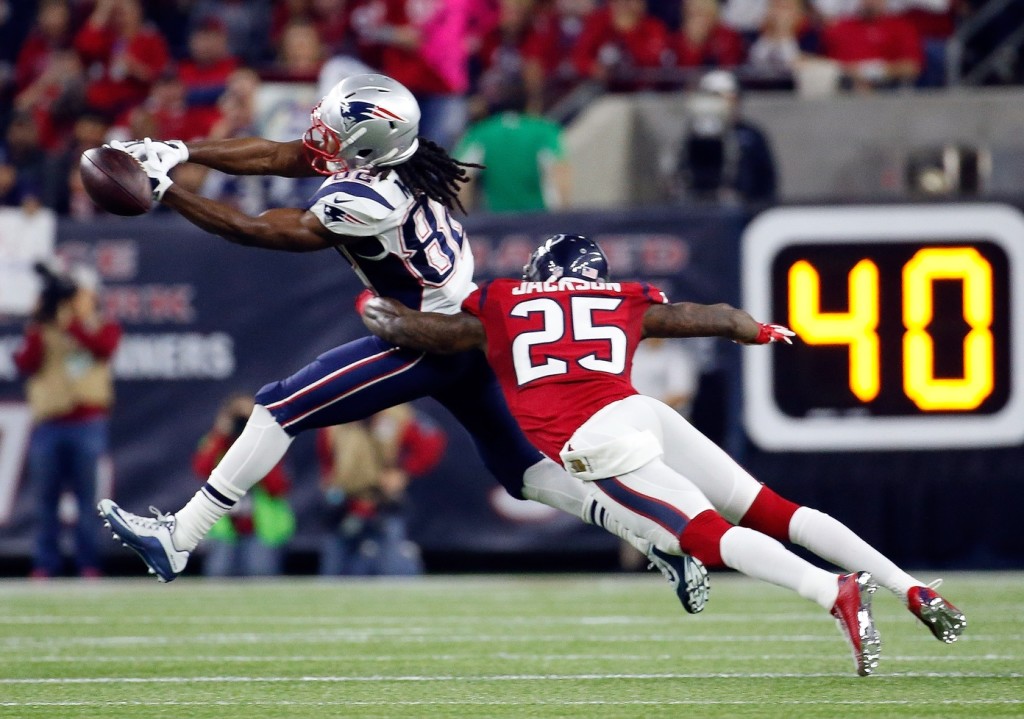 Dwayne Harris and Reuben Randle ($3,000 and $3,500) – You probably already heard that Mr. Beckham, Jr. will not be in the mix this week against Minnesota. The Giants are unlikely to change their top ten passing volume offense for a single week, so enter Harris and Randle at extremely low salaries this week. It's Randle that has the better matchup against Xavier Rhodes, per PFF, and he has the greater previous volume, so I'm going Randle first, but can't ignore Harris' explosiveness and minimum salary, either.
Keshawn Martin ($3,000) – Well, we've spent all season batting .500 on Patriots WR so why not do it again as we come down the stretch? Martin is min salaried, has a plus matchup with Buster Skrine and will be one of the beneficiaries if the Pats unleash the same 90% passing that they featured in Week 7.
Jermaine Kearse ($3,200) – I don't love the matchup against former Gator Janoris Jenkins, but I love the price and the volume that Kearse has been seeing. With teammate Doug Baldwin going epic on the league, surely there is going to be some defensive overcorrection, which should enhance the volume and production of Mr. Kearse.
Dontrelle Inman ($3,000) – As the Chargers continue to pass a lot (#2 in passes per game, #3 in Pass Percentage), I am good with firing up Inman again this week since he made value last week and has a positive matchup with Neiko Thorpe this week.
Nate Washington ($3,200) – Obviously, this is entirely predicated on Brian Hoyer being cleared to play, since we saw the results of a Brandon Weeden led effort on Mr. Washington's output. With Hoyer back, a paltry 3.2K salary and very positive matchup with BW Webb, Nate should at least be able to replicate the 10.40 DK point effort against Buffalo and maybe the 17.40 effort he had against Tennessee the last time out.
---
Tight End
Eric Ebron ($2,900) – Ebron finally delivered, and it took the Saints awful defense to do it. The Niners aren't equally as bad as the Saints, but they are bad against tight ends, landing in the bottom ten and seeing over seven pass attempts headed to the TE.
Zach Ertz ($3,100) – Mr. Ertz also came through last week, grabbing a whopping eight catches on 13 targets against an Arizona team that had been extremely stingy towards tight ends. Washington is far more relenting towards his position, leaving Ertz in great shape to replicate his success.
Blake Bell ($2,500) – What? You figured you'd see Austin Seferian-Jenkins here, and that I'd copy and paste last week's tight ends? No, no, no. Instead, meet Blake Bell, who is a real player that had eight targets last week and caught four of them for 43 yards. He doesn't have to do a whole lot to get to value at 2.5K, so he's the ultimate punt this week against the Lions defense that is only better than the aforementioned Saints and Chargers at defending the tight end this season.
---
Defense/Special Teams
Tennessee Titans ($2,000) – The Titans are #2 in adjusted sack rate, per Football Outsiders, and they are facing a Houston team that is bottom ten in protecting the QB.
Oakland Raiders ($2,000) – All those pass attempts from the Chargers means extra sack and interception opportunities for a Raiders defense that has been on the rise, ranking 12th in Football Outsiders' Weighted Defense rankings.