As you rigorously prepare and research leading up to each fantasy football season, sometimes it's fun to take a step back and look towards the future of the NFL. This feature is going to do just that, and while its focus won't be fantasy related, maybe it sparks some thoughts for those of you pondering a keeper league strategy or something of that nature. The idea is simple: rank the top trade assets in the NFL (only including players at the skill positions on offense: QB/WR/RB/TE). Again, this has nothing to do with fantasy trades, this is in terms of how valuable these players are to their actual teams in the longterm. Yes, this means names like Tom Brady and Peyton Manning will be left off since it's my list. I'm sure there will be plenty of debate, as everyone's picks are likely different. So sit back, and enjoy the ride!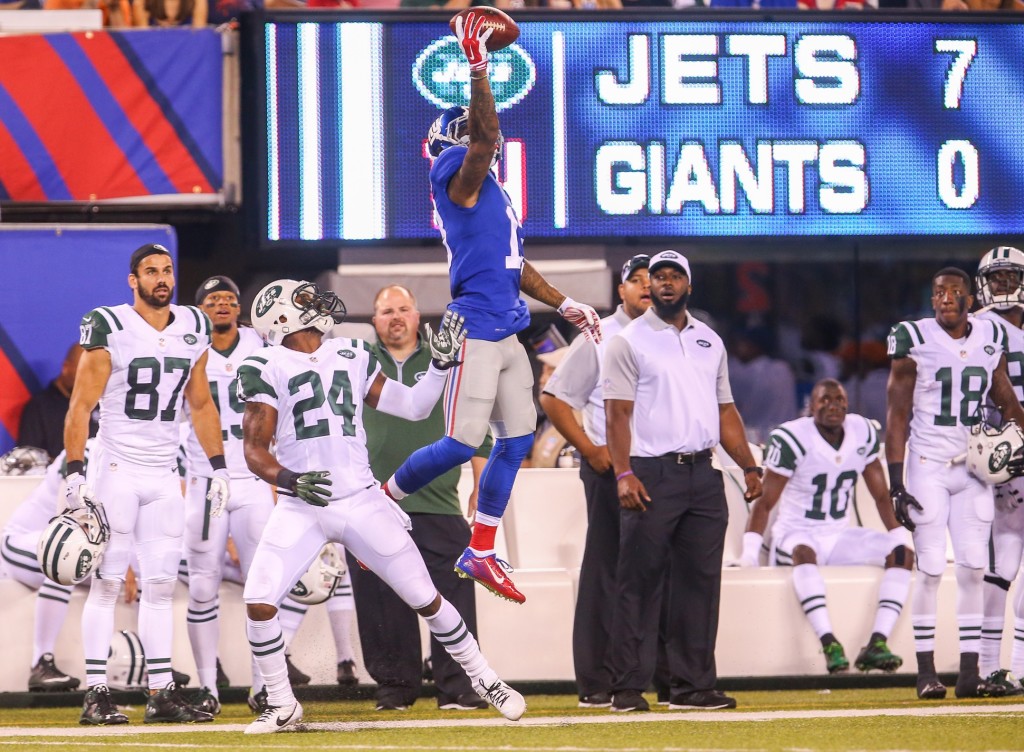 No. 9: Odell Beckham Jr. — WR, New York Giants
If you read my feature on Cam Newton (No. 10 on the list), you know that Cam would have been much higher on the list right after his magical rookie season. That's where Odell Beckham Jr. stands right now. After 12 career games, we can't be 100-percent sure he's the real deal (at least long-term), but my goodness is he off to an impressive start.
OBJ burst onto the scene in 2014 and became an instant fantasy hero. He got a late start to the season, but more than made up for it with 91 grabs for 1,305 yards and 12 touchdowns. He was the lone bright spot in an otherwise miserable season for the Giants.
2015 is a make-or-break year for the LSU product in the sense that we find out if he's for real or not. Of course, everyone is expecting a bunch of this …
Sorry, but that's just not realistic. That was a once in a lifetime catch, but OBJ is definitely going to continue to be a big play receiver this season. In a passing league, Beckham's skill-set is extremely valuable, and that's why he comes in at No. 9 with such little experience.
We've seen players at all positions take a step backwards after a huge rookie year. That's not what any of us expect from OBJ, though. If he can continue to improve — and his ceiling is as high as any WR in the NFL — then he could be a very special player that keeps his name on this list for a long time.
The best way to tell Beckham's value is simply by looking at Eli Manning. Would anybody be interested in Eli as a fantasy QB if he didn't have OBJ to target? Probably not. But instead, he's being drafted in the mid-rounds of season long leagues, and boasts a $7,400 DraftKings price tag in Week 1. Let's call this "The OBJ Effect."
It's hard to imagine the Giants accepting any offer on Beckham at this stage of his career — especially when you consider contracts. New York has a stud locked up and they're not letting him go anywhere.
Find me on Twitter @julianedlow
See below for more features from "NFL Trade Assets."
Honorable mention: Jameis Winston/Amari Cooper