This is a weekly series where I break down my favorite tournament plays for the upcoming NFL week. I'm going to be focusing on high upside plays that could really pay off big for you in tournaments. While players with high point floors won't be completely ignored, I really want to focus on high point ceilings (big upside) for the week.
Stacks
Alex Smith ($6,500) — Travis Kelce ($5,000) – Combined $11,500
One way to counteract a popular play in large GPPs is to pivot to their teammates. Spencer Ware is in a great spot Week 1 against a bad San Diego run defense, but the Chiefs are anything but a one-dimensional offense. With Jeremy Maclin potentially being covered by the very good Jason Verrett, don't be shocked to see Travis Kelce show up here. The Chiefs team total is over 25 points at the moment, and they're also over 6 points favorites, so that's also a good situation for Alex Smith, who did hit over 20 points four times last year on DraftKings. Smith and Kelce are in a nice spot here and cheap enough to have a shot at reaching 5x value.
Robert Griffin

III

($5,600) — Corey Coleman ($5,100) – Combined $10,700
I buy into the Robert Griffin III resurgence we saw this preseason and also love his rebuilt receiving core, a squad led by rookie Corey Coleman. Coleman is a tremendous athlete himself who has been getting rave reviews all training camp. This duo doesn't need a whole lot of points to just reach 4x value (42.8 to be exact), which would be very good on its own, and you could probably even consider using the min-priced Terrelle Pryor with them if you wanted to go for the complete stack here. The affordability of this duo, the matchup and the raw talent make them look like a potential winning tournament combo Week 1.
---
Quarterback
Joe Flacco ($6,700) – This choice is based almost purely off an article written by the Playbook's own Adam Levitan on Quarterback Selection. Flacco meets three of his four main criteria for choosing a QB (and just barely misses the fourth): he's playing at home, he's playing an out of division opponent, his team is a favorite of less than 8 points and while the Ravens don't have an implied team total of 24 or greater, they're very close at 23.25 points (as of writing). Flacco actually posted 24 or more DraftKings points on 5 separate occasions last season in JUST 11 games. If he achieves that here, he'll be near 4x value.
Bonus: Marcus Mariota ($6,400)
---
Running Back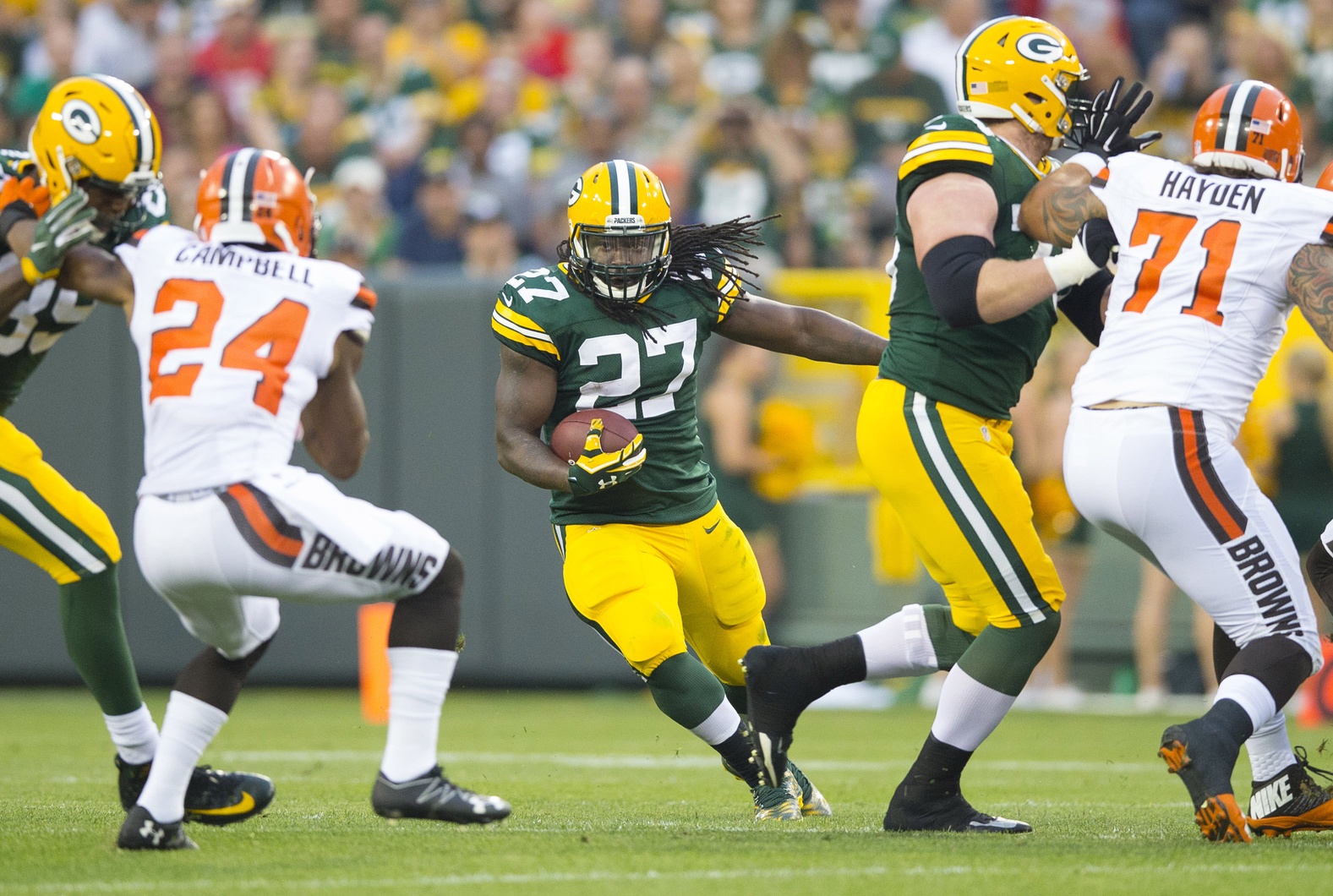 Eddie Lacy ($6,700) – Lots of dynamics are in Lacy's favor this week. Green Bay is favored by more than 4 points and also has one of the highest opening day implied team totals (26.5 as of now). Blake Bortles also led the league in interceptions last year, so I expect Lacy to see lots of good field position and get more than his fair share of red zone touches in this game. Lacy's also in a contract year, has looked great in preseason and quite frankly, needs a bounce back 2016 to possibly save his career as an every-down back. A multiple TD game is possible in this matchup.
Theo Riddick ($4,000) – There are a few backs in this range that make for interesting, potentially low owned GPP picks (Darren Sproles, Charles Sims), but I think Riddick has the best upside. The Lions and Colts have a big game total, and Riddick is absolutely entrenched as the Lions' passing down back. Last season Theo ranked second in the league among RBs in Red Zone targets, so, if anything, he was probably a little unlucky only to score 3 TDs. This Colts/Lions game screams shootout, and it should set the conditions for a possible huge game from the PPR back.
C.J. Spiller ($3,600) – One little news item that has gone basically unnoticed this preseason is the fact that it appears C.J. Spiller has somehow worked his way back into the main passing back role for New Orleans. In the third preseason game he actually split touches with Mark Ingram, and when you look at the Saints backfield depth chart, there's reason for optimism here. At $3,600, he's also a running back on a home favorite which has an implied team total of 26 points. His usage is tricky to predict, but if it mirrors the preseason, meeting at least 3x value won't be an issue.
Bonus: Christine Michael ($3,700)
---
Wide Receiver
Randall Cobb ($7,600) – My goal here will always be to choose one higher-priced, likely lower-owned, wide receiver who I think has a great shot at busting out a 30+ point week. This week that honor goes to Randall Cobb. Cobb played hurt all last year, but he's 100% healthy now and has looked great in the preseason. With Green Bay having Jordy Nelson back, people may be scared off Cobb Week 1, but the truth is, he's had more success with Nelson in the lineup. Against what I'd call a bottom ten secondary, Cobb could run wild across the middle as Jacksonville tries to limit the returning Nelson.
Tyler Lockett ($5,000) – I'm aware of the preseason "un-hype" going on with Lockett as it appears Jermaine Kearse and Paul Richardson could both affect his playing time. While this news looks concerning, it's also likely to depress Lockett's ownership Week 1 and give you a chance to buy low on a potential breakout player. Seattle are big favorites against possibly the worst secondary in the league, and Lockett is probably going to match up with their second or third corner most snaps. With that knowledge, I will happily take the $5,000 salary here and buy low on the premise of the talented Lockett absolutely destroying Miami, regardless of how much he plays.
Vincent Jackson ($4,400) – The Atlanta/Tampa Bay game is a decent target this week as it features a couple of lackluster defenses and some big time wide receivers. Why Jackson looks so appealing is that the Falcons basically have one good corner in Desmond Trufant, and it's very likely he'll be covering Mike Evans most of the time. I always worry about Jameis Winston's ability to recognize and actually take advantage of a mis-match, but I'll give him the benefit of the doubt here as the price is very attractive. A 22-point day would mean 5x value, and that's more than attainable.
Bonus: Anquan Boldin ($4,500)
---
Tight End
Delanie Walker ($4,500) – Walker actually scored over 20 DraftKings points five times last season and also hit over 5x value on a $4,500 salary three times, all while playing with a rookie quarterback and Zach Mettenberger. The Vikings have a solid defense, but covering the TE is not their speciality as they ranked in the bottom ten in the league in yards and receptions allowed to that position in 2015. Walker brings unique after the catch abilities to this position and that should allow him a chance of hitting 4x or even 5x his salary in this game.
Kyle Rudolph ($3,000) – Rudolph and the Vikings take on the Titans Week 1, a team who gave up the second most TDs in the league to the TE position last season. Regardless of who takes the field at QB for Minnesota Week 1, Rudolph should be a seen as a nice security blanket and huge red zone target for their new starter. Another tidbit, the Vikings improved their offensive line this year which has led many to speculate that Rudolph should be able to run more pass routes as a result. He actually hit 4x value or better on a $3,000 salary five times last year, so the potential for a good return on investment is definitely there.
Bonus: Julius Thomas ($3,800)
---
Defenses
Green Bay Packers ($2,800) – Green Bay are nearly 5-point road favorites this week in what looks like a possible shootout with Jacksonville. However, Greens Bay's defense is in (potentially) a good spot here. Blake Bortles threw the most INTs in the league last year, and the Jags, as a team, had the third worst turnover differential in the league. The Packers have stockpiled nice pieces on defense, and I personally think they're going to be extremely effective on that side of the ball. Most will shy away from Green Bay due to the fact the Packers are on the road here, but the potential for a big game definitely exists. At $2,800, the Packers save you lots of space and only need 14 points to hit 5x value.
Bonus: Cleveland Browns ($2,300)
---
I am a promoter at DraftKings and am also an avid fan and user (my username is wavegoodbye) and may sometimes play on my personal account in the games that I offer advice on. Although I have expressed my personal view on the games and strategies above, they do not necessarily reflect the view(s) of DraftKings and I may also deploy different players and strategies than what I recommend above.