This is a list of the top Tight End targets for NFL games based on potential production and price. The players are split into three tiers based on likelihood of success. Remember that these rankings take potential production and price into account, so some guys may be higher up on the list despite having a lower projected score for the week if the price point is favorable. Here are some TE options to consider.
---
Looking for a different position? Check out the rest of the positional targets:
NFL Quarterback Targets: Week 6
NFL Running Back Targets – Week 6
NFL Wide Receiver Targets: Week 6
NFL Defense Targets – Week 6
---
Cream of the Crop
Rob Gronkowski ($7600) –
Gronk is still the most expensive tight end on the list and he still has a higher floor and a higher ceiling than anyone else at the position. He only had four catches for 67 yards in the last game, but now New England travels to Indy for a game with a 55 total where they are slated to score 31 points. Vontae Davis will be matched up on some of the WR corp which should limit the production there and make Gronk a bigger part of the game plan this week. Brady is throwing the ball all over the field, so Gronk is always in play when you look at it that way. He is not the most targeted pass catcher on the Patriots, but he is the best red zone threat and one of the few guys who sees targets all over the field. I expect him to bounce back in this one and get closer to his 22 fantasy point per game average.
Antonio Gates ($4600) – Gates saw targets early in his return which makes me believe they will be using him a lot now that he is off suspension. He caught 69 balls for 12 touchdowns last season. He saw three targets for three catches and a TD pass on his first drive back, so that is more volume than many of these TEs see in a half. He ended the game with two TDs, so he looks to be all the way back. With Stevie Johnson banged up and Malcolm Floyd also not 100%, it makes a ton of sense to expect him to be a big part of what San Diego does. They are on the road and a big dog to the Packers this week, so he should see a ton of garbage time work as well. Many were worried about Ladarius Green before this game, but that first drive alleviated those fears. Gates will not remain this cheap if he keeps producing, so use him for this price while you can.
Greg Olsen ($5500) – Olsen traveling to Seattle does not seem like the best spot, but there's quite a few things going his way. For starters, he is the most targeted pass catcher on his team, which includes tons of red zone looks already this year. The Panthers are expected to be trailing, so he should also have the benefit of garbage time late in the game. The Seahawks are not that great at defending Tight Ends, which may also have a lot to do with the WRs facing them not being able to get open. Lastly, he is $2000 cheaper than Gronk, so he needs far less to return value. Add all those things together and it is easy to see why Olsen is the other tight end at the top of the price spectrum worth paying up for.
Martellus Bennett ($4800) –
Detroit has allowed the sixth most points to fantasy Tight Ends. It's too early in the week to know for sure, but there has been a cloud around the status of Alshon Jefferey and Eddie Royal all season. If those guys can not play, Bennett again will be the most reliable pass catching target. He has seen 24 targets in the last two games. He caught 11 of 13 in week 4 and only 4 of 11 in week 5, but the volume alone is enough to make him intriguing. He was one of the better TE options in the league last year in terms of catches, yards, and TD receptions so it is no surprise he is a top option again this weekend.
Middle of the Pack
Gary Barnidge ($4400) – Barnidge is a legit starting TE to consider for fantasy. He has 20 catches on 26 targets for 319 yards and 3 TDs over the last three games. Those are elite level numbers across the board. He does have a tough match up against a solid Denver pass defense, but the Cleveland offense has been on a roll with three straight games of over 300 yards passing. Denver does have one of the lowest average points allowed to passing games so far this season, so there is some concern about the whole offense underperforming their averages. Still at $4400, he is cheap and seeing enough targets to make him a viable option who should go off lower owned.
Tyler Eifert ($4900) –
Eifert had another big game last out where he found the end zone multiple times. That alone will raise his ownership percentage. He plays against a team that is very good at shutting down the run, which is why teams feel it iss easier and more productive to pass against them. While the WRs are the ones who have done the most damage against the Bills, TEs have not had bad games either. Cincy is favored in a game on the road that is expected to be close. If the running game is shut down, they will have to take to the air. Buffalo has some solid corners on the outside, so Eifert can definitely be an option. With this whole offense clicking, it is tough to double anywhere on the field and that could mean we see Eifert get some matchups he can exploit in one on one coverage vs. a linebacker.
Jordan Cameron ($3000) – Cameron has disappointed so far this year, but has also been playing through an injury. He has seen 28 targets in 4 games, so it's not a lack of opportunity, but more a lack of production. He does have a good matchup here against a Tennessee team that struggles with most TEs (although they shut down Clay last week). Miami is slated to be trailing here, so we could finally see Cameron have a big game off a bye week and as healthy as he has been all year.
Travis Kelce ($5000) –
The price is still a tad high for a guy who does not see a ton of targets. He is seventh in TE targets at just over 7, but it is still not a ton of them. He has not scored a TD since week 1 and he has only been over double digit fantasy points in one game since then. So why he is on the list you ask? He is an underdog, so likely to be trailing and throwing late. The Chiefs also lost Jamal Charles who accounted for a large number of the TDs they have scored this season. While the running game is still a focus, Kelce was the second best red zone threat they had. Hell the WR went 19 games without finding the end zone, so I doubt they pick up the slack there. Kelce sees Screen passes, passes in the flow of the offense and the occasional shot down field. He is one of the more dynamic weapons they have, so he should be called upon to help pick up the slack. He is still not a top option though, because he just does not see enough targets over his peers to justify paying up for him.
Other options to take note of
Charles Clay ($4300) – There are a lot of things going against one of the more talented tight ends in the league in this one and it should be a big problem for him. For starters, he is not 100% healthy and it showed in their last game. He even left briefly due to injury, although he was able to return. With the running game in shambles and Sammy Watkins out, Clay is also being concentrated on by opposing defenses which will limit any potential upside he has. Clay is only averaging about six targets a game and faces a tough defense this week. That is not something that inspires much upside potential in this game.
Jimmy Graham ($5400) –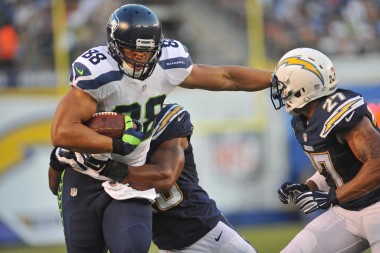 Talent alone is the reason he still makes the list, but it's impossible for me to justify paying up for him. He has played five games this year. He averages 4 catches for 40 yards. That is 8 DK points. I would not roster a guy at $3K with that kind of production. Larry Donnell and Crockett Gillmore are half his price and averaging more points and targets. Jimmy Graham is a talented player who is in a system that does not suit his talents. That is not a knock on Seattle either, because we knew this was a bad fit from the start. Graham will not see the volume to justify the high price and is nothing more than a low probability GPP flyer until his price comes down or his role in that offense expands. At home and likely playing from ahead is not a game script that should change the recent numbers we have seen.
Derek Carrier ($2500) – Carrier is the min priced special of the week here. He only had three targets, but caught two and found the end zone. He is taking over for Jordan Reed who is out on injury. Cousins does love looking for his TEs and the Redskins have smallish WRs remaining healthy at the moment. Carrier is a cheap play who could see some red zone looks. It's not likely he has a big 5 catch or 10 target game, but he really only needs to catch one RZ look to give a nice return at his minimum price.
---
Continue Reading This Week's Targets Series
NFL Quarterback Targets: Week 6
NFL Running Back Targets – Week 6
NFL Wide Receiver Targets – Week 6
NFL Defense Targets – Week 6
---