This is a list of the top Tight End targets for NFL games based on potential production and price. The players are split into three tiers based on likelihood of success. Remember that these rankings take potential production and price into account, so some guys may be higher up on the list despite having a lower projected score for the week if the price point is favorable. Here are some TE options to consider.
---
Looking for a different position? Check out the rest of the positional targets:
NFL Quarterback Targets: Week 5
NFL Running Back Targets – Week 5
NFL Wide Receiver Targets: Week 5
NFL Defense Targets – Week 5
---
Cream of the Crop
Rob Gronkowski ($7500) – If you take a look at the consistency of Gronk vs. the consistency of WRs, you will notice he has been right there with those guys and even outplayed some of the ones that cost more then he does. He has the highest floor and the highest ceiling of any player at the position and should be a cash game staple. The big fear with him this week is that Dallas tries to slow games down, but that has not been the case lately. That running game is lacking and the big reason they have been unable to control the pace is the third down conversion rate. Weeden's rate is about 20% below the conversion percentage Romo had, which means it's that much harder to sustain drives and soak up clock to control Tempo. The Pats are going to play uptempo, knowing that the best way for them to win is to force the Cowboys to have to keep up on the scoreboard. That means Brady will be throwing and Gronk will be making plays, especially in the red zone. He has a real shot at a bunch of catches and multiple touchdowns here, which makes him worth every penny. Even when he has not found the end zone lately, he has still put up catches and 100 yard bonuses, so that is why you have to love his floor as much as his potential ceiling.
Owen Daniels ($2700) – If you think I am nuts for placing Daniels this highly up, remember two things. 1- We factor in potential production with price and $2700 is a very nice price that opens you up to being able to roster a lot of high priced studs. 2- He plays the Raiders. Now if you don't understand the importance of that last statement, let me enlighten you. Week 1 Tyler Eifert went for 9 catches, 100+ yards, and 2 TDs (34 DK points). Week 2, Crockett Gillmore went for 5 catches, 88 yards, and 2 TDs (26 DK points). Week 3, Gary Barnidge went for 6 catches, 105 yards, and a TD (25 DK points). Week 4, Martellus Bennett went for 11 catches, 83 yards, and a TD (25 DK points). Do you see why we like Daniels so much this week yet? He has caught a TD in each of the past two weeks. He averages over five targets already, which is more than most of these other guys did before their big games. The price is too cheap and the match up is too good to ignore him this week.
Charles Clay ($4100) – Clay is another guy with a good combination of price and upside here. He has seen 20 targets over the last two games and is the fifth most targeted TE this year with over 7 per game. With Sammy Watkins out, he was a huge part of that offense last week as he saw double digit targets and put up over 100 yards. He is averaging over 21 points a game in his last two, which has coincided with his uptick in targets. As long as Watkins is out and the running game is stagnant without McCoy, Clay will need to be one of the guys who helps them move the chains. He is a good red zone target, with him and Robert Wood being the two guys with any size of those pass catchers, so he should continue to be used in that aspect. At only $4100, his catches along give him a nice floor and any potential upside would come from the yardage and TD he could score, both of which should help him reach and exceed value.
Martellus Bennett ($5000) –
Bennett has his starting QB back which helps. He may also have his starting WR in Alshon Jefferey back, which would help relieve some of the double teams he is seeing and put him in more favorable one on one situations with a LB or Safety. His targets have risen to the point he is seeing double digits now. He was near the top for catches, yards, and touchdowns last year at the position, so it's not a surprise he could have a 10+ catch game when given the targets like he was last time out. His team should be trailing again in this one, and likely may be down a WR or two. That should mean a lot of garbage time targets for Bennett which could help him rack up catches and reach his value number.
Gary Barnidge ($3800) – In his last two games, he has seen 16 targets, catching 12 of them for 180 yards and 2 TDs. In a run heavy offense, he has produced though the air lately. Baltimore is a solid run defense, even if the numbers do not show that now. I think they can bottle up the Cleveland ground game, forcing them to go to the air. Even if they can't, Vegas expects them to be trailing in this one and Barnidge is a nice target underneath and over the top of the linebackers for McCown to use. Again here, he might not have enormous upside, but it's a big enough upside for the price and a safe enough floor off recent games to utilize him in a favorable situation at only $3800.
Middle of the Pack
Antonio Gates ($4200) – You can make a case for moving him up a tier and I would not fault anyone for doing so, but he has pluses and minuses today. On the plus side, we know what he has done in the past. Rivers loves him, he gets targets, and he can score touchdowns. He also will be on the field a lot running some of those underneath routes in two TE sets since Stevie Johnson may not be there this week to do so. That has value for him at a cheap price here. The downside is he will share targets and snaps with Ladarius Green who could also be on this list somewhere. Green has played well enough to not be solely a bench player, so you have to think neither has huge upside in this match up, despite Pittsburgh's pass D being suspect. If there was more clarity on potential usage, either of them could be a slid cash play, but with that uncertainty I can only see using them in tournaments.
Travis Kelce ($5200) – I know people love his talent and you can include me on that list, but his price and usage numbers really scare me here. For $5200 I need a 16 point floor and a 25+ point ceiling. I do not know if I get that here with him in a game they should be winning and running a lot late. In pass happy games where we were looking for huge production out of him, he has underwhelmed. It's a matter of opportunity with Kelce. He does not see a ton of targets so that hurts him. His price is high, so he would need them to even sniff value. He has the potential to go off any game, but his floor is below ten and he has flashed it a few times before already. He makes the list, because he does have 20+ point upside and few do at the position. Yet he is a tournament only option, because he could just as easily have 8 points in a game which does not set up right for him.
Jimmy Graham ($6100) –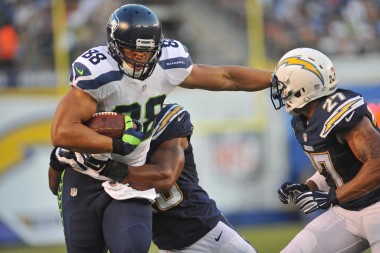 Let's face it, he is just too expensive and too erratic for his ceiling or his floor in this offense. He is still priced and used like a guy who is getting a dozen targets in a pass happy New Orleans offense as the primary target. Instead he is a piece of a balanced offense that actually prides itself on being a run first team. He has already failed to reach 7 fantasy points though in half the games this season. That is not a guy who I can recommend paying up for when you have cheap options at 2/3 the price who have seen more targets and are a bigger part of their offenses this season. I expect a lot of running from both sides here, especially if Lynch can play. Even if he can't, Wilson legs and his use of the WRs makes Graham not worth paying up for. Sure he could snatch a TD or two, but it's unlikely he reaches value if he does not and that is what keeps me off of him.
Jason Witten ($4500) – Witten is banged up which hurts his chances to do damage downfield. That relegates him to a short option only. He will still see targets as the third most targeted TE in the league, but it's going to be a tough day for him. Bellichek will likely take him away and force the WRs on the outside to make plays. A banged up TE that is game planned against should not have a huge upside in this one. Witten is likely to catch a few balls, but not for big yardage. He is very TD dependent in order to make value and there is no guarantee he stays healthy for this whole game. There is risk there, which is why I understand the case to use him, but am still staying away.
Rest of the Field
Tyler Eifert ($4600) –
Eifert is over owned and over priced based off one good game he had. In week 1, with AJ Green being doubled, he made 9 catches on 12 targets for 105 and 2 TDs. Since then, he has gone for only 7 catches, 108 yards, and a TD in his last three games combined. If you erase week 1, he is averaging 4 targets with 2 catches and 36 yards per game. That is a whopping 5 DK points which is horrible for a guy you pay up to $4600 for. Cincy is expected to have a lead and run the ball a lot here. None of that makes a positive game script for Eifert. Throw in the fact people still use him highly based off his week 1 numbers and you have yourself a guy who is expensive and unworthy of use in any game type.
Delanie Walker ($3800) – Walker is a guy who sees targets when he plays. He got hurt week 1, missed week 2, and then saw 10 targets week 3. They had a bye last week, so he should be healthy and ready to go there too. Tennessee is an underdog at home, which is one of my favorite spots to target the passing game in. While Walker is risky for injury and the occasional dud, he also could see a monsterous number of targets and that has a ton of value in a GPP. At $3800, he has a lot of upside.
Richard Rodgers ($2900) – Rodgers is a feast or famine kind of play, but he is Aaron Rodgers tight end, which makes him relevant. While he is averaging under 10 points per game, he does have a 13 and a 15 point performance, with some TDs that makes him a guy you need to look at for value. I still prefer Owen Daniels if I was spending down this far, but you can not dismiss any of Rodgers pass catchers who are on the field, especially in a tough match up against a solid Rams defense.
---
Continue Reading This Week's Target Series
NFL Quarterback Targets – Week 5
NFL Running Back Targets: Week 5
NFL Wide Receiver Targets: Week 5
NFL Defense Targets – Week 5
---