The running back herd is thinning as the season goes along. We lost another sure-fire 'Cream of the Crop' stalwart in Week 8 as Le'Veon Bell is done for the year after wrecking his knee. We also have the largest bye week of the season in terms of teams with six taking Week 9 off, and when combined with the rest of Week 8's infirmary report, the viable cash game running backs are few and far between. Let's dig in.
---
Looking for a different position? Check out the rest of the positional targets:
NFL Quarterback Targets: Week 9
NFL Wide Receiver Targets – Week 9
NFL Tight End Targets – Week 9
NFL Defense Targets – Week 9
---
We're on to Week 9.
We've reach a stabilization point for a lot of metrics now, so it's easier than ever to trust the data behind the analysis. Having more actionable in-season data that we can lean on makes the second half of the season a lot of fun. The process of understanding how good or bad a player's matchup is each week is getting easier and will continue to get easier with each passing week. Most of the stats that I'm referencing here are either opponent or schedule-adjusted, making it easier to contextualize what is actually happening instead of just pulling raw data points.
Thanks to amazing sites like Pro Football Focus, Football Outsiders, and 4for4, there has been a tremendous wave of actionable analytics in football over the past few seasons. The more that you can incorporate them in to your lineup building process, the better off you'll be. I'll also be referencing the Expert Consensus Rankings from FantasyPros in order to understand how players are viewed each week, and then related it to their price here on DraftKings.
If you're new to the daily fantasy community, welcome, you're in for a whole lot of fun. If you have questions, please find me on Twitter, @RyNoonan.
---
Cream of the Crop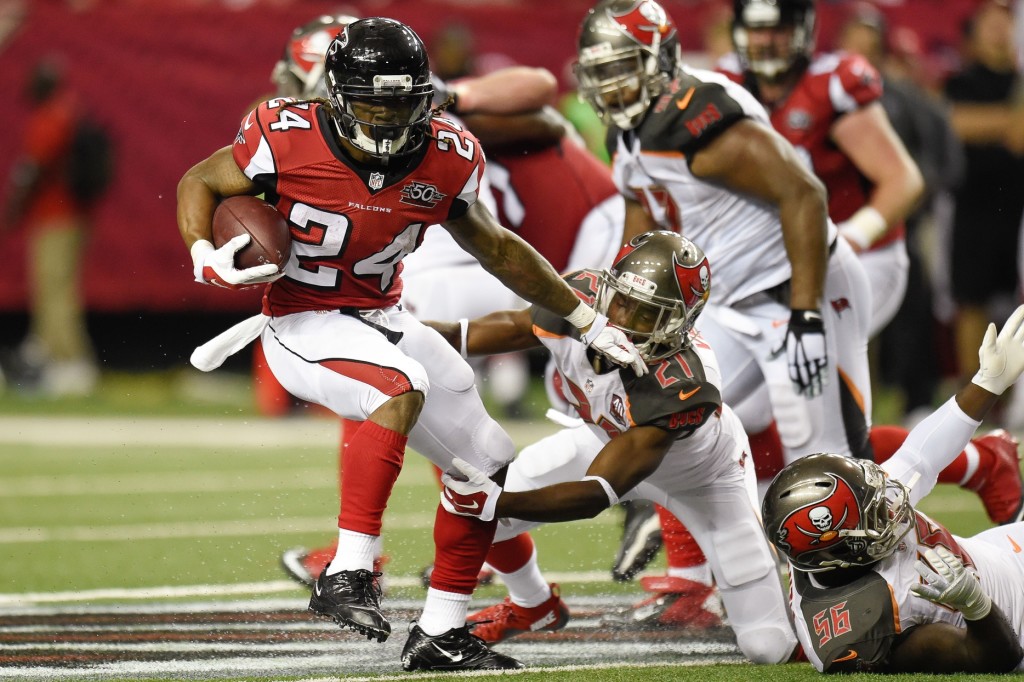 Devonta Freeman, Atlanta Falcons (@ San Francisco 49ers) -$8,000
With an assortment of cheap QB's in play and plenty of discounted wide receivers available, paying up for Davonta Freeman is the way to go this week in cash games. He's one of the few true bell-cow backs on the slate this week, handling over 80% of the Falcons' backfield snaps and touches. Atlanta is on the road against Blaine Gabbert and the 49ers, and they're installed as 7-point favorites in a game that should have positive game flow from Freeman's perspective. You don't need me to tell you that San Francisco is a mess, but they're 28th in run DVOA and have given up the second most schedule-adjusted fantasy points per game to running backs in PPR scoring formats.
Mark Ingram, New Orleans Saints (vs. Tennessee Titans) -$6,500
This is starting to shape up like last season's October for Mark Ingram when he was one of the few healthy backs in New Orleans and the Saints leaned on him for nearly 30 touches per game. Now with Khiry Robinson out of the picture the Saints have Robinson's 29% touch-rate to spread out between Ingram and C.J. Spiller, and based on what we've seen so far this season, especially in the red zone, we can assume Ingram will see a spike in usage. The Titans have been run on a ton this season and enter play ranked 30th in Football Outsiders' run DVOA metric. I've seen this line around six or seven based on who starts at quarterback for Tennessee, but either way it's set up for Ingram to eat.
Todd Gurley, St. Louis Rams (@ Minnesota Vikings) -$6,900
What we've seen from Todd Gurley so far is unprecedented. The Rams' rookie has been a machine of late, rolling out of bed and hanging 125+ yards and a score or two on his opponent in four straight weeks. His price continues to rise but it's still not at a point where we really need to pause. I do think we see a lower ownership number on him this week simply because some people will think 'hey I liked him for $5,000 or $6,000 but now he's almost $7,000'. Don't be that guy. Or gal. The Vikings haven't given up a ton of damage on the ground this season, but their DVOA (defensive-adjusted value over average) says they're not to be feared, checking the Vikings in at 26th. He's not an automatic play, but you'll want some exposure.
Adrian Peterson, Minnesota Vikings (vs. St. Louis Rams) -$7,300
The running back battle in Minnesota will be fun to watch, as the new dog (Todd Gurley) faces the old dog, Adrian Peterson. Peterson's performance of late makes me question his health a bit. He has a laundry list of bumps and bruises that are costing him practice time, and his output on Sunday's has been fairly pedestrian if we're judging him against his own resume. The Rams present a difficult challenge for AP, ranking third in run DVOA and have allowed just 69 yards per game on the ground this season and have yet to allow a rushing touchdown. Based solely on reputation I still believe that Peterson has multi-touchdown upside, so he's a viable tournament play in Week 9.
Jeremy Hill, Cincinnati Bengals (vs. Cleveland Browns) -$5,200
Thursday's AFC North battle (okay, battle might be a stretch) has the Jonathan Football-led Browns traveling to Cincinnati to take on the Bengals. Vegas has the Bengals as a 10-point favorite here, setting things up for Jeremy Hill to get going after some early season hiccups. The Browns have been terrible against the run, checking in at 29th in both DVOA and aFPA. Giovani Bernard is still very much in the mix here, but Hill has been seeing the majority of the carries despite sharing snaps at a near 50/50 split. Last week against the Steelers Hill had 80% of the running back touches and he's in a great spot to produce if he's handed 20 touches this week.
DeAngelo Williams, Pittsburgh Steelers (vs. Oakland Raiders) -$5,500
There's no denying that the loss of Le'Veon Bell is a big one for the Steelers but few teams have a back-up as good as DeAngelo Williams. During Bell's two game suspension Williams held down the fort well, with 24 DraftKings points per game in those two contests, averaging nearly 5-yards per carry and seeing 20+ touches in each game. His price is a bit higher than I anticipated, mostly because Bell went down early in the second quarter and Williams played well in his absence. He's still pretty cheap for a 20+ touch running back, but don't sleep on the Raiders. Their run defense is strong, ranking 5th in DVOA, and they're holding their opponents to 69 yards-per-game and have yet to allow a rushing touchdown this season.
---
Middle of the Pack
Jonathan Stewart, Carolina Panthers (vs. Green Bay Packers) -$4,300
Rostering Jonathan Stewart is one of my least favorite things to do in DFS this season. There are a lot of reasons why he's worthy of consideration here, mainly because he's just so inexpensive for a running back that's getting about 90% of the backfield touches on the league's most rush-heavy team. The problem is that when things get near the goal line, it gets dicey. Stewart gets his touchdown opportunities vultured by Cam Newton and even Mike Tolbert at times, infuriating Stewart owners and limiting his upside. We saw the Broncos run all over the Packers' 25th ranked run defense on Sunday night, so I expect Stewart to produce a strong average-yards-per-carry day, but will he score?
Darren McFadden, Dallas Cowboys (vs. Philadelphia Eagles) -$4,300
Darren McFadden left the game briefly on Sunday, the least surprising thing that happened all day, but he returned and is set to enter Week 9 as the clear lead back again for the Cowboys. His matchup against the Eagles is less than ideal since Philadelphia's front seven is strong (7th in run DVOA), but you have to consider a back who's likely to see 80%+ of his teams snaps and touches and costs under $5,000. Playing up in pace against the Eagles doesn't hurt either, and his work on passing downs helps raise his floor.
Jeremy Langford, Chicago Bears (@ San Diego Chargers) -$4,000
Matt Forte may have been the chalkiest of all the chalk this week if he were healthy, but alas, he is not. He was among the many that were unable to make it through Sunday unscathed and his knee injury opens up room for Bears' rookie Jeremy Langford. The spot couldn't be any better for Langford as he takes on the league's worst run defense on Monday night in San Diego. The Chargers are dead-last in both defensive-adjust value and schedule-adjusted fantasy points against to running backs, and Langford was serviceable (12 carries, 46 yards and a big drop) after Forte went down against the Vikings. I'm not sure how much Antone Smith (last season's touch-to-touchdown machine) eats in to Langford's role, but I like his chances to return value at this price. He's a solid cash game play for just $4,000.
Lamar Miller, Miami Dolphins (@ Buffalo Bills) -$5,000
The Patriots threw a damp blanket on the fire that was the Dolphins last week and they'll look to rebound in Buffalo against a Bills team that dominated them in Miami a few weeks back. There's obviously been a positive change in the Dolphins locker room since the last meeting and one of the biggest on-the-field changes has been the spike in Lamar Miller's usage. He's still too cheap in my opinion, and I expect this game will be much closer than the first time these two teams met. We really haven't seen Miami in a close game since Dan Campbell took over, with two blowout wins and the Patriots game, so I'm interested to see what Miller's touch rate would look like when they need him for four quarters.
Chris Ivory, New York Jets (vs. Jacksonville Jaguars) -$5,900
The good news is that Chris Ivory's hamstring injury appears to be a non-issue moving forward, and his poor Week 8 performance was tied to the Raiders solid run defense and not the hammy issue that limited him at times in Week 7. Bilal Powell is still dealing with injury issues of his own so we're looking at another week with Ivory dominating both carries and passing down work for the Jets. The Jaguars are a lot like the Raiders in the sense that they're much better against the run (4th in DVOA) than I bet the masses believe. I wouldn't avoid Ivory, but I don't think he's a must-play especially if Geno Smith is under center.
---
Rest of the Field
Doug Martin, Tampa Bay Buccaneers (vs. New York Giants) -$5,700
My Doug Martin take is just about the same as it was last week. He looks good, is running hard and is contributing on passing downs as well. The problem here is the Charles Sims is doing the same thing. They're sharing snaps at about a 60/40 split and Martin's leading the touches at a 70/30 split, but clearly this limits Martin's top shelf upside. In game's where the Buccaneers are favored I can see Martin being a strong play moving forward, but they're 2.5-point underdogs here and there's too much Sims to trust Martin's path to 20+ touches.
DeMarco Murray, Philadelphia Eagles (@ Dallas Cowboys) -$6,400
Are we going to do the Narrative Street thing here again? This time it's even better since DeMarco Murray is returning to Dallas to take on the Cowboys! Fire him up!! Ok, ok, pump the breaks. The Eagles have been running it better since the last time these teams met, and have been leaning on Murray to get it done. Yes, they use three backs, but Murray sees 60%+ of the touches which doesn't vary much from other backs in his price range. I just think he's easy to avoid with some of the other plays we have at our disposal this week.
Latavius Murray, Oakland Raiders (@ Pittsburgh Steelers) -$6,000
Latavius Murray ran well against a stout Jets defense last week and he has another difficult test against a Steelers run defense that has surprised this season. They're 6th in run DVOA and 4th in aFPA to running backs, allowing just 81 yards-per-game and 0.3 touchdowns through their first seven games. The Raiders have a few narratives working against them, making the West-to-East trip to play the early game a week after a big upset win. Vegas installed the Raiders as a 4.5-point underdog here.
LeSean McCoy, Buffalo Bills (vs. Miami Dolphins) -$5,500
The bye was much needed for the Bills, with numerous injuries on both sides of the ball. They're coming back Week 9 much healthier, but from a fantasy perspective the waters are muddied a bit. Buffalo will likely have both LeSean McCoy and Karlos Williams at their healthiest spot since the preseason, essentially killing the viability of both backs from a DFS perspective. I expect McCoy to lead the team in touches but Williams isn't going away.
Dion Lewis, New England Patriots (vs. Washington Redskins) -$6,400
New England is a 14-point favorite this week and has a team total of 33.25. Huge numbers. It's hard to ignore the backs here but I think I'll get my exposure through the passing game. You can make a case that Dion Lewis provides that from the backfield and he could be a strong tournament play since he's disappointed on the ground lately and LaGarrette Blount ($4,800) has been involved more and more of late.
---
Continue Reading This Week's Targets Series
NFL

Quarterback Targets: Week 9
NFL

Wide Receiver Targets – Week 9
NFL

Tight End Targets – Week 9
NFL

Defense Targets – Week 9
---