Week-to-week player performance can be very volatile. The worst thing we can do is miss out on a fluky big day and then chase it the following week when that player is both more expensive and more owned.
So by examining usage instead of performance, we can cut through some of the noise and figure out what's sustainable. Here are the most important usage notes I saw in Week 1. Also, hat-tip to ProFootballFocus for a lot of the snap data found below.
1. David Johnson is not a committee back
Throughout the offseason, there was chatter about a rotation in Arizona's backfield. Coaches plus beat writers kept saying David Johnson would share the work with Chris Johnson and Andre Ellington would be mixed in as well. There was even talk of a "hot-hand situation." For anyone with two eyes, that never made any sense because David Johnson is a total freak in terms of athleticism, versatility and size. Chris Johnson is a 30-year-old shell of his former self.
So it shouldn't have been a surprise that Johnson played on 58-of-61 snaps (95.1 percent) in Sunday night's loss to the Patriots. He handled the goal-line work (1-yard rushing TD) and ran 35 pass routes (resulting in six targets). No matter what Bruce Arians claims about limiting DJ's touches, we have an elusive freak talent in a good offense who is the three-down plus goal-line back. That's the kind of running back who is in play for cash games weekly – even at $7,600 as Johnson is vs. the Bucs Sunday.
---
2. Jared Cook shares time with Richard Rodgers
I thought the Packers would need to use Jared Cook as an integral part of their offense. I was wrong. Cook was only in on 33-of-68 snaps (48.5 percent) and only ran a route on 18 of Aaron Rodgers' 37 total dropbacks. Richard Rodgers played 25 snaps and ran a route 15 times. Even worse, Cook only got two targets in one of the better matchups he'll get all season. Cook will be a very volatile, TD-dependent option going forward.
---
3. Jordy Nelson (ACL) not on snap count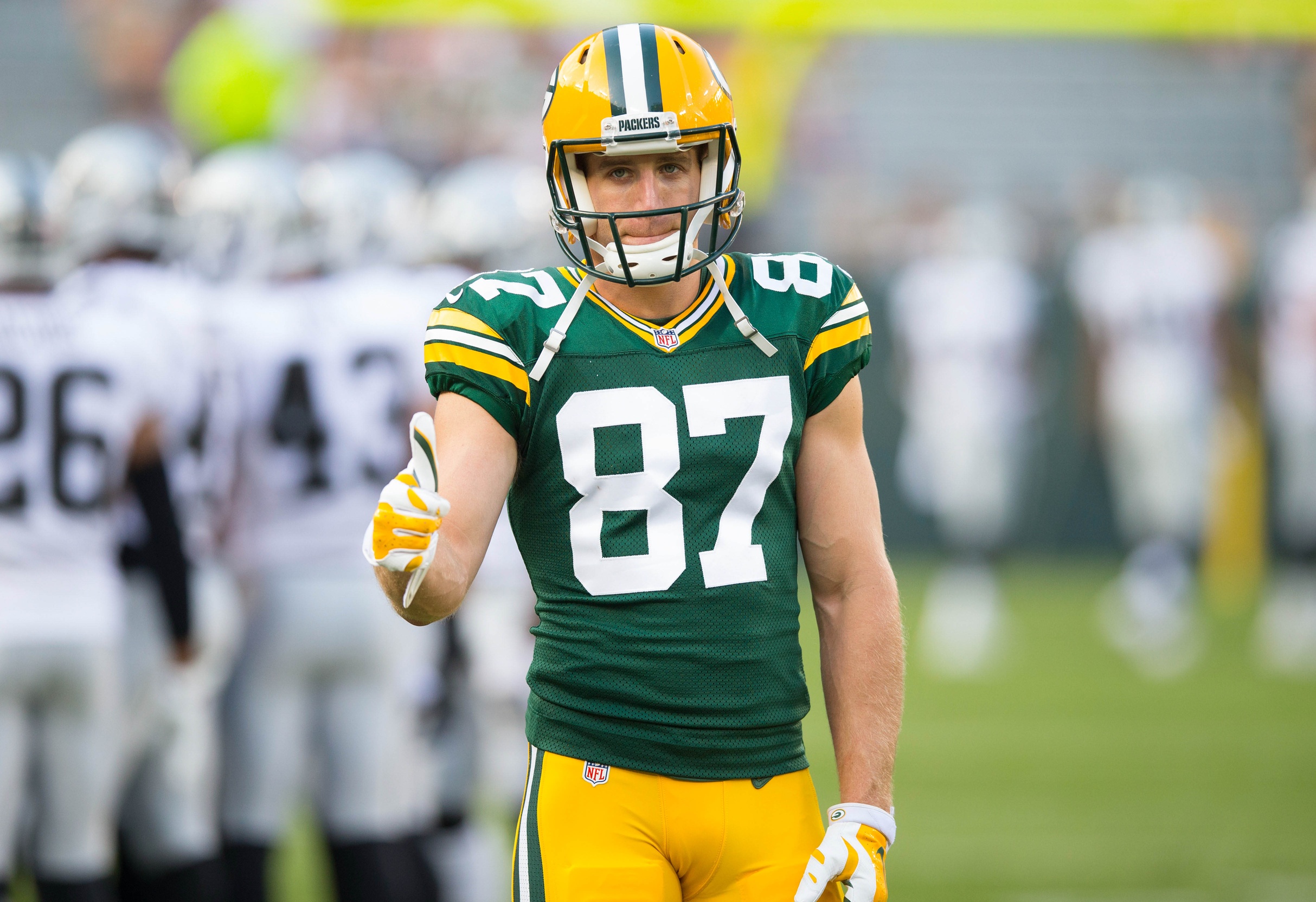 On Thursday night, Kelvin Benjamin played on 51-of-75 snaps (68.0 percent) even though the Panthers said they wanted to keep him around 35 snaps. It was a reminder that snap counts are easy to talk about, but when the game gets going it's difficult for coaches to take their best players off the field. That may have been the case in Green Bay as well, as Jordy Nelson (ACL) played on 54-of-68 snaps (79.4 percent) and was targeted nine times. He likely rotated out due to the heat in Jacksonville – not due to his knee. Jordy is underpriced relative to his usage, sitting at $7,500 in Minnesota this week.
---
4. Saints move toward three-wide base
If you read my Preseason Usage articles, I talked a lot about the way the Saints were using Michael Thomas vs. Willie Snead. Thomas was playing in more two-wide sets, but Snead was still in on nearly as many pass plays. That continued into the regular season, as the Saints used way more three-wide sets than they previously have under Sean Payton.
The final snap count for wide receivers was Brandin Cooks 62-of-71, Thomas 55 and Snead 52. More importantly, Cooks ran 44 routes vs. 40 for Snead and 37 for Thomas. It's a ton of usage for all three receivers and we saw the kind of yield that can return when Drew Brees is at home in a plus matchup. The smaller Snead and Cooks roasted the Raiders' big corner duo of Sean Smith/David Amerson to GPP-winning weeks.
---
5. Tajae Sharpe is who we thought he was
The preseason told us a lot. Spencer Ware's pass-game usage was going to go up. Willie Snead was going to play a ton despite the selection of Michael Thomas. Jeremy Langford and Will Fuller were going to be nearly every-down players. Slot man Eli Rogers was going to be a big factor in the Steelers' three-wide set. Tyler Lockett and Devin Funchess weren't going to get a lot of opportunity. Isaiah Crowell was firmly ahead of Duke Johnson. I could go on and on. But I'll end the Preseason Means Something rant by highlighting Tajae Sharpe dominating the Titans' WR usage just as he did in August.
The Week 1 Titans WR snap count was Sharpe 64-of-69, Harry Douglas 37, Rishard Matthews 35 and Andre Johnson 24. Sharpe will continue to play a possession-receiver role and be targeted at a low aDOT (average depth of target), but 7-10 targets is in play weekly. He's just $4,100 at Detroit in Week 2.
---
6. Devonta Freeman is in a timeshare
The Mike Smith regime drafted Devonta Freeman in 2014. In 2015, the Dan Quinn/Kyle Shanahan regime stepped in and used a third-round pick on Tevin Coleman. In fact, Coleman was on track to play ahead of Freeman last year before Coleman got hurt and Freeman set the league on fire. So perhaps we shouldn't be surprised that the Falcons have now turned their backfield into a true timeshare – especially since Freeman has averaged 2.87 YPC over his last five games (as noted by Matthew Berry). In Sunday's ugly loss to the Bucs, Freeman barely out-snapped Coleman (36-32) and barely out-touched him (15-13).
---
7. Keenan Allen down for the season
Keenan Allen is clearly one of the best receivers in the NFL and was going to catch something around 130 passes this year if he could stay healthy. He couldn't. Keenan tore his ACL with two minutes left in the first half Sunday, taking the entire Chargers offense down with him. Philip Rivers takes a massive blow, as does Melvin Gordon. The Chargers will fill Allen's role by a committee, but they don't have anyone to funnel offense through. Only three other WRs saw snaps Sunday – Travis Benjamin 55, Dontrelle Inman 58 and Tyrell Williams 44. Inman will run the short routes, Benjamin will be the streaker/gadget guy and Williams is the raw athletic specimen oozing upside.
---
8. Dwayne Allen only pass blocks a little
One of my biggest regrets from Week 1 was moving off Dwayne Allen. This was a guy I was on for literally the entire offseason, talking about him in a bunch of articles. But I got scared off of him Sunday due to concerns with the Colts offensive line. Well, Allen only stayed in to pass block eight times vs. 28 pass routes ran. Jack Doyle pass-blocked 10 times vs. 20 routes ran. Although Allen was surprisingly only in 49-of-70 overall snaps, his pass-game usage and the Colts shootout style keeps him very viable.
---
9. Spencer Ware plays 49 percent of snaps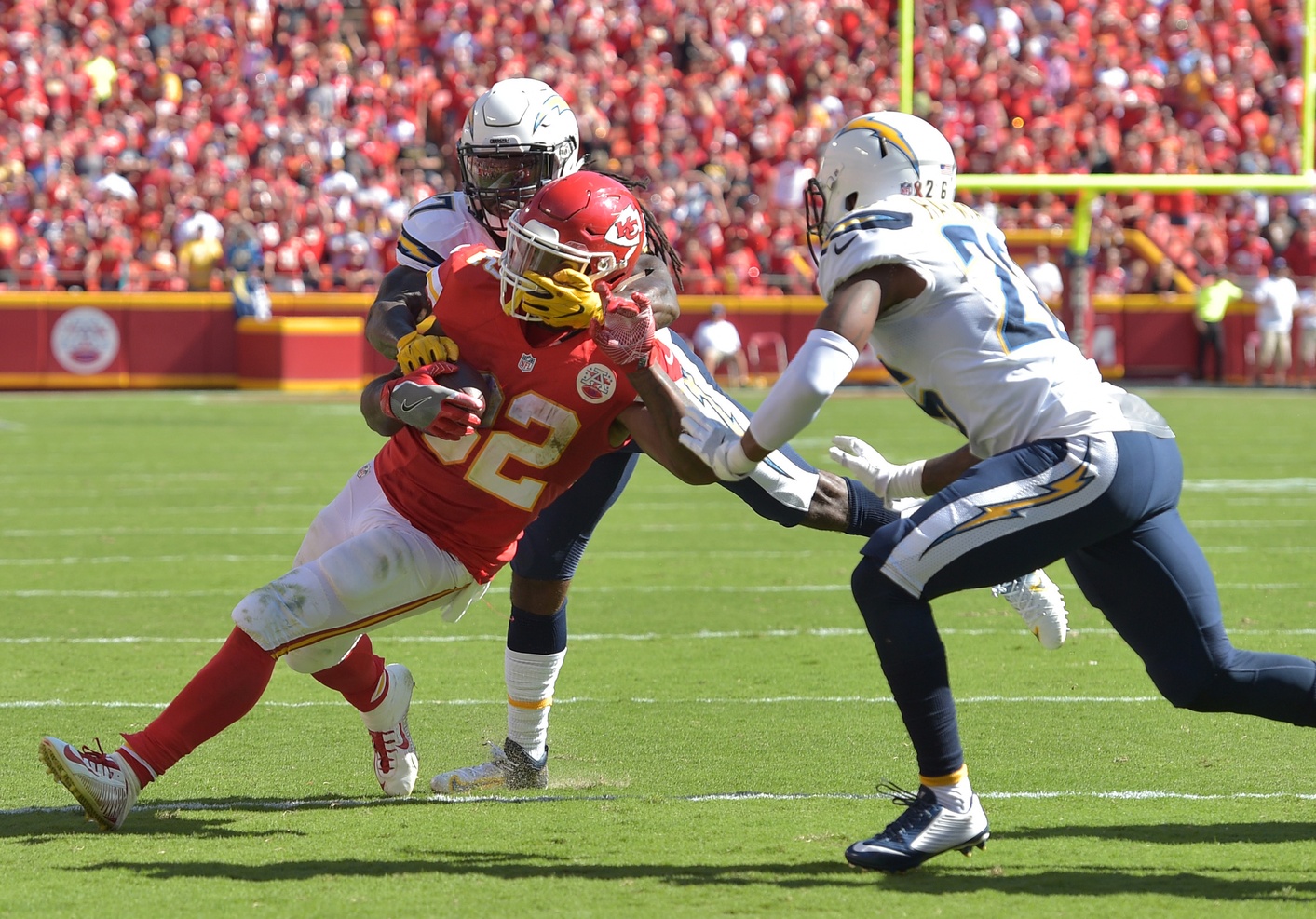 Ware was a player on a lot of winning lineups in Week 1. But he was not a dominant workhorse as he got 36 snaps compared to 32 for Charcandrick West. Ware saved his day by staying involved in the pass game even when the Chiefs got behind big early – something we knew he was capable of based on the preseason when he caught eight passes in just 94 snaps. Expect Ware to start and play well again this week at Houston, but the matchup is far tougher, he'll be sharing time with West and his price has gone from $4,400 to $6,100.
---
10. Coby Fleener a non-factor for Saints
The Saints only dressed two tight ends for Sunday's game against the Raiders, a good sign for Fleener. He also played on 56-of-71 snaps and ran 41 pass routes – very strong usage. The problem is Fleener only got four targets in a game Drew Brees threw 42 times. Fleener also saw zero red-zone targets while Brandin Cooks, Travaris Cadet, Willie Snead and John Kuhn combined for eight.
---
I am a promoter at DraftKings and am also an avid fan and user (my username is AdamLevitan) and may sometimes play on my personal account in the games that I offer advice on. Although I have expressed my personal view on the games and strategies above, they do not necessarily reflect the view(s) of DraftKings and I may also deploy different players and strategies than what I recommend above.