Identifying quarterback targets by grouping the QB options for Week 10 based on matchups, recent production and more.
---
Looking for a different position? Check out the rest of the positional targets:
NFL Running Back Targets: Week 10
NFL Wide Receiver Targets – Week 10
NFL Tight End Targets – Week 10
NFL Defense Targets – Week 10
---
Cream of the Crop
Aaron Rodgers, Green Bay (vs DET) – $7500
I have a feeling Drew Brees is going to see higher ownership than Rodgers given that he's playing the Redskins and costs $100 less. I prefer Rodgers in GPPs, for sure, and I might like him more in cash games, too. I know Brees is hot, but we already know so much about these quarterbacks that the past couple games for each really shouldn't change how we view them. Rodgers and the Packers are projected at 29.3 implied points at home against the Lions.
Drew Brees, New Orleans (at WSH) – $7400
Vegas likes Green Bay more than New Orleans this week, but it's worth noting the Packers are 11-point favorites right now. If there's an argument for Brees over Rodgers in cash games, I think it's that Brees is more likely to be in a close game in which he needs to throw the ball. Plus, the Redskins' pass defense is worse than their run defense. Did I just talk myself into Brees over Rodgers in cash? Ask me later this week.
Blake Bortles, Jacksonville (at BAL) – $5600
Bortles has 11 passing touchdowns in his past four games. He has exceeded his salary-based expectation in every game since Week 1. He has at least 300 passing yards in three of the past four contests. And he plays a Ravens defense that is absolutely horrific against the pass. I'm not sure where I stand right now, but you could at least make an argument for Bortles in cash games.
Tom Brady, New England (at NYG) – $8600
The value isn't here with Rodgers and Brees both at least $1100 cheaper, but the signs point to Brady having a big day. First and foremost, he's Tom Brady. Second, Vegas has New England as the top offense in Week 10, by far. And finally, the Giants have allowed 3.4 points per game above salary-based expectations to quarterbacks over the past year.
---
Middle of the Pack
Cam Newton, Carolina (at TEN) – $7000
What Newton is doing with the weapons he has in Carolina is amazing. I think he's a high-floor player whose upside is still probably a little bit overrated—last week in Green Bay was probably closer to his true ceiling than some realize—but he's in a good spot against the Titans in Week 10. Greg Olsen is the obvious stack.
Kirk Cousins, Washington (vs NO) – $5200
K, I'm getting crazy now. Am I going to play Cousins? Not in cash games, certainly, and I don't love anyone to stack with him in GPPs. But the Saints' pass defense is so bad. Like so, so bad. Only three defenses in the NFL have allowed more than 4.0 points per game above expected to opposing passers over the past 12 months. The Saints have allowed 8.9 points per game above expected. Holy. Crap.
Derek Carr, Oakland (vs MIN) – $5800
Carr is one of the hottest quarterbacks in the league right now. He's playing well, too. This isn't a good matchup, but it is a good price.
Eli Manning, NY Giants (vs NE) – $6700
Manning is in a nice spot to air the ball out as a touchdown underdog at home against New England. The Pats have allowed 2.1 points per game more than expected to opposing passers.
---
Rest of the Field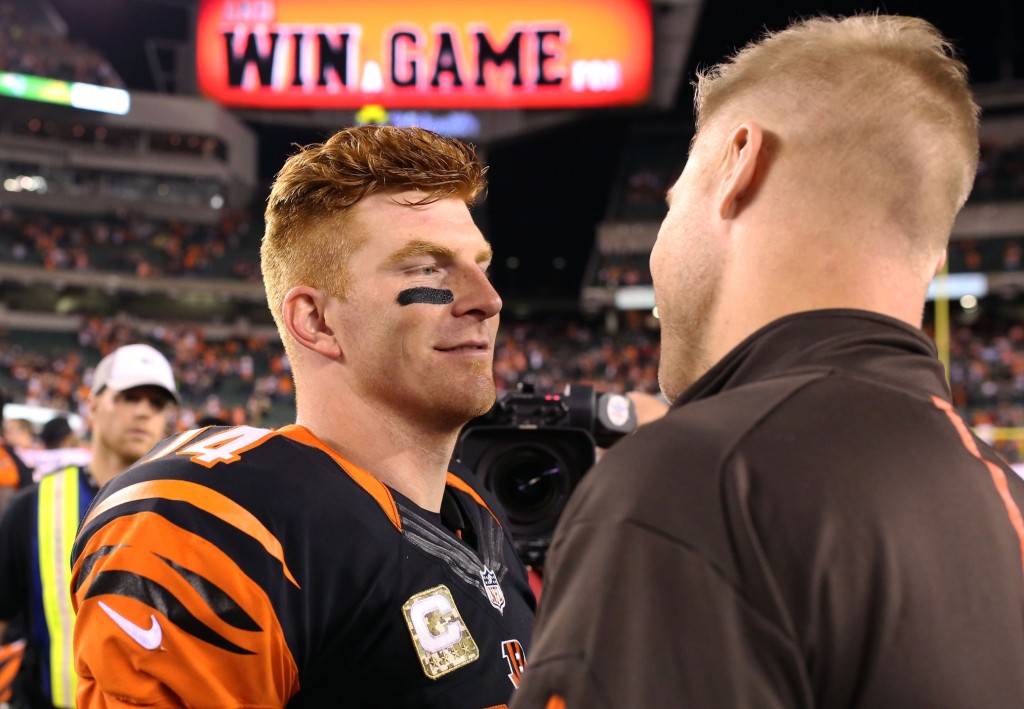 Andy Dalton, Cincinnati (vs HOU) – $6500
Dalton has chucked at least two touchdowns in three of his past four games and has a long week of rest. Vegas loves Cincy in this game, projecting the Bengals over 28 points currently. They're also 10.5-point favorites, which might end up limiting Dalton's workload, and I don't love this price—just $900 cheaper than Brees.
Joe Flacco, Baltimore (vs JAX) – $5500
Flacco is a crap quarterback, but he's averaging 43 attempts per game over the past three. He hasn't thrown more than two touchdowns in a game about a year, but the combination of price and the Ravens' implied total of 26.8 isn't bad. Probably not on my radar, but he's always good for one "what the hell" performance each year.
Russell Wilson, Seattle (vs ARZ) – $5900
Wilson has attempted more than 30 passes one time all year, and he barely topped 250 yards in that contest. He's obviously better than how he's performed this season, and you're getting him off of a bye. Still, I don't see this game turning into a shootout and I think there are better options in cash games by a mile.
Peyton Manning, Denver (vs KC) – $6200
Manning's salary has now dropped $2,000 since the start of the year, which historically leads to a ton of value. He might offer some value in this game, but I don't think the upside is there given that the Broncos have a moderate implied total and are 6.5-point favorites. They just don't need to go crazy chucking the ball around the field with that defense.
---
Continue Reading This Week's Targets Series
NFL Running Back Targets: Week 10
NFL Wide Receiver Targets – Week 10
NFL Tight End Targets – Week 10
NFL Defense Targets – Week 10
---
Jonathan Bales is the author of the Fantasy Sports for Smart People book series, and most recently Fantasy Football for Smart People: How to Win at Daily Fantasy Sports.
Follow him @BalesFootball.