As the playoffs progress, the quarterback selection gets slimmer and slimmer. For the divisional round, we have eight to choose from and all certainly have their ups and downs. Let's take a look at all eight of these quarterbacks and help you decide which one of these will be on your roster. As always, you can get me on the ol' Twitter machine @SBuchanan24.
---
Looking for a different position? Check out the rest of the positional targets:
NFL Running Back Targets – Divisional Round
NFL Wide Receiver Targets – Divisional Round
NFL Tight End Targets – Divisional Round
NFL Defense Targets – Divisional Round
---
The chart below shows how a quarterback performed when facing their playoff opponent earlier this season.
Cream of the Crop
Carson Palmer ($6,500)
Palmer feels extremely underpriced to me in this spot. With eight quarterbacks to choose from, Palmer as the 6th most expensive feels like getting away with murder. But hey, I'm not complaining. Palmer has been about as consistent as you can get this past season. In his fully healthy season, Palmer threw for 4671 yards with 35 touchdowns and 11 interceptions. Add that along with his 21.8 fantasy points per game and you can understand why I feel like he's so underpriced. Palmer faced the Packers just a few weeks ago completing 18/27 passes for 265 yards with two touchdowns and one interception. I wouldn't take too much stock into this, as the Cardinals basically had a playoff spot wrapped up. With Sam Shields most likely missing this game, look for Palmer to be looking in the direction of Michael Floyd once again, who dropped 6-8 for 111 yards in their last matchup. The Cardinals can certainly beat out this Packers defense.
Cam Newton ($7,500)
Newton is only $1,000 more than Palmer, but it feels like an expensive $1,000. Don't get me wrong, I love Newton this week and I think he will be able to do what he's done all season, produce. In their first meeting this season, Newtown scored 21.76 DK points completing 20/36 attempts for 269 yards with a touchdown and two interceptions. Newton also rushed for a touchdown while gaining 30 yards on 7 attempts. With Seattle impressing at defense as always, the one shining star in this game, other than Newton himself, will be Greg Olsen. In their prior meeting, Olsen caught 131 of the 269 yards Newton passed for with a touchdown. The Seahawks have been brutal against opposing tight ends this season. During the regular season, the Seahawks allowed 74/109 passes to be completed for 852 yards and eight touchdowns. On a normal week, Newton might not be one of the top choices, but I like what he can do with his legs and the connection with Olsen in this one.
Tom Brady ($7,400)
Ah yes, Brady. In a year full of legal battles and constant media attention, Brady was able to throw for 4770 yards with a league leading 36 touchdowns. Brady gets a tough matchup against a good Chiefs defense this week, but he also gets one of his biggest weapons back in Julian Edelman. While he was healthy, Edelman was averaging a whopping 9.7 targets per game. Having Edelman back will change the whole dynamic of this offense as Brady will be feeding Edelman target after target in this one. In the nine games Edelman played this season, he had at least 50 receiving yards in each game, reaching as high as 120 in week five against Dallas. Even against a tough defense, Brady has been consistent the entire season, averaging 298 passing yards per game and 2.25 passing touchdowns. He's the second most expensive quarterback of the week but should be able to return value this week.
Middle of the Pack
Russell Wilson ($6,800)
My problem with Wilson is that I need to know what the status of Marshawn Lynch is going to be. Like Edelman, Lynch changes the entire dynamic of the Seahawks offense. In their prior meeting, Wilson scored 18.9 DraftKings points against the Panthers, completing 18/30 passes for 241 yards with a touchdown. Wilson also had his second highest rushing total in a game, going 53 yards on eight attempts. With Wilson passing for 245 yards per game, he's more enticing to me than Rodgers in a similar matchup and passing situation. Rodgers can get some yards on the ground, but it's wildly inconsistent on a week to week basis. Also similar to Rodgers, Wilson will have a tough corner to deal with in Josh Normal. Luckily for us, Norman shouldn't be on Doug Baldwin, as he rarely lines up in the slot. That would belong to Tyler Lockett, so we can safely throw Baldwin into our lineups this week. I don't love this matchup for Wilson, but I like it more than Rodgers.
Aaron Rodgers ($6,700)
Rodgers has one decent game against the Redskins and now everyone is running through the streets proclaiming that "Rodgers is back, baby!" I mean sure, he did indeed have a decent game against the Redskins, scoring 18.3 DraftKings points, but I wouldn't say overall he was impressive. Rodgers completed 21/36 passes for 210 yards with two touchdowns. Once again, Rodgers is passing in the mid to low 200's, which doesn't make me feel that great with rostering him. If I wanted someone who throws like that, I'd take Russell Wilson, who can, at least, rush for some yards on top of the lower passing yards. Rodgers is averaging 237 passing yards and 1.9 touchdowns per game this season and faces a good Cardinals defense against the pass this week. Rodgers struggled immensely in their prior matchup this season and has now lost another wide out in his matchup with Davante Adams suffering a sprained MCL. With Randall Cobb going up against Patrick Peterson, Rodgers is going to have to rely on the likes of James Jones and Jared Abbrederis in this one. His price is cheap but the matchup certainly isn't favorable.
Ben Roethlisberger ($7,000)
This is truly a tough one to gauge. I have a lot more negative than positive feelings about this matchup, so let's try and weed through what I have here. A report came out on Tuesday that Roethlisberger has torn ligaments in his right shoulder as well as an AC joint sprain. I'm no doctor but that has to be extremely painful and obviously is going to hinder his performance against the tough Denver defense. Then we have the injuries. DeAngelo Williams and Antonio Brown are candidates to be sidelined in this one and their status will certainly come down to the wire. Without his top target or running back, Big Ben is going to have to rely on the likes of Martavis Bryant, Markus Wheaton, Heath Miller and maybe even Darrius Heyward-Bey. On the positive side, Big Ben did carve this Denver defense up in week 15, completing 40/55 passes for 380 yards with three touchdowns and two interceptions. Now back to the negative, Brown caught 16/18 for 189 yards and two touchdowns. So we take out Browns number, Roethlisberger completed 24/37 passes for 191 yards and one touchdown. Not as impressive right? Keep an eye on this situation as it could swing considerably in one direction or the other.
Update: Antonio Brown has been downgraded to OUT this weekend.
Rest of the Field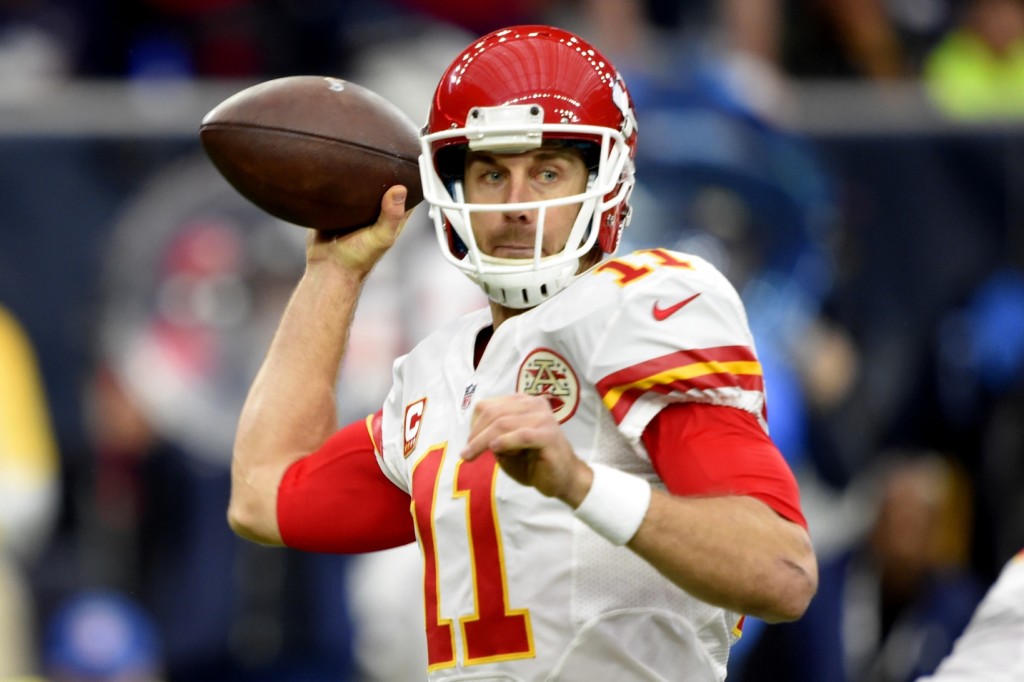 Alex Smith ($5,400)
I don't hate this matchup for Smith, I just don't like the ceiling that he possesses. Overall, Smith has had a solid season for the Chiefs, averaging 216 passing yards and 1.2 touchdowns per game. The problem here is that Smith is more than likely going to be without his top target in Jeremy Maclin with a high ankle sprain. Even if Maclin does suit up, he will more than likely be used as a decoy if anything. Smith will have to rely on the likes of Travis Kelce, who doesn't have a good matchup, and maybe even Charcandrick West. I could see a lot of running being done by the Chiefs, which is a blow to the value Smith could bring. On the bright side, Smith is rushing a ton lately, averaging 30 rushing yards per game this season. Over his last five, Smith is averaging 39.8. I just feel as though he doesn't have enough upside to be a worthy pick for this week. If anything, he'll be a low owned GPP option.
Peyton Manning ($6,000)
Manning is just too difficult to trust yet. He looked ok when he came in relief of Brock Osweiler in the third quarter against San Diego. In that game, he was basically handing off everything to C.J. Anderson and Ronnie Hillman. Manning only attempted nine passes completing five of them for 69 yards. Going against a Pittsburgh defense that is extremely solid against the run, allowing 91.2 rushing yards per game, Manning is going to be forced to throw in this one. I don't think that's going to be the most productive method to win this game with Manning airing the ball out. In his 10 appearances this season, Manning is averaging 224 passing yards per game with an ugly 9:17 TD: INT ratio. It also bothers me that Manning could very well get pulled early if he starts to falter and thus Osweiler could finish out the game. Manning is too much of a risk for me.