Here at The Playbook, you can find my offseason reports on each of the eight divisions, breaking down the changes (personnel, coaching, etc) that have taken place for each team in the league since we last saw them on the field. But these analyses have been coming out one at a time over the course of the summer, and plenty may have changed since then. And we have to stay current if we're going to build the best possible daily fantasy lineup, starting with Packers @ Seahawks TONIGHT, so let's take this chance to review the most relevant updates…
AFC West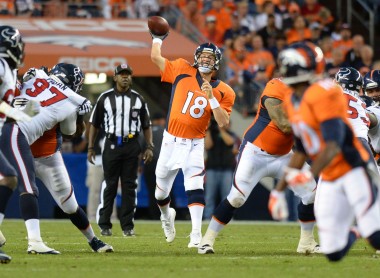 This review only came out last week, and we already have two major changes to discuss. First, most obviously, is the Wes Welker suspension. He is out for the first four games of the year for a violation of the NFL PED policy, something that was not even on the radar for most fantasy owners. With Welker recovering from yet another concussion suffered a couple of weeks ago, he would not likely have been a popular lineup choice for most daily owners in week 1 anyway. In truth, there is really only one actionable change brought on by this news, and it is the elevation of Emmanuel Sanders ($4,800). (It might make you more inclined to play Julius Thomas as well, but he was a top option regardless). After the concussion but before the suspension, we just did not know how involved Welker would be, and with him out, we now know for sure that Sanders will be one of Peyton's top options. This is enough to elevate him easily to WR2 status for the first month of the season. And just because a month is going to go by does not mean these concussions automatically stop being an issue for Welker. He just suffered one basically as soon as he stepped on the field after an entire off-season to recover from the two he suffered last year. Now he has one month to recover – it might be better than rushing back after a week, but it is no guarantee he won't battle this issue all season long.
The second big change is the announcement out of Oakland that Derek Carr ($5,000), the rookie from Fresno State, is going to get the Week 1 start, and not Matt Schaub. Turthfully, this might not matter much for fantasy outside of saying it might make you at least consider starting the Jets defense this week. There is a chance the Raiders offense gets even more conservative, which might help MJD and McFadden get a few more touches, but the rest of their receiving "options" were not really options anyway. But, while I'll admit to not watching a ton of Raiders preseason action, if Schaub was playing anything like he did last year, it's not hard to imagine Carr being an upgrade in the long term.
NFC South
This preview came out way back in May, so you might expect the most to have changed since then, but there is really not a lot to talk about. Back then, I wrote that no rookie had landed in a better situation than Brandin Cooks ($4,500), and that you might want to exploit his potential for your lineup earlier rather than later, before his price tag rose. And since then, the hype train has only grown for this kid, a small fast receiver who seems like he could be a perfect fit for a Sean Payton offense. Doug Martin ($6,300) has been a controversial name this entire off-season, with perhaps no player eliciting a wider array of opinions about his outlook for the upcoming season. If you believe, as many do, that he is a top-ten back for the year, returning to the form he flashed in 2012, then he is going to be a staple in your lineup early on, until he is priced to match first-round production. And if you fell into that camp already, then you have to like the addition of Logan Mankins, who the Bucs acquired via trade from the Patriots. Mankins is still an excellent run-blocking guard, and his addition means they now have more depth at a position that really hurt them down the stretch last year.
But if you want to find hype moving in the other direction, Cam Newton ($8,400) injured his ribs this preseason, in a game against New England, following an off-season spent talking about his lack of receiving options. Also following his recent ankle injuries, he is showing some kinks in the armor that has allowed him to finish as a top-5 fantasy QB every year he's been in the league, something he accomplished based almost exclusively on his rushing. Until we see that he can keep up that pace, or get some inkling that the influx of new players at the receiving positions proves to be an upgrade, it's very difficult to value Cam as high as his past performance alone suggests you should.
AFC South
There are only a few minor points to highlight here: the Texans traded for QB Ryan Mallet, formerly Brady's backup in New England. He will not compete to start immediately, but could be an interesting value play later in the year if he gets inserted into the lineup. He would have a couple of explosive receiving options in Johnson and Hopkins to try to utilize. Sticking with the QB for later theme, Blake Bortles has looked very promising in his preseason action, but also is not going to compete for the starting job right now, although you could certainly see him pushing Chad Henne for the job sooner rather than later if Henne struggles even a bit.
And lastly, moving to running back, Shonn Greene ($4,100) has gradually started to look like someone who might not only get more action than initially thought, but might actually be the starter for Week 1. We've all seen Shonn Greene play before, so we might not be too excited, but let this news at least serve to remind you not to start Bishop Sankey, either, at least until he gets on the field and proves he can play.
NFC West
The only real new news to come out of the NFC West recently was the unfortunate injury to Sam Bradford. This is not really something that will concern too many owners from a fantasy perspective, with no Rams receiving options really being considered this early in the year. But if any of those guys actually do have the talent to emerge – be it Tavon Austin, Britt, Givens, or Quick – that could still happen, as Shaun Hill has proven himself to be a capable-enough starter to at least distribute the ball when he's been called upon in the past.
AFC East
Mentioned already, the Patriots completed a couple of trades, but none that matter too much in the short-term for fantasy owners. Mallet only matters on a different team, especially with Jimmy Garappolo proving to be a capable backup so far this preseason. They acquired Tim Wright from the Bucs in the deal, and he has shown flashes of ability during his time in Tampa. He is a pass-catching Tight End who can provide some depth at the position, but also could be a sleeper later in the year once he consumes the playbook and Brady gets comfortable with him, as the Patriots have been known to utilize plenty of two-TE looks when they have the personnel for it. And while the loss of Logan Mankins can't be deemed a good thing for their line, they had solid depth at the position (now starting Dan Connolly and Josh Kline), and no one was planning on counting on any of their more downhill running backs (Ridley, et al) until we got some clarity on who would actually get the ball – and let's face, that might never have happened.
The other two pieces of news might actually affect some players you would have considered in Week 1. Sammy Watkins as mentioned in the original update, looked good in camp, but has suffered a rib injury (and a subsequent setback) that means you really aren't going to be able to consider him early in the season, even if he plays. Now, he has to show you. And down in Miami, the same now holds true for the running back situation. Early in camp, Lamar Miller was getting all the run, but then Knowshon Moreno ($4,000), acquired after a great season in Denver last year, came back from injury, and by most reports, starting outperforming Miller on the practice field and in preseason action. And now, it looks like it is probably going to be exactly the kind of split situation that makes both players difficult to ever trust.
NFC North
This is the most fantasy relevant division in football, with three consensus top five running backs (and five in the top 25), 4 consensus top 10 wide receivers (and six in the top 20), and at least one or two elite quarterbacks. Rodgers, Stafford, Cutler, AP, Lacy, Forte, Bell, Bush, Megatron, Alshon, Marshall, Jordy, Cobb and Patterson will all be starting basically every week in your yearly league, and are all good options for your weekly lineups. But this is the thing: we all have known that for a while now. Nothing's changed. Sorry.
AFC North
So, what has happened in the AFC North since I last looked at the division? Well, nothing good. Josh Gordon had his year-long suspension upheld, and Ray Rice got handed a two game suspension and simultaneously ushered in a whole new set of punishment guidelines for NFL players involved in domestic abuse cases. Rice was set to face the Bengals and the Steelers in his first two games, so these would not have been optimal matchups anyway – especially after his terrible performance on the field last year, you likely weren't considering him for your early season daily roster decisions. And beyond that, he'll get his chance to play. He's going to be cheap early, so it's up to you how much you'll need to see on the field (and reflected in his price) before you jump on board the bandwagon.
As for Gordon, really, we saw this coming, even if some reports had owners getting their hopes up for a reduced sentence. And in many ways, the Browns do not seem like a team quite as bad as last season turned out, so if either of their QBs are able to get the ball to the skill position players out there, like Cameron or Hawkins, there could be fantasy production coming out of Cleveland this season. Between those receiving options and new additions in the backfield in the form of Ben Tate and an explosive rookie in Terrance West, they seem to boast a few playmakers even without Gordon on the field.
NFC East
I've got nothing. No one knows what to expect out of this division, and they don't know in the exact same way they didn't know three months ago. If that makes any sense. Is RGIII good? Will Romo stay healthy? What's the deal with the Giants? Was Foles for real? We know, for sure, we like Dez and LeSean. Yup, that's what we know.
Good luck with that… and your lineups. Football is back.