As we all know, Week 3 of NFL preseason is as close to regular season action as we're going to see until September 8. It's still not comparable, but the big names will at least be on the field for more than a drive or two.
With that in mind, there are still some starting jobs to be won and roster spots to be earned. Here are 10 things to keep an eye on in Week 3:
10. Joe Flacco's Health
We'll get our first and only preseason look at Flacco on Saturday when the Ravens host the Lions. There's a handful of starting quarterbacks who will be getting their only action of the preseason in Week 3, but Flacco is making his return from a torn ACL suffered in November. He's been practicing in full, but often these first games back can be more mental. Flacco might look rusty in this one, but better now than Week 1.
---
9. Is Cleveland's Offense For Real?
I've been a fan of what the Browns are doing with their offense. So far we've had one bad performance from the starters in Week 1 and one stellar performance in Week 2. Keep in mind, we have yet to see Josh Gordon and RG3 play together yet, nor has first-round draft pick Corey Coleman been on the field. Week 3 will provide an even lengthier look at what Griffin and this Browns squad can be. Either way, I like them when those two receivers are in the mix.
---
8. Who Are Drew Brees' Favorite Targets?
Brees has been raving about his WR core in camp. We can start with Brandin Cooks. He'll be the obvious WR1 in New Orleans. It looks like Brandon Coleman (who leads the team with six receptions through two preseason games) is slotted in as the current WR2, while Willie Snead will be back in the mix after breaking out last season. The guy to watch here is rookie Michael Thomas. Thomas leads NOLA in receiving yards this preseason with 72 (on five grabs) and has received praise as the best deep threat on the team. This kid's going to climb the depth charts, but Thursday will provide us with a good look at who Brees trusts most right now.
---
7. Philly RB Rotation
The Eagles' offense is not getting a lot of preseason chatter, especially in the running game with DeMarco Murray gone. Ryan Matthews has been solid this preseason, turning seven carries into 33 yards and a touchdown. But Darren Sproles has actually been playing more with the starters despite not handling a rushing attempt yet this preseason. Although Matthews will be listed as the starter, keep an eye on what Sproles' role is this week. He may be the better RB to target in Philly, especially considering his receiving skills and the mess at WR.
---
6. Can Giants Get Their Offense Going?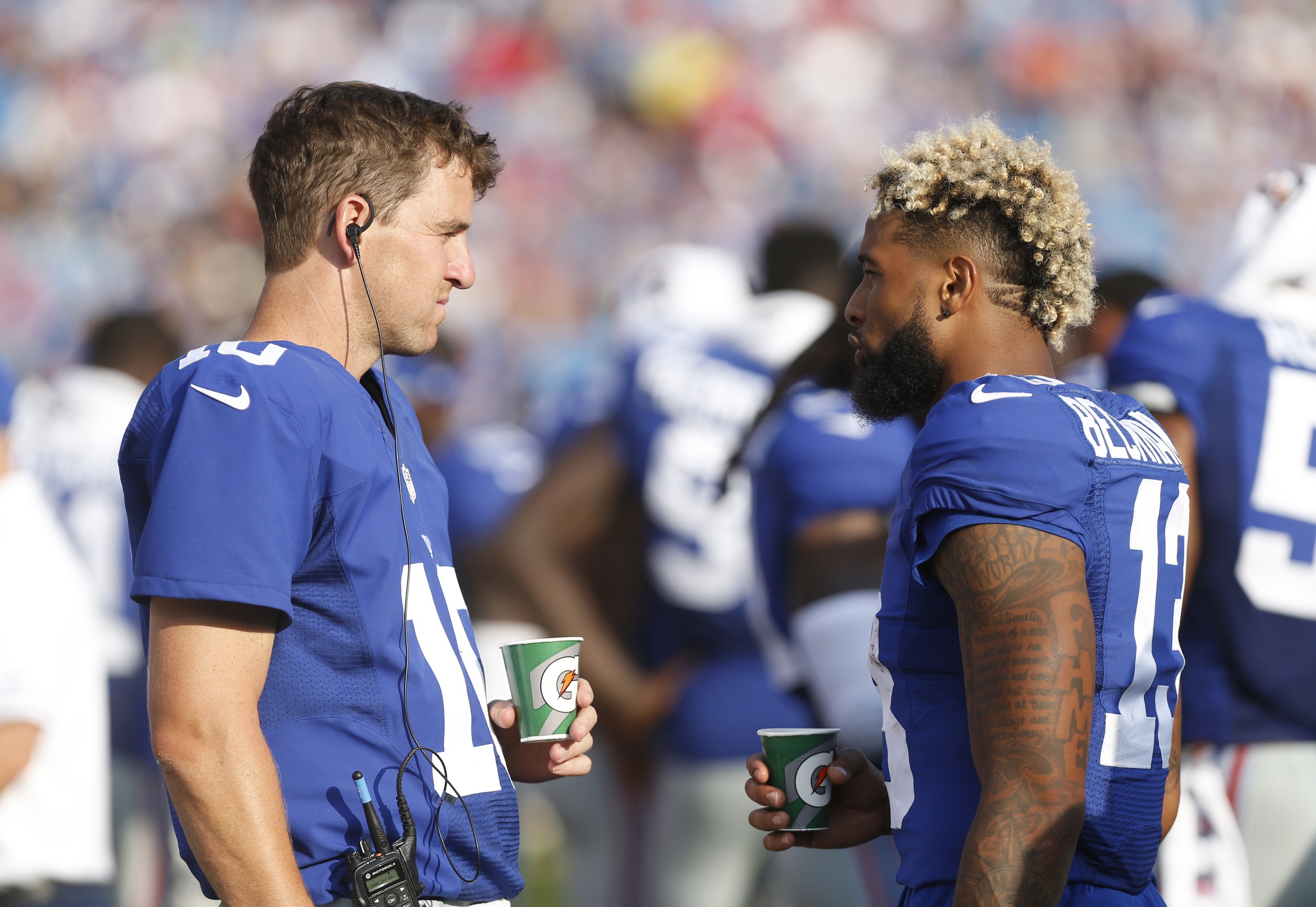 Through two (meaningless) football games the Giants have scored 10 points, accumulated 133 passing yards, a minus-5 turnover ratio and converted on 3-of-23 third-downs. Things aren't going well. Fortunately most of the problem has been Ryan Nassib, although NYG may want to start to look elsewhere for a backup QB. This is going to be a big game to see if Eli Manning and the first team can put a good half of football together through the air. Eli is 4-for-9 with 44 yards this preseason, so he has room to improve as well. We're expecting a lot out of the Manning/OBJ/Shepard trio this season. It'd be nice to see it in action once before the games count.
---
5. Ezekiel Elliott Debut
There's not much to say here other than, "Let's see what this kid can do!" Alfred Morris was able to gain 85 yards on 13 carries with a trip to the end zone last week against Miami. With all due respect to Morris (who showed some flash and will be a great backup), Elliott is expected to be one of the most talented backs in the league right away while playing behind the best offensive line. Time for a glimpse of just how deadly this combo will be.
---
4. Matt Jones Opens The Door For Competition
Washington already had one of the worst backfield committees in the NFL, and now things just got way worse. Jones sprained his shoulder last week and won't play again this preseason. Maybe he'll be ready for Week 1, but either way, this is going to open the door for one of his backups to gain a larger role. There are four names that pop — Chris Thompson (already in the mix on passing downs and listed No. 2 on depth chart), Keith Marshall (leads team in preseason attempts), Mack Brown and Rob Kelley (leads team with 48 rushing yards and a touchdown). Marshall and Brown are expected to get the bulk of the carries, but we cant ignore Thompson's growing role in the offense (he was incorporated more late last season) and Kelley's preseason success. Week 3 will be very telling.
---
3. Arian Foster vs. Jay Ajayi
Depending on where you look, you can find each of these guys listed as the starter on a Dolphins' depth chart. We're not going to know the real answer until the season gets underway, but this week will probably be a large factor in determining who it's going to be. So far, neither have looked like a starting running back — Foster (2 carries for -5 yards), Ajayi (8 carries for 25 yards). Ajayi has really struggled in the passing game, so if he can't do better than 3.1 YPC, Foster will probably win the job by default. But at his age with his injury history, Foster isn't likely to handle a full workload. By midseason I'd be surprised if either of these guys are in the driver's seat.
---
2. Trevor Siemian Draws Important Start
When you start Week 3 of the preseason it typically means you're on pace to be the Week 1 starter when the regular season arrives. But Siemian actually happens to be playing for his job. Mark Sanchez appears to have lost the starting role, as Siemian will get the nod for the defending Super Bowl champs when they face the Rams. Siemian still hasn't earned the starting job, though. A late surge from Paxton Lynch means that Siemian is going to have to perform well in this game. If Lynch can just be almost as good as his competition (and it's essentially been a three-way tie thus far) there will be pressure to hand the job over to him.
---
1. Devontae Booker Climbing
There's more news in Broncos' camp. Booker has already surpassed Ronnie Hillman on the depth chart and now sits behind only C.J. Anderson. Although he's unlikely to surpass Anderson, Booker is going to be in the mix for Denver. Booker's preseason numbers haven't stood out above Hillman's (or Anderson's), so we can only go off the news from camp. Week 3 will give Booker a chance to show what he's got on the big stage. Given the QB situation above, no matter how good Anderson, is it may take two RBs to get through the season.
Find me on Twitter @julianedlow
---
I am a promoter at DraftKings and am also an avid fan and user (my username is jedlow) and may sometimes play on my personal account in the games that I offer advice on. Although I have expressed my personal view on the games and strategies above, they do not necessarily reflect the view(s) of DraftKings and I may also deploy different players and strategies than what I recommend above.