While you've been playing fantasy NBA, MLB, Golf, MMA, Soccer and NASCAR, a lot has happened in the NFL. There have been coaching changes, free agency, the draft, OTAs and more.
With training camp approaching in late-July, it's time to start preparing for the Mother of all fantasy sports. We can start with an update on pivotal players currently rehabbing injuries:
1. Sammy Watkins (WR) Bills
Injury: Broken foot
Notes: News broke in mid-May that Watkins had April surgery to repair a small broken bone in his foot. He had a screw inserted and the Bills are optimistic he'll be ready for Week 1. However, this is the same injury that Julio Jones, Dez Bryant and Michael Crabtree each sustained. The timelines on those guys getting back to 100 percent were all longer than initially expected. Throw in a run-heavy Rex Ryan philosophy that has ranked 31st, 27th, 29th, 25th, 17th, 18th and 32nd in pass attempts over the last seven seasons and we have an easy avoid.
---
2. Thomas Rawls (RB) Seahawks
Injury: Broken ankle on Dec. 13, 2015
Notes: There's reason for concern on Rawls. His broken ankle included torn ligaments, a very serious injury for the 2015 UDFA. Then the Seahawks went out and spent three draft picks on running backs (C.J. Prosise, Alex Collins, Zac Brooks) and said they don't expect Rawls to play in preseason. Much like Marshawn Lynch, Rawls won't play very much in the pass game anyway – that will be where Prosise reigns. So as the Seahawks continue their move toward more pace and passing volume, Rawls has both scheme and injury concerns.
---
3. Melvin Gordon (RB) Chargers
Injury: Microfracture surgery on knee
Notes: The first 12 months of Gordon's NFL career couldn't have gone any worse. He scored zero touchdowns on 217 rookie touches, fumbling six times and averaging a pathetic 3.48 YPC. Gordon lost all red-zone, third-down and 2/4-minute drill work to Danny Woodhead – who ended with 80 catches and nine scores. Somehow things got even bleaker for Gordon last month when it was revealed he underwent microfracture surgery, a serious procedure that has crippled the careers of athletes across all sports. Gordon was working out at OTAs, but there are a lot of red flags here.
---
4. Le'Veon Bell (RB) Steelers
Injury: Torn

MCL

and

PCL

on November 1, 2015
Notes: The good news is Bell's ACL wasn't damaged. The bad news is we are dealing with multiple ligament tears in the same knee, which is always a major concern. If Bell is truly healthy, he's the no-brainer top running back in fantasy. And this video of him playing pickup hoops suggests rehab is going well. But Bell's progress is still one to monitor extremely closely over the next couple months. For what it's worth, he says he'll be 100 percent for training camp.
---
5. Donte Moncrief (WR) Colts
Injury: Toe surgery
Notes: Moncrief played through a bit of turf toe last season and seemed fine. But it was serious enough that he needed to go under the knife this spring. Still, the Colts and their beat writers have expressed no concerns whatsoever. If healthy, Moncrief has serious breakout appeal with Andrew Luck healthy, the offensive line improved, Andre Johnson gone and the running game likely to sputter behind 33-year-old Frank Gore.
---
6. Jamaal Charles (RB) Chiefs
Injury: Torn

ACL

on October 11, 2015
Notes: An ACL tear is no longer the death sentence it used to be. Thanks to improvements in modern medicine and recovery training, we now see players come back from it all the time. Adrian Peterson, Rob Gronkowski, Jeremy Maclin and Travis Benjamin immediately come to mind as examples. That said, Charles will turn 30 in December and the Chiefs extended the contract of both Spencer Ware and Charcandrick West during the offseason. His status is well worth monitoring.
---
7. Tyler Eifert (TE) Bengals
Injury: Left ankle surgery on May 25, 2016
Eifert originally hurt the ankle in the Pro Bowl, which should be the final straw for that event. How about a Skills Competition that includes 40-yard dash, longest throw and bench press? Anyway, Eifert is in danger of missing at least the first couple regular season games. The Bengals lost both Marvin Jones and Mohamed Sanu in free agency, opening up the door for A.J. Green to have a monster season. Note that his 8.74 yards per target are 14th-best in the history of the NFL and he's been under-targeted over the last two seasons (8.55 per game). Expect that to change, making Green a premier target. Eifert's direct backup, Tyler Kroft, is a talented athlete with a big opportunity. He'll likely be min-priced on DraftKings Week 1.
---
8. Ladarius Green (TE) Steelers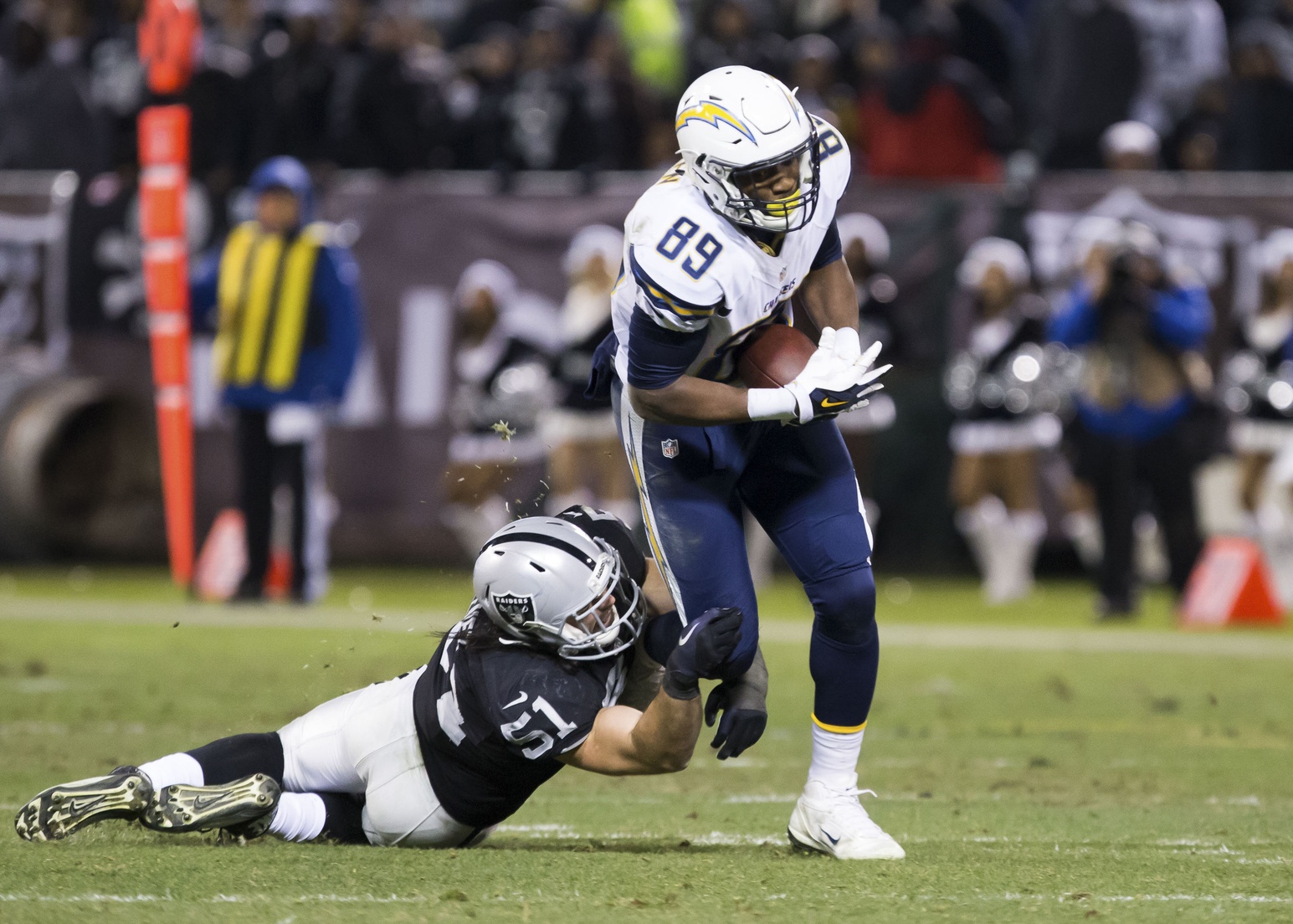 There's a lot going on with Green, a physical specimen who was criminally underused in San Diego. The good news is the Steelers identified Green's talent in the wake of Heath Miller's retirement, giving him a $20M contract. The bad news is he's missing valuable time with his new team thanks to offseason ankle surgery. If healthy in time for training camp, Green will bring serious weekly upside as part of an elite passing offense that lost both Miller and Martavis Bryant (suspension) this offseason.
---
Honorable Mentions
9. Julian Edelman (WR) Patriots – Had to have a second surgery on his troublesome left foot. Expected back for camp, but Chris Hogan will be a name to highlight if Edelman misses time.
10. Ameer Abdullah (RB) Lions – The team is counting on the highlight-reel second-year back to make a leap. But he could miss the entire offseason due to January surgery that repaired a torn shoulder labrum. Zach Zenner is next up as the early-down complement to passing back Theo Riddick.
11. Jordy Nelson (WR) Packers – The offense tanked after Nelson tore his ACL last preseason. He's 31 years old now but all reports on the rehab are (predictably) glowing.
12. Kevin White (WR) Bears – Don't forget about White, who drew comps to Terrell Owens, Larry Fitzgerald and Julio Jones before the Bears took him 7th overall in 2015. He missed his entire rookie season due to a stress fracture in his shin, but appears to be back at 100 percent now.
13. Brashad Perriman (WR) Ravens – A partially torn PCL cost Perriman his entire rookie season. The Ravens' wide receiver corps is cluttered, but it shouldn't surprise anyone if he emerges from Steve Smith (37 and coming off Achilles' rupture), Kamar Aiken and Mike Wallace.
14. Dion Lewis (RB) Patriots – Lewis tore his ACL in Week 9 of last season. At the time, he was on pace for 82 catches and 9.14 touchdowns.
15. Dez Bryant (WR) Cowboys – The Cowboys are confident Dez will be 100 percent after battling repeated foot and ankle woes last season. At the very least, he'll be a red-zone dominator for a healthy Tony Romo.

16. Kelvin Benjamin (WR) Panthers – Benjamin tore his ACL in the preseason last year. He's unlikely to come near the 146 targets he saw as a rookie thanks to flipped game flow.