There will be significant overlap between "sneaky" cheap players on DraftKings and "flier" picks at the end of season-long drafts. Understanding the situations these guys are in will allow us to save salary early in the season.
These are my Favorite Fliers, also known as players with an MFL average draft position of 120.0 or later:
1. Phillip Dorsett,

WR,

Colts
ADP

121.2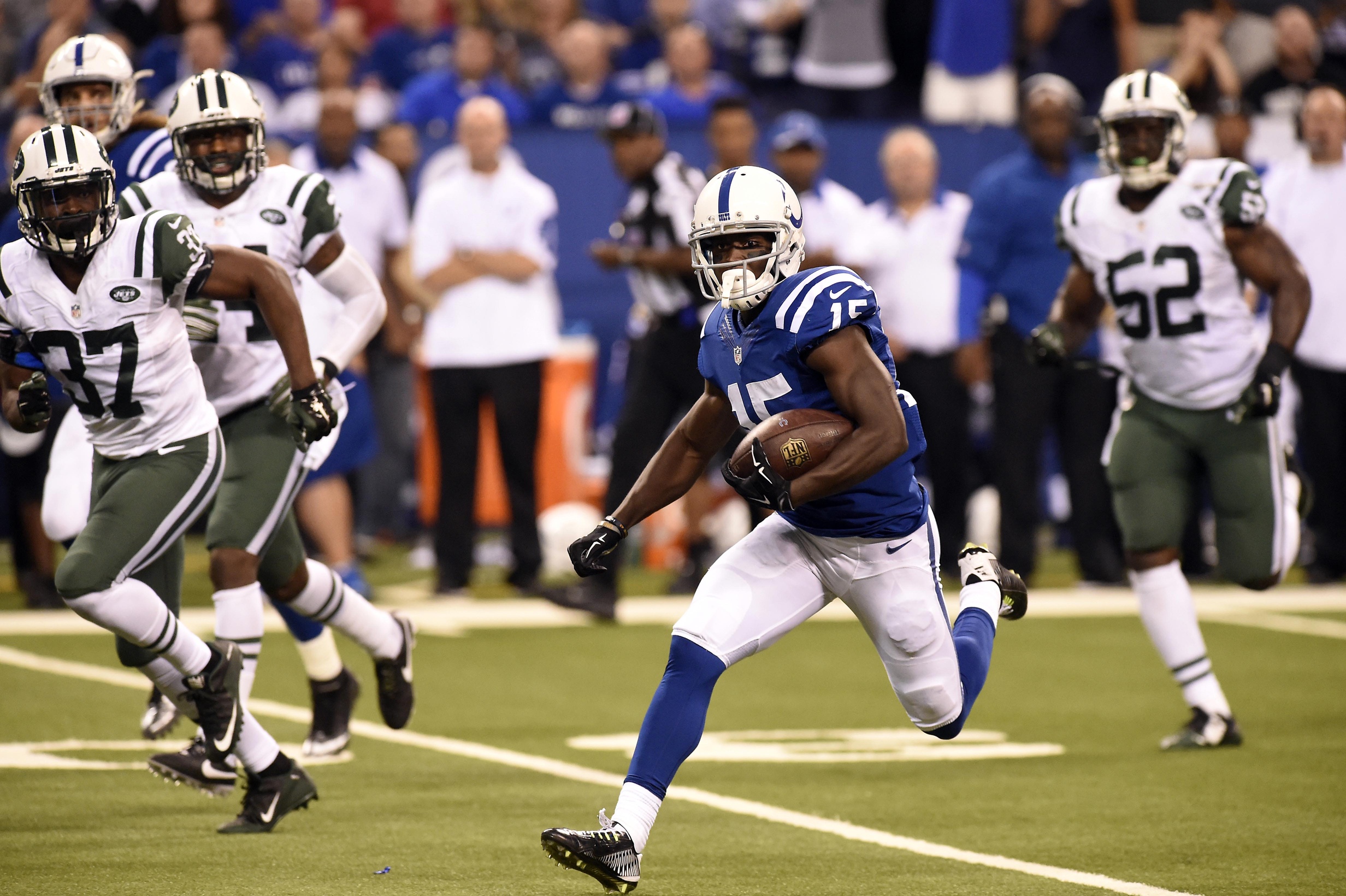 With Coby Fleener now in New Orleans and Andrew Luck healthy, the Colts are shifting from a two-TE offense to a 3-WR base. That means the speedy trio of T.Y. Hilton, Donte Moncrief and Phillip Dorsett will be on the field a ton. Dorsett is clearly the No. 3 guy here, but we've seen the third WR for an upright Luck get plenty of action even when they were a "12" team. In 2014, Moncrief and Hakeem Nicks combined for 119 targets behind Hilton/Reggie Wayne. In 2012, Hilton got 91 targets as the No. 3 guy behind Wayne and Donnie Avery.
So we have a DeSean Jackson-esque receiver (4.33 speed, 37-inch vertical) ticketed for at least 90 targets on a team that will skew heavily toward the pass in an effort to preserve 33-year-old bell-cow RB Frank Gore. It will be very difficult for Dorsett to fail at his current ADP and he will smash if Hilton or Moncrief go down.
---
2. Devin Funchess,

WR,

Panthers
ADP

122.2
I already discussed Funchess in my "New Starters" article back in June and again in "Undervalued" in early-July. Thankfully, his ADP has stayed relatively flat even though he continues to light up Panthers practices. Funchess went from the unquestioned star of the offseason program to someone the coaches are raving about at training camp. "He's becoming such a good young pro and understanding what it takes to be successful," Ron Rivera said. Funchess, now clearly ahead of Ted Ginn and Corey Brown, will be the main wideout in 2-wide sets opposite Kelvin Benjamin. In the three games Funchess played at least 80 percent of the snaps last year, his lines were 4-64-1, 2-19-0 and 7-120-1. Overall, the 6'4/225 specimen scored six touchdowns on just 64 targets.
---
3. Sammie Coates,

WR,

Steelers
ADP

123.8
Martavis Bryant's year-long suspension and Heath Miller's retirement has left a big hole on a passing offense that ranked 3rd in yards per game last year and 2nd in 2013. A lot of drafters are flocking to Markus Wheaton (ADP 102.4), but we know he isn't a load-bearing wideout. In the five games Bryant missed last year, Wheaton failed to top three catches in a game and scored one TD.
That brings us to Coates, a 2015 third-round pick who has all the physical tools at 6'1/212 with 4.43 speed and a 41-inch vertical. After a redshirt rookie season in which he only played 60 total snaps, Coates impressed coaches and beat writers all offseason and into training camp. Specifically, offensive coordinator Todd Haley said the difference is "night and day" from last year. Now Coates is the heavy favorite to start in Pittsburgh's 3-WR base on the outside opposite Antonio Brown on a team that will skew even more pass-heavy while Le'Veon Bell (suspension, knee) is out.
---
4. Martellus Bennett,

TE,

Patriots
ADP

124.7
After watching a week of training camp, ace beat writer Mike Reiss said the Patriots will use 2-TE sets as a base. He expects Martellus Bennett and Rob Gronkowski to be on the field together for nearly all of the snaps, which isn't a surprise. The Patriots are the class of the league when it comes to maximizing personnel, and Bennett gives Tom Brady a far different option than Julian Edelman, Danny Amendola, Chris Hogan, Aaron Dobson or Malcolm Mitchell. In 2011, Gronk played on 94.7 percent of the snaps and Aaron Hernandez was in for 86.1 percent. Bennett and Gronk will both be featured in the red zone, where their unique size dwarfs over the aforementioned wide receivers.
---
5. Marcus Mariota,

QB,

Titans
ADP

145.4
Mariota only rushed 2.83 times per game last year, fewer than guys like Jameis Winston, Blake Bortles, Ryan Fitzpatrick and Andy Dalton. He still finished 8th among all QBs in fantasy points per dropback thanks to throwing at least three TDs in four of his 12 starts. That shows an underrated ceiling that can be realized if Mariota runs more, something he almost certainly will this season. The pass-catching corps is also improved with Dorial Green-Beckham entering his second year, DeMarco Murray/Rishard Matthews added in free agency and Delanie Walker/Kendall Wright back.
Of course, the real key to unlocking Mariota's upside is the aforementioned running. Note that he battled a bunch of nicks last year, including a Week 6 MCL sprain. Also note that when Mike Mularkey took over as interim coach in early November, Mariota began to run more. In the six full games under Mularkey (since named the head coach), Mariota averaged 4.0 rushes per game vs. 2.0 in the five under Ken Whisenhunt. During training camp, the Titans have installed and executed a number of designed runs to maximize Mariota's strength.
---
6. Bruce Ellington,

WR,

49ers
ADP

181.2
Ellington has a ton of momentum in industry circles right now. A favorite of the draftnik community coming out of South Carolina in 2015, he's been the wide receiver consistently standing out in San Francisco since last season ended. Virtually every beat writer covering the Niners expects Ellington to at least dominate the slot and possibly start opposite Torrey Smith. We know there will be plenty of opportunity in a Chip Kelly offense that ranked 2nd and 1st in plays per game the last two seasons.
---
7. Brock Osweiler,

QB,

Texans
ADP

182.3
I have a ton of respect for Bill O'Brien as a quarterback guru. He served as Tom Brady's quarterback coach and then offensive coordinator in New England before landing at Penn State. There, he took a true freshman named Christian Hackenberg and made him one of the best quarterbacks in the country. After O'Brien left for Houston, Hackenberg crumbled into one of the nation's worst. Some will blame the offensive line or Allen Robinson leaving, but O'Brien made a huge difference. It can be seen in Houston over the last two years, as Ryan Fitzpatrick and Brian Hoyer were "in play" on DraftKings in the right matchups despite poor weaponry.
Now O'Brien will work with Osweiler and a ton of speed on offense. Lamar Miller and Will Fuller join DeAndre Hopkins and Jaelen Strong to form an underrated offense. We know the Texans will play fast and run a ton of plays – they ranked third in 2015 pace. Osweiler's role on Houston will be to win games, unlike in Denver where he was asked to rely on the run/defense and not lose games.
---
8. Mohamed Sanu,

WR,

Falcons
ADP

125.9
The Falcons let go of Roddy White and Leonard Hankerson in the offseason, a duo that combined for 115 targets last season. Then they gave Sanu a $32.5M contract that included a $7M signing bonus and $14M guaranteed. It's quite clear they expect him to succeed as the No. 2 WR opposite Julio Jones, a role Roddy compiled 122 targets at in 2014. Those who don't think Sanu can put up usable numbers because he isn't very good should go back and watch Harry Douglas, who was a must-play in 2013 & 2014 anytime Julio or Roddy missed time.
---
9. Josh Ferguson,

RB,

Colts
ADP

184.9
Ferguson is an UDFA fighting to make the Colts final roster. He could still have a fantasy impact this year thanks to a unique Darren Sproles/Dion Lewis kind of skill set. An excellent pass-catcher and quick speedster, Ferguson gives the Colts something they don't' have in 33-year-old Frank Gore or underwhelming backup Robert Turbin. It's why they said they almost took Ferguson in the fourth round and gave him priority money in the UDFA market. Unlike many of the running backs we find at the tail end of drafts, Ferguson can have a usable role without the starter going down.
---
10. Jaelen Strong,

WR,

Texans
ADP

214.0
As you can tell from the Osweiler notes above, the Texans offense has a chance to really surprise people. Strong was a 2015 third-round pick who flopped badly as a rookie after showing up to camp out of shape. This year, the storyline has flipped as Strong is in optimal condition and got called one of the team's most improved players by head coach Bill O'Brien. Targets will be an issue behind DeAndre Hopkins and first-round rookie Will Fuller, but Strong is at worst someone to monitor.
HONORABLE MENTION
11. Kirk Cousins – Hit on why I'm so high on Cousins in Undervalued.
12. Spencer Ware – Power back can complement Jamaal Charles, who will turn 30 in December and is 10 months removed from an ACL tear.
13. Bilal Powell – Beat writer speculation has Powell working in an even timeshare with 30-year-old Matt Forte.
14. Zach Miller – Hit on Miller in New Starters.
15. Vance McDonald – Quietly averaged 3.5 catches, 43.6 yards and 0.5 TDs over final six games of last year.
16. Jeff Janis – Packers and Aaron Rodgers don't trust him right now. If that ever changes, he'll erupt.
17. Jared Cook – Needs to get healthy, beat out Richard Rodgers and mesh with Aaron Rodgers.
18. Will Tye – Currently in a battle with Larry Donnell for the No. 1 TE job.
19. Chris Thompson – Brittle pass-catching back, but only behind unproven Matt Jones on depth chart.
20. Tyler Boyd – Marvin Jones and Mohamed Sanu are gone. Tyler Eifert is hurt. Brandon LaFell is not #good.
---
I am a promoter at DraftKings and am also an avid fan and user (my username is AdamLevitan) and may sometimes play on my personal account in the games that I offer advice on. Although I have expressed my personal view on the games and strategies above, they do not necessarily reflect the view(s) of DraftKings and I may also deploy different players and strategies than what I recommend above.