Don't miss out on fantasy value just because someone is not at the top of the depth chart right now. Here are 10 RB position battles worth your attention:
10. Kansas City Chiefs
Depth: Jamaal Charles, Charcandrick West, Spencer Ware, Knile Davis
Charles is the obvious starter here, but this could be a very important backup role to win. After playing in just two games in 2011, Jamaal strung together three healthy seasons in a row from 2012-14. However, he declined statistically in each year. After another injury riddled 2015 season, 2016 could signal a further Charles downfall. Ware has the inside track on the RB2 job, so he could see more work than you think. And if Charles went down Ware could be a top-10 RB on the season. Davis is completely out of the mix, but I mention him because a trade is possible.
---
9. Detroit Lions
Depth: Ameer Abdullah, Theo Riddick, Zach Zenner
Abdullah is clearly the most talented of the group, but he's had a lot of issues translating it to on the field performance. Health is also an issue for Abdullah, but there's not much behind him on the depth chart. Zenner has been a really solid preseason rusher two years in a row, and Riddick is already locked in as the receiving back. This backfield could be a season-long committee with Riddick possibly being the most valuable (considering DraftKings uses PPR scoring). I could even see a name not mentioned above (like Stevan Ridley or Dwayne Washington) making some noise.
---
8. New England Patriots
Depth: Dion Lewis, LeGarrette Blount, James White, Brandon Bolden, Tyler Gaffney
The Pats have five names worth mentioning. When Lewis is healthy, he's the guy you want to target due to his passing game involvement. James White could be given the "Lewis role" when Dion is out, but he's simply not as talented. We know Blount is the power back that will run all over teams when New England is up 30 points against inferior competition. The wildcard I want to mention is Gaffney. The Pats have kept him around for a couple years now through injuries that have kept him from playing a game. They wouldn't do that with a RB if they didn't love him. I'll go out on a limb and predict Gaffney becomes a significant part of New England's offense at some point this season.
---
7. Cleveland Browns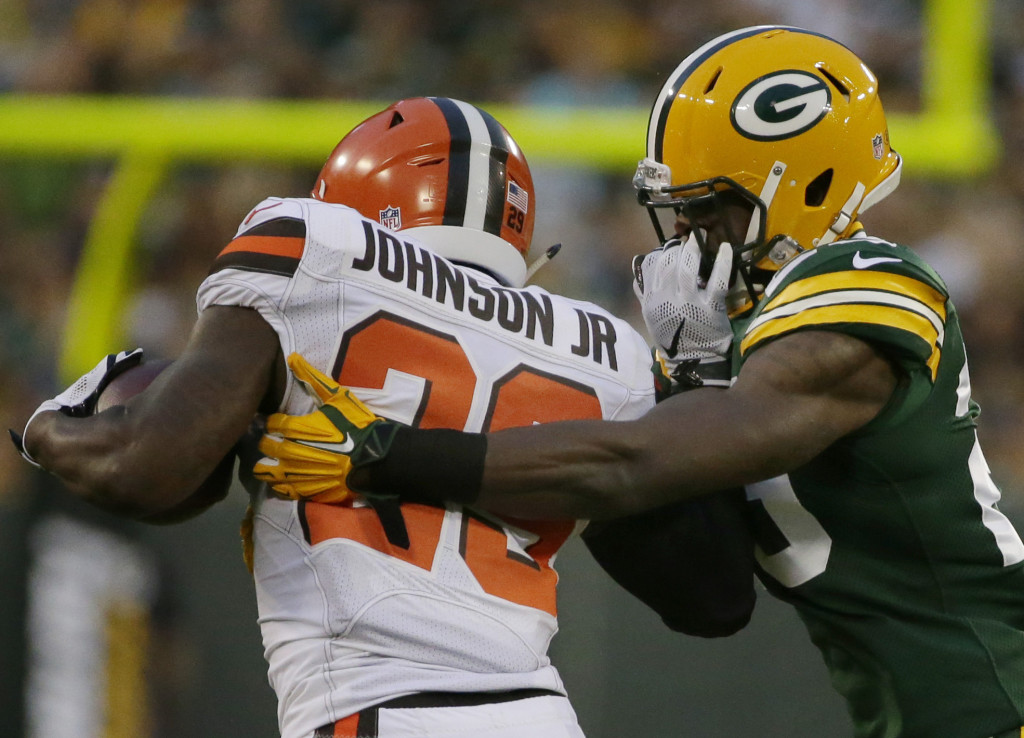 Depth: Isaiah Crowell, Duke Johnson
It's much nicer to only look at two names compared to five. Right now the formula is simple — Crowell runs between the tackles and Johnson does the third-down/passing-down work. They both have value in a time-share situation, but Crowell doesn't have the upside Johnson possesses. Duke flashed brilliance at times last season, and if he can win over three-down work he would be a steal at RB — especially considering his receiving skills.
---
6. Baltimore Ravens
Depth: Justin Forsett, Buck Allen, Kenneth Dixon
Forsett really saved Baltimore in wake of the departure of Ray Rice. Pretty much a career-long backup, Forsett turned into fantasy royalty for a stretch. While he is currently the Ravens' starter, he has competition breathing down his neck. 2014 was the only season of his career that Forsett has taken a full season of starter reps. Coming off a serious injury and turning 31-years old means there's a chance 2014 could be a one-time thing for Forsett. Buck Allen and the rookie Dixon both have fresh legs and are ready to go. We'll see both of them worked into the offense this season, but it will be important to monitor which one Baltimore favors. If Forsett breaks down, his replacement will become extremely valuable.
---
5. Chicago Bears
Depth: Jeremy Langford, Jordan Howard, Ka'Deem Carey
Langford filled in tremendously for Matt Forte last season. Now we get to see if he's got what it takes to do it for a whole year as the starter. I don't think Langford is in jeopardy of losing his job, but like Baltimore, we could see a lot more of the backups than people are expecting. Langford is the Bears most valuable RB, but don't count out Jordan Howard, who will definitely steal some carries and should end up with the goal line work.
---
4. Jacksonville Jaguars
Depth: Chris Ivory, T.J. Yeldon, Denard Robinson
Jacksonville's backfield is nearly identical to the situation in Cleveland. Ivory's going to smash the ball down the opponent's throat and Yeldon is going to come in on third-down and passing plays and dance around the defense. Ivory's goal line work likely makes him a little more valuable than Yeldon's pass game involvement, but it's close. This is going to be a 50/50 committee all season as long (in what figures to be a good offense) as these guys stay healthy. Robinson will be in the mix for some trick plays/change of pace, but isn't a threat to usage unless Yeldon goes down.
---
3. Miami Dolphins
Depth: Jay Ajayi, Arian Foster, Kenyan Drake
This is a tough situation because nobody's really doing anything to help themselves. Ajayi is not having a good preseason, especially when it comes to the passing game. That's why Foster was brought in, but he's barely healthy and needs a miracle to be able to carry the load for another full season. Foster is clearly the most talented RB on the roster, so I like him when healthy. But it's hard not to favor Ajayi in a season-long format since he figures to be on the field more often. If all fails in Miami, the rookie Drake is worth keeping an eye on. Maybe he eclipses Ajayi. Maybe Foster goes down. Who knows? But Miami didn't use a third-round pick on the Alabama product for nothing…
---
2. Denver Broncos
Depth: C.J. Anderson, Ronnie Hillman, Devontae Booker
This is such a juicy fantasy situation to monitor. No matter who wins the starting QB job for Denver, we know it's going to wind up being a run based offense, especially considering the defense in place. So here's the part where I'm supposed to have some insight, but I really can't see anyone ahead of the pack as of right now. So here are some facts: 1) Anderson is currently the starter. 2) The Broncos still like to mix Hillman in even with other RB healthy (he had four 100+ yard games last year). 3) Booker has been stealing some first-team reps in camp. One of these guys is going to pop. Whoever wants this job more could have a huge season. If nobody separates themselves, it could be a week-to-week type thing to monitor on DraftKings.
---
1. Tennessee Titans
Depth: DeMarco Murray, Derrick Henry, Bishop Sankey
I'm not sure I agree with Tennessee's direction (drafting a franchise QB, loading up at RB, trading most talented WR), but they have a stacked backfield this season. Just look at what they accomplished in the first preseason game. There's no chance Sankey can hang on and have any kind of consistent production, but I do feel both Murray and Henry could produce big time seasons in the same offense. Murray and Henry have shown the ability to be effective with 10-15 touches, and that's exactly where both should be each game. With Murray's injury history, I like going for the later value in Henry in a season-long format, because he has more upside. On DraftKings, you have the luxury of waiting to see who is healthy and favored week to week.
Find me on Twitter @julianedlow
---
I am a promoter at DraftKings and am also an avid fan and user (my username is jedlow) and may sometimes play on my personal account in the games that I offer advice on. Although I have expressed my personal view on the games and strategies above, they do not necessarily reflect the view(s) of DraftKings and I may also deploy different players and strategies than what I recommend above.