If you watched football in week two, you probably have a pretty good feel for who the best performers were. If you were sweating your lineups on DraftKings, you probably have a pretty good feel for who the best performers were. Check out the perfect lineup for week two!!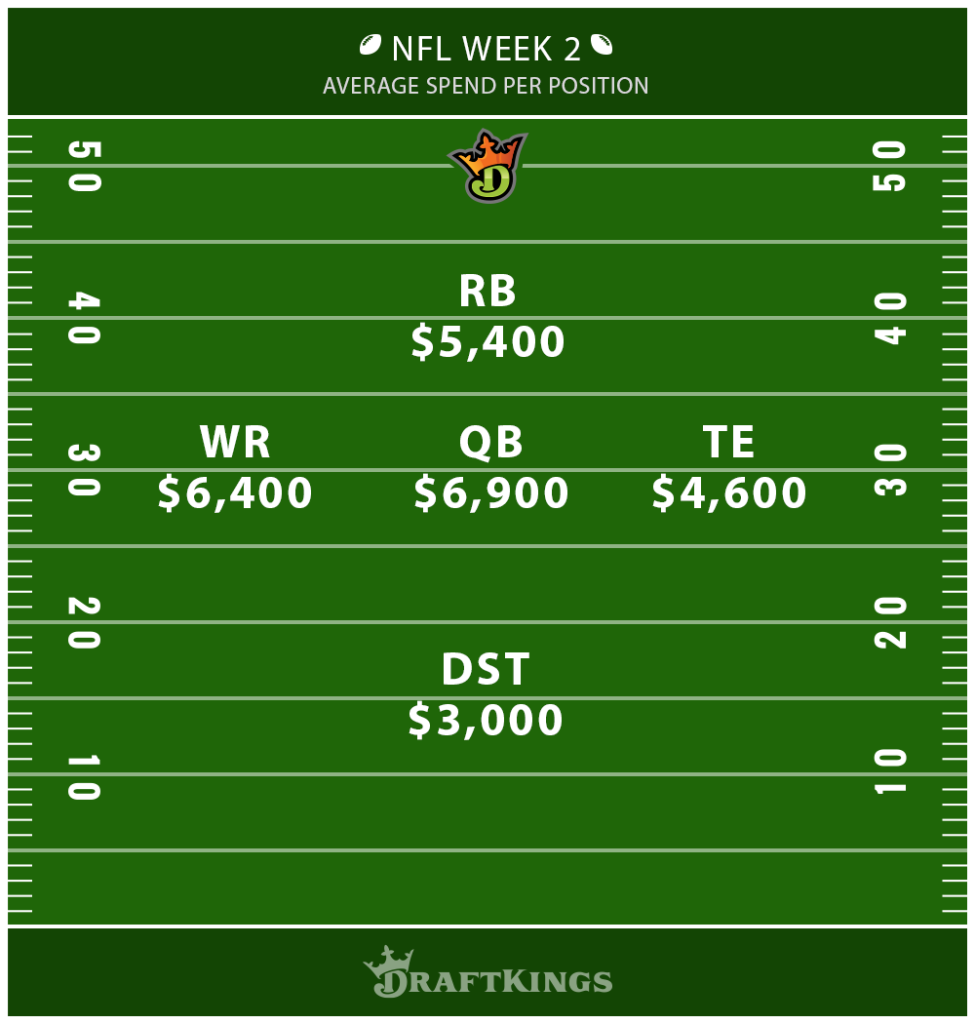 Download every player's DK fantasy points, percentage owned, salary and more from Week 2 HERE!
NFL HEADLINES – Week 2
Monday Night Football Notes
-The only player on MNF in the Top 20 in fantasy points scored for Week 2 was Donte Moncrief who had 28.2 fantasy points vs. NYJ on Monday.
-The duo of stud Jets receivers both cracked the Top 30 however. Brandon Marshall's 26.1 fantasy points were 23rd most overall this week and Eric Decker's 23.7 fantasy points were 28th most overall this week.
The Return of the Wide Receiver
-One week after we saw 8 tight ends score over 30 fantasy points, the receivers took back the throne. The Top 5 scoring players on Sunday were all wide receivers
-Antonio Brown posted 30+ fantasy points for the 2nd time in as many games this season. He now has 8 30+ fantasy point games over the last 2 seasons. No other receiver has more than 6.
-Larry Fitzgerald's 40.2 fantasy points on Sunday are the 12th highest scored by any wide receiver over the last two seasons.
Meet Matt Jones – RB, Washington
-Matt Jones had 31.6 fantasy points on Sunday at just $3500 – giving him a $/Pt score of $110.76.
-Here's a breakdown of the best $/Pt performances among running backs over the last two years on DraftKings:

Lots of Under the Radar Value
-Four players in the Sunday Perfect Lineup were under 1% owned (Matt Jones, Allen Robinson,Travis Benjamin and the Browns DST)
-Two additional players were under 5% owned (Ben Roethlisberger and DeAngelo Williams)
Steelers Shine vs. San Francisco
-There were 3 players from the Steelers in Sunday's Perfect Lineup – Ben Roethlisberger, Antonio Brown and DeAngelo Williams.
-The 33.66 points from Roethlisberger were his 3rd most in a game since the start of the 2014 season. His other two highs were a 47.78 point effort vs. IND last year and a 39.7 point effort vs. Baltimore a season ago.
-DeAngelo Williams scored 37.5 fantasy points in the entire 2014 season. He had 31.2 fantasy points and Week 2 and already has 48.4 fantasy points through the first two weeks of this year.
NFL

Perfect Lineup Week Two
TOP

20

FANTASY POINT SCORERS
TOP

20

HIGHEST OWNED PLAYERS
TOP

20

VALUE PLAYS
1 – Value Plays defined by top 20 players in terms of $/Pt (salary divided by total fantasy points).
TOP

20

KEYS

TO

SUCCESS
1 – Keys to success defined as highest owned players on winning lineups. This stat is a derivative of percentage owned, except it includes only lineups that finished in the money on DraftKings.
BUSTS

OF

THE NIGHT
TOP FANTASY POINT SCORERS

BY

POSITION
HIGHEST OWNED PLAYERS

BY

POSITION
---
Take home $1.2

MILLION

in the Week 3

NFL

Millionaire Maker!
DRAFT NOW