This weekend we're looking at a $4 Million Main Event on DraftKings. The field is a little smaller but it will still certainly require some high-upside targets to take down the top prize of $1 Million. Let's break down each position and try to find some under-the-radar options for Week 16.
QUARTERBACK
Tom Brady, New England (at NYJ) – $7500
Brady is the same price as Cam Newton, so that's naturally going to decrease his ownership. The perceived strength of the Jets' pass defense is probably a bit overrated, and I think they're particularly weak where the Pats are strong over the middle. This could be a game to get Brady-to-Gronk at reduced ownership.
Carson Palmer, Arizona (vs GB) – $7000
We rarely see very high ownership on quarterbacks, and I think a lot of that has to do with DraftKings' pricing. It's especially true this year, as there have been a number of attractive quarterbacks most weeks. I think most people will be on Blake Bortles and Ben Roethlisberger this week, and both are great values, but Palmer is a stud on a team with an implied total of 27 points. Recency bias might get people off of Palmer when they shouldn't be.
---
RUNNING BACK
Devonta Freeman, Atlanta (vs CAR) – $7400
I played Freeman in the championship last week because I anticipated people being off of him because of the cost. I think the same will be true this week against Carolina. I like Freeman even if the Falcons get down given how utilized he is in the Atlanta passing game.
DeAngelo Williams, Pittsburgh (at BAL) – $6500
I'm having a tough time deciphering Williams' ownership this week, but I like the idea of buying in on him when others are assuredly going to be all over the Steelers' passing attack. The Ravens are weaker in the passing game defensively, but Williams could easily parlay passing game success into a couple goal-line scores.
VALUE

OF

THE WEEK
Javorius Allen, Baltimore (vs PIT) – $4200
Allen is a risk since he got benched last week, but I think he'll be back on the field this week, especially on third downs. That's where he gives you value, as he had a ridiculous 22 targets the prior two games.
---
WIDE RECEIVER
DeAndre Hopkins, Houston (at TEN) – $8400
At the top of the receiver salaries, two guys are going to stand out to most: Antonio Brown and Allen Robinson. I think those two will be among the top receivers in ownership, but sandwiched between them is Hopkins in a pretty good matchup.
Eric Decker, NY Jets (vs NE) – $6500
I haven't really decided what I'll do with Decker yet. The Patriots tend to take away an offense's top option. Is that Brandon Marshall, or will they deem Marshall and Decker as nearly equally talented (which they are) and figure out a way to scheme against both? Plus, you know I'm going to mention Decker here any chance I get.
---
TIGHT END
Rob Gronkowski, New England (at NYJ) – $7600
This is the prototypical "pay to be contrarian" pick, as I do think a lot of people will be off of Gronk because of the cost. I also think there's an opportunity to do the same thing with Greg Olsen at just $600 cheaper.
Ben Watson, New Orleans (vs JAX) – $5300
Julius Thomas is going to be a popular tight end play this week, I think. In the same game, Watson also looks attractive, assuming Brees is back and healthy. The fact that he's $200 more expensive than Thomas could actually add to his tournament value because you're paying $200 to get in on probably much-reduced ownership.
---
DEFENSE

/SPECIAL

TEAMS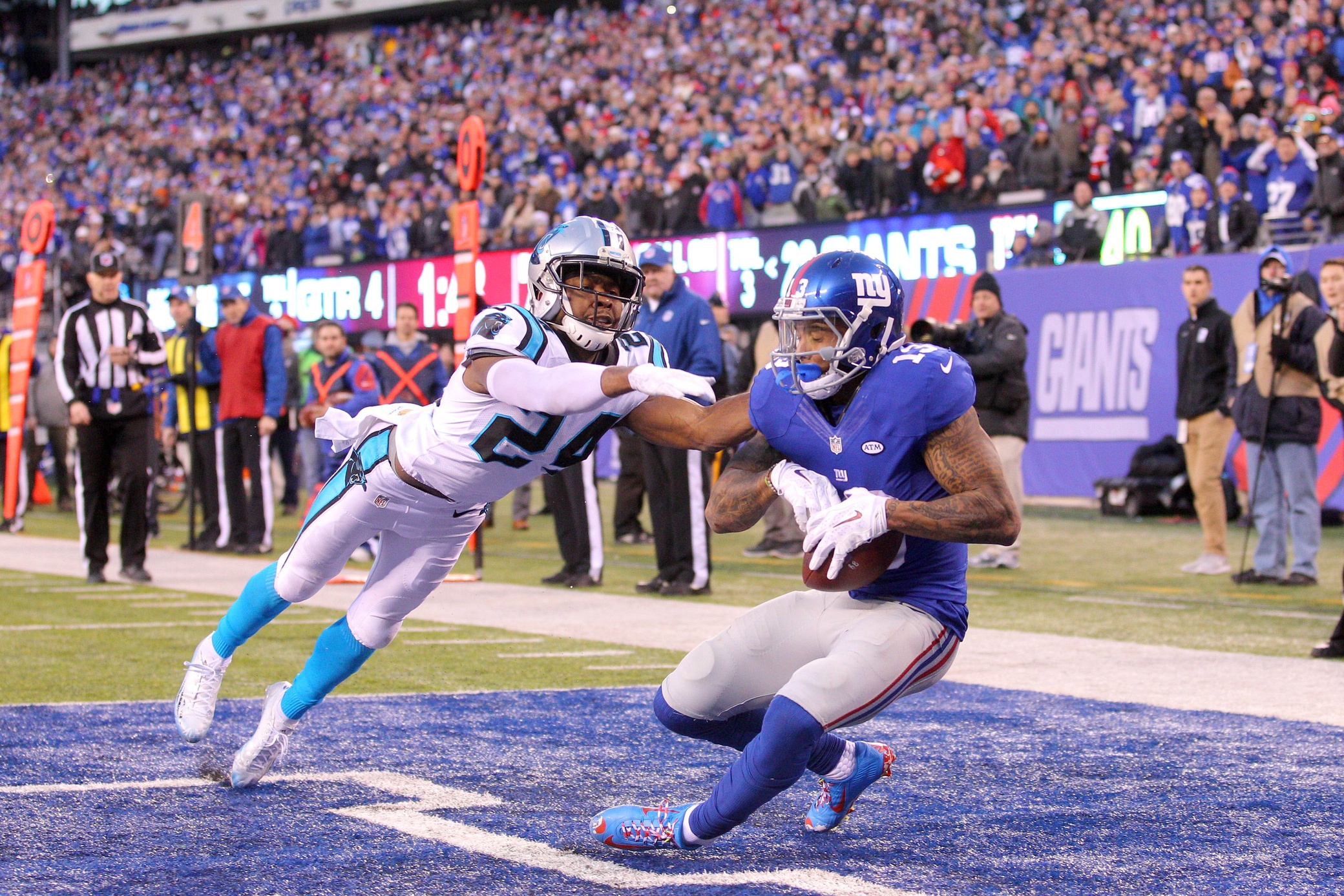 Carolina (at ATL) – $3700
The two most expensive defenses—Seattle and Kansas City—are both good plays and will be in a lot of lineups. Right underneath them is Carolina, who should be leading in this game and facing a quarterback who will definitely force the ball into traffic.
Pittsburgh (at BAL) – $3100
The Steelers are 10-point favorites and Matt Schaub should be back for Baltimore. Pick-six city.
VALUE

OF

THE WEEK
Oakland (vs SD) – $2000
It's not that often that a min-priced defense is a 5.5-point favorite. Home favorites have scored nearly one full point above their salary-based implied point total on DraftKings.
---
Jonathan Bales is the author of the Fantasy Sports for Smart People book series, most recently Fantasy Football for Smart People: How to Win at Daily Fantasy Sports.
Follow him @BalesFootball.