Some major season-ending injuries to note this week as Le'Veon Bell, Keenan Allen, and Steve Smith are among players placed on IR. Others out for Week 9 and potentially beyond, include Matt Forte, Carlos Hyde, Kendall Wright, and Vincent Jackson. Injuries aside, there are big bye implications as the Seahawks, Cardinals, Ravens, Chiefs, Lions, and Texans are out of action this week.
---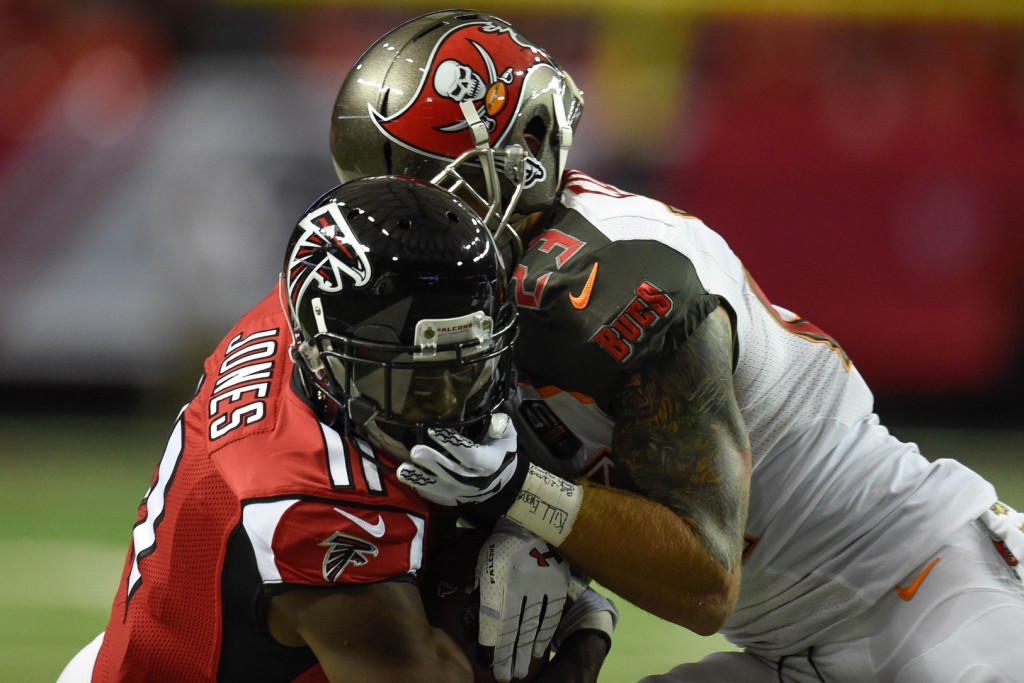 Julio Jones, ATL @ SF, $9,300 – The highest priced WR in Week 9 is an obvious choice if you can shed salary elsewhere in your lineup. Admittedly, this is a well-known commodity in fantasy circles, but it's important to note that Jones' 26.5 PPG rank him 3rd among all players; only Tom Brady (29.1 PPG) and Devonta Freeman (27.3 PPG) rank higher. His 6 TDs through 8 games already matches his 2014 total, and he is currently on pace for a ridiculous 140 catches and 1,784 yards. There's no doubt this type of production gives you first name recognition, as few players have the freakish ability to dominate like Julio. He has a great matchup on tap against the bottom-dwelling Niners, who allow a putrid 280 YPG through the air.
Alshon Jeffery, CHI @ SD, $6,700 – In the 2 games since returning from a nagging hamstring injury that kept him inactive for a month, Jeffery has 18 grabs for 263 yards and 2 scores. Despite those wildly productive contests, his price has increased just $300 since his return, as compared his Week 1 price tag of $8,300. In other words, there is still plenty of value to buy-low on a player visibly on the upswing. Regardless of sample size, his 25 PPG puts him 4th among all players. His track record suggests this productivity is sustainable given his average over the past 2 seasons, of 87 catches for 1,277 yards and 9 scores. At just 25 years old, Jeffery should be a dominant force in the league for years to come, and will have the opportunity to shine bright in a primetime affair on Monday night.
DeMarco Murray, PHI @ DAL, $6,400 – After averaging just 10 carries over the first 3 games, Murray's carries have doubled in the 3 games since then. The increased workload has sparked a significant productivity difference as his average has jumped from 1.6 YPC in the first 3 games, to 4.4 YPC thereafter. Fresh off a bye week, Murray returns to Dallas for the first time since the Cowboys decided he was expendable. Apparently, they didn't find his 392-carry season that put him 17th on the all-time single-season yardage list (with 1,845 rushing yards), to be worthy of a large contract. After leaving town unrewarded, Murray is guaranteed to have a chip on his shoulder in this divisional clash against the team that drafted him. At a $700 discount from his Week 2 price, Murray should have plenty of determination to go along with a drastically increased workload.
Peyton Manning, DEN @ IND, $6,300 – Another scenario of a franchise-caliber player facing their former team, except Manning returns to Lucas Oil Stadium as an opponent for the 2nd time. During the 2013 visit, the Broncos were on the wrong side of a 39-33 final, but Manning posted a strong stat line of 386 yards and 3 scores. While Eric Decker, Wes Welker, and Julius Thomas won't don the blue and orange this time around, Emmanuel Sanders and newcomer Vernon Davis are capable of filling the void. Demaryius Thomas has also continued to improve since then, and is on pace for his 4th straight 90-catch and 1,400 yard season. As much as Manning's struggles have been dissected all year, his 340-yard performance last week was a season-high, leading the Broncos to a 7-0 start. He looks to be a strong value play this week at a $1,900 discount from Week 1, against a hapless Colts defense allowing 405 YPG (30th in the NFL).
Antonio Gates, CHI @ SD, $4,700 – The loss of Keenan Allen is a major blow to the 2-6 Chargers, who may also be without backup TE Ladarius Green. Gates looks to emerge from the rubble after experiencing no setbacks in his return from an MCL injury. With Stevie Johnson, Malcolm Floyd, and Dontrelle Inman as the only receiving options outside the backfield, Gates should be the primary option in the passing game. With Phillip Rivers leading the NFL with 2,753 passing yards, someone must step up for the air attack to continue, and to replace Allen's 89 targets and 725 yards. Through his 3 games this year, Gates has registered an effective 19.4 PPG, 2nd to only Rob Gronkowski at the position. As long as the knee does not become troublesome, Gates should be a major factor in the Monday night tilt of underperforming teams. His price tag remains fairly reasonable as the 5th TE option this week.
Jeremy Langford, CHI @ SD, $4,000 – On the other side of the Monday Night Football matchup, Langford projects to have a heavy workload as he takes the reigns from Matt Forte. The 4th rounder out of Michigan State is touted as a true three-down back and will have ample opportunity to prove himself against San Diego's 27th ranked run defense, which yields 125 YPG on the ground. Langford finished with 12 carries for 46 yards last week, and all signs point to him embracing a high-volume role that could result in upwards of 20 touches. If this is the case, Langford will hold considerable value as a low-priced RB option, at a salary just $1,000 above the position minimum.
---
More to Consider
1) Mike Evans, NYG @ TB, $6,800
2) Jameis Winston, NYG @ TB, $5,200
3) Darren McFadden, PHI @ DAL, $4,300
4) C.J. Anderson, DEN @ IND, $4,100
5) Stevie Johnson, CHI @ SD, $3,200
6) Austin Seferian-Jenkins, NYG @ TB, $2,800