Injuries play a key part in our decision making process for daily fantasy games. The opportunity created for low cost players on offense and the matchup opportunities to exploit on defense can be the difference between winning and losing. This article will try to list all the injuries that could create value for your fantasy rosters and the likelihood that each event will occur.
Who's Out?
Ben Roethlisberger (QB- Pittsburgh)
–
This one is a big blow to the Steelers. Big Ben has an
MCL
sprain and will be sidelined for a few weeks at least. Michael Vick is back in our lives and the starter now for the Steelers with Roethlisberger on the sidelines.
Sammy Watkins (WR- Buffalo) – Reports from ESPN's Mike Rodak confirm that Rex Ryan said that Sammy Watkins is pretty much definite to miss the week 4 game. Robert Wood and Kelly Hogan will see an increased workload in his absence.
LeSean McCoy (RB- Buffalo) – In that same radio interview, Rex also said the same thing about McCoy. Everyone is already talking about it, but Karlos Williams at near min price would be a very popular pick if that was indeed the case.
Jerricho Cotchery (WR- Carolina) – Cotchery is out again. Devin Funchess will see more field time, but the targets will probably go more towards guys like Ginn and Olsen as they have been.
Jay Cutler (QB- Bears) – The Bears did have Cutler out there to throw some passes in practice, but he was very limited. He is targeted for a week 5 return, so we should see at least one more start for Jimmy Clausen this week in a solid match up for him.
Who is just hurt? Names to keep an Eye on
John Brown (WR – Arizona)
– Brown sat out practice Wednesday with a shoulder issue that has been bothering him. He is on track to play this weekend according to coach Bruce Arians, but it's a situation worth keeping an eye on.
Andre Ellington (RB- Arizona) – It looks like Ellington is a coin flip at the moment. If he is out, we should continue to see Chris Johnson with some David Johnson mixed in. If he plays, it will be interesting to see what the word is on his availability and workload. It will definitely hurt the prospects for both of the other backs if he does.
Tevin Coleman (RB- Atlanta) – Coleman has a rib injury that is still bothering him. He sat out practice Wednesday and is more likely to sit Sunday than he is to play. Devonte Freeman had a huge game in week 3 and should continue to see 20+ touches if Coleman is out or severely limited.
Alshon Jefferey (WR- Chicago) –
Alshon looks to be ready to roll again this weekend. He practiced on a limited basis Wednesday but is expected to practice in full on Thursday and Friday according to multiple beat writers.
Josh McCown (QB- Cleveland) – McCown has a little swelling in his hand, likely from hitting it on the helmet of one of his lineman during a throw last Sunday. It's not a big deal and he is very likely to play. Sorry Johnny Football fans.
Brandon Pettigrew (TE- Detroit) – His status is still uncertain. Eric Ebron has really shined in his absence though. The second year TE has reminded everyone why he was a top pick. Ebron played 90% of the snaps and has scored double digit points in each game so far this year. He is definitely an intriguing cheap TE option if Pettigrew is out again.
DeVante Adams (WR- Green Bay) – Adams has a high ankle sprain and was in a walking boot on Wednesday at practice. Early speculation is that he will not play Sunday and Ty Montgomery will replace him. The targets seem to be heading in the direction of James Jones and Randall Cobb though, so I would expect that to continue.
Eddie Lacy (RB- Green Bay) – Lacy practiced in full today which he has not done in recent weeks. He says he is fully healthy and expects the Lion's share of the workload again after being limited in recent games and letting Starks pick up some of the slack. Looks like it could be time to get Lacy back on the radar.
Arian Foster (RB- Houston) –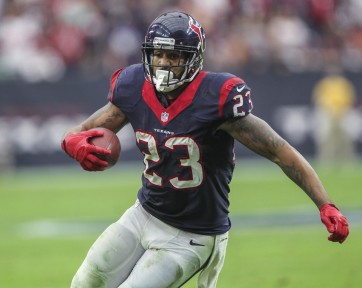 Foster is listed as the dreaded game time decision. One beat reporter seemed positive about his chances of playing and another was saying he would be kept out until next week, so I got nothing either way for you guys here. We will all have to just wait and see what news comes out. Alfred Blue, Jonathon Grimes, and Chris Polk have all seen carries in his absence. Good luck sorting through that mess if you are inclined to play a Texans RB.
Andrew Luck (QB- Indianapolis) – Luck is dealing with a shoulder issue and did not attempt a pass in Wednesday's practice. The news is he will play Sunday, but it is definitely concerning. Matt Hasselback ran with the first team on Wednesday and would be his replacement if things are worse then they are letting on.
Dwayne Allen (TE- Indianapolis) – Allen sat out again Wednesday and his status is still doubtful for Sunday. If he is out again, Coby Fleener will continue to soak up all the snaps and targets the two usually split.
Allen Hurns (WR- Jacksonville) – Hurns has been dealing with an injury to his thigh all season. He is still likely to play, so unless that changes I would not get too crazy about it.
Jordan Cameron (TE- Miami) – He has a thigh bruise that kept him questionable for last week's game too. He is very likely just resting it up and plans to play in the London game against the Jets this weekend. Unless he has a setback, I would consider him in, but not 100%, which would have me staying away.
Charles Johnson (WR- Vikings) – Johnson is dealing with a rib issue that had him limited in his last game. He tried to play through it, but was not able to. That leaves his status for this weekend very much in question. Minnesota could use him as they will probably be throwing at some point against Denver, so it would be a big blow if he was out.
Drew Brees (QB- Saints) –
He practiced on Wednesday and took most of the snaps with the first team. Brees is itching to get back at it and said he feels really good about his chances of playing this weekend. If Brees can go, he likely will, so I expect to see him back in there if he is practicing in full by the end of the week. Luke McCown was solid last week though, so it's nice to know the Saints back up plan is not too bad if Drew were to go down again.
Brandin Cooks (WR- Saints) – Cook was limited in practice with the same ankle injury that has bothered him for a week or two. With that said, he is very likely to be in uniform on Sunday, so I would not worry too much.
Victor Cruz (WR- Giants) – Giants fans were waiting with open arms to welcome the salsa dancing Cruz back into their lives, but after running some drills on Wednesday, it appears he is not ready to go yet. What looked like a foregone conclusion of him playing, now looks very very doubtful again.
Eric Decker (WR- Jets) – Decker sat out practice Wednesday and is looking doubtful again for the weekend. Rookie Devin Smith seemed to be the guy who saw a lot of field time, but the targets are still going heavily to Brandon Marshall and I would expect to see that continue. Without Decker and Ivory the offense struggled to get anything going against Philly, so hopefully they can do better this weekend.
Chris Ivory (RB- Jets) – Last week he was announced in and did not see a snap despite being dressed and on the sideline. I hate when that happens, because we know can not trust anything coach Todd Bowles says. He was limited in practice on Wednesday and I would not trust him until I see him back in the game after the situation from last weekend.
DeMarco Murray (RB- Philadelphia) – DeMarco was limited in practice today, much as he was last Thursday. This one will require monitoring up until game time. Both Ryan Matthews and Darren Sproles had good performances in his absence, so it is definitely worth watching to see if those guys might be in play if he sits again.
Ladarius Green (TE- San Diego) – Green missed last week's game and was out of practice on Wednesday after suffering his second concussion this season. He has yet to pass the League's test and will not be allowed to play until he is cleared through the concussion protocol.
Marshawn Lynch (RB- Seattle) –
ESPN reports that Lynch is at best a 50/50 proposition to play this week. They do not officially practice until tomorrow since they played Monday night, but if he is out, then Thomas Rawls looks to be the guy who will see the workload. Fred Jackson is the sexy name being thrown about, but Rawls should be the big beneficiary with Jackson spelling him and taking some third down work.
Reggie Bush (RB- San Francisco) – Bush was a full participant in practice Wednesday and looks ready to go for week 4. He will definitely steal third down work and likely will also take a few carries from Carlos Hyde. This is a huge blow to Hyde owners as he is no longer going to be a workhorse.
Vernon Davis (TE- San Francisco) – Davis missed the second half of Sunday's game and Wednesday's practice with a knee injury. His status is still uncertain early in the week, so this is worth looking into and seeing how it plays out.
Kenny Britt (WR- St. Louis) – Britt played well on Sunday and recorded 100 yards receiving. He sat out Wednesday with the shoulder injury that has bothered him, but looks likely to play this weekend
Desean Jackson (WR- Washington) – He sat out practice again Wednesday and looks doubtful for Sunday. He was originally supposed to be out 3-4 weeks and it's only been two, so there is very little optimism we see him Sunday.