WATCH: NFL TRADE ANALYSIS WITH ADAM LEVITAN
---
NFL free agency is off and running, and it didn't take long for some moves with major fantasy implications to go down. The biggest chip is likely still on the table — that being Tony Romo, who remains a member of the Cowboys. However, it's just a matter of time until he is traded or released.
While we wait for that story to unravel, along with top RB names like Adrian Peterson, Jamaal Charles and Eddie Lacy to find their new homes, here's a look at the top-five fantasy relevant free agent signings/trades to date (shocker — it's all WRs):
Brandon Marshall —
WR,

New York Giants
At his age, Marshall simply isn't a WR1 anymore. It also didn't help that he was playing for a Jets team that had three QBs on the roster that were not NFL caliber.
By switching to the other team in New York, Marshall gets stability, something he hasn't had much of in his career. He may not be a WR1, but if healthy, B-Marsh should be a fantastic WR2 option opposite Odell Beckham Jr. Obviously, this addition only helps Eli Manning, while Sterling Shepard likely takes a step backward after a nice rookie season. He should still flash at times as the third option.
---
Terrelle Pryor —
WR,

Washington Redskins
Of course, the Browns finally capture a great talent, only to let him walk away for a one-year $8 million deal. Washington is undergoing some major shake-ups, as both Pierre Garcon and DeSean Jackson have signed contracts elsewhere. That leaves Jamison Crowder as the top returning WR.
Crowder had a strong 2016 season, but is a different type of player than Pryor, as he works primarily from the slot. Jordan Reed will certainly continue to be featured at TE but he's been injury prone for his whole career. Unless Washington makes another move, a relatively unknown in either Ryan Grant or Josh Doctson will need to step into a starting role.
While Grant or Doctson would make for a nice sleeper option, Pryor is likely to be called upon to do the heavy lifting when it comes to lining up on the outside. Kirk Cousins will be playing for a contract once again since he was slapped with the franchise tag for a second consecutive season, and Pryor's going to have to be his featured target. Given how exceptional this kid was in Cleveland, it's hard to imagine his fantasy stock not rising playing with a far superior QB.
---
Alshon Jeffery and Torrey Smith —
WR,

Philadelphia Eagles
Carson Wentz looks like he may just be the real deal. That's pretty impressive considering he had arguably the worst collection of WRs in the NFL last season. If anything, the Philly WR core was at least the most inconsistent in the league. These moves certainly have the potential to help change that.
I say "potential" because both of these signings carry some question marks. Particularly Jeffery, who is coming off an injury-plagued season in which he also faced a 4-game PED suspension. Meanwhile, Smith failed to play in all 16 games for the first time in his career and only caught 20 passes for 267 yards and three TDs last season in San Francisco — all career-worsts.
But if the Eagles can get the most out of these guys, Jeffery could be a nice top option for Wentz, allowing Jordan Matthews to be a WR2, which is his true role. Smith will be a nice deep threat and should be more of an afterthought for defenses now that he's not being counted on as a featured receiver. I'm not reaching for either of these guys in my season-long drafts, but they could be undervalued DFS options.
---
Brandin Cooks —
WR,

New England Patriots
So the Patriots wind up with Cooks for draft picks, most notably the last pick in the first-round (No. 32 overall). In short, Cooks was added to the roster without giving up any current contributors, which is just scary. Long-term, my guess is that Cooks is a Julian Edelman replacement, but that's a different discussion.
The Patriots have never been a team that "loads up" for one season, they've aimed more for consistency for the last 15+ years. That said, this trade combined with the Stephon Gilmore signing for the defense makes it feel as though the Pats are going after it as hard as they ever have. Tom Brady will be 40 when next season kicks off, but he's going to have one of his best collections of weapons yet.
It remains to be seen how New England plays this since they're always so difficult to predict. But Edelman and Cooks feel like they should be competing for receptions, meaning they could limit each other's ceiling. The further domino effect is that Danny Amendola is now in a spot where he might not even see the field unless there is an injury … that's if he even makes the team. It was interesting to see the Pats chase Cooks with the emergence of Malcolm Mitchell last season, who very well could be the team's top option on the outside in 2017. Chris Hogan broke out for New England in the playoffs, and oh, I haven't even mentioned Gronk yet.
Now I'm just rambling. This offense is going to be stacked next season, which is great for the Patriots, but very tough for fantasy projections.
---
DeSean Jackson —
WR,

Tampa Bay Buccaneers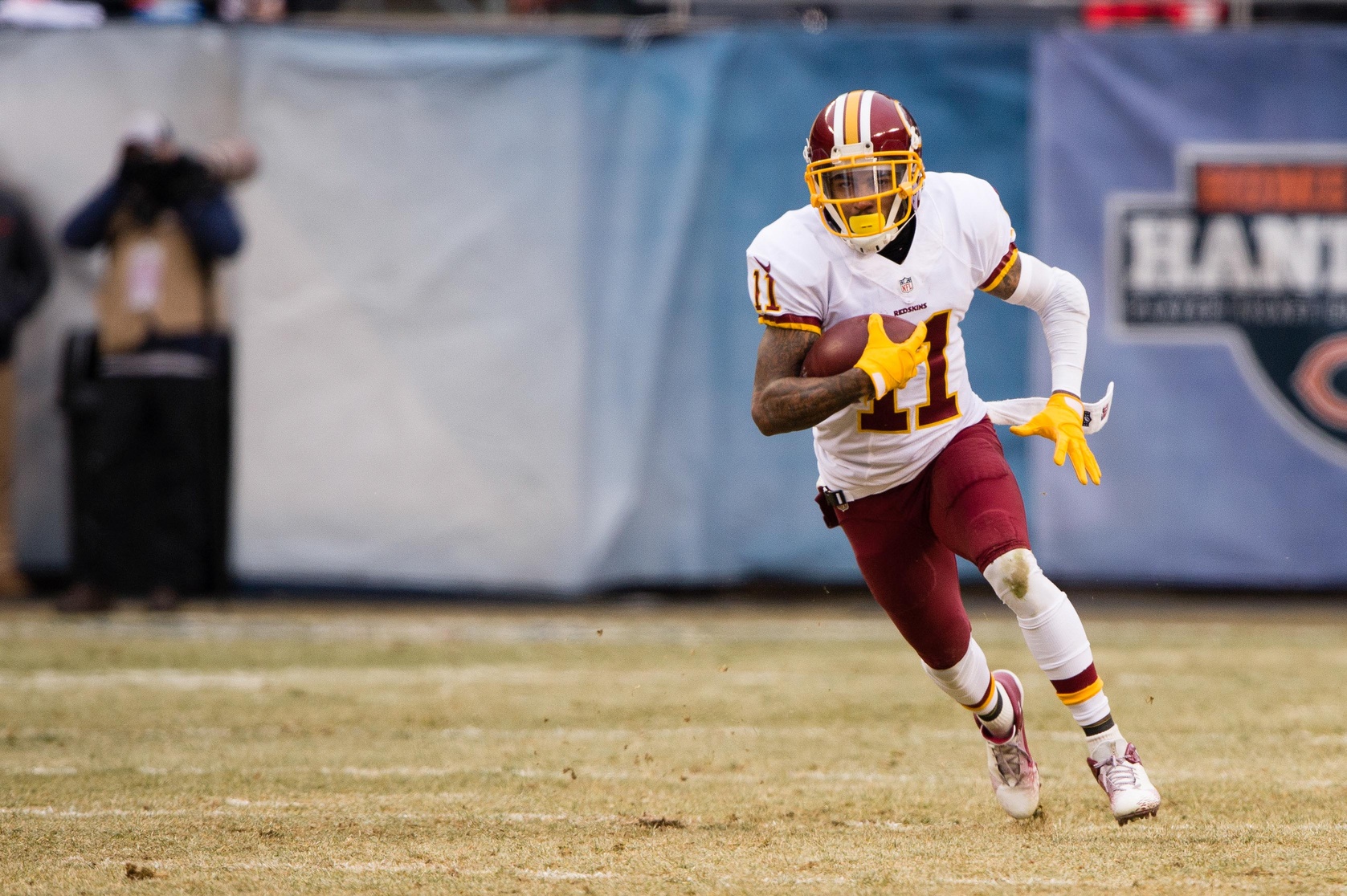 Jackson to the Bucs has the feeling of a perfect signing. He's the complete opposite size/style of Mike Evans, but the dynamic duo shares the ability to make huge plays. Jameis Winston is going to thrive throwing the ball to these two guys.
Evans posted a tremendous 96-1,321-12 line last season, but there was a huge falloff after that. Cameron Brate, a TE, was Tampa's next most productive pass catcher with less than half as many yards (although 8 TDs was nice). Vincent Jackson was supposed to be that guy but he injured his knee after having a wildly inconsistent season — only 15 receptions and zero touchdowns.
DeSean could very well put up numbers like he did in his most memorable seasons in Philly, and do so without hampering any of Evans production. If Evans can repeat his efforts while both Winston and Jackson receive big value boosts, that's a huge win. The Bucs' offense is going to be on display in 2017.
Hit me up on Twitter with comments or questions: @julianedlow.
---
I am a promoter at DraftKings and am also an avid fan and user (my username is jedlow) and may sometimes play on my personal account in the games that I offer advice on. Although I have expressed my personal view on the games and strategies above, they do not necessarily reflect the view(s) of DraftKings and I may also deploy different players and strategies than what I recommend above.