The NFL Draft is finally here, with the first-round getting underway on Thursday, April 27th, and the rest of the rounds running through Saturday, April 29th. There are plenty of skill position players that could come in and have an immediate impact (and even more so down the line) on the NFL depending on where they land.
10. ArDarius Stewart —
WR,

Alabama (Junior)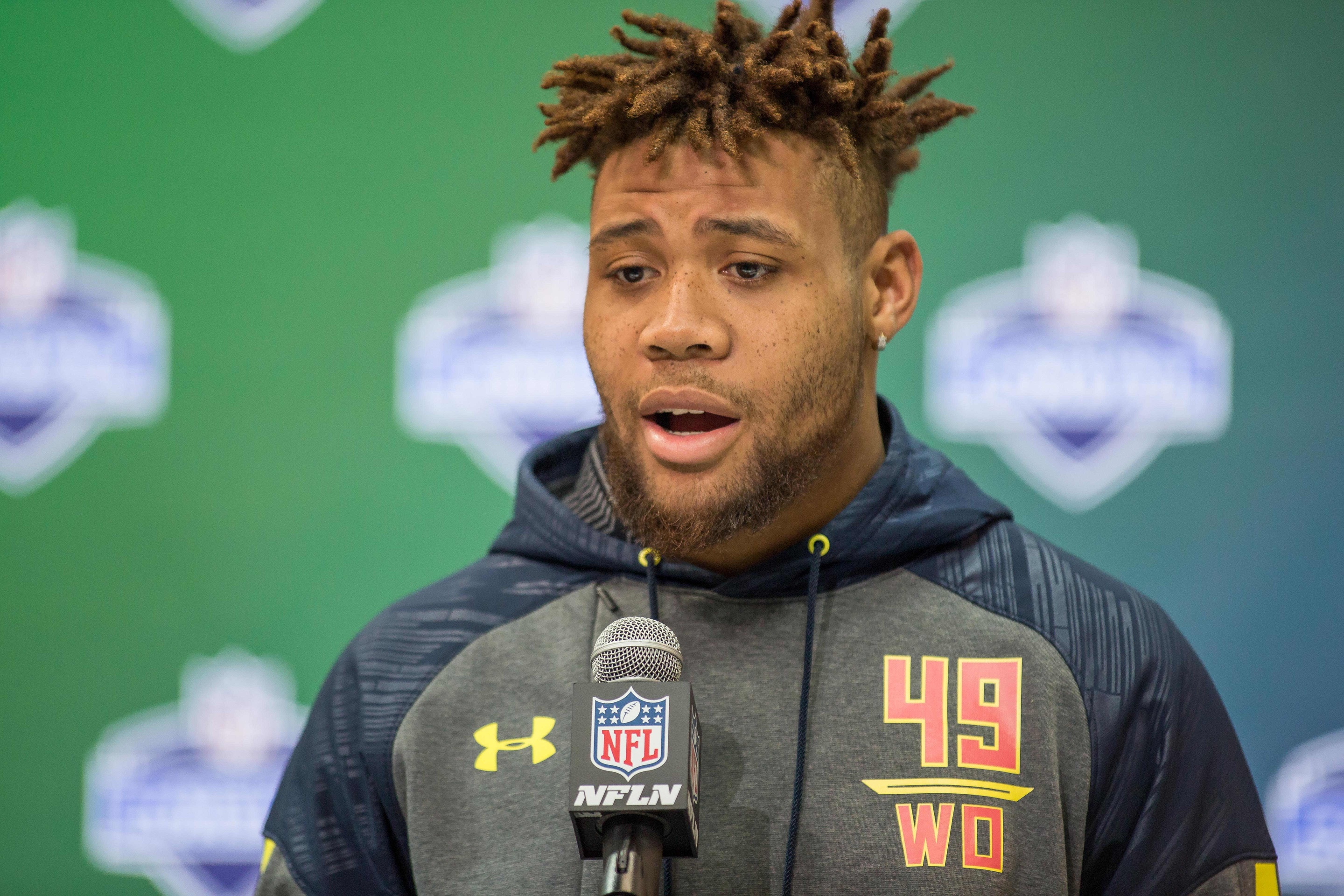 Stewart had a nice career at Bama and has shown the ability to make NFL-type plays. Coming from this sort of powerhouse, you'd have to think it helps prepare him for the pros. But to be honest, once you get past the top-3 WR in this class, it's anybody's guess who gets drafted next. Stewart, along with the following names, could all have a chance to produce some fantasy value on their new teams next season: Dede Westbrook, Zay Jones, Chris Goodwin, Taiwan Taylor, Cooper Kupp, Chad Henson, Isaiah Ford, Mack Hollins and Ju Ju Smith-Schuster.
9. Joe Mixon —
RB,

Oklahoma (Sophomore)

Mixon obviously has a very questionable past that's no doubt going to cause him to slide in the draft. Where he winds up, and how he manages his career/life are beyond me. But purely from a skill-set standpoint, Mixon is the real deal. If a team wants to give him a fresh start, he could work his way into fantasy relevance. It would shock me if that happened anytime soon, but over time it's an option if he has truly cleaned up his act. Mixon is undeniably a fantastic athlete with lead back abilities.
8. Evan Engram —
TE,

Ole Miss (Senior)

Engram's listed as a TE, but is essentially just a beast of a receiver, which NFL teams will absolutely love. At 6'3" and 233 lbs., Engram has plenty of size but is very lean and speedy for a TE. He put his WR abilities on display last season, hauling in 65 passes for 926 yards and eight touchdowns. His dual-threat ability has the potential to make him a very late first-round pick, but in all likelihood, Engram is going to make a team very happy somewhere in the second-round.
7. Christian McCaffrey —
RB,

Standford (Junior)

Most of you are probably familiar with McCaffrey as a Heisman candidate over the past couple of seasons, but his NFL role is going to be an interesting one. He's a fantastic dual threat RB, who averaged more than 6.0 yards per carry over the past two seasons, catching more than 80 passes in that span for close to 1,000 yards. In total, McCaffrey accumulated 4,577 rushing/receiving yards over the past two seasons, along with 29 TDs. Keep in mind he's also a huge factor in the return game. McCaffrey's been rumored to go as high as No. 8 overall to the Panthers, but could also slip to the late teens/early twenties in this draft. Either way, he's a first-round lock, but it'll be interesting to see where he falls. Wherever it is, he'll be fantasy relevant almost immediately.
6. John Ross —
WR,

Washington (Junior)
Depending on who you ask, you'll find the top-3 WRs in this class jumbled up in any order. Some believe Ross is the top WR in this draft, and although I don't have him ranked there, it wouldn't shock me if he turned out to be. Ross is small (5'11"/180 lbs.), but this dude is lightning fast and had an unbelievable junior season — 81 grabs for 1,150 yards and an eye-popping 17 TDs. It would be pretty shocking to see Ross (or any of the top-3 WRs) on the board when we start getting into picks in the twenties.
5. Corey Davis —
WR,

Western Michigan (Senior)

Davis is considered one of the "mystery men" in this draft, coming out of Western Michigan. He played four seasons of college football, and produced a spectacular career, though. Davis is 6'3" so he has more size than Ross, and is as solid and consistent as they come. Davis led his team to an undefeated season until a bowl loss to Wisconsin, with just one game in which he had fewer than 63 yards all season. He had three consecutive seasons with at least 78 receptions, 1,408 yards and 12 TDs, including a 97/1,500/19 line in his senior season.
4. Dalvin Cook —
RB, FSU

(Junior)

Cook very well could slip below receivers like Ross and Davis in this draft just due to the premium on the passing game in today's NFL. Heck, there's a good chance McCaffrey's off the board before Cook. That said, I really like what I've seen from the FSU product. He's a big, strong RB with breakaway speed that will result in some home run plays in the NFL. Cook averaged 7.4 YPC as a sophomore, averaged more than 1,700 rushing yards per season over his last two years at FSU, and scored 20 total TDs in each of those final two seasons. There's no doubt in my mind that if Cook gets put in the right situation, he could be a monster fantasy contributor in the NFL.
3.
O.J.

Howard —

TE,

Alabama (Senior)

Howard didn't put up the stats the rest of these top-ranked guys did in college, but he wasn't used the right way in college. He was basically a blocking TE that caught a couple of TDs each season for Alabama, but that's about to change. Howard's a 6'6"/250 lb. beast, and a polished product after four years of school. He's a fantastic blocker, but whatever team winds up with him is going to finally let him off the leash and make him a big part of the passing game. Howard has the potential to be a lethal pass catcher at his size, which leaves him with the potential to go in the top-10 in this draft. It'd be surprising to see him still on the board after the top half of the first-round.
2. Mike Williams —
WR,

Clemson (Junior)

Williams was injured two years ago when Clemson lost to Alabama in the championship, but proved his worth last season, and was a huge reason Clemson was able to win the rematch — 8/94/1 in this year's title game. Williams has good size but plays well beyond his 6'1" frame to go up and snag balls out of the air. Outside of Davis, this is a small WR class, and I think Williams has the best chance to be a stud at the next level. He caught 98 passes last season for 1,361 yards and 11 TDs against top notch competition and should come in as close to NFL-ready as a WR potentially can. Williams could go as high as No. 10 overall to the Bills, and should certainly not see his name called any time after the mid-teens in this draft. He should be the biggest fantasy contributor of all the rookies WRs unless he really slips into a brutal situation.
1. Leonard Fournette —
RB, LSU

(Junior)
Fournette is just a physical freak — six feet tall but weighs 240 lbs. without sacrificing any speed. He spent some time injured last season at LSU, but just look back to his sophomore season to see what he's capable of — 300 carries, 1,953 yards (6.5 YPC), 22 TD. In games he did play in last season, Fournette maintained his 6.5 YPC. All signs point to Fournette going No. 4 overall and trying to help turn around Jacksonville's offense, but there's no way this guy is slipping out of the top-10.
Hit me up on Twitter with comments or questions: @julianedlow.
---
I am a promoter at DraftKings and am also an avid fan and user (my username is jedlow) and may sometimes play on my personal account in the games that I offer advice on. Although I have expressed my personal view on the games and strategies above, they do not necessarily reflect the view(s) of DraftKings and I may also deploy different players and strategies than what I recommend above.