This is a list of the top Defense targets for NFL games based on potential production and price. The teams are split into three tiers based on likelihood of success. Remember that these rankings take potential production and price into account, so some teams may be higher up on the list despite having a lower projected score if the price point is favorable. Here are some options to consider.
---
Looking for a different position? Check out the rest of the positional targets:
NFL Quarterback Targets – Week 6
NFL Running Back Targets – Week 6
NFL Wide Receiver Targets: Week 6
NFL Tight End Targets: Week 6
---
Cream of the Crop
Denver Broncos ($3700) – The Cleveland Browns offense has definitely been better as of late with 3 straight 300 yard passing games, but there are a lot of reasons to believe that streak is about to end. For starters, Josh McCown is banged up and questionable at the moment for this game. Denver also has only allowed 7.9 fantasy points to QBs so far this season and only 13.1 to WRs which makes them the best in the league against those two positions. In five games, they are allowing an average of only 13 points scored, with 4.4 sacks, 2,8 turnovers and a fantasy scoring average of 17.2 points per game. 17.2 points per game is like having an extra WR or RB. If there was a RB/WR averaging 17 points at under $4K, he would be 30% owned in large field tournaments. When you can get that out of a D/ST spot, where it is normally much tougher to find that production, why would you not use them?
Seattle Seahawks ($3800) –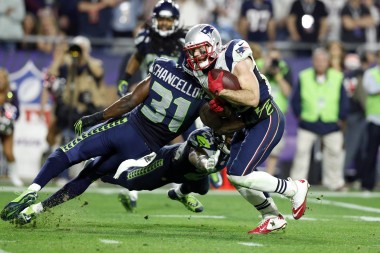 The Seahawks defense has dominated at home. In two games so far the have only allowed 402 total yards and 4 points. That's not an average, that is combined. They have yet to allow an offensive touchdown this season and they get an offense that is not very explosive in the Carolina Panthers. Stewart has struggled on the ground and the Seahawks have one of the stingiest rush defenses in the league which has allowed the least amount of fantasy points to opposing RBs so far this year. They also have allowed the second least amount of fantasy points to opposing WRs, and with Tedd Ginn being the best WR on Carolina, I do not expect much from that group. The way to attack Seattle is through the TE, so Greg Olsen is an obvious threat here for the Panthers. Still, Seattle has been able to stop opposing offenses cold at home this year, so I expect more of the same against an offense that does not have many play makers in Carolina.
New York Jets ($3100) –
The Jets are favored by 5 and at home. They present problems for this Redskins team. The Jets are top five for least amount of fantasy points allowed to almost every position. They are the second best against the QB and RB, 4th best against TEs, 10th against WRs, and have allowed the least amount of points to opposing kickers. They also have a few lineman who grade out in the top 10 against the run, which makes their strength at stopping the run a problem for a team like Washington that will try to run it often. If they Jets can force the Redskins into bad situations, the pass rush can get pressure on a turnover prone Kirk Cousins. Cousins may again be without DeSean Jackson and Jordan Reed, who are two of his best targets. MArk Carrier a 4th TE on the roster and guys like Jamison Crowder will be asked to have huge games in order to keep this close. With the Jets at home and favored, I expect them to force the Redskins to play catch up and that could lead to more positive scoring chances for one of the league's best defenses. The Discount from the top defenses is also a nice reason to look their way.
Cincinnati Bengals ($3000) – The Bills offense is struggling. Sammie Watkins is Banged up and Questionable. Lesean McCoy is likely out again. Karlos Williams is coming off a concussion and may or may not play. Charles Clay is the most targeted WR lately and word came down today that the lone bright spot, Tyrod Taylor, will be out and EJ Manuel is getting the start. Now I know Manuel was solid in the preseason and all, but we have seen him in live NFL game action and it was not pretty. Tyrod's legs and extreme efficiency have been the only thing steering this disaster of an offense away from the iceberg and with him gone now, I think EJ Manuel helps lead this Titanic disaster. The Bengals D already has 4 or more sacks in three of their five games. Since the Tyrod announcement, we have seen the spread move 3 points and the total also drop by three in a matter of hours. The new implied total for the Bills is 18 according to Vegas and that means they have little faith in this offense. The Bengals are not a dominant D, but this matchup is a little too good to pass up, so they get a top billing.
Middle of the Pack
Cleveland Browns ($2200) –
The Browns are at home in a low scoring game. That means they could steal a few points from limiting the number of points they allow. Normally teams attack the bad Browns run defense, but the Broncos run game has been horrible, so they may have trouble moving the ball. The Broncos allow the 8th most points to fantasy defenses this year and it is easy to see why if you look at what has been happening to them. Peyton Manning is very sackable as he is unable to move around in the pocket. It has helped now that they run mostly shotgun sets, but he is still getting sacked at a very high rate. He also has no zip on his passes and has been getting picked off at an alarming rate. Since they do not have a run game to lean on, they will be trying to throw against Cleveland which plays into the strength of that defense. Interceptions and pick 6 chances are always on the table against Denver this year. Throw in the explosive return abilities of Travis Benjamin, who is always a thret to take a punt to the house, and you can see a lot of potential upside at the rock bottom price of only $2200.
Arizona Cardinals ($3600) –
The Cardinals defense is pretty legit this year. They have 11 interceptions already, which is a huge number for this ball hawking secondary. Mike Vick has thrown a few passes in each start that he was lucky were not returned for 6, and I think that luck runs out here against the Cardinals. The reason I have them ranked lower, is because they are not a slam dunk to perform here. Todd Gurley ran all over this team two weeks ago and they are going to see a heavy dose of Lev Bell trying to do the same. Run heavy game plans leave little room for fantasy scoring plays as the defense gets no extra credit for tackles on four yard runs. The Steelers will try to pound it out on the ground, so unless Arizona can get a big lead, Pittsburgh will not have to throw often and open themselves up to negative events like sacks and interceptions. For that reason, I am hesitant to move them up to the top rung, because there is a very real chance the game script limits their upside.
Carolina Panthers ($3000) – This is a really good defense and the Panthers have them to thank for the hot start. Seattle has struggled to block people at the point of attack, which has left Russ Wilson running for his life most of the time so far. They are going on the road and facing an offense that does not turn it over much. Still the porous line for the Seahawks and the ball hawking secondary for the Panthers is a recipe for an interception in this one. If the score remains low as Vegas predicts, and Carolina can get back to stopping the run, they could have a chance to score some fantasy points and be a useful defense against an offense that has struggled to put up big offensive numbers.
Rest of the Field
Green Bay Packers ($3200) –
Others like the packers way more than I do this weekend, but they do merit mention. Here is my issue with this game. Both teams are weakest against the run. San Diego has allowed the second most fantasy points to Running backs, and the Green Bay pass defense has been legit this year, so attacking them on the ground also makes a ton of sense. Unless Green Bay is able to get a big lead, as Vegas expects them to do as a nine point favorite, I think we see this be a lower scoring game than expected with lots of running and short passes. Those are not the tools we like to see in games we expect a lot of fantasy points to be scored from our defenses. If the Packers can get a lead and force the Chargers to pass, they can have a chance to rack up some fantasy points. Even so, the Chargers are not a bad passing offense, so they can still produce some yards and points if forced to abandon the run. The run heavy nature of the game limits upside for fantasy defenses, so while I like the Packers and see a game script that could lead to a good day, I also think there is a chance they do not have a lot of opportunity for scoring plays and finish with a low number.
Chicago Bears ($2400) – The Bears could be a sneaky defense to use this weekend. Let's face it, the Lion's offense is horrible right now. Matthew Stafford has been unable to really get anything going here and while he may be hurt, the reason he was benched was because of his poor play. Stafford has already thrown 8 picks through five games. Despite having talented players like Ameer Abdullah, Calvin Johnson, and Golden Tate, this offense has not produced at all. After getting lit up by Arizona and Green Bay to start the year, Chicago has been better with each game. They get a struggling Lion's team now and could have a big day if that offense does not figure out how to get it together here.
Washington Redskins ($2500) – Washington has been good at stopping the run, which is something the Jets like to do. The problem is teams have passed all over them recently. They have given up over 250 yards passing in each of the last three games and are only ranked 14th and 12th for number of yards allowed to opposing QBs and WRs. The Jets have a solid duo of healthy WR options in Marshall and Decker. Both guys should have a big role in this game. Washington does not have the players to match up with the Jets WR crew on the outside, so they could be in for a long game if they can not continue to get to the QB. They do have 8 sacks in their last two games, so that would be the only way I can see them paying this off.
---
Continue Reading This Week's Rankings Series
NFL Quarterback Targets: Week 6
NFL Running Back Targets – Week 6
NFL Wide Receiver Targets – Week 6
NFL Tight End Targets – Week 6
---