This is a list of the top Defense targets for NFL games based on potential production and price. The teams are split into three tiers based on likelihood of success. Remember that these rankings take potential production and price into account, so some teams may be higher up on the list despite having a lower projected score if the price point is favorable. Here are some options to consider.
---
Looking for a different position? Check out the rest of the positional targets:
NFL Quarterback Targets – Week 5
NFL Running Back Targets – Week 5
NFL Wide Receiver Targets: Week 5
NFL Tight End Targets: Week 5
---
Cream of the Crop
Denver Broncos ($3600) – The Broncos defense has been what is saving them lately. If Peyton Manning did not throw a few picks and put them in bad spots, they would have been even better. They get pressure, force turnovers, and stop the other team cold. They have allowed the least amount of points to QBs and WRs all season so far and by a wide margin. Teams will try to run on them, because it's much easier to do than pass. Latavius at home should see a ton of carries, but Denver is favored and likely will have a lead at some point. If they force Carr to have to drop back and pass often, they could rack up some positive points and really be a top scoring defense. They average 16 points a game with 10 being their lowest score all season. It makes them cash game safe and gives them GPP upside.
Green Bay ($3100) –
There are not a lot of teams in great spots this week. Teams that are home, favored, and face soft match ups. Green Bay is the most expensive home team I like this week and that defense does not get enough credit. St. Louis will try to run early and may even have some success doing so. Aaron Rodgers should be able to put up some points here though, which will eventually force the Rams to have to pass. Green Bay can generate some pressure to get sacks and interceptions when they do, which is how they will score some fantasy points. The GB defense has been solid since the opener against Chicago. On a week where we have very few great options, I think they could be a really nice play at a solid price and low ownership. Plus they are facing a team with quite possible the worst group of pass catchers in the league, so this St. Louis offense does not scare me much outside of the rookie Todd Gurley who looked good in his game last week.
New York Giants ($2900) – I am not normally a fan of the New York Giants defense, but that is what I meant by this being a tough week. They have returned double digit fantasy points in three of their four contests this season. They are favored and at home this week, both of which we like in our fantasy defenses. The have been beaten through the air, which is why I like this match up for them. Colin Kaepernick and his pass catchers did not look good last weekend. Kaep had a low completion percentage and trouble moving the ball. Despite the number of yards this Giants D has allowed, the have also been forcing about 2 sacks and 3 turnovers per game. Against a struggling offense like the 49ers, they have a ton of upside here.
Cincinnati Bengals ($2800) – I really like the Bengals defense this week against a struggling offense from Seattle that did not look good against the Lions. In fact that offensive line was downright offensive. Russ Wilson's escapeability saved them from a 10 sack game as the Lions were in the backfield quickly on almost every play. With Cincy being at home and favored, they could force Seattle to abandon the run. If the Seahawks are forced to throw and that line does not get it together, Russ wilson could be running for his life. The Lions had 6 sacks and 3 forced turnovers last week and if Marshawn Lynch is out, we could see Seattle struggle to reach 20 points again here. Low scoring numbers, big sack and turnover numbers is exactly what we want from our fantasy defense, so this spot looks to be friendly for a Bengals team that will likely go low owned.
Middle of the Pack
Seattle Seahawks ($4000) –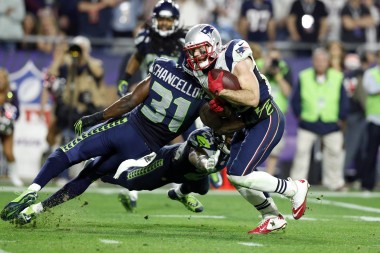 This is not a knock on the Seahawks who have one of the best defenses in the league, but this is not a good spot for them either. They are going on the road, they are underdogs, and that offense looked pretty average last week. Without Marshawn Lynch healthy, and with an abysmal offensive line, they are not able to sustain drives and control the clock like we are used to seeing. The normally efficient offense found themselves in a lot of third and long situations, which are not high probability plays. This hurts the defense who has to carry the load. Against a solid, well rounded Cincy offense, that is not an easy task. Cincy will likely featured a lot of Jeremy Hill who got out of the dog house with a big three TD game last weekend. The more Cincy runs, the less chances they give the Seattle D to rack up points. At home and favored also likely means that Cincy will have a lead, and that will only make them run even more. I do not expect them to go nuts for 31 points against the Seahawks, but I also do not see the upside that would justify paying $4K for a defense in this match up.
Baltimore Ravens ($2900) – The Ravens have been beaten through the air so far this year. Passing teams have feasted on them, while those that are run dominant have struggled. That's not good news for a Browns team that prides itself on running the ball behind that great offensive line. The Ravens are also better at home, which is where they are for this game. They have put up a few duds and a few double digit scoring games this year, so while it is not a safe play, I do think they match up well to stop this Cleveland offense. Baltimore is favored and at home, so they will likely have a lead late. That is going to be the make or break time for them. If they can get pressure to force a turnover or grab some sacks, they will be one of the better plays on the day and definitely a team that could have some upside.
Kansas City ($2800) – The Chiefs are a tough team to figure out for me. I do think the game script sets up nicely for them here though. They are at home and a big favorite, so they should get a lead and be playing from ahead. That would be bad for a Bears team that is reeling from WR injuries and may be forced into passing situations. The KC defense brings a lot of heat with one of the higher blitz rates in the league. Jay Cutler is a turnover prone QB as he was a top 3 guy last year for picks thrown, despite missing a few games. The KC pressure and Cutler's history of throwing picks do not jive well here. KC should be able to pressure him into sacks and mistakes, both of which will help their overall fantasy score.
Oakland Raiders ($2600) – This might seem a bit odd, but let me explain the reasoning behind it. Peyton manning can not move. If you blitz him and he does not find a WR quickly, he is likely to take a sack. He has done it all season so far. He is also throwing some ducks, which CBs are now sitting on and trying to make plays on the ball. While this Raiders defense is no where near elite, they have put up two solid games in a row on the road. It's sad to say, but team defenses have done well against Peyton this year for the reasons just stated. Oakland should be able to get some sacks, pick off a pass or two, and keep the scoring down as the Denver offense is not clicking at the moment. $2600 is very cheap for a team with upside that will likely be low owned. I think it makes a ton of sense to roll them out there.
Rest of the Field
Arizona Cardinals ($3800) –
Another very popular defense I am staying away from this week is Arizona. They did not look good last week after feasting on some weak opponents early. The Seahawks played this same Detroit team in week 4 and recorded zero sacks, zero picks, and the only turnover they had was a late fumble forced at the 1 yard line we all remember from Monday night. Detroit did a good job of bottling up pressure and an even better job by Stafford of getting rid of it quickly. Arizona is always highly owned, but I do not see the merit in using them this week.
Detroit Lions ($2500) – The Lions defense looked good last week. I think the horrible offensive line for the Seahawks had something to do with it, but they still managed a half dozen sacks, a few turnovers, a defensive touchdown, and very few points against. They have a stout run defense as we all knew, but they showed life in their pass rush last week, which was nice to see. Arizona had a very soft early schedule and they looked like they were exposed last weekend. I think the Lions could pressure Palmer and force them into mistakes, especially after they shut down the run game lead by Chris Johnson for some unknown reason.
Tennessee Titans ($2900) – The Titans are at home this weekend against a Buffalo team that has a ton of injuries to skill position players. McCoy looks doubtful again, as does Watkins. Back up running back Karlos Williams is in the concussion protocol and QB Tyrod Taylor has taken some big hits the last two weeks. This Titans D has 9 sacks and four interceptions through three games, so they can get you some fantasy goodness. They have not allowed a ton of yards, although they have given up a decent amount of points. Buffalo is not an explosive, high scoring offense though, so if they can limit the points and pick up some positive scoring plays, they could wind up with double digits or better as a home team this week with an above average match up.
---
Continue Reading This Week's Target Series
NFL Quarterback Targets – Week 5
NFL Running Back Targets: Week 5
NFL Wide Receiver Targets: Week 5
NFL Tight End Targets – Week 5
---