This is a list of the top Defense targets for NFL games based on potential production and price. The teams are split into three tiers based on likelihood of success. Remember that these rankings take potential production and price into account, so some teams may be higher up on the list despite having a lower projected score if the price point is favorable. Here are some options to consider.
---
Looking for a different position? Check out the rest of the positional rankings:
NFL Quarterback Targets: Week 4
NFL Running Back Targets – Week 4
NFL Wide Receiver Targets – Week 4
NFL Tight End Targets – Week 4
---
Cream of the Crop
Seattle Seahawks ($3700) –
for the second straight week the Seahawks look likely to be the top owned defense with good reason. They are at home, where they have been dominant over the last few years. They also face a team that has allowed over two sacks and 2.6 turnovers per game to opposing defenses and none of those defenses are as good as Seattle with Denver being the possible exception. Detroit has one of the lowest expected totals this week coming out of Vegas with only 16.5 and they may even struggle to reach that given how dominant this defense looked last weekend. The Lions have more skill players than the Bears did, but neither team is setting the world on fire on offense. The Lions are only averaging 18 points a game anyway, so that number could easily be lower against a top defense like Seattle at home. The Seahawks should get a lead and should force the Lions to throw. That is when the Seahawks pass rush and ball hawking secondary can really rack up the points. Seattle desperately needs this game to climb back to .500 after their 0-2 start, so I expect them fired up and ready. It looks like another great week to pay up for the Legion of Boom.
Denver Broncos ($3300) – The Broncos defense is studly. They have a great match up here and have been producing like a top end RB1 so far. They have 16, 22, and 16 in three games this year. They are at home as favorites against a one dimensional Vikings team that the game script does not favor. If Denver is able to get the lead, they will force Teddy Bridgewater to have to try and beat them. We saw how well that worked out in week 1 against San Fran. Minnesota can only really play from ahead with Adrian Peterson controlling the clock and the ball, which opens up the play action game for Teddy. When Teddy is forced to sling it around and abandon the run, things can get ugly. Denver has an outstanding pass rush that generates sacks and forces turnovers. If they get Teddy into long yardage third downs or force him into hurry up in order to come from behind, the upside for this defense is enormous. Seattle may still take more action as the bigger name, but Denver may actually have a better defense and be in a better spot here to be the top fantasy producers. They have a high floor and a high ceiling too, so they are safe for cash or tournaments.
Arizona Cardinals ($3400) –
Now I know the last two weeks were against the Bears and 49ers who are not explosive offenses, but the Rams are not exactly lighting up the scoreboard or breaking any records either. the last two weeks this defense has been lock down. The Bear barely gained 300 yards of offense and last week they held San Fran to under about 150. They get leads and create a lot of pressure with the pass rush. This has led to a few sacks and a lot of turnovers that the defense has taken to the house. While I think they could so that today as home favorites against a weak offense, it's tough to count on turnovers becoming touchdowns, so I temper my expectations a little bit. The Rams O-line was horrible last week blocking for the run and the pass, so I also do not expect a lot of St. Louis points. Arizona is a top option this week with all the signs in their favor, so I would be willing to roll them out again in cash or GPPs.
Middle of the Pack
Carolina Panthers ($3300) – The Panthers defense is being given a lot of credit this week, just like they were last week and it's tough for me to see why. They are on the road in this game, which is always scary for a defense. They face Jameis Winston who has not been as bad as people think (Except for Week 1). Tampa has not turned it over a ton in the last two weeks and despite the preseason and first week, Winston has not been sacked as often. Carolina has a lock down corner in Josh Norman which will take either Evans or V Jax out of the equation for the most part. My guess is that Tampa will try to establish the run a little more here as well. I can see the Panthers getting a small lead and forcing the Bucs to throw late in this one. While they were able to get pressure in week 1 against Jacksonville when that happened, they were not able to get the pressure last week and allowed McCown to come off the bench in place of Drew Brees and light them up for 310 passing yards. I don't hate the Panthers D overall, but I just do not think they are as big a lock as most people think for upside.
Cincinnati Bengals ($2800) – The Bengals have a very solid defense and the game script sets up slightly better for them here today. They are at home and favored by four over the Chiefs, both are things we like to see from our defense. They have been very good against the run, allowing under 80 yards a game to their opponents. If they are able to stop the KC ground attack here or limit them in early downs, that could force some 2nd or 3rd and long situations, which would play into their strengths. The Bengals have managed to force six turnovers, record six sacks and keep the opposition to less than an average of 17 points per game. They did not have a good scoring game for fantasy last out @Baltimore, but their numbers in week 1 and 2 were pretty solid. KC has an explosive offense with some playmakers, so I would not consider them a top option, but they could be a sneaky good play with a lot of positives in their favor.
Buffalo Bills ($3000) – Buffalo is the example of why checking game logs over season averages is important. Both the Giants and Bills are dead last in the league for passing defense. The Giants have allowed 300+ yards every game though and the Bills have limited opponents not named Tom Brady to about 265 yards passing on average, which would be a middle to bottom tier number. When you actor in the 450 passing yards the Pats did put up though, things look much worse. Buffalo has one of the better defenses in the league, a defensive minded coach, and a track record. The Giants are basically one dimensional right now, with Andre Williams as the primary ball carrier and Rashad Jennings as the new special weapon on the punt block team. Buffalo can generate a pass rush, is favored, and is at home which are all positives for that defenses chances. Eli has actually been pretty good at not turning the ball over this year, but the Bills could pressure him into a few mistakes or at least a few sacks. Buffalo has averaged multiple sacks, multiple picks, and only 14 points a game to teams other than the Pats this year, so I can see this being a tough day for Eli and the Giants offense. Buffalo should be able to get a lead and pin their ears back and go after a one dimensional Giants offense in the second half, which could lead to a nice upside day.
Green Bay Packers ($2700) –
Garbage time scoring tends to due in this Packers defense. They have been able to generate sacks and turnovers, but they are also not stopping teams from scoring. They play with the lead often, which allows them to go after the QB and force sacks and turnovers, but they also allow too many late touchdowns. We saw this Monday night with Charles and Maclin doing a lot of damage late in the games. These points are less meaningful in real life when they are comfortably ahead, but it really limits their fantasy upside. They will have some positive fantasy scoring plays, so they will have upside there, but I think there ceiling is capped because of the points they allow and being on the road, which makes me think they only make sense in cash if you need to save a few hundred bucks.
Oakland Raiders ($2600) – We are often asked to decide between an immovable object and an unstoppable force in fantasy analysis, but rarely are we asked to do the inverse and figure out what happens when an easily movable object meets a total stoppable force. That's the case here. Oakland's D has been horrible. Allowing 29 points and 430 yards of total offense per game with much of that coming through the air (Movable object). The Bears though have one of the worst offenses (stoppable force), without their starting QB, with a banged up #1 WR, and were barely able to move the ball. Now I know they played Seattle, which has something to do with that, but when one of the worst offenses faces one of the most porous defenses, what do we expect to happen? The Raiders are on the road, which is a knock. They are favored though, which is a plus, and I just think the offense of the Bears is worse at what they do than the Raiders D is at what they do. In a game that had a positive script for Oakland last week, they were about to generate two turnovers and get 5 sacks. I think they could repeat that performance today if they can score first and control the game. Latavius on the ground is a solid option, so a Touchdown lead could quickly turn into two or at least a positive field position situation. I think the Bears will struggle to move the ball, forcing them to throw, which will ultimately play into Oakland's hands. It's not an easy game flow to predict, but it should work out in Oakland's favor and allow them to have a decent day.
Minnesota Vikings ($2600) – The defense is a product of how the offense plays. When they can slow down the game, control the clock and force the other team into making bad decisions, they are fine. In fact they allow some of the lower total yardage and points numbers in the league. They should be able to get to Manning a few times as he is no longer able to scramble around at all, not that he ever really was. Denver will pass early and often, so while the ground game might be the ones icing the victory, they should get enough opportunities throughout the game to make some plays. I would not look at them as the likely highest scoring defense, but they have been solid all year and likely will not be the worst defense on the day either.
New Orleans Saints ($2400) – The Saints may be a sneaky option at defense, but lack elite upside. Dallas will also try to keep the ball on the ground, which limits the opportunities to score fantasy points. New Orleans has been solid though and will get a few sacks and turnovers as well. The game should stay close throughout, but if New Orleans is up late as Vegas expects, they could have a few drives to go after the QB late if Dallas is forced to throw. That could lead to some fantasy scoring opportunities and makes them a decent low end option at home as a favorite.
Rest of the Field
Philadelphia Eagles ($2700) and Washington Redskins ($2600) –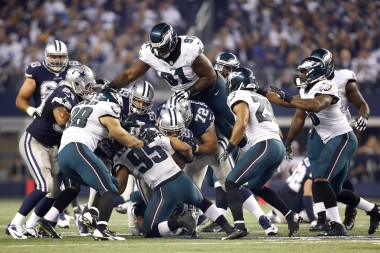 The Eagles v. Redskins game is one I do not think sets up well for fantasy scoring and let me explain why. The Redskins know they need to keep it on the ground. They play well when they are able to move the ball with Morris and/or Jones. The Eagles found out the same thing last week when they got their offense back on track vs. the Jets. In order for them to have success, they need to recommit to getting the ground game going as Sproles and Matthews tore up a solid Jets rush D with stretch runs to the outside. If both teams want to run in this game, then we will not see a lot of passes which means we will not see a lot of chances for defenses to pick up fantasy points. I can not see Washington blowing this game open even though they are at home. I also do not see Philly really pulling away on the road. While the Redskins could be forced to throw more late in the game, I would probably favor the Eagles D over them if I had to choose. Still I think this game is a lot lower scoring than Vegas does and will feature a lot more running. Therefore I think both teams will struggle to put up fantasy stats and both teams will have a low expected defensive score. If the Eagles can get a lead early, they would be the sneakier of the two plays as that could mean some Kirk Cousins interceptions.
Kansas City Chiefs ($2800) – The Blitz happy KC defense has some upside for fantasy, but also carries a ton of risk. They have recorded 9 sacks and created 3 turnovers this season, but they have also allowed all three opponents to score 20 or more points and have given up a total of 83 through three games. The attacking style can create opportunities, but it also allows for big plays. This is especially true of the passing game where Rodgers lit them up this week and Manning did the same in the second half of the game last week. Dalton has been playing really well and has a ton of weapons at his disposal. I think the Chiefs will have a few scoring plays against him in the form of a sack or turnover, but Dalton will also hook up deep with AJ or Marvin Jones and get them as well. As an underdog on the road, this is not a spot I would look to roll KC out in my lineups. They do get Sean Smith back off suspension this week, so hopefully that helps sure up the secondary, but they have their hands full with a deep and talented Cicncy WR group this week.
San Diego Chargers ($2800) – The Chargers defense has a big problem for fantasy purposes. They have allowed over 410 yards rushing and over 150 in each of the last two games. They have also allowed over 20 points in every game this year. The problem this creates is teams will have a run heavy game plan. Run heavy game plans do not generate fantasy points for the defense they are being employed against. Cleveland has a great O-line, so my guess is they try to pound the hell out of the run early and often. This is the reason why the San Diego defense only scores like 2-4 fantasy points per game. If teas are not being forced to abandon the run, they never get a chance to pin their ears back and attack the QB in order to get sacks, create pressure, and force turnovers. If teams are gashing them on the ground and scoring points without those positive events, they tend to put up very underwhelming fantasy scores as we have seen so far.
Cleveland Browns ($2700) –
The Browns have allowed 150 rushing yards in every game this season. They had a lead in one game and had a good fantasy score, but they have 1 and 2 points as their total in the other two. We just explained above with their opponent San Diego why allowing a ton of rushing yards hurts your fantasy score and Cleveland is in a worse spot than the Chargers are. In fact they are on the road and a 7 point dog, so that is why they are even listed below San Diego. They do have a decent secondary too, so the path of least resistance is the ground and that is how the Chargers will win this game.
Atlanta Falcons ($2900) – The Falcons are actually preferred by me here to the Texans D which gets more pub. It's not that I like the Falcons D as a whole, but they do have game script in their favor.They will likely be ahead in this one, so that will force Ryan Mallett and the Texans to have to throw. Mallett has not been horrible and the Falcons D has been, so that is not really a blessing, but teams who throw often (Mallett averaging 48 pass attempts per start) do allow more opportunities for fantasy defense to score points against them. Atlanta has been gashed by the run and pass though, so they too should give up a ton of points. They are currently in the top 5 for points allowed, so even though they could see a few more scoring plays on defense. they are not an option I would like to roll with in many, if any, of my rosters.
Dallas Cowboys ($2800) – Dallas feels like the trap defense of the week to me. You will hear people saying, they limit the other teams upside with how slow they play and Luke McCown is the QB and the Saints offense has been horrible, so start the Cowboys. I have some issue with a lot of those things though. For starters, McCown is not that bad. He played real well last week and ran that offense better than Brees has lately. Second, Weeden is not Romo and Dez is not here. That makes this Cowboys team much less efficient on third downs. The run heavy game plan works when you are putting yourself in third and short situations and than picking up firsts to control the clock. When you have a less accurate QB, who doesn't make decisions as well and is not much of a threat to run, you really are not as dynamic and efficient on third downs. If you have to punt more often, you are giving your opponent more chances to score while you are not scoring. In that case you need to abandon the run early to catch up and that is why the Cowboys were not able to Ice the Falcons last week even with a lead. What I am getting at here is tht game script we were so afraid of with the Cowboys may not be a feasible way for them to play anymore and now may expose the defense a little more. It's not like they ever shut anyone out, despite the low number of plays their opponents run, the points allowed is still high. If they can not control tempo, they could get torched by a team that will try to throw all over them early. If they have success, then running late will not offer any opportunities to pick up fantasy points and could leave them in a bad spot.
New York Giants ($2700) – The Giants have been horrendous against the pass. Opponents have thrown for 300+ yards every game against the team that has allowed the most passing yards in the entire league. With Buffalo likely down their starting RB in LeSean McCoy, they make look to move it through the air a little more this game. This team has allowed 24 points and over 410 yards of offense this season. They have generated a few turnovers and I would expect to see a couple in this one. The pass rush is nothing special though, which limits the sack upside and the Vegas line has them trailing in a high total game. That means they should give up a few points and should see some running late, neither of which will help their fantasy score.
Detroit Lions ($2700) – This once dominant defense has looked a little shaky to start things off this year. They are not generating enough pressure which is why they only have 4 sacks this year so far. They are getting about a turnover per game, but none of that will help their score if they can not figure out how to stop people. Teams are averaging 280 through the air and another 112 on the ground vs. Detroit this year. Poor tackling has had a lot to do with that, but the lack of a pass rush has also given QBs time to throw. Seattle should be ahead here, so they will see a lot of runs, which does not compute into a lot of potential to score fantasy points. Russ Wilson is also very efficient and normally does not turn the ball over. It would take something Fluky like a kickoff or punt return, or a fumble recovered for six in order to pay off their price here and that is never something to bet on due to the low probability of it happening.
Indianapolis Colts ($2900) – While I think the Colts win this game, I'm not a huge fan of the defenses upside this week. They are home and favored by nine, which should mean Jacksonville throwing late and a chance for a few points. That's the upside for them. The downside is they have been easy to run on, so I think the Jags will go with a heavy dose of Yelden and try to really pound the rock as much as they can, which makes it tough to score points for fantasy. Indy is expected to get a lead by Vegas, but they have been expected to play well all season and have yet to do so. They have given up a ton of points and except for last game have not had any good upside games in terms of sacks and turnovers forced. The game script sets up nice for them, but the upside is just lacking on a defense that does not have a ton of playmakers.
Houston Texans ($3000) – I know some of you may be scoffing at the ranking here for the mighty Texans defense, but is it really that crazy to see them here? For starters, this game should have a ton of points. Houston runs the most plays of any team in the league so far with over 80 per game and Atlanta is third with a tick under 70. That means the points scored bonus should be low or non-existent, might even go negative. On top of that, the Texans only have 4 sacks and 2 picks through the first three games. Throw in that Vegas expects the Falcons to be winning and we could see a run heavy offense late in the game to grind out the clock and it's tough to see where the points will come from for this defense. Sure JJ Watt is always a threat to pick a pass off at the line or get a strip sack fumble and run it in, but this does not set up like a game that should see a ton of that. Devonte Freeman did a good job on the ground last game, and this defense has allowed over 100 yards rushing per game so far on average. I'm off the Texans D and would advise against others using them too.
Jacksonville Jaguars ($2500) – Jacksonville coming to town may be exactly what the Colts offense needs to get back on track. They are a nine point favorite here against a team that has allowed 700 passing yards over the last two weeks. Jacksonville has only created one turnover in three games and they do get a few sacks, but by a few I mean like 1 or 2. They also have given up 30 points per game on average this year, which is why they are one of the few defense with a negative score this season and are averaging under 3 points per game. Nothing about them on the road in a high total game makes me think they are even worth considering as a play.
Tampa Bay Buccaneers ($2500) – The Bucs scoring defense has not been great, but they have had a few more positive events than I would have guessed. This game does not set up well for their fantasy upside though. Carolina will likely try to run as often as they can. They will take an occasional deep shot or two, but for the most part they run a more ball control safe offense, which is not an easy way to score fantasy points for an opposing defense. J. Stewart was largely ineffective last weekend, so Cam threw it a little more often, which is best case scenario for this defenses chances.
San Francisco 49ers ($2300) – The 49ers are at home, but have the worst match up for fantasy. The Packers three opposing defenses have scored -1, 4 (Seahawks), and -3. Rodgers does not turn the ball over and rarely takes a sack. The offense puts up huge numbers at home and on the road. It's just the worst possible situation for a defense. San Fran is also the underdog and should see some running late. Nothing positive sticks out at all in this match up for them.
Chicago Bears ($2600) – I'll make this one quick. They average 1 fantasy point a game with scores of 4, 0, and -1 so far in 2015. They give up 33 real life points and over 130 yards per game on the ground. They are at home, which is the best case I can make for them. They are underdogs, should be down, should see a lot of Lat Murray runs, and should again fail to do anything positive.
---
Continue Reading This Week's Rankings Series
NFL Quarterback Targets: Week 4
NFL Running Back Targets – Week 4
NFL Wide Receiver Targets – Week 4
NFL Tight End Targets – Week 4
---
Take home $1.2

MILLION

in the Week 4

NFL

Millionaire Maker!