This is a list of the top Defense targets for NFL games based on potential production and price. The teams are split into three tiers based on likelihood of success. Remember that these rankings take potential production and price into account, so some teams may be higher up on the list despite having a lower projected score if the price point is favorable. Here are some options to consider.
---
Looking for a different position? Check out the rest of the positional targets:
NFL Quarterback Targets – Week 15
NFL Running Back Targets – Week 15
NFL Wide Receiver Targets – Week 15
NFL Tight End Targets – Week 15
---
CREAM

OF

THE CROP
Kansas City Chiefs ($3700) – The Chiefs are a seven point favorite in a game with a total of only 42. They are going to face a Baltimore team here that has been decimated by injuries. Joe Flaaco, Steve Smith, Justin Forsett, Lorenzo Taliaferro, Breshard Perriman, and maybe even Matt Schaub are all out. This offense of backups and third stringers looked overmatched last week against Seattle and this KC defense has looked even better over the last few weeks. They have 22 sacks, 12 interceptions, and 3 fumbles in the last six games. If they get a lead in this one, it could get ugly as the pass rush and pass defense in general has been very good since week 5 and the Chiefs have put up double digit fantasy points in 9 of their 13 games this season because of it.
Seattle Seahawks ($4200) – The Seahawks are a heavy 14 point favorite at home, where they are always tough to play against. They have a very good matchup this week against a Cleveland Browns team that has allowed the second most points to opposing defenses during the 2015 season. Thy are averaging double digit fantasy points at home so far this year in one of the toughest and noisiest buildings in all of football. The Seahawks defense struggled earlier in the year, but looked dominate on the road in their last games. They have only allowed 13 points and 427 total yards in the last two weeks, so I would not expect Cleveland to have a good day here. The Browns are dropping pass catching options like flies and Seattle has been putting up points. If they get a lead, they can pin back their ears and attack the QB. Johnny Manziel has some scrambling ability, but the speed of the Seattle defense could really give him fits if they can force Cleveland to be one dimensional.
New York Jets ($3300) – The Jets are a slight favorite over the Cowboys on the road in a low total game at only 42. That Dallas offense has struggled recently and the Jets D is playing very well. They have averaged almost 4 sacks and 1.5 turnovers in the last six games. Dallas will try to keep it on the ground and control the clock, but the Jets offense has been giving them leads lately with Fitzpatrick throwing for over 300 yards and 3 TDs per week on average over his last three. The Jets also have a solid run D, so they could force a lot of third and longs out of the Cowboys here. Matt Cassell has been pretty putrid in his last two games with a 50% completion percentage and no touchdown passes. The Jets have the offense working now and if they can get a lead, they will have a very good chance to see their defense rack up some fantasy points here.
MIDDLE

OF

THE PACK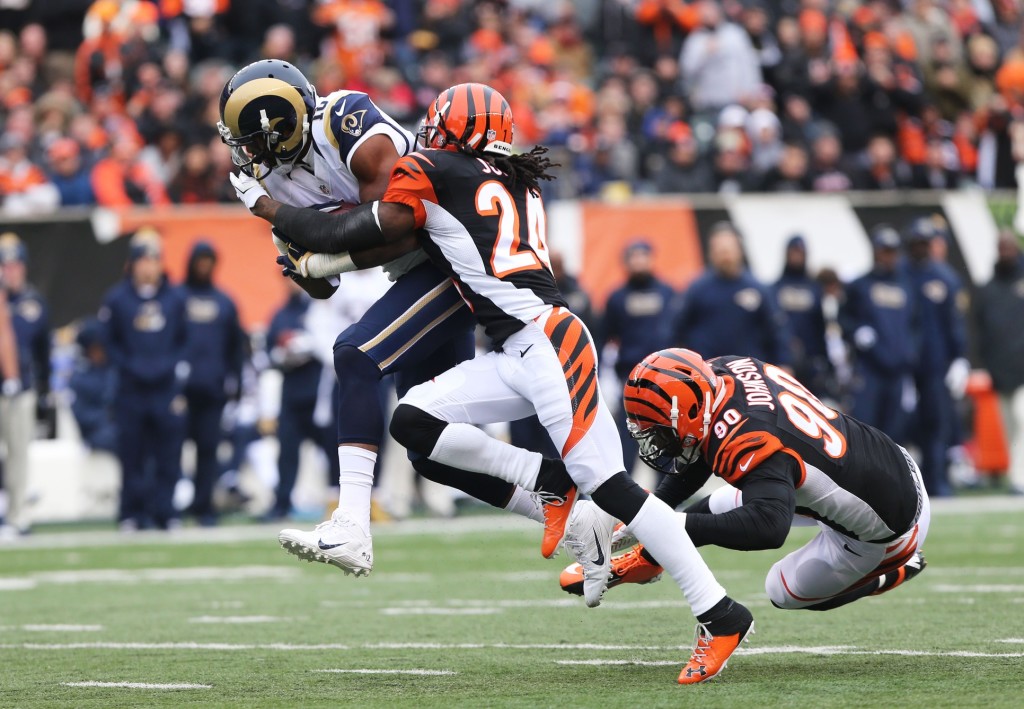 Cincinnati Bengals ($3400) – The Bengals are in a good spot for this matchup on Sunday. They are favored in the lowest total game on the board against the 49ers. San Francisco has a weak offense that is missing a ton of their starters as well. Blaine Gabbert is at QB and the starting running back is Shaun Draughn, neither of which keep defensive coordinators up at night. The 49ers will try to run until they are forced to pass here. That makes the Bengals offense a key component of how well the defense does in this game. If they get a lead and can go after the QB, they should score a ton of fantasy points. They have averaged 2.5 sacks and 1.6 turnovers per game, and I think people will be off of them based on the recency bias of their last performance. That game was against one of the hottest offenses in the league right now in Pittsburgh, so we can excuse that performance. They had put up a bunch of double digit games before this one, so they are definitely worth a long look if you need to come down and save a few bucks on D.
Houston Texans ($2500) – The Texans are an intriguing salary saver this week as they go up against the Indianapolis Colts. Guys like J.J. Watt are starting to play better, which is bad news for any fantasy QB. Andrew Luck may not be ready to go yet, so Hasselback would get another start if he can even go. If not, we would have Charlie Whitehurst, who is known as clipboard Jesus starting for the Colts. Whitehurst is 6/16 so far this season in relief with no TDs and one interception. The more time Whitehurst is expected to get, the better it is for Houston's D. We need to take a wait and see approach, but it looks like the Colts will struggle here, even is the old man is cleared to play and Whitehurst goes back to being the guy toting the clipboard on the active roster.
REST

OF

THE FIELD
Carolina Panthers ($3300) – The Panthers D has been awesome lately with two 20+ point scores in the last month and an average of almost 16 fantasy points per game in the process. They have also gone overlooked and are very cheap in this matchup. Sure the Giants play fast and love to throw the ball, but the Panthers D is awesome against the pass this year. QBs are averaging the second fewest fantasy scores against them and the WR ranking is near the bottom 6 or 7 as well. Carolina is trying to remain undefeated, so the motivation will definitely be there and the matchup with Beckham and Norman will probably decide whether or not the Giants can hang around. I really want to push them up higher, but it is tough to do so against a high paced team that is very pass happy. I do not expect a huge day from the Giants offense, which is a good thing for the Panthers D if they are able to prove me right.
St. Louis Rams ($2700) – The Rams have been nearly dominate at home this year while averaged 11.3 fantasy games. They also face a Tampa team with a rookie QB and his WR2 (Vincent Jackson) already announced out. St. Louis should be able to double guy like Evans and Seferian-Jenkins more often with no V Jax, so that should help make it easier for them to defend people. The Rams will go back to the formula of running a lot with Gurley in early downs and playing solid enough defense to win the position battle. Jameis is improving, Evans is a stud, and Jenkins could probably use another practice or game in order to really round himself into shape. The Rams will look to get an early lead and establish the run. While that may hurt the first half numbers on Thursday, the game should pick up in pace after halftime. It is not an easy recommendation here, but it is very hard to ignore a Rams team that has dominated opponents at home when they are facing a depleted Buccaneers offense.
---
Continue Reading This Week's Targets Series
NFL Quarterback Targets – Week 15
NFL Running Back Targets – Week 15
NFL Wide Receiver Targets – Week 15
NFL Tight End Targets – Week 15
---