I am mainly a cash-game player. Cash games refer to any contest in which roughly 50 percent of the field gets paid out, such as head-to-head, double up or 50/50. I try to get a certain volume of head-to-head action every week and then supplement that with other cash games if my head-to-heads don't get picked up. For more on what I look for in a cash-game lineup, check out this primer.
Each week, I'll review my cash-game lineup in this space. Sometimes I'll lose, but hopefully I'll win more often. Either way, I'll post it and give you my thought process: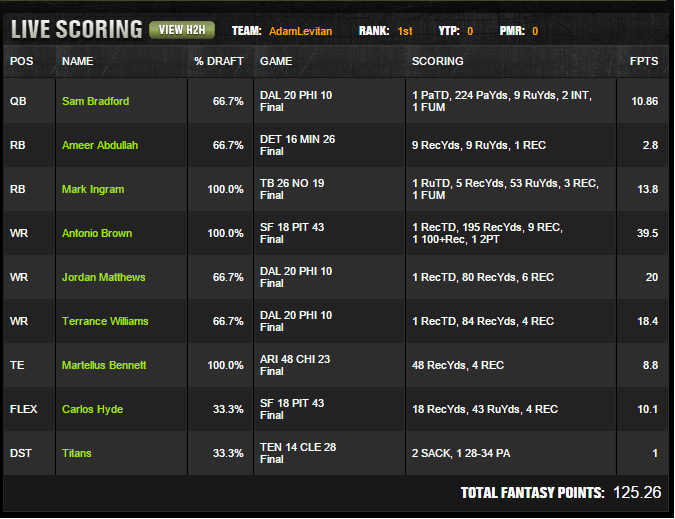 The first guy I put into my lineup was Terrance Williams at $4200. By virtually any model or metric available, the Eagles pass defense is the gold standard for opposing pass games. They are reasonably stout against the run, funneling action toward receivers. Meanwhile, their secondary scheme is broken and certainly won't be fixed by Byron Maxwell, who is proving to be a product of Seattle's system only. With Dez Bryant out, I projected Williams for seven targets. Even if his talent is just "meh," that was more than enough volume to make him a must-play for me. The cherry on top was the Cowboys' status as an underdog with a team total of 25 – nearly ideal WR and QB conditions.
The other player I immediately locked in was Martellus Bennett. The Cardinals have been among the league's worst teams against opposing tight ends for the last few years. The Bears were at home as an underdog with a team total of a reasonable 21.5. And Alshon Jeffery (hamstring) was out, leaving Bennett as a primary option for Jay Cutler. Although Bennett only ended up with 4-48-0, it's a play I'd easily make again. Things would have ended up better if he didn't get stopped at the 1-yard line in the second quarter and if Jay Cutler didn't get hurt. I don't regret fading Rob Gronkowski in cash games as the $2800 price difference didn't make sense given Gronk's difficult spot.
A third no-brainer play for me was Mark Ingram. A 10-point home favorite is an ideal condition for a running back, especially a power back like Ingram who is his team's clock-killer. I wasn't really phased by

C.J.

Spiller's return, as Spiller wasn't going to take any goal-line work – Ingram's odds to score a TD were -150, a very high number. I would have paid up to $7000 happily for Ingram in this spot, especially with all the top-tier backs in difficult/unpredictable situations. So I gladly penned him in at just $5900.
Regular readers know I prefer to spend down at quarterback. So I never really considered anyone other than Sam Bradford as my cash-game quarterback. I've been off Drew Brees ever since he showed signs of decline last year and the Saints traded away Jimmy Graham/Kenny Stills. I thought the Bears would rise up and surprise the Cardinals, so I was off Carson Palmer. I loved Tyrod Taylor and had a ton of him in

GPP,

but for cash I thought he was too risky given an elevated pricetag ($6200) and the 300-yard bonus on DraftKings.
So I regretfully went with Bradford even though I was leery of a Dallas defense that has cost me more money than I care to count over the last two years. I've had it in my head that I want to stop going after this unit for a while now, but I just couldn't get off Bradford as he sat with a team total of 30 points.
I play Antonio Brown in cash games virtually every week. Heading into this game, he had a streak of 34 straight games with at least five catches and 50 yards. That kind of unique consistency and reliability is exactly what we're looking for in cash. Add in a really tasty spot against a 49ers team (with a young/shaky secondary) that was a near lock to let down after playing at their peak six days earlier, and Brown was an easy play for me over Julio Jones or Odell Beckham.
The above five locks were easy. The other four spots are where it got tricky this week. If I wanted Julio, I would have had to punt WR with Brandon Coleman or Cole Beasley and also go very cheap at flex. I do not punt in cash games with guys I think have a reasonable shot at a zero (Coleman) or a very low ceiling (Beasley). So I put Carlos Hyde in my flex even though I hated the spot for him. I just thought with Reggie Bush (calf) out that we could count on Hyde for at least 15 touches, more than enough for a talented guy against a suspect defense for $5100. Yes, I used Hyde in cash even though I wrote him up as a

GPP

fade here – ownership percentages are not a consideration in cash.
My hesitancy on attacking the Cowboys defense made my final wideout spot difficult. I couldn't get to Julio or Beckham and I didn't really want to use Brandin Cooks with Mark Ingram already in the lineup. That left me with Jordan Matthews, who fit my salary cap better than usual cash-game staple Jarvis Landry. One reason I don't love stacking QB/WR in cash games is because we can't salvage anything if the quarterback tanks. That almost happened to me, as Matthews had zero catches until very late in the game.
At the

RB2

spot, I knew I would go with either Ameer Abdullah or Tevin Coleman – two cheap options I was really high on. I narrowly chose Abdullah as I feared the Giants were going to show up big in this spot, leaving Coleman on the bench while Devonta Freeman soaked up pass-game snaps. Of course, that was an awful decision. Coleman was on track for a monster game if he didn't get hurt with 5:59 left in the second quarter. The talent gap between him and Freeman is wide. Meanwhile, Abdullah played on 30 snaps but just seven touches. He doesn't have the passing back job yet, as evidenced by Theo Riddick's 34 snaps. Abdullah in cash was a pretty big mistake – we need players we are certain will get volume.
Mike Evans' status killed me in multiple ways Sunday. Not only did I put him in a bunch of

GPP

lineups (as discussed in today's News and Notes), but his alleged health also got me off the Saints D/ST. Of course, that was dumb as a correlation play between Ingram and Saints D made a lot of sense. The Titans on the road did not make sense, but I simply wanted to attack Johnny Manziel's three interceptions and five fumbles in six career games. Luckily, this didn't cost me a ton as the Rams, Ravens and Dolphins also busted.
WEEK

2

RESULTS
Deep in the fourth quarter of the Eagles game, I was heading for a big loss. So although I got somewhat unlucky with Ingram/Bennett both getting stopped at the 1-yard line and Jay Cutler/Carlos Hyde both getting hurt, I got very lucky to sneak in a Terrance Williams touchdown and a Bradford-to-Matthews score with under five minutes left. Heading into Monday night, the 125.26 score is good enough to put me ahead in 57.5 percent of my head-to-heads.
YEAR

-TO-DATE

RESULTS
Week 1: 160.34 points, won 87.5 percent of head-to-heads. Click here for recap.
Week 2: 125.26 points, won 57.5 percent of head-to-heads (pending Monday Night).
---
Take home $1.2

MILLION

in the Week 3

NFL

Millionaire Maker!