In Advanced Targets we're going under the hood and using all of the advanced stats generated by the Pro Football Focus game-charters to find the best DraftKings plays this season. I'm also providing the weekly projections from the award-winning minds at PFF Fantasy and occasionally presenting contrarian plays where the advanced stats suggest upside far beyond the official projection.
Quarterbacks
Philip Rivers
Rivers looks like a bargain this week even after the season-ending injury to Keenan Allen and the possible absence of field-stretching tight end Ladarius Green. The Chargers use their passing game more as an extension of the running game than any other team. Rivers leads the NFL with 368 drop backs and many of the resulting passes are no more than glorified handoffs. The average Rivers pass travels only 6.8 yards in the air. Only Alex Smith (6.3) is less aggressive, but surprisingly Aaron Rodgers is in the same vicinity (7.0). Rivers' league-leading 76 percent completion rate (on aimed throws) is more impressive in that context as Rodgers sits at 74 percent.
This week's opponent hasn't been giving up a lot of yards, but Chicago struggles on a per play basis and that tends to be the more relevant stat. The Bears sport a -15.3 grade in pass coverage and are one of seven teams allowing an opposing passer rating above 100. Steve Johnson ($3,200), Malcom Floyd ($3,900), and Dontrelle Inman ($3,000) all are projected for 10-plus points in their favorable matchups against Tracy Porter (94.6 passer rating allowed), Sherrick McManis (148.3), and Kyle Fuller (114.4) respectively.
Projected Points: 23.0
Salary: $6,900
---
Ben Roethlisberger
Big Ben looked rusty a week ago against Cincinnati but projects as a top play in a potential shootout against the suddenly feisty Raiders. Roethlisberger has thrown 5 touchdowns against 5 interceptions this season, numbers which are probably a little fluky when you consider the rest of his exploits. The Pittsburgh signal-caller trails only Carson Palmer and Cam Newton in target depth, his average pass traveling four yards farther in the air than the aforementioned Rivers. Despite attacking deep more frequently, he trails only Tom Brady and Rivers in adjusted catch percentage at 79.7 percent. A five touchdown game is on the horizon, and it could come this week as Oakland is allowing 302 passing yards per game, second most in the league.
Projected Points: 21.9
Salary: $6,600
---
Running Backs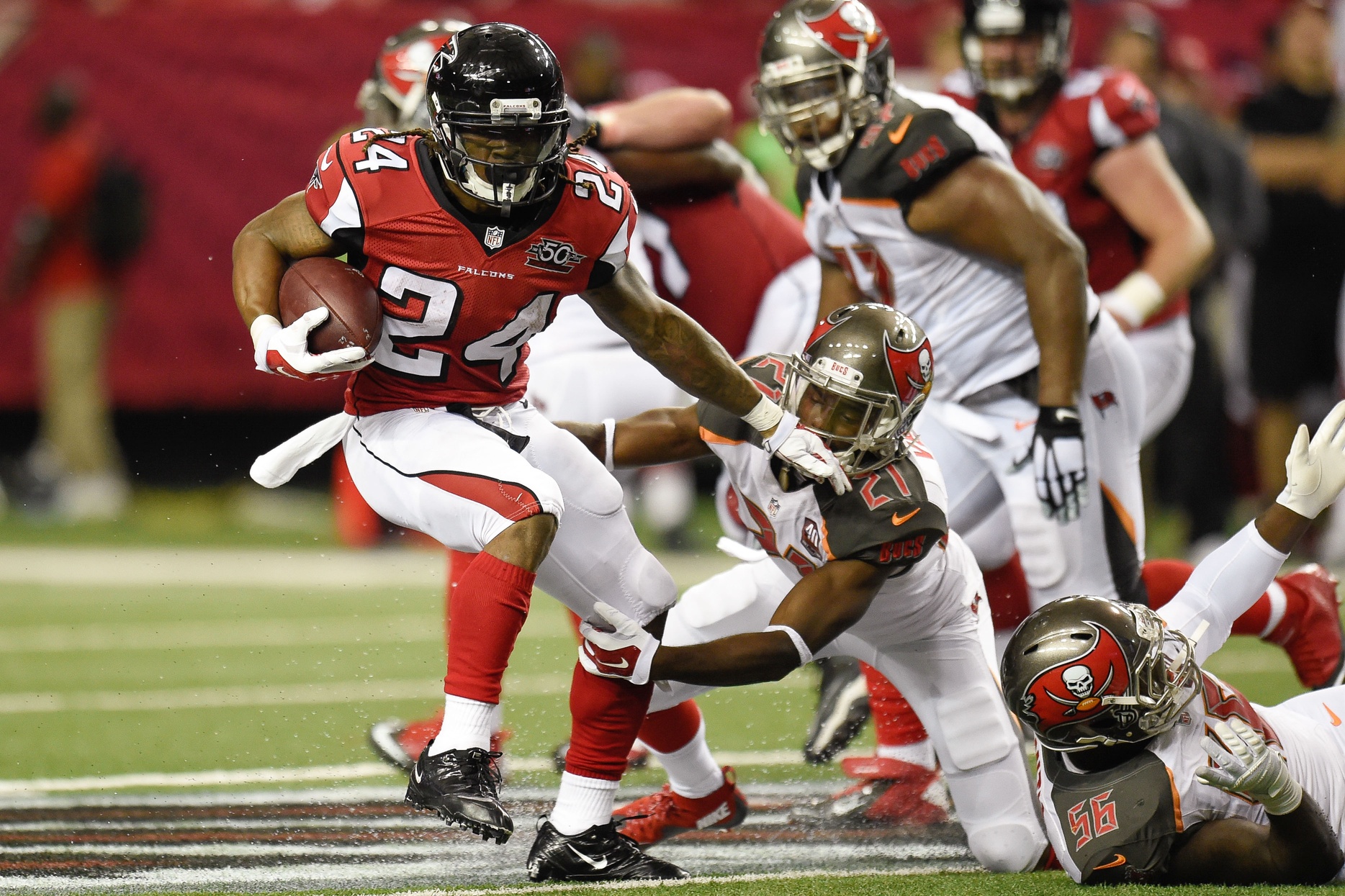 Devonta Freeman
Atlanta's breakout star owns a 10-point projected gap to PFF's No. 2 back Mark Ingram. Freeman currently leads the league in attempts (152) and yards (709), while sporting a huge lead in the touchdown department (9). Freeman also sits second in receptions (behind Theo Riddick) and second in receiving yards (behind Danny Woodhead). Freeman does slip to No. 29 in Elusive Rating and No. 20 in Breakaway Percentage, stats which suggest his success is more based on usage and scheme than ability, but this analysis potentially falls into the one-size-fits-all mentality.
Freeman is an excellent pre-contact runner (2.5 yards before contact per carry) and receiver (1.68 yards per route). These traits tend to go together and are arguably more valuable than tackle-breaking ability in the contemporary NFL. With Matt Ryan struggling and the Falcons beyond thin on offense behind Freeman and Julio Jones – admittedly most teams would swap their skill players with Atlanta, thin as they are – Atlanta will look to ride their bell cow. This week's opponent should offer only token resistance. The 49ers are bad everywhere on defense, struggle against backs out of the backfield, and will likely possess the ball for very few plays with Blaine Gabbert at the helm.
Projected Points: 27.4
Salary: $8,000
---
Darren McFadden
McFadden was recommended as an opportunity play in this space a week ago and parlayed his 26 touches into 115 total yards against Seattle's fearsome defense. Those touches were balanced nicely between 20 carries and 6 receptions, the perfect profile for fantasy value. It doesn't get any easier this week as McFadden faces a Philadelphia run defense with an identical PFF grade (+17), but volume will again be on his side. The Eagles are facing 27.6 rush attempts per game, ninth most in the league.
Projected Points: 17.5
Salary: $4,300
---
Jonathan Stewart
In addition to McFadden, there are quite a few other low salary, high volume plays this week. I have a mild preference for Stewart over Jeremy Langford. Carolina's starter has 17 or more carries in five of seven games this season, including 20-plus in each of the last three. He's gone for 100 yards or a touchdown in all three contests, even though two of those games were against Seattle and Philadelphia. After getting embarrassed by the Broncos, the Green Bay run defense is now allowing 4.7 yards per carry and ranks in the bottom 10 in yards per play, yards per game, and touchdowns allowed. Meanwhile, Langford will find himself in a tremendous situation this week, but you have to worry that neither he nor the Bears line is good enough to take advantage. Langford is one of 27 runners with at least one carry to post a 0.0 Elusive Rating, but no one with as many carries (27) is still sitting on zero.
Projected Points: 14.1
Salary: $4,300
Get your full list of running back targets now —

READ HERE
---
Wide Receivers
Randall Cobb
Cobb is coming off of a down game in which he was wiped out by the NFL's premier slot corner Chris Harris. This week he faces one of the league's weaker slot corners in Bene Benwikere. The Panthers cover man is allowing nearly three times as many yards per cover snap and an opposing passer rating more than four times higher. With his shoulder injury now in the rear view, this is the perfect week to capitalize on Cobb's salary and likely ownership percentage in a superficially bad matchup against Carolina's strong pass defense.
Projected Points: 20.0
Salary: $6,800
---
Alshon Jeffery
Jeffery is now averaging over 12 targets per game in his three starts, and his 3.13 yards per route trails only Stefon Diggs among players who've seen at least 25 percent of their team's targets. This week he gets a Chargers team that allows 8.2 yards per attempt and has tried to deploy corner Jason Verrett in a shadow capacity with unimpressive results. Verrett is allowing 1.8 yards per coverage snap and an opposing passer rating of 126. After having solid success against A.J. Green in Week 2 and Antonio Brown in Week 5, he was lit up by Amari Cooper in Week 7 and struggled against Steve Smith in Week 8 before the veteran went down.
Projected Points: 18.7
Salary: $6,700
---
Amari Cooper
Each week PFF provides the fantasy points per route margin in expected matchups between WRs and CBs. Cooper holds the second biggest advantage in Week 9. He's likely to spend a decent chunk of time against Antwon Blake, a corner who has allowed a reception every 6.9 coverage snaps, the second worst number in the NFL (behind Kareem Jackson). Blake has also been assigned responsibility for 568 receiving yards, second most in the league (behind Marcus Peters). No other player is within 70 yards. Cooper himself has been spectacular as a rookie, ranking No. 13 overall with 2.24 yards per route.
Projected Points: 14.9
Salary: $6,700
---
Tight Ends
Antonio Gates
Even before you factor in the targets vacated by Keenan Allen's injury, Gates is a relatively straightforward play at $4,700. His overall numbers have been curtailed by injury and suspension, but the future Hall of Famer ranks third at the position in fantasy points per opportunity. Only Jordan Reed and Rob Gronkowksi have been better and only Greg Olsen is in the same vicinity.
Projected Points: 14.1
Salary: $4,700