As you rigorously prepare and research leading into each season and week of DFS, different factors are always going to change the landscape. "Next Man Up" is a series that examines players who are now being propelled into the starting role (thus creating a larger opportunity for that player), whether it be via injury, suspension or simply a change to the depth chart.
---
Before we get to the next man up for the Chargers, the biggest story of the Kennan Allen injury moving forward is how it impacts Philip Rivers. His numbers drop dramatically when Allen is off the field. Check out this stat via ESPN:
Philip Rivers Last Season
With Keenan Allen: 70% comp pct, 344 Pass YPG
Without Allen: 62% comp pct, 255 Pass YPG https://t.co/kNARKz2UtD

—

ESPN

Stats & Info (@ESPNStatsInfo) September 12, 2016
That's almost 100 passing yards less per game and an 8% decline in completion percentage. Also, per Evan Silva, Philip Rivers went from the second ranked fantasy football quarterback with Allen on the field to 23rd without him last season. That's quite the difference, and it will be interesting to see if the same drop off will happen now that Keenan Allen has been lost for the season.
Which leads nicely into the "Next Man Up" section of the fallout. San Diego has been known to develop talented wideouts, so now that there will be a full season without their number one option, will there be another breakout star for the Bolts? These two might have the best chance.
TRAVIS BENJAMIN

/TYRELL

WILLIAMS

—

WR, SAN DIEGO CHARGERS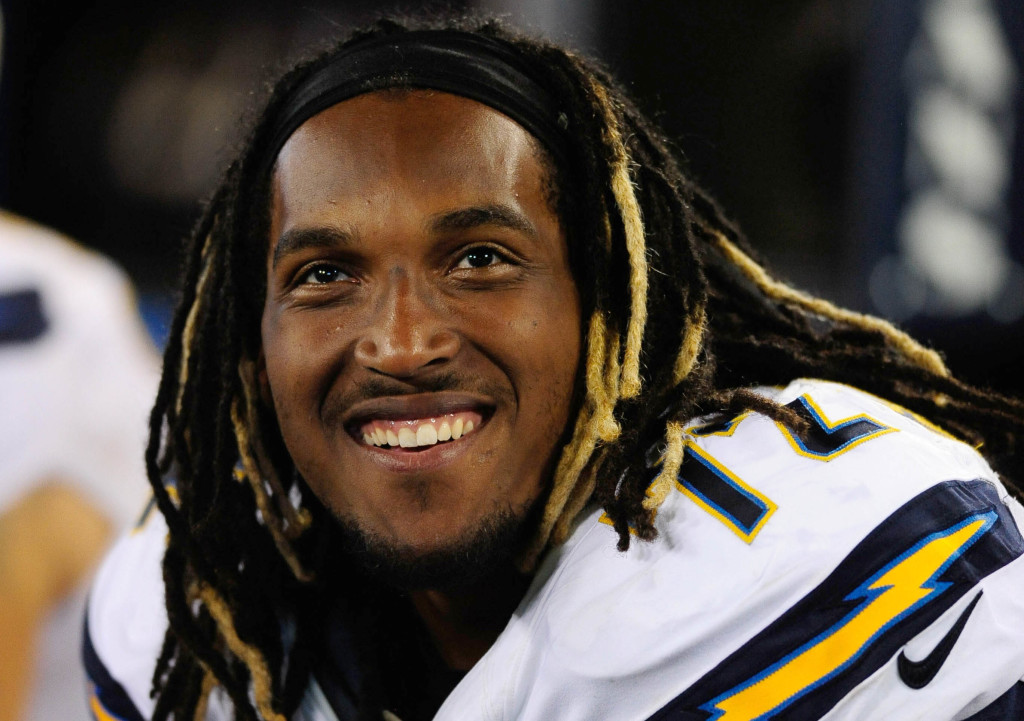 You've got to feel for Keenan Allen at this point. The dude simply cannot stay healthy.
A lot of hype surrounded Allen entering this season as he returned from a lacerated kidney that cost him the final half of 2015. In just eight games, he was able to rack up 67 grabs for 725 yards and four touchdowns. Those numbers translate to elite WR1 status over a full 16-game workload — 134 catches/1,450 yards/8 TD.
In the very early going Allen was as advertised — hauling in six passes for 63 yards in the first half against KC. Then he went down with an ugly non-contact knee injury that required the cart to get him back to the locker room.
Early reports suggest it's the worst case scenario — a torn right ACL that will sideline Allen until 2017.
With Stevie Johnson already on the shelf for the season as well, the Chargers' WR core is in shambles. San Diego will look to add another body (potentially a name like James Jones who was a recent cut), but there's no receiver on its roster or in the free agent pool that can fill the void left by Allen.
Allen averaged 11.1 targets per game in 2015 (and got seven looks in less than a half on Sunday), so there's a lot to go around in his absence. This is going to be next man up by committee.
The trickle down effect will even reach the likes of Antonio Gates and Danny Woodhead, who each get a slight bump in value for the rest of the season. But the major production is to be had in three receivers — Travis Benjamin, Tyrell Williams and Dontrelle Inman (likely in that order).
Benjamin is coming off a career-year in Cleveland in which he had 68 receptions for 966 yards and five scores with very spotty QB play. In fact, QB play was the exact reason Benjamin opted to sign with San Diego and join forces with Philip Rivers.
Known for stretching the field and ripping off big plays with the Browns, Benjamin was more of a possession receiver Sunday at KC. He snagged seven of his eight targets for a mere 32 yards. With the loss of Allen, Benjamin should continue to see around 8-10 targets per game, but he's going to have to look to haul in a deep ball here and there.
Inman was the largest beneficiary of Allen's injury back in 2016. When Allen was active, Inman virtually had no role, but in the last six weeks of the season he managed 23 catches for 316 yards. Nothing special, but still a role nonetheless.
2016 figures to be much different. Inman will still likely see around 4-5 targets per week, but yielded just one catch for six yards in Week 1. The larger role should go to Williams.
Despite only two catches in Week 1 (on five targets), Williams actually led the Bolts with 71 yards. Although he hardly saw the field in 2015, Williams was featured in Week 17 when he hauled in an 80-yard bomb for a TD. The Chargers see some potential here.
It should be pretty safe to project Williams for 6-8 targets going forward, and he'll have the best chance of any Charger receiver to break a long TD on a weekly basis.
These certainly aren't the roles the Chargers envisioned for these three receivers entering the season, but they're going to be forced to take on the volume. There should be value here, particularly in Benjamin and Williams.
Before wrapping up, Gates deserves another mention in a scenario like this. San Diego doesn't want to have to use its 36-year old TE too much (he caught 3-of-4 targets Week 1 for 20 yards), but Rivers doesn't have much of a history with what's left at WR. While he builds trust with them, Rivers will trust what he knows — and that's Gates. Look for him to have an expanded role early in the season.
Find me on Twitter @julianedlow
---
I am a promoter at DraftKings and am also an avid fan and user (my username is jedlow) and may sometimes play on my personal account in the games that I offer advice on. Although I have expressed my personal view on the games and strategies above, they do not necessarily reflect the view(s) of DraftKings and I may also deploy different players and strategies than what I recommend above.