Fantasy players are always looking to "free" the next big thing. David Johnson was freed as a result of Chris Johnson's injury in 2015. Jordan Howard was freed thanks to a Jeremy Langford injury shortly into last season. Andy Reid finally fully took the chains off Travis Kelce a year ago. The list goes on and on.
As we head into the 2017 season, it's important to understand which players are ticketed for a big boost in role. It typically comes via scenery change or removal of a high-usage player from the offense. Here are the prominent "new starters" at running back and tight end. I'll be back next week with a look at the wide receivers.
1. Jack Doyle,

TE,

Colts
In 2013, Colts tight end Coby Fleener caught 52 balls and scored four TDs. In 2014, Fleener and Dwayne Allen combined for 80 catches and 16 TDs. In 2015, an Andrew Luck injury resulted in just 70 catches and four TDs for the duo. Last season, Coby Fleener fled for New Orleans, leaving Jack Doyle and Allen to combine for 94 catches and 11 TDs. Now Allen is also gone after a trade with the Patriots. To make a long story short, Luck consistently targets his tight ends and now Doyle is that No. 1 tight end (raw talent Erik Swoope is the No. 2). And Doyle proved last year he can play, ranking second at his position in PFF's catch rate (81.9 percent) and hauling in 59 balls. In the seven games he played at least 70 percent of the snaps, Doyle averaged 4.6 catches, 47.8 yards and 0.5 TDs. To put the cherry on top, the Colts thought enough of Doyle to give him a three-year, $19.5M contract with $9.5M guaranteed in March.
Current MyFantasyLeague Average Draft Position: 122.8
Projection: Grossly Undervalued
---
2. Marshawn Lynch,
RB,

Raiders
One of the biggest questions this offseason revolved around Marshawn Lynch's return. He's 31 years old, didn't play in 2016 and lasted just seven games in 2015. Back on May 15, ESPN reported: "even coach Jack Del Rio wonders how much Lynch has left in the tank." Reports from non-contact OTAs have predictably been rosy, but I remain skeptical of Lynch's ability to sustain health and carry big workloads. The Raiders also have a lot of talent behind him in promising second-year backs Jalen Richard (PFF's No. 21 overall RB last year among 160) and DeAndre Washington (No. 39).
Current MFL ADP: 41.76
Projection: Overvalued
---
3. Mike Gillislee,

RB,

Patriots
Left for dead by the Dolphins after two underwhelming seasons, Gillislee made his mark in Buffalo starting in 2015. He averaged 5.70 YPC across two seasons there, serving as a goal-line vulture to the tune of seven TDs from inside the 10-yard line last year on 11 attempts. The Patriots saw enough to give Gillislee a two-year, $6.4M offer sheet and forked over a fifth-round pick to sign the restricted free agent. That's slightly more than the one-year, $3.15M deal the Patriots gave unrestricted free agent Rex Burkhead, who will be competing with Gillislee for early-down snaps (James White is the passing back). Of course, the allure of Gillislee comes at the aforementioned goal-line, where LeGarrette Blount hammered home 24 rushing TDs in his last 28 regular-season games as a Patriot. Blount had 42 attempts from inside the 10-yard line last season, nine more than anyone else in the NFL.
Current MFL ADP: 78.75
Projection: Valued Appropriately
---
4. Paul Perkins,

RB,

Giants
The Giants have struggled mightily to run the ball as a team over the last three seasons. They're 30th, 18th and 30th in yards per carry during that span. They're 32nd, 29th and 12th in rushing TDs. So as the team continues to add pass-game weapons (Brandon Marshall, Evan Engram this year. Sterling Shepard, Shane Vereen last year), it's unlikely the run game will make a major turnaround. That's especially true with underwhelming Paul Perkins already crowned the feature back despite not facing any real competition. In five stretch-run games as the Giants' main man last year, Perkins scored zero TDs, caught a total of five passes and averaged 60.2 rush yards per game – and that was with Shane Vereen playing a total of 17 snaps during that span due to injury.
Current MFL ADP: 82.1
Projection: Valued Appropriately
---
5. Austin Hooper,

TE,

Falcons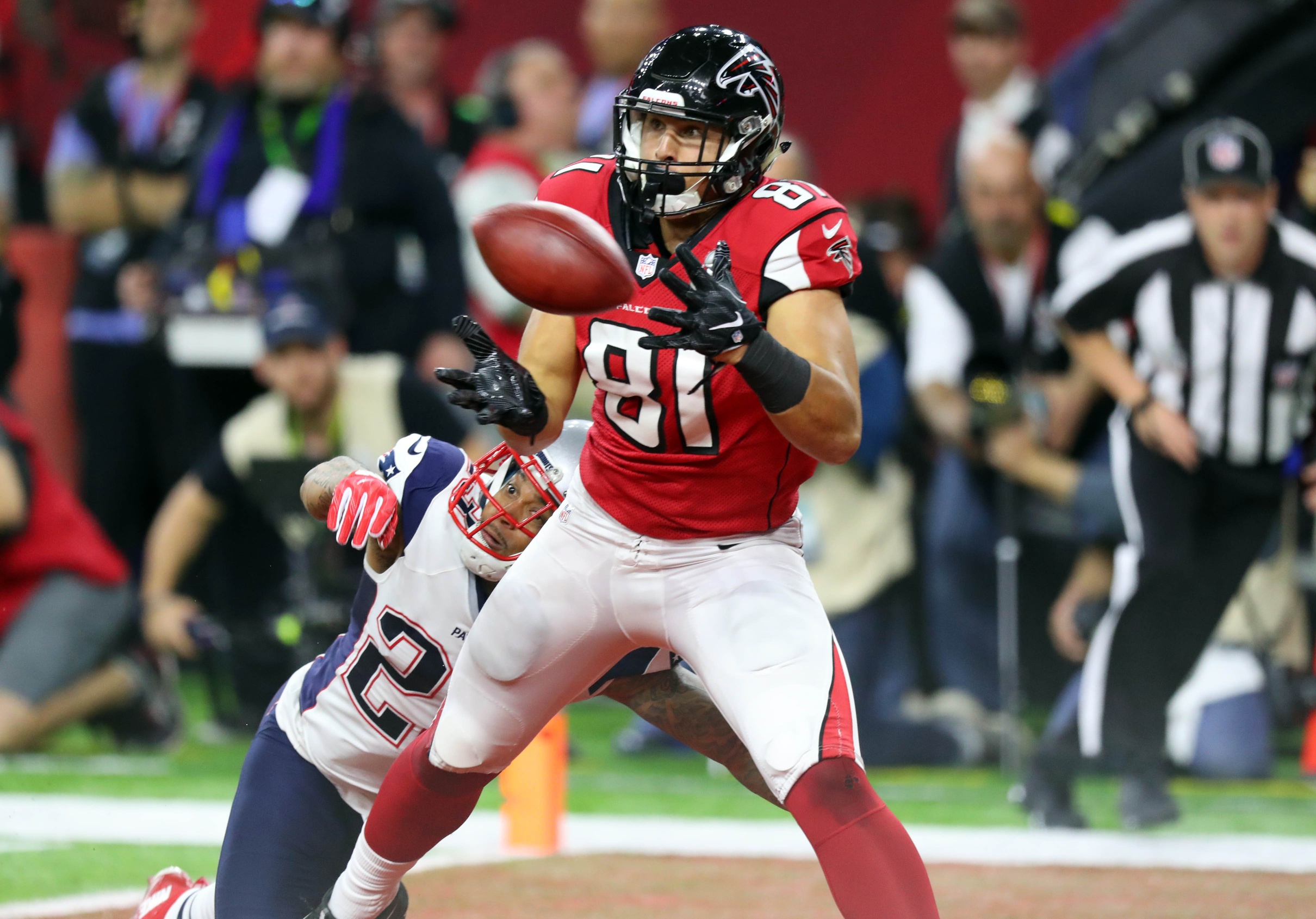 Like most rookie tight ends, Austin Hooper was brought along slowly as a rookie. He ended up playing on just 47 percent of the snaps and was ninth on the team in targets (27). But there's plenty of room for Hooper to do more in year two as the Falcons let Jacob Tamme walk in free agency and the 6'8/265 Levine Toilolo is a strict blocker. So it's a big chance for Hooper, who impressed with a 4.72 forty and 33-inch vertical at 6'4/254 during the 2016 combine. An athlete playing in one of the league's best offenses, Hooper will carry weekly upside at a cheap cost. Note that he played on 74 percent of the snaps when all the chips were down in the Super Bowl, recording a 3-32-1 line on six targets.
Current MFL ADP: 154.3
Projection: Undervalued
---
6. Tyler Higbee,

TE,

Rams
In the weeks ahead of the 2016 draft, Higbee was arrested on assault, alcohol and evading the police charges. That caused a slip to the fourth round even though he's a former wideout who goes 6'6/249 with intriguing athleticism. The Rams' No. 1 tight end last year, Lance Kendricks, ended up with a reasonable 50-499-2 line. Kendricks is now a Packer, leaving Higbee as the unquestioned No. 1 tight end. New Rams' head coach Sean McVay is a tight end specialist, coaching the position for the Redskins from 2011-2013 before becoming their offensive coordinator in 2014. He oversaw the emergence of Jordan Reed.
Current MFL ADP: 218.1
Projection: Undervalued
---
I am a promoter at DraftKings and am also an avid fan and user (my username is AdamLevitan) and may sometimes play on my personal account in the games that I offer advice on. Although I have expressed my personal view on the games and strategies above, they do not necessarily reflect the view(s) of DraftKings and I may also deploy different players and strategies than what I recommend above.