With real-life sports in the midst of an extended time out, DraftKings has been helping to fill the void with some very entertaining simulated sports action. With six Madden Streams per day, there are now eight free contests daily, with a single-game Showdown for each game along with a pair of classic contests. Each simulation is played out via an online Madden Stream using Madden 2020 with rosters and ratings from the end of the 2019-20 season. In this format, you can enjoy watching the game stream on the DK Live app or right here in this post. Follow along to watch your fantasy team rack up some big fantasy points.
One of the matchups lined up for Monday is the Cardinals flying to the far North to take on the Vikings in Minnesota at 6 p.m. ET. Arizona has gone must 5-9 in their first 14 sims while the Vikings have split theirs down the middle and gone 7-7. These NFC foes haven't met in real life since Week 6 of the 2018 season when the Vikings won 27-17. Minnesota just missed the playoffs in that season before returning to the postseason last year. The Cardinals haven't made the playoffs since 2014 but could surpass their win total from last season in the real world if they can pull off the road victory in this matchup. Who will come out on top and who should be the top names to target for your showdown lineup? I'll give you my pick to win and my thoughts on who should be in your lineup after this quick review of the rules and settings for this simulation.
Set your FREE to play lineups here: $1K FREE Contest (ARI vs MIN)
---
Curious about when major leagues and events will return? Check out our DraftKings Sports Calendar for the latest updates.
---
Madden Stream: 49ers at Bears
---
LIVE at 10 p.m. ET
---
The settings for this and all other Madden games are as follows:
GAME INFORMATION:
Difficulty: All-Madden
Game Style: Arcade
Event Type: Exhibition
Even Teams: Off
Quarter Length: 8 minutes
Accelerated Clock: On
Play Clock: 20 seconds
For all info on settings and upcoming games, click HERE
---
Note: All salaries will be Flex prices unless noted as Captain's Pick prices
---
SHOWDOWN STRATEGY
Arizona Cardinals
The key to any success the Cardinals hope to have against the Vikings is their rookie QB
Kyler Murray ($10,400)
, who is the most expensive Cardinal and is averaging 15.1
DKFP
per sim, which is higher than any other player in this matchup. Murray has a high ceiling which we saw three sims ago when he faced the Bills and put up 30.04
DKFP
but hasn't consistently been that good. He usually does do some work on the ground with his 91 speed rating and has rushed for at least 50 yards in three of his past five games. He struggled against the Eagles in his most recent sim, but he does have the added boost of the Superstar ability of "Escape Artist," which allows him to move better to avoid pressure behind the line. He'll be in a tough matchup against a strong Vikings defense but is still worth considering.
Murray's WRs have high ceilings as well but, like their QB, have been inconsistent. The option with the highest ceiling and a very affordable price is WR3 Damiere Byrd ($3,600), who only had 4.6 DKFP in his most recent matchup but posted three straight with double-digit production prior to that including a master 27.8 DKFP against the Bills. Byrd's 95 speed rating gives him a chance to make plays when he gets the ball in space and helps support his solid 74 overall rating. He's my favorite value play in this matchup.
The top WR on the depth chart is Larry Fitzgerald ($9,200), who has an 83 overall rating, but his 83 speed rating and a 65 elusiveness make him mostly a possession receiver. He's pretty expensive for a boom-or-bust producer who needs a high volume to make an impact. If you don't want to pay all the way up for Fitz, Christian Kirk ($5,600) is a really nice option under $6K. He isn't quite as fast as Byrce but does have a 92 speed rating and 85 elusiveness rating, which give him a high ceiling even though he only has a 78 overall rating. The upside is there for big plays, but we haven't seen it lately. In the Cardinals' most recent game, TE Charles Clay ($6,200) came up huge with his best sim performance so far. He hauled in six catches for 98 yards and a touchdown for 21.8 DKFP. It was his best outing of the sim-season and gives him five straight games with at least four catches and three straight games with double-digit DKFP. He has emerged as one of Murray's preferred targets lately, so he is a nice mid-range option with relatively low risk.
Arizona deploys a mix of Kenyan Drake ($7,800) and David Johnson ($2,600) in the backfield. Drake has a decent 81 overall rating, 91 speed rating and 82 elusiveness rating but loses so much time especially in passing situations that he's not an option I'm interested in. Johnson serves as the third-down back and usually finds ways to get involved. He struggled against the Eagles but had over 11 DKFP in three of his four games before that. He's a great value play as well although his ceiling isn't quite as high as Byrd's.
The Cardinals' DST ($3,000) has made some plays but was steamrolled by the Eagles in their most recent contest. I prefer Zane Gonzalez ($3,800) since he has been very busy in these sims since the Cardinals have stalled in the red zone, just like they had a tendency to do in real life. Zane is averaging over 5.0 DKFP per sim and has a solid 74 overall rating due to his 96 kick power rating and 75 kick accuracy rating.
---
Minnesota Vikings
The Vikings' offense has multiple players they can lean on depending on game script, but there is a clear mismatch in this one that I think they'll look to exploit. Since quarters expanded,
Dalvin Cook ($9,600)
has been outstanding. He has over 13
DKFP
in seven of his past nine contests, highlighted by 36.5
DKFP
against the Rams in a dominant outing. His 90 overall rating is further enhanced by a "First One Free" X-Factor along with his 91 speed rating, 90 elusiveness rating and 93 juke move rating. He has been very involved as a receiver as well and doesn't lose any snaps in the Minnesota backfield, making him a good play especially if the Vikings are able to play from ahead and dictate the game flow. The Cardinals just gave up four touchdowns and 58.7
DKFP
to Miles Sanders in their most recent contest and have also been run all over by Saquon Barkley and a few other elite options. Cook should run wild in this matchup and is clearly the biggest mismatch
If the Vikings do have to throw, Kirk Cousins ($11,200) has shown he can be decent as well with his 82 overall rating. He still hasn't produced over 20 DKFP in any contest, though, so I'm not paying up for him at this salary.
Minnesota does have two nice options at WR in Stefon Diggs ($11,400) and Adam Thielen ($8,800). Diggs has been up-and-down as the WR1 despite a solid 93 overall rating. He had been better lately until disappearing with just 3.7 DKFP against the Chargers. Thielen has been the better fantasy option out of the slot with his 91 overall rating. Thielen is also the only one of the two with an X-Factor. He has the "Double Me" ability which increases his success rate on aggressive catches against single coverage after he activates it by making multiple catches of 20-plus yards. Thielen's Superstar skills are "Slot Apprentice" and "Slot-o-matic," which give him faster cuts and better hands-on short routes out of the slot and more hot routes to choose from. He should have a big-time advantage over Cardinals' slot corner Byron Murphy Jr., who has only a 77 overall rating with an 89 speed rating. Of the two, Thielen is the better play, but I'm not sure how much the Vikings will end up having to throw.
On the rest of the Minnesota WR depth chart, Laquon Treadwell ($3,400) is the WR3 and has made a few plays despite his 71 overall rating. He had a massive 26.8 DKFP against the Ravens a few games ago but has been held under 5.0 DKFP in his four games since then. Olabisi Johnson ($1,600) has also made a few plays from his WR4 spot but has only been involved in eight of the Vikings 14 sims.
TE Kyle Rudolph ($7,000) has been more regularly involved than Treadwell and Johnson but has only scored a pair of touchdowns while averaging 8.3 DKFP. He has a very solid 84 overall rating but remains hit-or-miss based on usage.
The Vikings' DST ($4,200) has been one of the best units in the entire Madden universe with X-Factor Superstars Harrison Smith and Danielle Hunter along with Superstar Everson Griffin. They have forced 18 turnovers to go with their 22 sacks in 14 contests, which has pushed them to 7.1 DKFP per game. They have 11 and 21 DKFP in two of their three most recent sims so have a high ceiling to go with their low risk. I think they will force Kyler into being more aggressive and therefore should get more turnovers to add to their total.
---
THE OUTCOME
My clear Captain's Pick in this one is
Dalvin Cook ($14,400 CP)
although you will have to pay up to get him. With so many other value options like Byrd, Johnson and the Vikings DST, getting the salary to work shouldn't be a problem since I'm not prioritizing other top options. If you want a pivot play as your Captain's Pick, check out
Adam Thielen ($13,200 CP)
or the
Vikings

DST

($6,300)
. You could also go with
Damiere Byrd ($5,400 CP)
as a bargain's Captain's Pick and hope the Cardinals have to air it out playing from behind.
This doesn't shape up well for the Cardinals since they're run defense has been beatable and they're going up against one of the top RBs in the NFL. I think Cook is going to pile up the production and the fantasy points while the Vikings roll.
Final Score: Vikings 24, Cardinals 14
---
DEPTH CHARTS
Cardinals
Vikings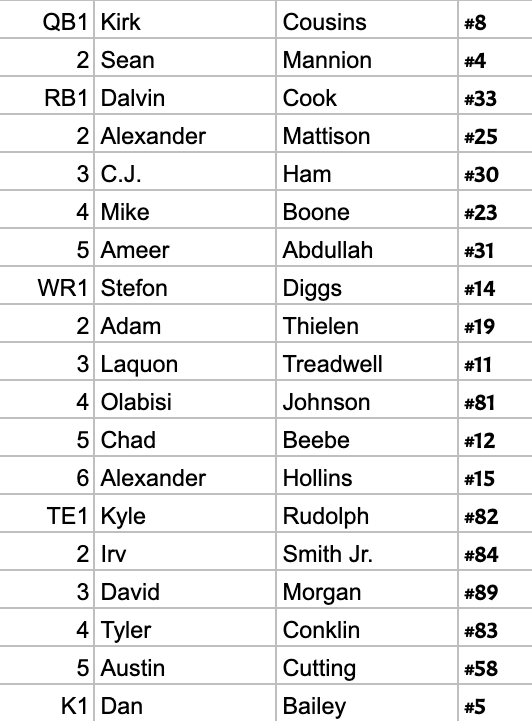 ---
I am a promoter at DraftKings and am also an avid fan and user (my username is z.thompson) and may sometimes play on my personal account in the games that I offer advice on. Although I have expressed my personal view on the games and strategies above, they do not necessarily reflect the view(s) of DraftKings and I may also deploy different players and strategies than what I recommend above. I am not an employee of DraftKings and do not have access to any non-public information.