The Eagles have made some questionable roster decisions since Chip Kelly began his quest to transfer the success he experienced at Oregon over to the City of Brotherly Love. No decision was questioned more than the trade that sent running back LeSean McCoy to the Bills in exchange for linebacker Kiko Alonso (who happened to play for Kelly while he was with the Ducks).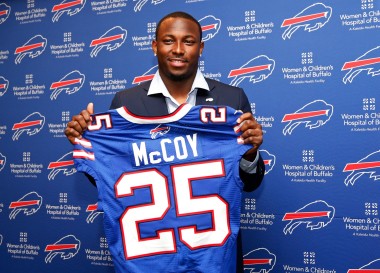 McCoy spoke out on the shocking trade recently, claiming that he still hasn't spoken to his ex-coach, despite attempting to call Kelly twice. Much of what Shady had to say was taken as him being bitter and whining about the trade. Maybe some of it even was. However, one piece of what the speedster had to say stood out.
"I think he likes the fact that it's 'Chip Kelly and the Eagles,'" McCoy said to the Philadelphia Inquirer on Monday.
Take that statement as you may, but I believe there's something to it. Since Kelly's arrival, the stars have been shipped out of Philly. This part is a fact. DeSean Jackson was cut, and then picked up by their rivals in D.C. Jeremy Maclin was allowed to leave for the Chiefs in free agency after having a career season in the wake of D-Jax's departure. You can even make the argument for Michael Vick, who, despite being up there in age, seemed to be a nice fit in Kelly's high speed offense, but no doubt held plenty of star power.
The part that's open to interpretation is whether this is intentional or not. Does Kelly feel that these are the moves that's best for the long-term success of the Eagles? Or, as Shady suggests, is this just a plot to make Kelly the star of his own team, which revolves around plugging the right players — many of which curiously seem to come from Oregon — into his rapid paced system?
Hopefully, for Kelly's sake, he's just taking what he feels is the unpopular route to future success for the Eagles. If he is indeed going the path that McCoy hinted, aside from being incredibly stupid and egotistical, it also simply won't work.
Just look at the best coach in the game — Bill Belichick. Sure, the Hoodie's system has now won four Super Bowl rings, but not by sending players in their prime packing. For starters, Tom Brady has been a constant on all four championship teams. And although some may try and make the argument that Belichick has been more crucial to those teams than Brady, you can't argue that Brady hasn't been the bigger star.
But going even further, all four New England Super Bowl teams have been the ones that had the most star power (maybe excluding the 2007 team, but it still finished 18-1). Whether it be most recently with Gronk and Revis Island, the huge acquisitions of Rodney Harrison and Corey Dillion in 2003 and 2004, or the blueprint 2001 team with Ty Law and Troy Brown just to name a couple.
Sure, there are plenty of other important aspects, and it's definitely not all about the stars. But the point is, no matter how great the coach, no matter how great the system, no matter how great the supporting cast, you still need to combine those aspects with stars to win. Chip Kelly may just have to learn that the hard way, though.
Follow me on Twitter @julianedlow