With the brand new trailer for The Belko Experiment releasing today, we started thinking about how our favorite NFL players would fare…
Locked in an office building….
In a battle to the death…
There can only be one man left standing! And these are the Top 5 we think would make it near the finish line, presented by the Belko Experiment in theaters March 17th, 2017
Top 5

NFL

Survivors of the Belko Experiment
5.

J.J.

Watt,

DE,

Texans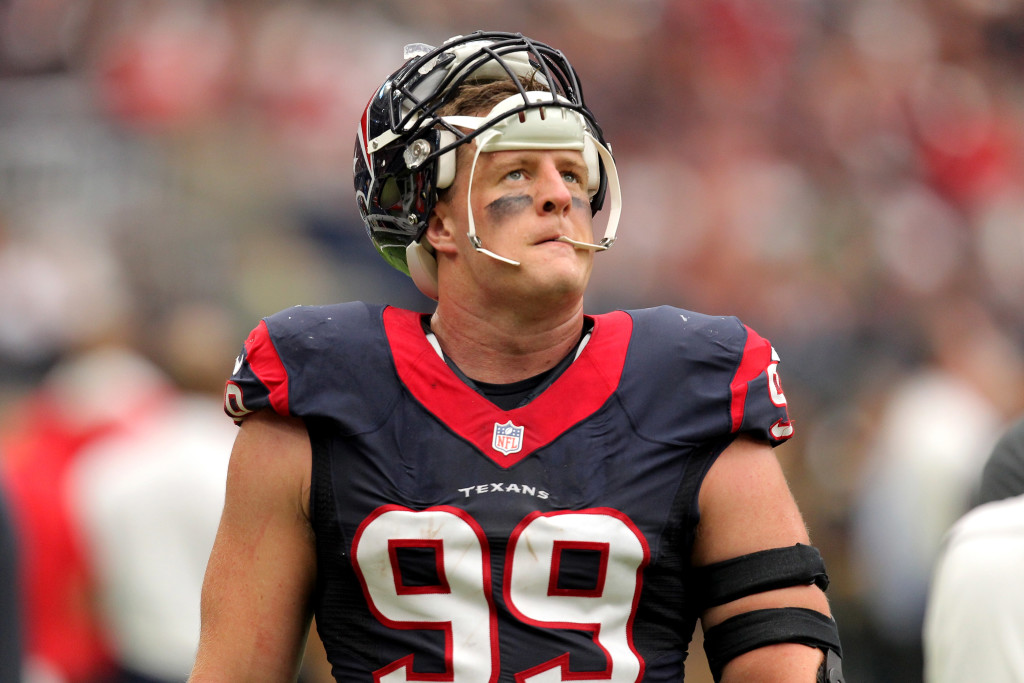 He's been out injured this season but before that he was annihilating opponents for over 5 years straight! We're talking unblockable, menacing, pure unadulterated punishment. It's a shame it all caught up with him before he could get his Belko on. If five giant offensive lineman can't stop this guy, imagine what he'd do in an office full of 5'10" accountants.
---
4. Darren Sproles,

RB,

Eagles
He may just be a lil' guy but he's also got more heart than the entire NFL combined. Sproles has quite literally made a living by making people miss and running for dear life, all while making it look so silky smooth. Few players would be better at sliding under desks, juking east/west to the exit door and escaping a co-worker yelling really loud whilst swinging a butcher knife.
---
3. Ryan Fitzpatrick,

QB,

Jets
Is there a greater (slash worse) survivor in the NFL than ol' Fitzmagik? Dude has been quarterbacking teams he had NO business playing for his entire career, and just when you think he's reached rock bottom and is CFL bound… every starter on the new team he signs with somehow goes down. Coincidence or nah? He may not be a real QB1 or anything close to resembling a useful football player, but trapped in an office with little chance to survive I'd actually feel pretty good about his odds.
Editors Note: RGIII would absolutely be the first one to go
---
2. Ezekiel Elliott,

RB,

Cowboys
He's leading the NFL in rushing and doing it in style, rocking a crop top in seemingly every way possible. This dude even wore a croptop three piece suit to the NFL Draft! He clearly fears nothing, is unstoppable when he gains momentum, and loves flexing his muscles when the bright lights are on. He may get offed because he's spending too much time posing, but can you really blame him? Gotta look good to Belko good.
---
1. Bill Belichick,

HC,

Patriots
The greatest head coach/mastermind/devil that convinced the world he didn't exist. Sure Bill isn't a player but do YOU want to be the one to tell him that? He's spent everyday since birth strategizing about how he can take an opponents strength and make it their absolute weakness. He can speak to snakes. He's a no frills, no nonsense kind of a guy and he'll never let you know when he has you cornered. Not only would Belichick dominate the Belko Experiment, he may even strut out of that office with a smile.